News
USA Wrestling
High School & Youth
Women
USAW
Girls High School Roundup: Chatfield wins Napa Valley, Liberty claims Clash titles, team tie at Cy-Fair in Texas
by Gary Abbott, USA Wrestling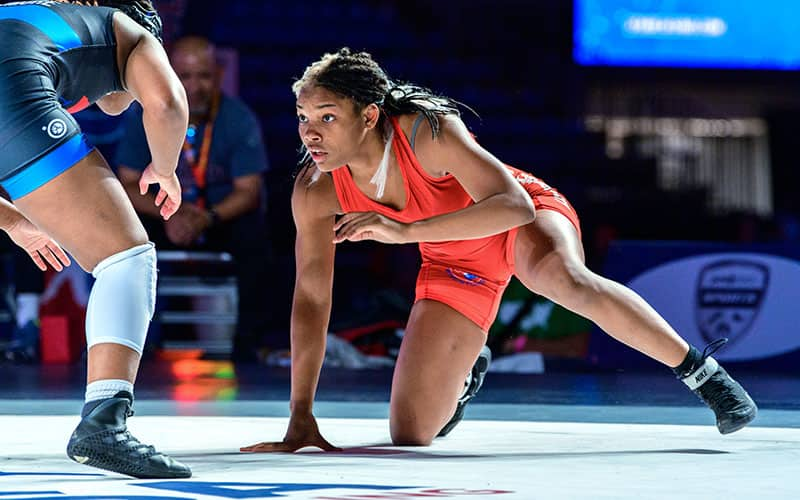 Jasmine Robinson of Allen HS-TX, shown in Fargo in 2021, won the tough Cy-Fair ISD Tournament in Texas last weekend. Photo by Tony Rotundo, Wrestlers Are Warriors.
Throughout the rest of the scholastic season, we will review some of the biggest events and activities in the high school girls wrestling season across the nation. Hopefully, as more information is shared, we will help promote and grow girls high school wrestling.
No. 13 Chatfield (CO) wins Napa Valley
Colorado power Chatfield High, ranked No. 13 nationally, won the highly-respected and always-loaded Napa Valley Girls Classic is California. Chatfield was led by 133-pound champion, nationally No. 1 Taylor Miess at 133. Evergreen Valley-CA was second and Pitman-CA was third. This traditional event was not held the last two years, but came back very strong with a large and talented field.
Including Miess, there were eight nationally ranked winners at Napa: No. 17 Avy Perez of Birmingham (108), No. 6 Diana Gonzalez (Buchanan (113), No. 4 Isabella Marie Gonzales of Clovis East (118), No. 16 Lilly Avalos of Pitman (123), No. 18 Gianna DiBenedetto of Bella Vista (139), No. 10 Kaiulani Garcia of Gilroy (152) and No. 11 Kalila Shrive of Merrill West (116).
Three of the finals had two nationally ranked athletes. Diana Gonzalez beat No. 6 Janessa George of Chatfield, 7-2. Isabella Marie Gonzalez beat No. 9 Alex Waitsman of El Camino Real by fall in 2:00. Kaiulani Garcia stopped No. 29 Mikayla Lancaster of Gregori, 5-2.
No. 9 Liberty (AZ) wins Clash Duals and Clash Individual meets
Arizona power Liberty, ranked No. 9 in the nation, won both girls events at the highly-respected Clash in Minnesota, both the girls dual meet and the girls individual tournament. In both events, Bemidji-MN placed second behind Liberty.
In the dual meet tournament, Liberty defeated Bemidji, 44-24. The third-place match was an all-Illinois battle, as Joliet Township stopped Peoria Richwoods. In the individual tournament, Liberty won with 205 points, Bemidji second with 154.5 points, Hastings in third with 145 points and Joliet Township in fourth with 137 points.
In the individual tournament, Liberty champions were Lola Hunt (114) and Lily Hunt (145). Nationally ranked champions were No. 30 Audrey Rogotzke of Stillwater-MN (120), No. 5 Lilly Luft of Charles City-IA (132) and Skylar Little Soldier of Hastings-MN (145).
Cypress Ranch and El Paso Eastwood tie in first at the respected Cy-Fair in Texas
One of the nation's strongest girls high school events, the Cy-Fair ISD Tournament in Cypress, Texas, ended in a first-place tie between Cypress Ranch-TX and El Paso Eastwood-TX with 157.5 points. Cibolo Steele was third with 130 points and Northwest was fourth with 127.5 points.
National No. 4 Allen-TX, which placed sixth as a team at Cy-Fair, had the most champions with three, Grace Romans (100), No. 2 nationally Jasmine Robinson (152) and No. 18 nationally Esther Peters (235). Including Robinson and Peters, there were six nationally ranked wrestlers who won this tournament, No. 9 Alexis Hanks of Killeen Ellison (114), No. 15 Alyssa Ruiz of Northwest Nelson (120), No. 9 Madison Canales of Richmond Foster (126) and No. 11 Faith Macharia of Keller Central (185).
Three of the finals featured both wrestlers with national rankings. Ruiz defeated No. 2 Alexis Montes of El Paso Eastwood, 8-7. Robinson pinned No. 10 Jatoia Coats of Euless Trinity in 34 seconds. Peters stopped No. 5 Erica Cobos of El Paso Americas, 4-2.
No. 17 Olentangy Orange wins the Pioneer Classic in Ohio
National No. 17 Olentangy Orange-OH won the tough Pioneer Classic in Ohio with 223 points, ahead of runner-up Marysville-OH with 153 points and Delaware Hayes-OH in third with 135 points. Alicia Coleman (135) and Surraiya Mahmud (145) were champions for Olentangy Orange. Champions with national rankings included No. 8 Josie Davis of Sidney (125), No. 27 Savannah Holderby of Reynoldsburg (155), No. 1 Savannah Isaac of Whitmer (190) and No. 3 Alaina Jackson of Minerva (235). Jackson beat No. 11 Karlie Harlow of Greeneview in a battle of nationally-ranked stars.
No. 7 Lebanon (MO) controls Fred Ross Lafayette Invitational in Missouri
Led by two individual champions and 11 placers, No. 7 Lebanon-MO won the Fred Ross Invitational in Missouri with 230 points, with St. Clair-MO in second with 183 points and Nixa-MO in third with 180 points. Champions from Lebanon included No. 21 Jessa Joiner (110) and Halea Bartel (125). Including Joiner, there were four nationally ranked champions: No. 7 Brenya Crahan of Nixa (135), No. 15 Ali Haiser of Marquette-MO (170) and No. 1 Kiera Ganey of Belleville East (235). Ganey defeated No. 13 Faith Spicer of Fox-MO by pin in the finals.
Two top events in Washington, Kelso Tournament and Gut Check Tournament, showcase talent
The depth of girls wrestling in Washington was displayed in two tough events over the weekend. The Kelso Tournament was won by White River-WA with 202 points, followed by Yelm-WA with 158 and Moses Lake-WA with 140 points. White River was led by champions No. 15 nationally Anna Dicugno (125) and No. 17 nationally Nicole Poussier (135). The event was loaded with X nationally ranked champions. Joining Dicugno and Poussier on champions row were No. 12 Libby Roberts of University-WA (105), No. 26 Marjorie McDaniel of Ortig-WA (110), No. 14 Ashley Naranjo of Moses Lake-WA (115), No. 17 Haley Vann of Cleveland-OR (130), No. 15 Alanna Haney of Chiawana (140), No. 14 Alondra Morales of Royal-WA (145), No. 17 Emma Villa of Royal-WA (170), No. 17 Alivia White of Marysville Pilchuk-WA (190) and No. 26 Faith Tarrant of Prairie-WA (235). White, who was No. 2 nationally at 190 for over a year, had been wrestling at 235 earlier in the season. She dropped back down to 190 and beat No. 24 Tru Willis of Silas-WA in the finals by pin.
The Gut Check Tournament was dominated by national No. 2 Toppenish-WA with 293 points, followed by Othello-WA with 182 points and Curtis-WA with 125 points. Toppenish had seven champions, No. 9 Mia Zuniga (100), No. 17 Sophia Torres (105), Ruby Clark (135), MaryAnn Reyes (140), Islah Alcala (145), No. 9 Ruby Rios (155) and Jocelyn Velasco (170). Other nationally ranked champions at Gut Check were No. 20 Karianne Baldwin of Glacier Peak-WA (125) and No. 28 Kiona Michel of Omak-WA (235).
No. 25 Eagle (ID) tops tough Idaho teams at Rollie Lane
Another traditionally strong girls tournament, the Rollie Lane Invitational in Idaho, was won by nationally No. 25 Eagle-ID with 153 points, with Columbia-ID in second with 105.5 points and Thunder Ridge-ID with 103 points. Eagle did not have an individual champion, with six placewinners and three runners-up. Two nationally ranked Eagle wrestlers were beaten, as Maria Aiono of Reed-NV stopped No. 30 Reece Woods by fall at 185 and Amie Hartman of Mountain Home-ID stopped No. 24 Olivia Woods by pin at 235. Nationally ranked champions in the meet were No. 24 Kadence Beck of Grangeville-ID (114), No. 10 Skyla Zimmerman of Moscow (120) and No. 6 Alyssa Randles of Couer D'Alene-ID (126).
San Dimas (CA) wins its own SGT Richard Madrid Memorial in California
San Dimas-CA was the champion at the SGT Richard Madrid Memorial held in its home town, scoring 211 points, with Hillcrest-CA in second with 182 points and No. 5 nationally SLAM Academy-NV in third with 166 points. SLAM Academy had the most champions with three: Noelani Lutz (106), No. 7 Emma Albanese (111) and No. 23 Mika Yoffee (116). San Dimas champions were Juliana Marquez (160) and No. 18 Kaley Rice (170). Rice defeated No. 25 Billie Bonwell of SLAM-NV by fall in the finals. Another nationally ranked champion was No. 8 Allie Phillips of Mark Keppel-CA (235). No. 8 nationally Marina-CA placed seventh as a team, led by champion Nathalie Erazo (101).
The first girls state championships of the 2023 year will be held in Indiana, as the IHSGW State Finals are held in Mooresville on January 13. Indiana qualifying events were held this past weekend. Other big events to watch are the Rockville Rumble in Utah, Flowing Wells in Arizona and Jaybird in Idaho.
If there are any important tournaments or dual meets set for this week or this weekend on the national girls high school circuit, please send that information to Gary Abbott at gabbott@usawrestling.org so they can be highlighted.