News
USA Wrestling
International
USAW
FIVE POINT MOVE: 2022 Athlete of the Year - Max Nowry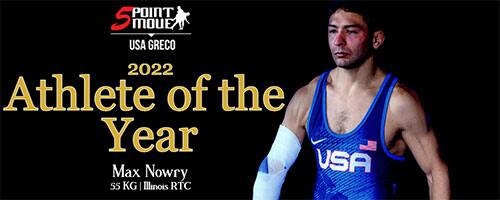 Max Nowry image by Tony Rotundo, Wrestlers Are Warriors. Article republished with permission
The knuckles whiten as the grip intensifies. No one sees it. The legs grow weary and the ache of the head is surpassed only by that of the heart, but no one notices. Strangers, all of them, watching and staring, waiting and judging. They care most about the outcome. And numbers. Crooked, round, or straight, and little else. Their wishes are always granted. In between may arise the cause for celebration, at once renewing the hope that they appreciate the picture in its entire scope of detail. That they did not miss the faint line of demarcation separating triumph from agony.
It is for this reason, but not this reason alone, why
Max Nowry
(55 kg, IRTC) has been voted 5PM's 2022 Athlete of the Year.
Nowry, 32, is now a two-time recipient of Athlete of the Year after first sharing the honor with G'Angelo Hancock in 2019. And like Hancock last year, Nowry was the unanimous selection as AOTY for '22 by the esteemed 5PM voting committee.
But the competitive year in and of itself was not a smooth ride for Nowry.
Originally slated to travel overseas through the winter of '22, Nowry — in conjunction with the rest of the Army program — was forced to re-calibrate his training for the season's remainder in the aftermath of their removal from the tour. His first tournament appearance would then not occur until early-April, when he won the Iowa edition of the Bill Farrell Memorial. That victory was supposed to avail Nowry the opportunity to earn a fourth Pan-American Championships gold; but soon after the Farrell, Army athletes were pulled from the US roster due to security concerns involving the trip to Mexico.
Undaunted, Nowry refocused in time to win his fourth US Nationals later that same month. Just three weeks hence, he notched the two victories necessary to assure himself a spot at Final X: Stillwater, where he would eventually defeat Brady Koontz following two exceedingly tight matches. At last, a stop overseas was next on the horizon, which for Nowry included a bronze from the Matteo Pellicone Memorial in Rome, as well as a training camp in Austria.
The summer's preparation block for the World Championships gave way to turbulence. At the onset of training camp, Nowry underwent surgery on his wrist and required a concentrated rehabilitation process in order to return to practice. Not long after resuming wrestling-related activity, Nowry endured a jarring injury to his right elbow, which had been torqued and torn. Without ever so much whispering even the slightest complaint, he managed to adjust his training accordingly, his eyes ceasing to rest from the target dates in Belgrade which lied before him.
Nowry had entered the World Championships as the #4 seed; but with how compressed the bracket was, it made little difference. In the first match against Arjun Halakurki (IND), a sequence near the boundary saw Nowry land awkwardly and, as all could see, re-aggravate his pre-existing arm injury. He had yelled in pain, did Nowry, and assistance from training personnel on-site hastily worked to treat the damaged appendage. Wrestling continued, and by the latter stages of Period 2 Halakurki led 3-1. The situation was dire. As time disappeared into the ether, Nowry worked to an angle, wrested a leftside two-on-one, and then bombed an arm throw from the opposite side. Although the points attached to the action would have been suitable, Nowry capitalized further on the execution by holding position on a scrambling Halakurki to pick up the win via fall with :37 remaining.
The quarterfinal round provided Nowry with a tough foe in German Fabian Schmitt. If not a full-fledged international rivalry, the closest thing to it. Nowry and Schmitt split a pair of close matches at the '18 Grand Prix of Germany; 14 months later at the '19 Worlds, Nowry got on a roll against the European Championships bronze and ended the contest by way of technical fall. But Schmitt, who has improved, was not to be taken lightly under any circumstances, and especially not in light of that with which the American had contended from a physical aspect.
A struggle it was through the opening three minutes, as neither athlete were able to create a meaningful attempt. 1-1 became the score early in the second period following passivity on Schmitt, thus putting the onus on Nowry to make something happen. He at first sought a standard gutwrench lock, only to have the German's defensive posture compel a secondary choice. So, Nowry instead locked around Schmitt's head and arm; he then yanked back to garner exposure points before giving the hold another try. Schmitt's response this time was to float over the lock and work to his stomach. The decision signed his death warrant, for when Schmitt went to return prone, Nowry barred Schmitt's right arm and patiently constricted the maneuver until all sunlight had disappeared. After the pin was called, Nowry let out a roar along with having earned a place in the World semifinal opposite '18 World champ Eldaniz Azizli (AZE).
Azizli defeated Nowry ahead of winning his second-career title. A silver lining was offered in the form of a bronze-medal match the next afternoon. However, the 24-hour break between the semifinal and bronze round might not have been advantageous for the Illinois wrestler, as the allotment of time proved just enough to re-stiffen up his elbow. There was no room for excuses, anyway. Nowry did whatever he could to get the arm back in working order prior to duking it out with young Japanese star Yu Shiotani, and fought valiantly through the pain for the entirety of their match, a match that ultimately ended in favor of Shiotani — and closed the book on what was a very trying but equally inspiring season for Nowry.
The hard dataset regarding Nowry's 2022 campaign stands out on its own merit: Bill Farrell gold, US Open title, World Team Trials/Final X champ, Matteo Pellicone bronze, and 5th at the World Championships. He went undefeated in domestic competition and was seriously challenged by only one competitor, which was Koontz; and he landed in Belgrade equipped with a mindset focused solely on victory, this despite understanding full-well that he would need to navigate two injuries at once if a potential run towards the podium were to materialize.
This is what you hope the people notice. Results matter. They always do and always will. But the manner in which results are achieved often speak as loud, or louder, than stat sheets and box scores ever could.
2022 FIVE POINT MOVE ATHLETE OF THE YEAR
MAX NOWRY (55 KG, ILLINOIS RTC)
5PM:
What was the most rewarding aspect of last season for you when you think back to how it started?
Max Nowry
: The most rewarding part of last season was harnessing the preparation from two-and-a-half decades' worth of my career. What I mean by that is a lot of people last year knew that I wanted to walk away and how I was happy with the idea that I might be done wrestling, and then I got talked back into the sport. But not once last season did I compete without either being injured or sick. It was a frustration in the moment during that time, but it helped me reflect back on my career. The first time I had experienced something like that was in 2019, when I went from the Pan-Ams to the Nationals. I had a pretty good eye infection and on a bunch of antibiotics as I got down to weight. By the time I was wrestling at Nationals, I was cramping up during my matches. Normally I never feel that way because my endurance has always been, I think, my biggest strength throughout my career.
Being able to manage what I did last year with the injuries and still succeeding to a certain extent was the most rewarding part because of the training that led up to it from the past 25 years of my life. It came from doing the things that no one sees. It came from working my hardest and not skipping steps along the way. That was the biggest takeaway for me from last year. It was the most rewarding thing because if I had not approached my preparation the way I did over the past 25 years, then last year probably wouldn't have happened. The mindset of having to kind of shut down the bad stuff, like my wrist and elbow. Shutting that stuff out as I'm walking onto the mat and readdressing it after the fact was the culmination of my preparation over the past 25 years, and that was instilled in me by my dad and my coaches.
It was the belief in my training. That was why I was still able to be successful, because of the way I trained on the mat — and the things that I did off the mat to make sure that during competition I would feel as good and prepared as I could possibly feel, regardless of what was going on around me. Whether it was in my personal life or my physical health, whatever it happened to be.
5PM:
What would you define as having been something that helped you navigate some of the difficulties you might have experienced in 2022?
Nowry
: Faith. The biggest thing for me, and the biggest thing for us as a country, is par terre. From the time I entered the Junior Worlds in 2009 all the way to 2018, I was always afraid to go down in par terre. And then in 2018, it clicked. But after the hip surgeries, I was not feeling the same stuff. I was a little behind from where I had been prior to the surgeries when it finally clicked in my head.
But having faith in my training, and in all of the stuff I just mentioned, led up to this year. That preparation helped ease my mind. Things were not that tough for me domestically last year until Final X. Then I go to Rome, wrestle two matches, and get put down four times. I got put on top zero times. I had also been put down twice in both matches at Final X. I gave up one turn in Rome, but I gave it up while also getting a reversal, so I'm not counting it. The only time last year I gave up a turn from bottom was to the World Champion (Azizli). I'm still puzzled by that with the way he locked up my hip.
I was not too comfortable or over-confident, but I had reached the point to where if I had to go on bottom, then I wasn't freaking out because I was back to feeling very comfortable in par terre, which allowed me to wrestle more freely on the feet. That did not change the way I want to wrestle on the feet. I still wish that I scored a lot more on my feet this year; but because I was so comfortable — and that comfort stemmed from the belief I had built in my training up to that point — that I began to look at par terre as a game. I was doing a lot of that with Dalton Roberts. During the games at practice, I would be like, Chase me, Dalton, chase me. It turned into a big, fun game in the room. I was thinking about those things at Final X when I had to go down twice in a row in both matches. It turned into a game for me, always staying ahead of them.
Having all of that preparation and 100% belief in myself that I was always going to stay ahead was my biggest thing this year. And that came from par terre.
5PM:
For other wrestlers, especially those who might be younger or are just beginning their careers, what would you hope it is that they learn from how you handled last year's run of competitions?
Max Nowry
: It comes down to belief and accountability in training. From a young age for me it was learning to be accountable. Anytime someone loses, it is always thinking about what you did wrong. It is natural for anyone to have those feelings and those thought processes right after you lose. But — do you actually take action on that? I remember in 2004, or maybe it was '05, I wrestled David Taylor in the FILA Cadet Nationals at Northwestern in Evanston (Illinois). He just donkey-stomped me. 42 kilograms and below was the weight class, and I was too small for the weight. David Taylor got in on a double-leg, jumped in the air, and got a five-point double leg takedown on me. I grew up with David, he was always the best wrestler in our area, but that just really bothered me. When I went home, before I showered, I put my sweats on and ran around the neighborhood, and stopped to do pull-ups at a random tree. Then I sat in the tree and thought about it. This is how it clicked to me when I was younger. That was the emotional part, taking it to heart. But then you grab hold of the accountability. Whether it was too small or not, it bothered me to where I wanted to take action immediately.
The second part that I will speak about to young wrestlers is having fun with wrestling. Something that helped me jump levels as a kid was wrestling with best friend at the time, Joe Kent. I pretty much lived at his house for a year. He had a small wrestling mat in his basement and we would go down there for an hour-and-a-half or two hours and just wrestle. That is when my wrestling career grew, us going at it for two hours downstairs in his house. That is where I learned how to scramble, learned so much about leg-riding and positioning. We did this on our own. No one told us to do that and we would have kept going for hours and hours. It would have to come to an end eventually because it's like when two brothers are going at it nonstop. They will go on for hours until punches are being thrown, except that's not what it was for us. We would stop when someone got on top with their legs and now you're getting crossfaced with the knuckle of the thumb. That became our stopping point for those long go's. But us just going and wrestling freely, and having fun, is how I learned so many things.
The accountability and being free with your training. And "being free" does not mean messing around. Yeah, we were two kids wrestling in a basement, but I was using all of those opportunities to learn. Joe went from tech'ing me one year and then I was inching closer and closer to him. That is because we were having fun while training. I think that is a reason why Penn State has so much success, because they talk about having fun while practicing. Learning how to have fun while training hard is something I want wrestlers to emulate when they are younger.
5PM:
With all that had gone on with you physically in 2022, and the turnover in the program just as the summer began, how did you keep focused?
Nowry
: Going along with what I've told you, I was able to apply that to the inconsistencies of our program this summer. When there is a lot of change going on before a World Championships, it can be hard for people to stay focused. But with the way my brain works and the way I've been trained from the time I was a young kid, I have come to realize that there are not just inconsistencies with training, there are inconsistencies in the sport. Not every wrestler is going to handle things the same way. Understanding from a young age the importance of accountability and that there are things which are outside of our control — as well as having been on the Senior level for a little while — helped me cope with some of the things that were hindering others training-wise.
It was apparent that I was banged up all year. It was difficult, it sucked, but I was able to learn from so many times before how to guard myself during training. I would also guard myself during competitions that were not as high of an importance. Like, the Bill Farrell did not carry as high of an importance as the World Team Trials or Final X. So, guarding myself for some of those things in effort to avoid doing something stupid at the World Team Trials that might hinder me at Final X. I was able to take all of that; and with all of the changes before the World Championships and knowing what my training would entail regardless of who was in charge, it all came down to accountability. That kept me grounded. I can't speak too much on it because I was not at training camp the whole time because I was having surgeries and stuff like that. But anytime I was on the mat, it was all about how to optimize my performance for when I got to Serbia. And when I got to Serbia, it was, How do I optimize my one practice on the mat leading up to the World Championships? And, How do I do this without hurting myself further? Because, I told myself, Once I step on the mat for my first match at the Worlds, there is no more guarding my elbow or trying not to get hurt. I did all of that before, in training, that way I would be able to let it go at the Worlds. This whole year was about the World Championships.
That accountability and knowing my training over the past 25 years helped me deal with the uncertainties that might have hindered other people going into the most important tournament of their lives.
5PM
: What would you say to those who might not have hit serious adversity yet in their careers and may not be adequately prepared for when that does eventually happen?
Max Nowry
: That is something the pastor was talking about at church today: trials. I was thinking about this, the questions, and he was talking about trials in life. Not everyone is going to go through the same trials. If you are blessed enough to live a good life and you don't have these trials — be them mentally, emotionally, or physically — then that's great. We hope that people do not have go through trials in their lives but there is always going to be something that happens.
It is hard to explain and I've had this conversation a few times over the past two months. Whenever I've gone through trials, whether it was a divorce or other things in my personal life, or injuries or feeling sick, a lot of the credit for my attitude goes to my dad. He didn't put me through the wringer. He let me go at my own pace but kept me accountable to myself; and because I was accountable to myself and had the best coaches in the country at the time, it helped me get to where I was going to get. I was able to understand a lot of things this way, the fortunes and misfortunes of life. I approach everything in life with a wrestling mindset. I am very blessed because of this. I don't know when or how it fully clicked, but I said this in one of our first interviews, that I don't compete for myself. I compete for my family, my friends. I had to be accountable to myself because my parents were working two jobs at the same time just so that they could send me to the Nationals, or to Overtime, which was the best wresting club in the country. I never forget that stuff, so I have to be accountable to myself and to my training.
Now when it comes to more individual matters? Wrestling is such an individual sport and you are not going to wrestle two people who have the same exact style. Everyone is going to have a little different of a style. Each match is like a math problem, and each problem will require a different method in figuring it out. That is how my brain works, from the time I was younger to now. When I was going through a divorce, I was receiving a lot of words of encouragement from people. What got me over that hump was keeping a wrestling mentality towards the situation. I lost that wrestling match, but I was able to learn in life just as you would through competition. You take the loss and you use it to train better so that you don't experience it again. Everything that happens in my personal life, my military life, or my wrestling life is all centered around how I can learn from that match, or that event. Whatever the scenario is, it is met with a wrestling approach. Everything is, How can I do this better? It was a wrestling approach that shifted my mindset in schooling and for me personally. I am not training to waste my time, I'm training to be the best person I can be. Everything that I've learned from wrestling has just trickled down into everything in life.
FIVE POINT MOVE ATHLETE OF THE YEAR
2022: Max Nowry
2021: G'Angelo Hancock
2020: G'Angelo Hancock
2019: G'Angelo Hancock & Max Nowry
2018: Adam Coon
2017: Kamal Bey
2016: Jesse Thielke