No. 15 Northwestern Upends No. 9 Minnesota, 18-11 in Evanston
by Northwestern Athletics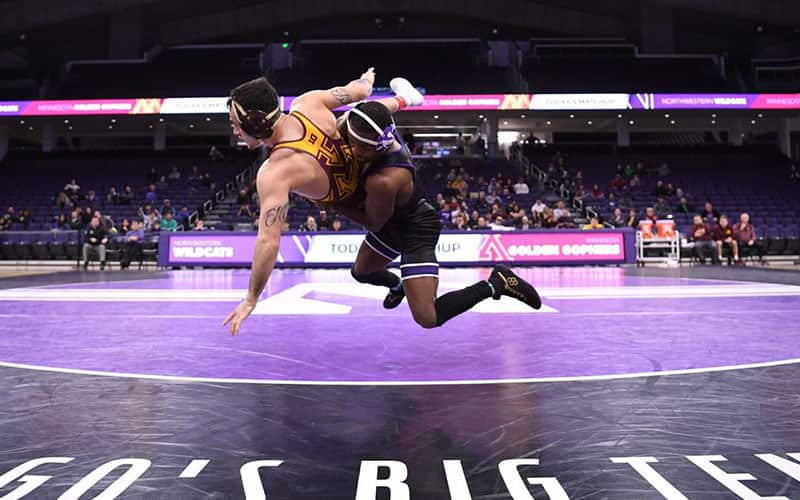 Action from the Northwestern vs. Minnesota dual meet, Ryan Kuttler/Northwestern Athletics


EVANSTON, Ill. (January 7, 2023) – No. 15 Northwestern (2-0, 1-0 B1G) couldn't have scripted a better start to Big Ten Conference action, dealing No. 9 Minnesota (7-1, 0-1 B1G) its first dual meet defeat of the season in an 18-11 triumph this afternoon inside Welsh-Ryan Arena. Today's victory marks the Wildcats' first dual meet win over the Golden Gophers in Evanston since 1996.


The 'Cats picked up wins in six of the afternoon's nine bouts, including five straight victories to close the dual meet.


Maxx Mayfield provided early fireworks in the day's opening bout at 165 pounds, recording a takedown on the edge of the mat with just one second remaining in the third period to edge out a 6-4 decision over No. 22 Andrew Sparks.


At heavyweight, No. 4 Lucas Davison, fresh off a Midlands Championships run that saw him not allow a point, jumped out to an early lead on Garrett Joles and coasted to a 4-1 win.


No. 11 Chris Cannon found himself in an early hole at 133 pounds, trailing No. 22 Aaron Nagao, 3-0, late in the second period. With time winding down in the frame, Cannon erupted for a takedown that was followed by a four-point near fall as the redshirt junior raced in front, 6-3, on his way to a 7-3 victory.


Competing at 141 pounds, No. 15 Frankie Tal-Shahar picked up a top-10 triumph, making a takedown in the waning seconds of the first period against No. 10 Jakob Bergeland stand in a 2-1 nailbiter.


No. 5 Yahya Thomas picked up a 2-1 win of his own, riding out No. 15 Michael Blockhus in the second period of overtime at 149 pounds en route to a ninth straight victory.


Closing out the meet at 157 pounds, No. 16 Trevor Chumbley slammed the door shut on any hopes of a Minnesota comeback, putting away No. 8 Brayton Lee by an 8-4 scoreline to put the exclamation point on the afternoon for the Wildcats.


Northwestern is back in action on Friday, January 13 when it battles No. 2 Iowa inside Carver-Hawkeye Arena in an 8 p.m. tilt that will be televised on ESPNU.

#15 Northwestern 18, #9 Minnesota 11
125: Double Forfeit
133: No. 11 Chris Cannon (NW) over No. 22 Aaron Nagao (MINN) (Dec 7-4)
141: No. 15 Frankie Tal-Shahar (NW) over No. 10 Jakob Bergeland (MINN) (Dec 2-1)
149: No. 5 Yahya Thomas (NW) over No. 15 Michael Blockhus (MINN) (TB-3 (RT) 2-1)
157: No. 16 Trevor Chumbley (NW) over No. 8 Brayton Lee (MINN) (Dec 8-4)
165: Maxx Mayfield (NW) over No. 22 Andrew Sparks (MINN) (Dec 6-4)
174: No. 15 Bailee O`Reilly (MINN) over Ankhaa Enkhmandakh (NW) (MD 17-5)
184: No. 11 Isaiah Salazar (MINN) over Evan Bates (NW) (MD 15-1)
197: HM Michial Foy (MINN) over HM Andrew Davison (NW) (Dec 2-0)
285: No. 4 Lucas Davison (NW) over HM Garrett Joles (MINN) (Dec 4-1)