News
USA Wrestling
High School & Youth
Women
USAW
National Girls High School Rankings for January released, with two new No. 1 athletes in the heart of the high school season
by USA Wrestling, National Wrestling Hall of Fame, FloWrestling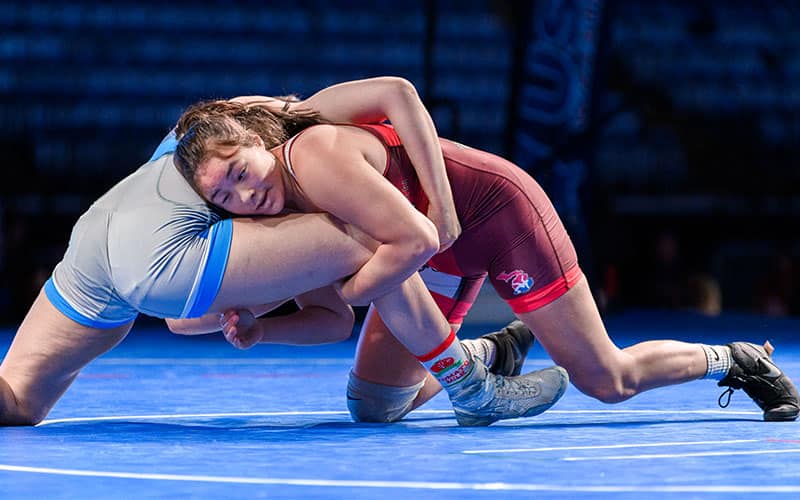 Mishell Rebisch (MI), competing in Fargo, N.D., is one of the new No. 1 ranked wrestlers. (Photo by Tony Rotundo, Wrestlers are Warriors).
USA Wrestling, FloWrestling and the National Wrestling Hall of Fame and Museum has published its January 2023 rankings for high school girls wrestlers for the 2022-23 season. This national ranking evaluates all girls enrolled in grades 8-12, and athletes from all 50 states are eligible for selection.
This ranking leaned heavily on the scholastic season, where athletes have been competing for their high school programs. There are a number of major in-season events where teams from a number of states have participated including the FIGHT tournament in Ohio, the Dan Gable Donnybrook in Iowa, the Women's West Coast Tournament of Champions in California, the Wonder Woman in Missouri, the Holy Angels in North Carolina and many others.
Some of the traditionally strong high school boys tournaments are now having strong girls divisions, including the Reno Tournament of Champions in Nevada, the Beast of the East in Delaware, the Powerade in Pennsylvania and others. So many strong holiday tournaments were held in numerous states.
The first of the annual state high school championships was held in Alaska in December.
In the January rankings, there were only two new No. 1 athletes since the November selections:
Emily Sindoni
of New York (132) and
Mishell Rebisch
of Michigan (152)
Destiny Rodriguez of Oregon, who was No. 1 at 152 last ranking, moved up to 164 pounds, and is now No. 1 at that weight class.
Repeating in the No. 1 positions are Gabriella Gomez of Illinois (100), Audrey Jimenez of Arizona (105), Alex Szkotnicki of Maryland (112), Elena Ivaldi of California (117), Everest Leydecker of Arizona (122), Shelby Moore of Washington (127), Valerie Hamilton of Illinois (138), Maddie Kubicki of Missouri (144), Sabrina Nauss of Michigan (180), Savannah Isaac of Ohio (200) and Kiera Ganey of Illinois (225).
There were only minimal changes in the Pound-For-Pound (P-4-P) rankings. The two new athletes in the P4P rankings are No. 24 Mishell Rebisch of Michigan and No. 25 Haley Ward of Missouri.
The next National Girls High School Ranking will be in February, after a number of state championships have been held.
Coaches, parents and athletes are encouraged to provide information about specific athletes and their achievements throughout the year for the committee to consider. If they have information on specific girls who should be considered for ranking or updates on their achievements, please send it by email to girlsrankings@usawrestling.org. The quality of these rankings continue to improve as people choose to share updated information.
NATIONAL GIRLS HIGH SCHOOL POUND-FOR-POUND RANKINGS
Developed by USA Wrestling, Flowrestling and the National Wrestling Hall of Fame
January 6, 2023
1. Audrey Jimenez, junior, Tucson, Ariz., Sunnyside High School (1 at 106), 1 last time
2. Shelby Moore, senior, Buckley, Wash., White River High School (1 at 127), 2 last time
3. Destiny Rodriguez, senior, West Linn, Ore., West Linn High School (1 at 164), 3 last time
4. Sabrina Nauss, junior, Brighton, Mich., Brighton High School (1 at 180), 4 last time
5. Gabriella Gomez, sophomore, Carol Stream, Ill., Glenbard North High School (1 at 100), 5 last time
6. Jasmine Robinson, junior, Allen, Texas, Allen High School (2 at 152), 6 last time
7. Elena Ivaldi, senior, New Castle, Calif., Del Oro High School (1 at 117), 7 last time
8. Valerie Hamilton, junior, Gridley, Ill., El Paso-Gridley High School (1 at 138), 8 last time
9. Skylar Little Soldier, junior, Welch, Minn., Hastings High School (2 at 127), 9 last time
10. Savannah Isaac, junior, Toledo, Ohio, Whitmer High School (1 at 200), 10 last time
11. Alex Szkotnicki, senior, Riva, Md. Calvert High School (1 at 112) 11 last time
12. Janida Garcia, senior, Colorado Springs, Colo., Springs Studio (2 at 138) 13 last time
13. Savannah Gomez, senior, Calexico, Calif., Brawley Union High School (3 at 138) 12 last time
14. Ella Pagel, sophomore, Nerstrand, Minn., Northfield High School (3 at 164), 14 last time
15. Everest Leydecker, freshman, Phoenix, Ariz., Desert Vista High School (1 at 122), 15 last time
16. Kiera Ganey, senior, Belleville, Ill., Belleville East High School (1 at 225), 16 last time
17. Paige Morales, senior, Clovis, Calif., Central High School (2 at 106), 17 last time
18. Maddie Kubicki, senior, Kansas City, Mo., Park Hill South High School (1 at 144), 18 last time
19. Sydney Perry, junior, Batavia, Ill., Batavia High School (2 at 144), 19 last time
20. Persaeus Gomez, junior, Arvada, Colo., Pomona High School (2 at 122), 20 last time
21. Kiely Tabaldo, senior, Sunnyvale, Calif., Menlo-Atherton High School (2 at 112) 22 last time
22. Taina Fernandez, eighth grade, Bowie, Md., Benjamin Tasker Middle School (2 at 122) 23 last time
23. Morgan Turner, freshman, Lockport, Ill., Bremen High School (2 at 100) 24 last time
24. Mishell Rebisch, junior, Washington, Mich., Romeo High School (1 at 152), unranked last time
25. Haley Ward, senior, Independence, Mo., Ft. Osage High School (2 at 152), unranked last time
NATIONAL GIRLS HIGH SCHOOL RANKINGS
Developed by USA Wrestling, Flowrestling and the National Wrestling Hall of Fame
January 6, 2022
100 pounds
1. Gabriella Gomez, sophomore, Carol Stream, Ill., Glenbard North High School (1 at 100)
2. Morgan Turner, freshman, Lockport, Ill., Bremen High School (2 at 100)
3. Caley Graber, freshman, Northfield, Minn., Northfield High School (3 at 100)
4. Valarie Solorio, junior, Canonsburg, Pa., Canon-McMillan High School (4 at 100)
5. Erica Pastoriza, senior, Phoenix, Ariz., Wyoming Seminary (PA) (5 at 100)
6. Makennah Craft, sophomore, Minford, Ohio, Jackson High School (6 at 100)
7. Rianne Murphy, junior, Valparaiso, Ind., Crown Point High School, (7 at 100)
8. Katey Valdez, sophomore, Colorado Springs, Colo., Doherty High School (8 at 100)
9. Mia Zuniga, senior, Toppenish, Wash., Toppenish High School (9 at 100)
10. Juliana Alejandro, senior, Las Vegas, Nevada, Centennial High School (11 at 100)
11. Emma Bacon, eighth grade, Dallas, Pa., Dallas Middle School (12 at 100)
12. Abbygael Cabuag, senior, Morgan Hill, Calif., Ann Sobrato High School (14 at 100)
13. Riley Banyas, senior, Amherst, Ohio, Elyria High School (15 at 100)
14. Madison Nieuwenhuis, freshman, Plainwell, Mich., Plainwell High School (17 at 100)
15. Charlie Wylie, freshman, Port Jervis, N.Y., Port Jervis High School (18 at 100)
16. Megan Morales, sophomore, Fresno, Calif., Central High School (19 at 100)
17. Jeulenea Khang, senior, Newton, N.C. Freedom High School (20 at 100)
18. Julia Horger, freshman, Bensalem, Pa., Bensalem High School (21 at 100)
19. Mia Galindo, freshman, Springfield, Va., Homeschooled, (22 at 100)
20. Jaclyn Bouzakis, eighth grade, Shavertown, Pa., Commonwealth Charter Academy (NR)
21. Emaline Hicks, senior, Ypsilanti, Mich., Saline High School (24 at 100)
22. Joely Slyter, sophomore, Lewiston, Idaho, Lewiston High School (25 at 100)
23. Jaelle Cortez, freshman, Los Banos, Calif., Gilroy High School (NR)
24. Madison Heinzer, junior, San Jose, Calif., Evergreen Valley High School (27 at 100)
25. Megan Valdez, senior, San Jacinto, Calif., San Jacinto High School (29 at 100)
26. Ysabella Ocampo, eighth grade, New Haven, Ind., Indiana Digital Learning School (30 at 100)
27. Kealonie Vega, senior, Kissimmee, Fla. Osceola Kissimmee High School (NR)
28. Jamiezon Garcia, senior, Anchorage, Alaska, East Anchorage High School (NR)
29. Jamie Hearl, junior, Mount Airy, N.C., Mount Airy High School (NR)
30. Brenda Nunez, senior, Soledad, Calif. Buchanan High School (13 at 100)
106 pounds
1. Audrey Jimenez, junior, Tucson, Ariz., Sunnyside High School (1 at 106)
2. Paige Morales, senior, Clovis, Calif., Central High School (2 at 106)
3. Anaya Falcon, junior, Yorba Linda, Calif., Walnut High School (3 at 106)
4. Clare Booe, junior, Tarpon Springs, Fla., Wyoming Seminary (PA) (4 at 106)
5. Julianna Ocampo, sophomore, Elhart, Ind., New Haven High School (5 at 106)
6. Heather Crull, sophomore, Modoc, Ind., Northeastern Middle School (6 at 106)
7. Reanah Utterback, sophomore, Eddyville, Iowa, Sigourney-Keota High School (7 at 106)
8. Chloe Dearwester, junior, Cincinnati, Ohio, Harrison High School (8 at 106)
9. Lexia Schechterly, junior, Hunlock Creek, Pa., Lake Lehman High School (9 at 106)
10. Teegan Sibble, sophomore, Bolivar, N.Y., Bolivar Richburg High School (10 at 106)
11. Gigi Bragg, sophomore, Anoka, Minn., Anoka High School (12 at 106)
12. Libby Roberts, sophomore, Spokane, Wash., University High School (18 at 112)
13. Joy Cantu, sophomore, Hobart, Ind., Merrilville High School (20 at 112)
14. Liz Donovan, sophomore, Pelham, N.H., Pelham High School (16 at 106)
15. Ana Malovich, sophomore, Butler, Pa., Butler High School (17 at 106)
16. Leeana Mercado, junior, Lodi, N.J., Lodi High School (29 at 106)
17. Sophia Torrez. freshman, Granger, Wash., Toppenish High School (NR)
18. Isabella Bocanegra, senior, Glendale, Ariz., Liberty High School (16 at 100)
19. Jayden Keller, freshman, Brookfield, Mo., Brookfield High School (11 at 106)
20. Makenzie Smith, junior, Dale, Ind., Heritage Hills High School (14 at 106)
21. June Welch, junior, Woodruff, S.C., Woodruff High School (18 at 106)
22. Morgan Johnson, senior, Greeley, Colo., Loveland High School (22 at 106)
23. Diana Olivarez, senior, Clovis, Calif., Buchanan High School (23 at 106)
24. Jillian Worthen, sophomore, LaPorte City, Iowa, Union LaPorte City High School (25 at 106)
25. Charlize Shuler, senior, Chesapeake, Va., Grassfield High School (NR)
26. Sky Langewicz, sophomore, Ira, Mich., Algonac High School (NR)
27. Kate Cooper, senior, Wentzville, Mo., Timberland High School (NR)
28. Megan Spencer, junior, Fairbanks, Alaska, Lathrop High School (NR)
29. Harlee Hiller, sophomore, Evanston, Ill., Loyola Academy (26 at 106)
30. Brooke Corrigan, sophomore, Wittenberg, Wis., De Pere High School (23 at 100)

112 pounds
1. Alex Szkotnicki, senior, Riva, Md. Calvert High School (1 at 112)
2. Kiely Tabaldo, senior, Sunnyvale, Calif., Menlo-Atherton High School (2 at 112)
3. Karlee Brooks, junior, Phoenix, Ariz., Valiant College Prep High School (4 at 112)
4. Aubre Krazer, sophomore, Easton, Pa., Easton High School (5 at 112)
5. Angelina Cassioppi, sophomore, Roscoe, Ill., Hononegah High School (6 at 112)
6. Janessa George, senior, Littleton, Colo., Chatfield High School (9 at 112)
7. Emma Albanese, sophomore, Las Vegas, Nev. SLAM Academy (10 at 112)
8. Mary Manis, sophomore, Orlando, Fla., Lake Highland Prep (12 at 112)
9. Alexis Hanks, senior, Killeen, Texas, Killeen Ellison High School (13 at 112)
10. Skyla Zimmerman, senior, Moscow, Idaho, Moscow High School (16 at 112)
11. Ava Rose, senior, Princeton, N.J. Princeton High School (28 at 112)
12. Calli Gilchrist, sophomore, Norwalk, Conn., Norwalk High School (15 at 112)
13. Mariah Dillard, sophomore, Azle, Texas, Azle High School (15 at 106)
14. Akeelah Moore, sophomore, Richardson, Texas, Richardson High School (19 at 112)
15. Julia Araujo, eighth grade, Bismarck, N.D., Bismarck High School (NR)
16. Aspen Blasko, junior, Forest Lake Minn., Forest Lake High School (13 at 106)
17. Bopa Quintana, senior, Sun Prairie, Wis., Sun Prairie High School (25 at 112)
18. Hayley Snyder, senior, Vincent, Ohio, Warren Local High School (17 at 112)
19. Sarah Zimmerman, senior, Hays, Kansas, Hays High School (NR)
20. Jasmine Luedtke, junior, Ottumwa, Iowa, Ottumwa High School (20 at 106)
21. Jessa Joiner, sophomore, Lebanon, Mo., Lebanon High School (NR)
22. Josiah Ortiz, senior, Lakin, Kansas, Lakin High School (22 at 112)
23. Alexxus Ramos, senior, Sunnyside, Wash., Sunnyside High School (NR)
24. Kadence Beck, senior, Lewiston, Idaho, Grangeville High School (21 at 106)
25. Karissa Turnwall, senior, Murietta, Calif., Paloma Valley High School (NR)
26. Marjorie McDaniel, junior, Orting Wash., Orting High School (27 at 112)
27. Shayla Gallegos, junior, Denver, Colo., Jefferson High School (29 at 112)
28. Journie Rodriguez, sophomore, Lancaster, Pa., JP McCaskey High School (23 at 117)
29. Ella-Lina Gonzalez, senior, Clarksville, Tenn., West Creek High School (NR)
30. Jalynn Goodale, senior, Osage, Iowa, Osage High School (NR)
117 pounds
1. Elena Ivaldi, senior, New Castle, Calif., Del Oro High School (1 at 117)
2. Alexis Montes, senior, El Paso, Texas, Eastwood High School (3 at 117)
3. Ava Ward, sophomore, Centralia, Mo., Centralia High School (3 at 112)
4. Virginia Foard, senior, Reva, Va., Wyoming Seminary (PA) (5 at 117)
5. Mikayla Garcia, sophomore, Union City, Calif., James Logan High School (6 at 117),
6. Diana Gonzalez, senior, Clovis, Calif., Buchanan High School (7 at 117)
7. Jaclyn Dehney, senior, Pelham, N.H., Central Catholic High School (9 at 117)
8. Sierra Chiesa, sophomore, West Springfield, Pa., Northwestern High School (11 at 117)
9. Alexandra Waitsman, junior, Woodland Hills, Calif., El Camino Real Charter High School (12 at 117)
10. Cecilia Williams, sophomore, Lansing, Mich., Holt Lutheran School (7 at 112)
11. Kira Cole, sophomore, Troy, Ohio, Miami East High School (13 at 117)
12. Angelina Vargas, sophomore, Kansas, City, Mo., Park Hill High School (11 at 112)
13. Fernanda Lopez, senior, Dallas, Texas, Lake Highland High School (10 at 117)
14. Ashley Naranjo, junior, Moses Lake, Wash., Moses Lake High School (14 at 117)
15. Brissa Bernal, sophomore, Bixby, Okla., EPIC Charter School (15 at 117)
16. Presley Anderson, senior, Huntington Beach, Calif., Marina High School (16 at 117)
17. Avy Perez, sophomore, Mission Hills, Calif., Birmingham Community Charter High School (10 at 100)
18. Reagan Riddick, senior, Kitty Hawk, N.C., First Flight High School (25 at 117)
19. BK Martinez, junior, Chino Hills, Calif., Ayala High School (27 at 117)
20. Analy Picado, senior, Miami, Fla., Braddock High School (NR)
21. Cameron Galvin, junior, Orlando, Fla., Freedom High School (14 at 112)
22. Kaylyn Harrill, eighth grade, Fremont, Neb., Elkhorn St. Patrick's Middle School (18 at 117)
23. Peyton Hand, senior, Newalla, Okla., Choctaw High School (24 at 112)
24. Evelyn Holmes-Smith, sophomore, Enterprise, Alabama, Enterprise High School (21 at 117)
25. Samantha Sachs, sophomore, Glendora, Calif., Glendora High School (24 at 117)
26. Zeta Lee, junior, Tacoma, Wash., Mount Tahoma High School (21 at 112)
27. Kylee Golz, sophomore, Mission Viejo, Calif., Fairmont High School (20 at 117)
28. Ashley Cannon, senior, Saratoga Springs, Utah, Westlake High School (26 at 117)
29. Avery Steldt, junior, Blue River, Wis., Rural Virtual Academy (28 at 117)
30. Amaya Coon, senior, Fairbanks, Alaska, Lathrop High School (NR)
122 Pounds
1. Everest Leydecker, freshman, Phoenix, Ariz., Desert Vista High School (1 at 122)
2. Persaeus Gomez, junior, Arvada, Colo., Pomona High School (2 at 117)
3. Taina Fernandez, eighth grade, Bowie, Md., Benjamin Tasker Middle School (2 at 122)
4. Isabella Marie Gonzales, sophomore, Clovis, Calif., Clovis East High School (4 at 117)
5. Cadence Diduch, junior, Freeport, Ill., Dakota Wrestling Club (3 at 122)
6. Alyssa Randles, senior, Couer d'Alene, Idaho, Couer d'Alene High School (4 at 122)
7. Carissa Qureshi, senior, Irvine, Calif., Portola High School (5 at 122)
8. Carley Ceshker, freshman, Lake Geneva, Wis., Traver High School (7 at 122)
9. Zao Estrada, junior, Hilton Head, S.C., Hilton Head High School (6 at 122)
10. Bella Williams, sophomore, Edmond, Okla., Edmond North High School (8 at 122)
11. Savannah Witt, sophomore, Kintnersville, Pa., Palisades Schools (9 at 122)
12. Molly Allen, sophomore, Underwood, Iowa, Underwood High School (8 at 112)
13. Haylie Jaffe, junior, Toughkenamon, Pa., Kennett High School (10 at 122)
14. Arieana Arias, senior, Selma, Calif., Selma High School (8 at 117)
15. Anna DiCugno, senior, Lake Tapps, Wash. White River High School (17 at 117)
16. Lillian Avalos, senior, Delhi, Calif., Pitman High School (12 at 122)
17. Cassidy Benwell, junior, Wentzville, Mo., North Point High School (22 at 122)
18. Leah Edwards, sophomore, Gold Hill, N.C. East Rowan High School (24 at 122)
19. Rose Kaplan, junior, West Lafayette, Ind., West Lafayette High School (15 at 122)
20. Karianne Baldwin, junior, Snohomish, Wash., Glacier Peak High School (28 at 122)
21. Leilani Lazaro, senior, LaPuente, Calif., Northview High School (NR)
22. Emily Murphy, sophomore, Montgomery, Pa., Montgomery Area High School (NR)
23. Mika Yoffee, freshman, Pahrump, Nev., SLAM Academy NV (NR)
24. Brooklyn Pace, junior, Lehi, Utah, Copper Hills High School (19 at 117)
25. Khaleah Kirk, senior, Guthrie, Okla., Guthrie High School (22 at 122)
26. Alyssa Mahan, senior, Wilmington, Del., Delaware Military Academy (26 at 122)
27. Isabella Cepak, sophomore, South Lyon, Mich., South Lyon East High School (NR)
28. Lauren Mills, senior, Festus, Mo., Festus High School (NR)
29. Mya Campbell, junior, Wasilla, Alaska, Redington High School (NR)
30. Audrey Rogotzke, freshman, Lakeland, Minn., Stillwater Area High School (27 at 122)
127 pounds
1. Shelby Moore, senior, Buckley, Wash., White River High School (1 at 127)
2. Skylar Little Soldier, junior, Welch, Minn., Hastings High School (2 at 127)
3. Emily Frost, senior, Troy, N.Y., Tamarac High School (7 at 127)
4. Taina McGowan, eighth grade, New Brunswick, N.J., Homeschooled (No. 9 at 127)
5. Olivia Moreno, senior, Austin, Texas, James Bowie High School (13 at 122)
6. Taylor Colangelo, junior, Peoria, Ariz., Liberty High School (8 at 127)
7. Kayla Edwards, junior, Vista, Calif., Rancho Buena Vista High School (10 at 127)
8. Josie Davis, senior, Sidney, Ohio, Sidney High School (13 at 127)
9. Madison Canales, junior, Richmond, Texas, Richmond Foster High School (14 at 127)
10. Emily Pedro, junior, Little Elm, Texas, Little Elm High School (16 at 127)
11. Alejandra Valdiviezo, junior, Romona, Calif., Poway High School (11 at 122)
12. Cali Leng, senior, Milford Center, Ohio, Marysville High School (16 at 122)
13. Dealya Collins. freshman, Mineral Point, Wis., Mineral Point High School (23 at 127)
14. Bayley Trang, senior, Keller, Texas, Southlake Carroll High School (19 at 127)
15. Alyssa Ruiz, senior, Roanoke, Texas, Northwest Nelson High School (14 at 122)
16. Ciara Riner, junior, Proctorville, Ohio, Spring Valley High School (WV) (12 at 127)
17. Jackeline Ramos, senior, Somers Point, N.J., Mainland Regional High School (NR)
18. Claudia Heeney, freshman, Orland Park, Ill., Lockport Township High School (21 at 127)
19. Ragan Retell, senior, Troy, N.Y., Tamarac High School (22 at 127)
20. Juliana Morris, senior, Middlebury, Conn., Pomperaug High School (19 at 122)
21. Kira Pipkins, senior, Bloomfield, N.J., Bloomfield High School (26 at 127)
22. Morgan Edwards, junior, Bangor, Pa., Blair Academy (27 at 127)
23. Olivia Messerly, senior, Gray, Ky., Ryle High School (13 at 132)
24. Alexis Pehrson, sophomore, Yutan, Neb, Yutan High School (NR)
25. Margaret Buurma, sophomore, Fowlerville, Mich., Fowlerville High School (23 at 122)
26. Raegan Briggs, junior, Harrison, Ohio, Harrison High School (29 at 122)
27. Lainey Eckart, senior, Honolulu, Hawaii, Kamehameha High School (28 at 127)
28. Loretta Lopez, senior, Galt, Calif., Elk Grove High School (29 at 127)
29. Corynne McNulty, eighth grade, Malden, Mass., Malden High School (30 at 127)
30. Katie Ward, senior, Reno, Nev., McQueen High School (NR)
132 pounds
1. Emily Sindoni, senior, Nichols, N.Y., Tioga High School (5 at 127)
2. Carina Giangeruso, junior, Crosswicks, N.J., Northern Burlington High School (2 at 132)
3. Lauren Walton, junior, Lexington, Ky., Carr Academy (3 at 132)
4. Taylor Fierbach-Graveman, senior, Spearfish, S.D., Spearfish High School (4 at 132)
5. Lilly Luft, senior, Charles City, Iowa, Charles City High School (5 at 132)
6. Piper Cadden, senior, Gilbert, Ariz., Valient College Prep (6 at 132)
7. Brenya Crahan, junior, Nixa, Mo., Nixa High School (22 at 132)
8. Kylie Rule, senior, Mineral Point, Wis., Mineral Point High School (7 at 132)
9. Jordyn Fouse, sophomore, Roaring Springs, Pa., Bishop McCort High School (4 at 127)
10. Isis France, sophomore, Glendale, Ariz., Wyoming Seminary (PA) (8 at 132)
11. Addison Messerly, senior, Gray, Ky., Ryle High School (20 at 132)
12. Kaidance Gerg, sophomore, Eatonville, Wash., Homeschooled (9 at 132)
13. Zoe Griffith, junior, Gouveneur, N.Y., Gouveneur High School (10 at 132)
14. Hanna Errthum, senior, Mount Horeb, Wis., Mt. Horeb High School (12 at 132)
15. Alessandra Elliott, senior, Staten Island, N.Y., Tottenville High School (12 at 138)
16. Alissa Caltagirone, senior, York, Maine, York High School (14 at 132)
17. Haley Vann, senior, Portland, Ore. Cleveland High School (17 at 122)
18. Marissa Sanabria, senior, Wentzville, Mo., Wentzville High School (24 at 132)
19. Nicole Redmond, junior, Olathe, Kansas, Olathe-South High School (18 at 132)
20. Daniella Nugent, sophomore, Boxford, Mass., Phillips Academy Andover (19 at 132)
21. Taylor Miess, senior, Castle Rock, Colo., Chatfield High School (21 at 132)
22. Aleksandra Bastaic, freshman, Highland, Ind., Highland High School (27 at 132)
23. Bianca Johnson senior, Moses Lake, Wash., Moses Lake High School (18 at 122)
24. Caylynn Chandler, senior, Montrose, Mich., Birch Run High School (17 at 127)
25. Celeste Detoles, junior, Saratoga Springs, Utah, Westlake High School (24 at 127)
26. Aileen Lester, senior, Iliema, Alaska, Newhalen High School (29 at 138)
27. Attalia Watson, senior, Homewood, Ill., Homewood-Flossmor High School (25 at 132)
28. Kyra Tomlinson, junior, Noblesville, Ind., Noblesville High School (NR)
29. Peyton Hellman, sophomore, Tabor, S.D., Bon Homme/Avon High School (NR)
30. Daniesha Watson, freshman, Waterloo, Iowa, Waterloo East High School (NR)
138 pounds
1. Valerie Hamilton, junior, Gridley, Ill., El Paso-Gridley High School (1 at 132)
2. Janida Garcia, senior, Colorado Springs, Colo., Springs Studio (1 at 132)
3. Savannah Gomez, senior, Calexico, Calif., Brawley Union High School (2 at 138)
4. Faith Bartoszek, junior, Wrightstown, Wis., Homeschooled (3 at 138)
5. Alicen Dillard, junior, Azle, Texas, Azle High School (3 at 127)
6. Madison Westerberg, sophomore, Waterloo, N.Y., Waterloo High School (4 at 138)
7. Allyssa Johnson, senior, Grand Forks AFB, N.D., Grand Forks Central High School (10 at 144)
8. Estella Gutches, senior, Medford, Ore., North Medford High School (6 at 127)
9. Charlotte Gilfoil, junior, Harrisburg, Pa., Wyoming Seminary (PA) (6 at 138)
10. Cloe Charlesworth, senior, Burke, Va. Wyoming Seminary (PA) (7 at 138)
11. Netavia Wickson, junior, Rockford, Ill., Boylan High School (8 at 138)
12. Marissa Rumsey, junior, Williamsport, Pa., Williamsport High School (9 at 138)
13. Taydem Khamjoi, senior, Stockton, Calif., Chavez High School (11 at 132)
14. Amitria McNack, sophomore, Clinton, Mo., Clinton High School (5 at 138)
15. Cece Ravanelle, junior, Hope, R.I., Wyoming Seminary (PA) (10 at 138)
16. Mackenzie Pratt, sophomore, Granite City, Ill., Edwardsville High School (11 at 138)
17. Nicole Poussier, senior, Wilkeson, Wash., White River High School (13 at 138)
18. Gianna DiBenedetto, junior, Rancho Cordova, Calif., Bella Vista High School (14 at 138)
19. Gabriella Perez, senior, Port St. Lucie, Fla., Fort Pierce Central High School (16 at 138)
20. Alice Rickett, senior, Hillsboro, Ore., Hillsboro High School (17 at 138)
21. Molly Keller, senior, Radford, Va., Pulaski County High School (19 at 138)
22. Sofia Delgado, junior, Miami, Fla., Miami Coral Park High School (21 at 138)
23. Camryn Brown, senior, Woodbridge, Conn., Amity Regional High School (20 at 138)
24. Caroline Gilstrap, senior, Summerville, S.C., Summerville High School (22 at 138)
25. Bridgette Sotomayor, senior, Glendale, Ariz., Liberty High School (NR)
26. Aulani Davis, senior, Kokomo, Ind., Kokomo High School (20 at 144)
27. Cassia Zammit, senior, Miamisburg, Ohio, Miamisburg High School (24 at 138)
28. May Prado, junior, Marietta, Ga., Lassiter High School (26 at 138)
29. Zoey Barber, sophomore, Belleview, Neb., Omaha Westside High School (NR)
30. Jayla Hahn, senior, Bayville, N.J., Southern Regional High School (NR)
144 pounds
1. Maddie Kubicki, senior, Kansas City, Mo., Park Hill South High School (1 at 144)
2. Sydney Perry, junior, Batavia, Ill., Batavia High School (2 at 144)
3. Lizzie Raleigh, senior, Eagle Mountain, Utah, Westlake High School (3 at 144)
4. Maggie Graham, senior, Bartlett, Tenn., Bartlett High School (5 at 144)
5. Nebi Tsarni, junior, Montgomery Village, Md., Watkins Mill High School (6 at 144)
6. Mia Furman, senior, Meridian, Idaho, Rocky Mountain High School (11 at 144)
7. Elleni Johnson, senior, West Jordan, Utah, Murray High School (16 at 144),
8. Delise E. Villa, senior, Sylmar, Calif., San Fernando High School (8 at 144)
9. Sevreign Aumua, junior, Grain Valley, Mo., Grain Valley High School (NR)
10. AshLynn Goodwin, senior, Wichita, Kan., Goddard High School (9 at 144)
11. Jahlia Miguel, sophomore, Wailuku, Hawaii, Baldwin High School (14 at 144)
12. Emma Peach, sophomore, Marengo, Iowa, Iowa Valley High School (15 at 144)
13. Zoey Lints, senior, Duanesburg, N.Y., Duanesburg-Schoharie High School (16 at 144)
14. Alondra Morales, senior, Royal City, Wash., Royal High School (18 at 138)
15. Alanna Haney, senior, Richland, Wash., Chiawana High School (15 at 132)
16. Taya Hunt, senior, Vian, Okla., Vian High School (18 at 152)
17. Moorea Brown, senior, Center Point, Iowa, Center-Point-Urbana High School (18 at 144)
18. Heidi Raines, senior, Trenton, Ga., Dade County High School (19 at 144)
19. Mia Cayard, senior, Mustang, Okla., Mustang High School (21 at 144)
20. Ryen Hickey, freshman, Golden, Colo., Chatfield High School (NR)
21. May Cuyler, junior, Bristow, Va. Brentsville District High School (23 at 144)
22. Trinity Donovan, senior, Soldotna, Alaska, Soldotna High School (NR)
23. Presley Givens, senior, Benton, Ark., Bryant High School (17 at 144)
24. Desza Munson, junior, Arvada, Colo., Pomona High School (22 at 144)
25. Jasmine Hernandez, senior, Palatine, Ill., Palatine High School (25 at 144)
26. Kaylee Davis, junior, Yukon, Okla., Yukon High School (26 at 144)
27. Savannah Holderby, freshman, Reynoldsburg, Ohio, homeschooled/Reynoldsburg High School (27 at 144)
28. Rihanna Venegas, sophomore, Lincoln Park, Mich., Gabriel Richard Catholic High School (21 at 152)
29. Greta Garbuzovas, freshman, Dahlonega, Ga., Lumpkin County High School (15 at 138)
30. Alana Ontiveros, senior, Denair, Calif., Pitman High School (29 at 144)
152 pounds
1. Mishell Rebisch, junior, Washington, Mich., Romeo High School, (3 at 152)
2. Haley Ward, senior, Independence, Mo., Ft. Osage High School (5 at 164)
3. Eduarda Rodrigues, junior, Newport Beach, Calif., Newport Harbor High School (4 at 152)
4. Skylar Slade, freshman, Altoona, Iowa, Southeast Polk Middle School (4 at 144)
5. Genevieve An, junior, Marietta, Ga., Kennesaw Mountain High School (5 at 152)
6. Rose Cassioppi, senior, Colorado Springs, Colo., Springs Studio (6 at 152)
7. Brynn Green, senior, Howell, Mich., Howell High School (7 at 152)
8. Genesis Gilmore, senior, Clarksville, Tenn., Montgomery Central High School (8 at 152)
9. Ruby Rios, senior, Toppenish, Wash., Toppenish High School (9 at 152)
10. Millie Azlin, freshman, Bixby, Okla., Bixby High School (27 at 164)
11. Sarah Henckel, freshman, Southbury, Conn., Blair Academy (NJ) (7 at 144)
12. Keeley Kehrli, senior, Winthrop, Iowa, East Buchanan High School (NR)
13. Sage Rosario, sophomore, Manhattan, Kansas, Manhattan High School (11 at 152)
14. Avry Ryhal, junior, Mercer. Pa., Mercer High School (14 at 152)
15. Avery Beckman, junior, Friendsville, Texas, Friendswood High School (15 at 152)
16. Skylur Lewis, junior, Rogers, Ark. Heritage High School (12 at 152)
17. Adriana Palumbo, sophomore, Pleasantville, N.Y., Pleasantville High School (16 at 152)
18. Chloe Harris, junior, Bonner Springs, Kansas, Olathe Northwest High School (19 at 152)
19. Makayla Munoz, senior, Aztec, N.M., Aztec High School (12 at 144)
20. Victoria Guinard, senior, Colorado Springs, Colo., Discovery Canyon High School (29 at 152)
21. Alexis Ritchie, junior, Tolono, Ill., Unity High School (22 at 152)
22. Kaylie Petersen, junior, Evansville, Ind., Central High School (24 at 152)
23. Kendal Tucker, junior, Billings, Montana, Billings High School (25 at 152)
24. Isabella Deeds, junior, Correctionville, Iowa, Ridge View High School (26 at 152)
25. Raegan Snider, sophomore, New Enterprise, Pa., Bishop McCort High School (17 at 152)
26. Loralei Smith, senior, Milton, W.Va., Cabell Midland High School (29 at 164)
27. Breanna Wier, senior, Osseo, Wis., Osseo-Fairchild/August/Fall Creek High School (20 at 152)
28. Emily Bellant, senior, North Pole, Alaska, North Pole High School (NR)
29. Makayla Lancaster, junior, Modesto, Calif. Gregori High School (NR)
30. Patron Plummer, junior, Schellsburg, Pa., Chestnut Ridge High School (28 at 152)
164 pounds
1. Destiny Rodriguez, senior, West Linn, Ore., West Linn High School (1 at 152)
2. Jasmine Robinson, junior, Allen, Texas, Allen High School (2 at 152)
3. Ella Pagel, sophomore, Nerstrand, Minn., Northfield High School (1 at 164)
4. Piper Fowler, sophomore, Cleveland, Tenn., Cleveland High School (2 at 164)
5. Stella Steigler, junior, Orange, Va., Wyoming Seminary (PA) (3 at 164)
6. Amarisa Manuel, junior, Washington, Mich, Romeo High School (4 at 164)
7. Naomi Simon, junior, Decorah, Iowa, Decorah High School (6 at 164)
8. Leilani Lemus, freshman, Clovis, Calif., Clovis High School (7 at 164)
9. Johanna Forman, senior, Upland, Calif., Upland High School (13 at 144)
10. Kaiulani Garcia, sophomore, Stockton, Calif., Gilroy High School (8 at 164)
11. Kalila Shrive, senior, Tracy, Calif., Merrill West High School (9 at 164)
12. Olivia Stean, junior, Bonner Springs, Kansas, Bonner Springs High School (10 at 164)
13. Jael Miller sophomore, Smickburg, Pa., homeschooled, wrestles for Punxsutawney Area Schools (11 at 164)
14. Alexandra Hofrichter, senior, Deerbrook, Wis., Antigo High School (10 at 152)
15. Ali Haiser, senior, Chesterfield Mo., Marquette High School (NR)
16. Caitlyn Flaherty, senior, Frisco, Texas, Frisco Memorial High School (13 at 164)
17. Emily Brown, junior, Salamanca, N.Y., Wyoming Seminary (PA) (14 at 164)
18. Maddie Hayden, freshman, Caledonia, Mich., Caledonia High School (15 at 164)
19. Alison Evans, junior, Colorado Springs, Colo., Mesa Ridge High School (16 at 164)
20. Wendy Riley-Washington, senior, Springfield, Mo., Kickapoo High School (11 at 180)
21. Abbie Miles, senior, New Castle, Pa., Laurel High School (17 at 164)
22. Sidney Milligan, senior, Owasso, Okla., Owasso High School (18 at 164)
23. Kaylee Ricketts, senior, Wahoo, Neb., Wahoo High School (19 at 164)
24. Trinity Gottler, senior, Frankfort, Ky., Anderson County High School (20 at 164)
25. Kaylie Hall, sophomore, Romney, W.Va., Hampshire High School (21 at 164)
26. Rachel Schauer, junior, Mt. Hope, Wis., Fennimore High School (25 at 164)
27. Alexandria Alli, sophomore, Ashley, Ohio, Wyoming Seminary (PA), (26 at 164)
28. Jannell Avila, senior, Lisbon, Iowa, Lisbon High School (28 at 164)
29. Calyese Dupree, sophomore, Nixa, Mo., Nixa High School (12 at 164)
30. Cyriana Reinwald, sophomore, Horicon, Wis., Horicon High School (30 at 164)
180 pounds
1. Sabrina Nauss, junior, Brighton, Mich., Brighton High School (1 at 180)
2. Isabella Renfro, junior, Seneca, Mo., Seneca High School MO (3 at 180)
3. Kali Hayden, junior, Tulsa, Okla., Union High School (9 at 180)
4. Cheyenne Ruiz, junior, Taylorsville, Utah, Taylorsville High School (5 at 180)
5. Henlee Haynes, senior, Panama City, Fla., Arnold High School (6 at 180)
6. Taylor Knox, senior, Calhan, Colo., Calhan High School (7 at 180)
7. Kami Senlycki, senior, Princeton, Minn., Cambridge-Isanti High School (8 at 180)
8. Kassidee Savaria, senior, Billings, Mont., Billings Skyview High School (12 at 180)
9. Brooke Huffman, eighth grade, Wittenburg, Wis., Wittenbert-Birnamwood Middle School (15 at 180)
10. Jatoia Coats, sophomore, Bedford, Texas, Euless Trinity High School (NR)
11. Faith Macharia, senior, Fort Worth, Texas, Keller Central High School (13 at 180)
12. Aurellia Ramos, sophomore, Mapleton, Utah, Maple Mountain High School (10 at 180)
13. Symphony Veloz, junior, Elgin, Okla., Elgin High School (14 at 180)
14. Kylee Lindsley, sophomore, Belgrade, Montana, Belgrade High School (24 at 164)
15. Tirza Twoteeth, junior, Montana, Ronan High School (4 at 180)
16. Kendra Johnston, senior, Paducah, Ky., Tilghman High School (16 at 180)
17. Emma Villa, junior, Royal City, Wash., Royal High School (17 at 180)
18. Kaley Rice, senior, Covina, Calif., San Dumas High School (19 at 180)
19. Anya Hatch, senior, West Jordan, Utah, Copper Hills High School (13 at 152)
20. Emma Thomas, senior, Tomball, Texas, Houston Cypress Creek High School (18 at 180)
21. Mackenzie Konanz, senior, Granger, Ind., Penn High School (20 at 180)
22. Jasmine Adiniwin, senior, Honolulu, Hawaii, Moanalua High School (NR)
23. Catherine Asami, junior, Lahaina, Hawaii, Lahainaluna High School (21 at 180)
24. Taylor Waddy, sophomore, Mineral, Va. Louisa County High School (22 at 180)
25. Billie Bonwell, sophomore, Las Vegas, Nev., SLAM Academy (23 at 180)
26. AvaLyn Mosconi, sophomore, Indianapolis, Ind., Southport High School (24 at 180)
27. Emily Riopel, sophomore, Laurens, S.C., Laurens High School (25 at 180)
28. Cristen Martinez, junior, Grants, N.M,, Grants High School (26 at 180)
29. J'Nessa Reynoso, senior, Amarillo, Texas, Canyon Randall High School (29 at 180)
30. Reece Woods, senior, Eagle, Idaho, Eagle High School (30 at 180)
200 pounds
1. Savannah Isaac, junior, Toledo, Ohio, Whitmer High School (1 at 200)
2. Zoë Adam, senior, Canton, S.D., Canton High School (5 at 200)
3. Blythe Cayko, senior, Centennial, Colo., Eaglecrest High School (6 at 200)
4. Brooke Bennett, senior, Bonne Terre, Mo., North County High School (3 at 200)
5. Cheyenne Cruce, sophomore, Middleburg, Fla. Middleburg High School (8 at 200)
6. Mariyah Brumley, junior, Lebanon, Mo., Lebanon High School (2 at 200)
7. Makena Schramm, senior, Fairbury, Neb., Fairbury High School (NR)
8. Ella Murphey, junior, Knoxville, Tenn., Harden Valley High School (4 at 200)
9. Saiheron Preciado-Meza, senior, Huntington Beach, Calif., Marina High School (9 at 200)
10. Sophie Pollack, junior, Canandaigua, N.Y., Canandaigua High School (10 at 200)
11. Phoenix Lindseth, sophomore, Bismarck Legacy HS ND (12 at 200)
12. Isabella Phillips, junior, Bellingham, Wash., Bellingham High School (13 at 200)
13. Varzidy Batchelor, junior, Brazil, Ind., Northview High School (15 at 200)
14. Jayde Massa, senior, Evans, Ga., Greenbrier High School (14 at 200)
15. Hannah Mariano, senior, Gallup, N.M., Miyamura High School (16 at 200)
16. Jana Terwee, junior, Inwood, Iowa, West Lyon High School, (17 at 200)
17. Jayden Huesca Rodriguez, junior, Chicago, Ill., West Chicago High School (18 at 200)
18. Maggie Smith, senior, Rock Springs, Wyo., Rock Springs High School (20 at 200)
19. Breanna Peach, freshman, Marengo, Iowa, Iowa Valley Marengo High School (NR)
20. Rachel Eddy, senior, Independence, Iowa, Independence High School (21 at 200)
21. Phoebe Melvin, junior, Evans, Ga., Greenbrier High School (22 at 200)
22. Claire Paasch, senior, West Point, Neb., West Point Beemer High School (21 at 225)
23. Aaliyah Robertson, junior, Lewisburg, W.Va., Greenbrier East High School (24 at 200)
24. Tru Willis, junior, Tacoma, Wash., Silas High School (25 at 200)
25. Amariah Marenco, senior, Carrollton, Ga., Carrollton High School (26 at 200)
26. Laney Oliver, sophomore, Findlay, Ohio, Findlay High School (29 at 200)
27. Makayla Torres, sophomore, Toppenish, Wash., Toppenish High School (NR)
28. Kiona Michel, junior, Omak, Wash., Omak High School (11 at 200)
29. Roane Cook, junior, Homer, Alaska, Lathrop High School (NR)
30. Alexia Mangual, junior, Yonkers, N.Y., Carmel High School (28 at 200)
225 pounds
1. Kiera Ganey, senior, Belleville, Ill., Belleville East High School (1 at 225)
2. Ciara Monger, junior, Calhan, Colo., Calhan High School (2 at 225)
3. Alaina Jackson, senior, Minerva, Ohio, Minerva High School (3 at 225)
4. Catherine Dutton, senior, Springfield, Mo., Central High School (7 at 200)
5. Erica Cobos, junior, El Paso, Texas, Americas High School (6 at 225)
6. Leilani Sanchez, senior, El Paso, Texas, Andress High School (4 at 225)
7. Tilisa Matakaiongo, sophomore, Cedar City, Utah, Canyon View High School (5 at 225)
8. Alysse Phillips, senior, Los Angeles, Calif., Mark Keppel High School (7 at 225)
9. Makayla Rivera, senior, Olathe, Kansas, Olathe High School (8 at 225)
10. Stefania Jaramillo, senior, Commerce City, Colo., Far Northeast High School (9 at 225)
11. Karlie Harlow, senior, Bowersville, Ohio, Greeneview High School (11 at 225)
12. Keilikki Nau Rarick, sophomore, Saratogo Springs, Utah, Westlake High School (19 at 200)
13. Faith Spicer, senior, Arnold, Mo., Fox High School (10 at 225)
14. Arrey Mbutambe, senior, Accokeek, Md., Eleanor Roosevelt High School (12 at 225)
15. Olivia Huckfelt, junior, Spencer, Iowa, Spencer High School (13 at 225)
16. Jocelyn Cacek, senior, Lexington Park, Md., Great Mills High School (14 at 225)
17. Alivia White, senior, Lake Stevens, Wash., Marysville-Pilchuk High School (2 at 180)
18. Esther Peters, junior, Allen, Texas, Allen High School (NR)
19. Lilly Chavis, senior, Hoschton, Ga., Jackson County High School (15 at 225)
20. Lilliana Garcia, junior, Flint, Mich., Grand Blanc High School (17 at 225)
21. Chloe Hoselton, sophomore, Chenoa, Ill. Prairie Central High School (18 at 225)
22. Maia Esera, junior, Kanuku, Hawaii, Kahuku High School (19 at 225)
23. Savannah Sistad, junior, Creston, Iowa, Creston High School (16 at 225)
24. Olivia Woods, senior, Eagle, Idaho, Eagle High School (20 at 225)
25. Shaniayha Wysinger, junior, Clarksville, Tenn., Clarksville High School (22 at 225)
26. Faith Tarrant, sophomore, Vancouver, Wash., Prairie High School (23 at 225)
27. Isabella Redlinger, senior, Gainesville, Ga., Chestatee High School (24 at 225)
28. Manusiu Muti, junior, Barrow, Alaska, Barrow High School (NR)
29. Layla Davis, freshman, Cinthiana, Ky., Harrison County High School (25 at 225)
30. MacKayla Miller, senior, Scott City, Kansas, Scott Community High School (NR)