News
USA Wrestling
College
USAW
Finals set at Southern Scuffle; Oklahoma State leads NDSU in team race, national No. 1 Alirez advances
by Gary Abbott, USA Wrestling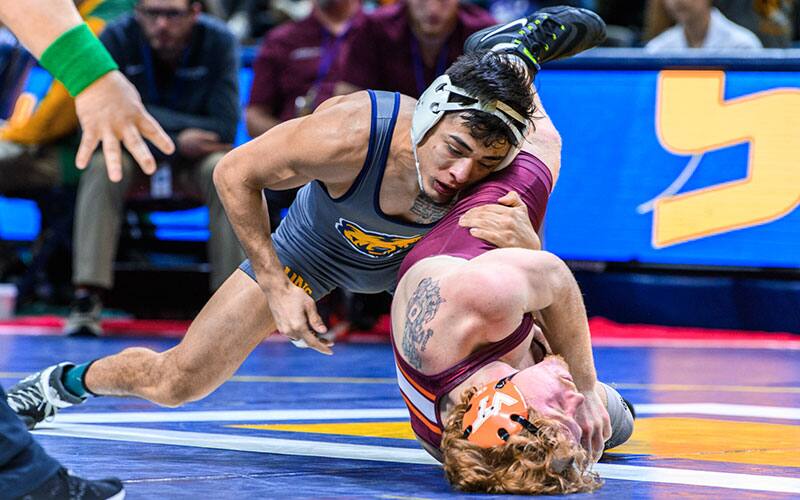 Andrew Alirez (Northern Colorado) scores backpoints at the 2023 Southern Scuffle. Photo by Tony Rotundo, Wrestlers Are Warriors.
CHATTANOOGA, Tenn. – The finals have been set at the
Southern Scuffle
, with a power-packed finals set for 7:00 p.m. ET live on FloWrestling.
As the semifinals ended,
Oklahoma State
led the team race with 149.5 points, ahead of second place
North Dakota State
with 124
Reaching the finals for the Cowboys are Daton Fix (133), Victor Voinovich (149), Dustin Plott (174) and Travis Wittlake (184). The Cowboys still have eight others in the consolation rounds.
North Dakota State has the most in the finals with five: Kellyn March (149), Jared Franek (157), Michael Caliendo III (165), Deanthony Parker, Jr. (184) and Owen Pentz (197).
Pentz knocked off national No. 2 Ethan Laird of Rider with a pin in 6:03.
National No. 1 ranked Andrew Alirez of Northern Colorado won his semifinal by pin and will face national No. 9 Allan Hart of Missouri in the finals.
No. 2 nationally ranked stars who are also in the finals, three-time NCAA finalist Daton Fix of Oklahoma State (133), Kendall Coleman of Purdue (157), 2021 NCAA champion and two-time NCAA finalist Shane Griffith of Stanford (165).
SOUTHERN SCUFFLE

At Chattanooga, Tenn., January 2, 2023


Finals pairings (with seeds)
125 - No. 1 Matt Ramos (Purdue) vs. No. 3 Noah Surtin (Missouri)
133 - No. 1 Daton Fix (Oklahoma State) vs. Brayden Palmer (Chattanooga)
141 - No. 1 Andrew Alirez (Northern Colorado) vs. No. 2 Allan Hart (Missouri)
149 - No. 4 Victor Voinovich (Oklahoma State) vs. No. 6 Kellyn March (North Dakota State)
157 - No. 1 Kendall Coleman (Purdue) vs. No. 2 Jared Franek (North Dakota State)
165 - No. 1 Shane Griffith (Stanford) vs. No. 2 Michael Caliendo III (North Dakota State)
174 - No. 1 Dustin Plott (Oklahoma State) vs. No. 2 Peyton Mocco (Missouri)
184 - No. 1 Travis Wittlake (Oklahoma State) vs. Deanthony Parker Jr. (North Dakota State)
197 - No. 2 Lou Deprez (Binghamton) vs. No. 4 Owen Pentz (North Dakota State)
285 - No. 1 Zach Elam (Missouri) vs. Cory Day (Binghamton)
Semifinal results (with seeds)
125 pounds
No. 1 Matt Ramos (Purdue) dec. No. 4 Stevo Poulin (Northern Colorado), 3-1 SV
No. 3 Noah Surtin (Missouri) dec. No. 2 Trevor Mastrogiovanni (Oklahoma State), 3-0
133 pounds
No. 1 Daton Fix (Oklahoma State) dec. No. 4 Chance Rich (Cal State Bakersfield), 4-1
Brayden Palmer (Chattanooga) pin No. 3 Aaron Nagao (Minnesota), 2:36
141 pounds
No. 1 Andrew Alirez (Northern Colorado) pin No. 5 Darren Miller (Bucknell), 3:42
No. 2 Allan Hart (Missouri) dec. No. 3 Jake Bergeland (Minnesota), 6-0
149 pounds
No. 4 Victor Voinovich (Oklahoma State) dec. Michael Gioffre (Virginia), 4-1
No. 6 Kellyn March (North Dakota State) dec. No. 2 Quinn Kinner (Rider), 9-3
157 pounds
No. 1 Kendall Coleman (Purdue) dec. No. 4 Jarrett Jacques (Missouri), 3-1, SV
No. 2 Jared Franek (North Dakota State) dec. Charles Darracott (Stanford), 3-2
165 pounds
No. 1 Shane Griffith (Stanford) dec. No. 5 Clay Carlson (Minnesota), 4-1
No. 2 Michael Caliendo III (North Dakota State) dec. No. 3 Andrew Sparks (Minnesota), 2-1
174 pounds
No. 1 Dustin Plott (Oklahoma State) dec. Jared Krattiger (Minnesota), 4-0
No. 2 Peyton Mocco (Missouri) dec. No. 3 Bailee O'Reilly (Minnesota), 9-3
184 pounds
No. 1 Travis Wittlake (Oklahoma State) dec. No. 5 Jacob Ferreira (Hofstra), 3-2
Deanthony Parker Jr. (North Dakota State) dec. No. 6 Gavin Stika (Oklahoma State), 5-1
197 pounds
No. 4 Owen Pentz (North Dakota State) pin No. 1 Ethan Laird (Rider), 6:03
No. 2 Lou Deprez (Binghamton) dec. No. 3 Jaxon Smith (Maryland), 4-4, TB
Heavyweight
No. 1 Zach Elam (Missouri) dec. No. 4 Garrett Joles (Minnesota), 4-1
Cory Day (Binghamton) dec. No. 3 Jonah Niesenbaum (Duke), 6-0


Top 10 after semifinals
1 Oklahoma State 149.5
2 ND State 124
3 Missouri 115.5
4 Stanford 89.5
5 Minnesota 79.5
6 Binghamton 63.5
7 N. Colorado 61.5
8 Purdue 51.5 2
9 Maryland 48.5
10 Little Rock 47.5
10 Rider 47.5