News
USA Wrestling
College
Women
USAW
No. 1 Life women win Mid-South Conference title, with four champs and 10 qualifiers, Campbellsville takes second
by Gary Abbott, USA Wrestling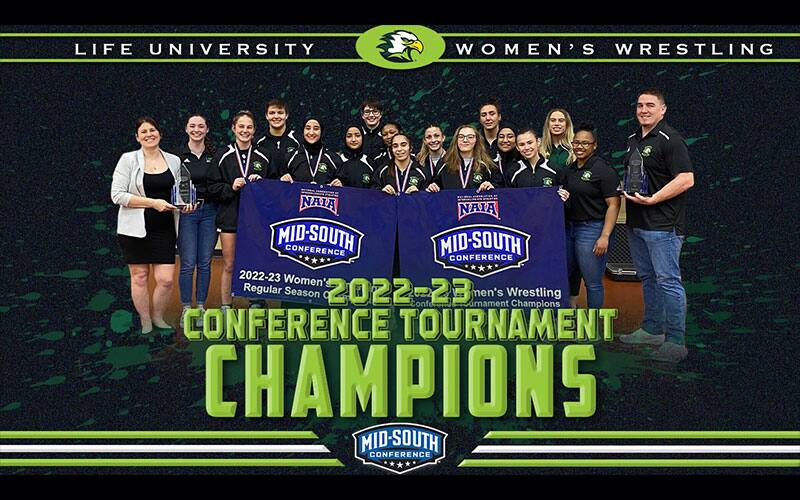 Life, the 2023 Mid-South women's wrestling champions. Graphic courtesy of Life Athletics
.
BOWLING GREEN, Ohio – Led by four champions and 10 NAIA Nationals qualifiers, No. 1
Life University
took home the team title at the 2023 Mid-South Conference Championships on Friday.
Individual champions for Life were
Peyton Prussin
(109),
Olivia Mottley
(123),
Sarah Savidge
(130) and
Latifah McBryde
(155). Prussin, a 2022 NAIA national champion, repeated as Mid-South champion.
Life scored 168.5 points, followed by No. 10
Campbellsville
with 146 points and No. 5
University of the Cumberlands
with 134.5 points.
The Cumberlands matched Life with four individual champions,
Elizabeth Dosado
(109),
Alexis Medina
(116), two-time NAIA national champion
Dymond Guilford
(170) and
Jesse Kirby
(191). Kirby repeated as Mid-South champion. The Cumberlands qualified eight for the nationals.
Campbellsville had only one individual champion,
Emma Walker
(143, who repeated as Mid-South champion. Campbellsville earned nine NAIA qualifiers.
The other individual champion was
Leidaly Rivera
of No. 15 Brewton Parker (136), a team with three qualifiers.
No. 11 Indiana Tech had no individual champion, but pushed seven athletes into the NAIA Nationals. Nine different teams qualified at least one athlete for the national tournament.
MID-SOUTH CHAMPIONSHIPS
At Bowling Green, Ohio
.
101 (4 qualifiers)
1st Place Match - Elizabeth Dosado (Cumberlands) over Makayla Young (Indiana Tech) (Dec 11-6)
3rd Place Match - Devyn Gomez (Life Univ) 26-17, Jr. over Angie Castaneda (Cumberlands) 15-6, . (Inj. 0:00)
5th Place Match - Gabrielle Medeiros (Campbellsville) 19-17, Jr. over Elora Waterman (Brewton Parker) 13-17, Fr. (Fall 5:30)
109 (4 qualifiers)
1st Place Match - Peyton Prussin (Life Univ) over Stefana Jelacic (Lourdes) (TF-1.5 1:02 (10-0))
3rd Place Match - Kelsey Bilz (Campbellsville) over Valeria Ahumada (Siena Heights) (Fall 4:37)
5th Place Match - Tehani Soares (Indiana Tech) over Kory Phillips (Life Univ) (Inj. 0:00)
True 4th Place - Tehani Soares (Indiana Tech) over Valeria Ahumada (Siena Heights)(Dec 9-0)
116 (3 qualifiers)
1st Place Match - Alexis Medina (Cumberlands) over Emma Jones (Indiana Tech) (Fall 5:27)
3rd Place Match - Shea Reisel (Campbellsville) over Alesandra Burgos (Brewton Parker) (Dec 6-3)
5th Place Match
Jamesa Robinson (Brewton Parker) 21-17, Jr. over Bailey Jones (Siena Heights) 7-28, Fr. (TF-1.5 0:50 (10-0))
123 (3 qualifiers)
1st Place Match - Olivia Mottley (Life Univ) over Andrea Hernandez (Indiana Tech) (TF-1.5 2:10 (10-0))
3rd Place Match - Trinity Howard (Montreat) over Jacqueline Ghent (Campbellsville) (Dec 12-11)
5th Place Match - Tonya Flourory (St Andrews) over Michaiah Allen (Montreat) (TF-1.5 3:42 (13-2))
130 (3 qualifiers)
1st Place Match - Sarah Savidge (Life Univ) over Angela Vitiritti (Campbellsville) (TF-1.5 5:01 (11-0))
3rd Place Match - Charmayne Delong (Indiana Tech) over Zaynah McBryde (Life Univ) (Fall 3:41)
5th Place Match - Brielle Newland (Lourdes) over Zoey Smith (Cumberlands) (Dec 8-7)
136 (4 qualifiers)
1st Place Match - Leidaly Rivera (Brewton Parker) over Aliyah Yates (Cumberlands) (Dec 4-2)
3rd Place Match - Riley Dalrymple (Life Univ) over Taylor Howell (Campbellsville) (Dec 4-4)
5th Place Match - Madisyn Blackburn (Brewton Parker) over Mallory Chunat (Siena Heights) (Fall 2:15)
143 (3 qualifiers)
1st Place Match - Emma Walker (Campbellsville) over Jamilah McBryde (Life Univ) (Fall 1:56)
3rd Place Match - Brelane Huber (Campbellsville) over Maia Crumb (Indiana Tech) (Fall 0:51)
5th Place Match - Migdalys Ramos (Brewton Parker) over Hailey Budney (Cumberlands) (Dec 5-1)
155 (6 qualifiers)
1st Place Match - Latifah McBryde (Life Univ) over India Page (Brewton Parker) (TF-1.5 2:44 (11-0))
3rd Place Match - Gabrielle Holloway (St Andrews) over Kendra Thompson (Campbellsville) (Dec 7-4)
5th Place Match - Sierra Chavez (Campbellsville) over Grace Doering (Indiana Tech) (Dec 3-2)
170 (6 qualifiers)
1st Place Match - Dymond Guilford (Cumberlands) over Liliana Vergara (Campbellsville) (Inj. 0:00)
3rd Place Match - Katelyn Lewis (Brewton Parker) over Jessie Lee (Life Univ) (Fall 1:12)
5th Place Match - Bo Geibe (Siena Heights) over Chamira Cooper (Cumberlands) (Inj. 0:00)
191 (5 qualifiers)
1st Place Match - Jesse Kirby (Cumberlands) over MaQuoia Bernabe (Cumberlands) (Dec 4-1)
3rd Place Match - Riley Dempewolf (Indiana Tech) over Catherine Palmieri (Life Univ) (Inj. 0:00)
5th Place Match - Madeline Welch (Life Univ)
Team Standings
1 Life Univ 168.5
2 Campbellsville 146.0
3 Cumberlands 134.5
4 Indiana Tech 108.0
5 Brewton Parker 93.0
6 Siena Heights 30.5
7 St Andrews 25.5
8 Lourdes 24.5
9 Montreat 22.5
10 Rochester 0.0
NAIA CHAMPIONSHIPS QUALIFIERS BY TEAM
Life (10 qualifiers)
Devyn Gomez (3rd at 101, Mid-South)
Peyton Prussin (1st at 109, Mid-South)
Olivia Mottley (1st at 123, Mid-South)
Sarah Savidge (1st at 130, Mid-South)
Riley Dalrymple (3rd at 136, Mid-South)
Jamilah McBryde (2nd at 143, Mid-South)
Latifah McBryde (1st at 155, Mid-South)
Jessie Lee (4th at 170, Mid-South)
Catherine Palmieri (4th at 191, Mid-South)
Madeline Welch (5th at 191, Mid-South)
Campbellsville (9 qualifiers)
Kelsey Bilz (3rd at 109, Mid-South)
Shea Reisel (3rd at 116, Mid-South)
Angela Vitiritti (2nd at 130, Mid-South)
Taylor Howell (4th at 136, Mid-South)
Emma Walker (1st at 143, Mid-South)
Brelane Huber (3rd at 143, Mid-South)
Kendra Thompson (4th at 155, Mid-South)
Sierra Chavez (5th at 155, Mid-South)
Liliana Vergara (2nd at 170, Mid-South)
Cumberlands (8 qualifiers
)
Elizabeth Dosado (1st at 101, Mid-South)
Angie Castaneda (4th at 101, Mid-South)
Alexis Medina (1st at 116, Mid-South)
Aliyah Yates (2nd at 136, Mid-South)
Dymond Guilford (1st at 170, Mid-South)
Chamira Cooper (6th at 170, Mid-South)
Jesse Kirby (1st at 191, Mid-South)
MaQuoia Bernabe (2nd at 191, Mid-South)
Indiana Tech (7 qualifiers)
Makayla Young (2nd at 101, Mid-South)
Tehani Soares (True 4th at 109, Mid-South)
Emma Jones (2nd at 116, Mid-South)
Andrea Hernandez (2nd at 123, Mid-South)
Charmayne Delong (3rd at 130, Mid-South)
Grace Doering (6th at 155, Mid-South)
Riley Dempewolf (3rd at 191, Mid-South
Brewton Parker (3 qualifiers)
Leidaly Rivera (1st at 136, Mid-South)
India Page (2nd at 155, Mid-South)
Katelyn Lewis (3rd at 170, Mid-South)
Lourdes (1 qualifier)
Stefana Jelacic (2nd at 109, Mid-South)
Montreat (1 qualifier)
Trinity Howard (3rd at 123, Mid-South)
St. Andrews (1 qualifier)
Gabrielle Holloway (3rd at 155, Mid-South)
Siena Heights (1 qualifier)
Bo Geibe (5th at 170, Mid-South)