News
USA Wrestling
College
Women
USAW
NCWWC Region 5: No. 4 Colorado Mesa women claim title with five champions and 12 qualifiers
by Gary Abbott, USA Wrestling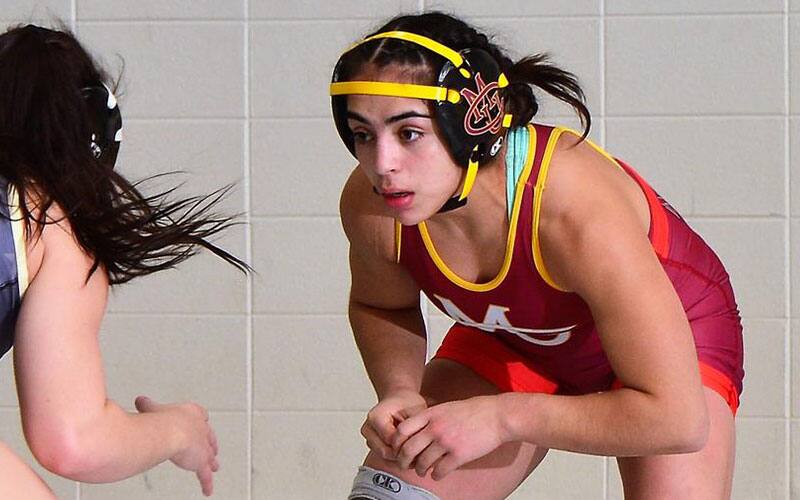 Marissa Gallegos (Colorado Mesa) in competition. Photo by Mike Slade, courtesy of Colorado Mesa Athletics.
GRAND JUNCTION, Colo. – No. 4 (tie) Colorado Mesa hosted the NCWWC Region 5 Championships, and had a powerful performance on their home mats, claiming five individual titles and qualifying 12 for the national championships.
Colorado Mesa finished with 174.5 points, ahead of runner-up No. 6 Simon Fraser with 152 points and third-place Chadron State with 123.5 points.
Individual champions for Colorado Mesa were
Jennesis Martinez
(101),
Marissa Gallegos
(123),
Hailey Chapman
(130),
Holly Beaudoin
(136) and
Dalia Garibay
(155). Gallegos claimed a regional title for the second straight year. Martinez beat teammate Isabella Morales in the finals by forfeit.
,
Simon Fraser added four champions,
Maddie Mackenzie
(109),
Victoria Seal
(116),
Emily Cue
(170) and
Katja Osteen
(191). Mackenzie and Osteen were repeat regional champions. Simon Fraser pushed nine athletes into the national tournament.
The other individual champion was Kayley Garcia of Chadron State at 143 pounds. Chadron and Schreiner both qualified four for the national tournament.
Eight different teams were able to send at least one qualifier to the NCWWC Nationals.
NCWWC REGION 5 CHAMPIONSHIPS
At Grand Junction, Colo., Feb. 19
101
1st Place Match - Jennesis Martinez (Colorado Mesa University) won by forfeit over Isabella Morales (Colorado Mesa University) (FF)
3rd Place Match - Odelia Lopez (Schreiner University) won by tech fall over Kinsey Smith (Chadron) (TF 10-0)
5th Place - Britley Lopez (Chadron)
109
1st Place Match - Maddie Mackenzie (Simon Fraser University) won by decision over Golrokh Nouri (Simon Fraser University) (Dec 2-1)
3rd Place Match - Allicia Mahoe (Schreiner University) won by tech fall over Brianna Vollendroff (Chadron) (TF 10-0)
5th Place Match - Mackenzie Peterson (Texas Womens University) won by tech fall over Taylor Lindstrom (Chadron) (TF 10-0)
7th Place Match - Isabella Cruz (University of the Ozarks) won by fall over Ashlee Rice (Texas Womens University) (Fall 0:56)
True Fourth Place Match – Mackenzie Peterson (Texas Womens University) won by fall over Brianna Vollendorf (Chadron) Fall 4:44
116
1st Place Match - Victoria Seal (Simon Fraser University) won by tech fall over Ivy Threatful (Simon Fraser University) (TF 10-0)
3rd Place Match - Isabell Ortiz (Chadron) won by fall over Jaia Ashley (Schreiner University) (Fall 5:28)
5th Place Match - Mercedes Nerios (Texas Womens University) won by tech fall over Carisa Epling (Colorado Mesa University) (TF 17-6)
7th Place Match - Victoria Pena (University of the Ozarks) won by tech fall over Sara Sargent (Linfield University) (TF 10-0)
True Fourth Place Match – Mercedes Nerios (Texas Womens University) won by fall over Jaia Ashley (Schreiner University) Fall 4:42
123
1st Place Match - Marissa Gallegos (Colorado Mesa University) won by fall over Emily Sullenger (Linfield University) (Fall 1:46)
3rd Place Match - Hania Halverson (Colorado Mesa University) won by fall over Jazmin Gorder (Minot State) (Fall 1:26)
5th Place Match - Ana Rojas Zamora (Chadron) won by fall over Marianela Garcia (Schreiner University) (Fall 0:39)
7th Place - Cristal De Santiago (Schreiner University)
130
1st Place Match - Hailey Chapman (Colorado Mesa University) won by fall over Marquesis Haintz (Simon Fraser University) (Fall 2:24)
3rd Place Match - Elizabeth Miller (Colorado Mesa University) won by fall over Annika Gotlieb (Minot State) (Fall 0:40)
5th Place Match - Josephine Wearmouth (Chadron) won by fall over Chanya (Ploy) Tipmanee (Texas Womens University) (Fall 3:31)
7th Place Match - Laisha Rios (Texas Womens University) won by fall over Samantha Shipley (Pacific University) (Fall 1:43)
136
1st Place Match - Holly Beaudoin (Colorado Mesa University) won by fall over Jade Trolland (Simon Fraser University) (Fall 2:43)
3rd Place Match - Brooke Zejada (Texas Womens University) won by tech fall over Ayana Medina (Linfield University) (TF 10-0)
5th Place Match - Kira Phillips (Texas Womens University) won by fall over Brielle Brick (Linfield University) (Fall 4:53)
7th Place Match - Ryleigh Dye (Chadron) won by decision over Ilee Basaldua (University of the Ozarks) (Dec 4-1)
True Fourth Place Match - Ayana Medina (Linfield University) won by fall over Kira Phillips (Texas Womens University) Fall 1:59
143
1st Place Match - Kayley Garcia (Chadron) won by tech fall over Erica Schroeder (Colorado Mesa University) (TF 11-0)
3rd Place Match - Celina Cooke (Colorado Mesa University) won by fall over Poorna Babu (Texas Womens University) (Fall 2:21)
5th Place Match - Diriann Porras (University of the Ozarks) won by decision over Serena Cervantes (Schreiner University) (Dec 3-2)
7th Place Match - Karstin Hollen (Chadron) won by tech fall over Clara Scaglioni (Simon Fraser University) (TF 10-0)
155
1st Place Match - Dalia Garibay (Colorado Mesa University) won by forfeit over Paige Maher (Simon Fraser University) (FF)
3rd Place Match - Nina Sandoval (Minot State) won by fall over Jordan Johnston (Schreiner University) (Fall 1:06)
5th Place Match - Marissa Porsch (Chadron) won by tech fall over Sheanareial (Nari) Miller (Texas Womens University) (TF 10-0)
7th Place Match - Makaila Takahashi (Pacific University) won by fall over Zanya Walker (Texas Womens University) (Fall 1:12)
170
1st Place Match - Emily Cue (Simon Fraser University) won by fall over Kamila Montenegro (Chadron) (Fall 3:31)
3rd Place Match - Aubrey Yauger (Texas Womens University) won by fall over Samantha Vasquez (Colorado Mesa University) (Fall 2:16)
5th Place Match - Melena Jones (Colorado Mesa University) won by fall over Lila Bloomer (Chadron) (Fall 2:35)
7th Place Match - Kami Hart (Linfield University) won by fall over Symphanie Sampson (Schreiner University) (Fall 1:46)
True Fourth Place Match - Melena Jones (Colorado Mesa University) won by decision over Samantha Vasquez (Colorado Mesa University) Dec 7-7
191
1st Place Match - Katja Osteen (Simon Fraser University) won by fall over Rewa Chababo (University of the Ozarks) (Fall 0:16)
3rd Place Match - Jayleen Sekona (Colorado Mesa University) won by tech fall over Victoria Craft (Schreiner University) (TF 10-0)
5th Place Match - Isabeau Shalack (Colorado Mesa University) won by decision over Faith Perez (Texas Womens University) (Dec 7-0)
7th Place Match - Angela Archuleta (Texas Womens University) won by fall over Madison Parson (Minot State) (Fall 1:45)
Team Standings
1 Colorado Mesa University 174.5
2 Simon Fraser University 152.0
3 Chadron 123.5
4 Texas Womens University 93.5
5 Schreiner University 90.5
6 Minot State 50.5
7 University of the Ozarks 42.5
8 Linfield University 41.5
9 Pacific University 9.0
NCWWC NATIONAL QUALIFIERS BY TEAM

Colorado Mesa (12 qualifiers)
Jennesis Martinez (1st at 101, Region 5)
Isabella Morales (2nd at 101, Region 5)
Marissa Gallegos (1st at 123, Region 5)
Hania Halverson (3rd at 123, Region 5)
Hailey Chapman (1st at 130, Region 5)
Elizabeth Miller (3rd at 130, Region 5)
Holly Beaudoin (1st at 136, Region 5)
Erica Schroeder (2nd at 143, Region 5)
Celina Cooke (3rd at 143, Region 5)
Dalia Garibay (1st at 155, Region 5)
Melena Jones (True 4th at 170, Region 5)
Jayleen Sekona (3rd at 191, Region 5)
Simon Fraser (9 qualifiers)
Maddie Mackenzie (1st at 109, Region 5)
Golrokh Nouri (2nd at 109, Region 5)
Victoria Seal (1st at 116, Region 5)
Ivy Threatful (2nd at 116, Region 5)
Marquesis Haintz (2nd at 130, Region 5)
Jade Trolland (2nd at 136, Region 5)
Paige Maher (2nd at 155, Region 5)
Emily Cue (1st at 170, Region 5)
Katja Osteen (1st at 191, Region 5)
Texas Women's (5 qualifiers)
Mackenzie Peterson (True 4th at 109, Region 5)
Mercedes Nerios (True 4th at 116, Region 5)
Brooke Zejada (3rd at 136, Region 5)
Poorna Babu (4th at 143, Region 5)
Aubrey Yauger (3rd at 170, Region 5)
Schreiner (4 qualifiers)
Odelia Lopez (3rd at 101, Region 5)
Allicia Mahoe (3rd at 109, Region 5)
Jordan Johnston (4th at 155, Region 5)
Victoria Craft (4th at 191, Region 5)
Chadron State (4 qualifiers)
Kinsey Smith (4th at 101, Region 5)
Isabell Ortiz (3rd at 116, Region 5)
Kayley Garcia (1st at 143, Region 5)
Kamila Montenegro (2nd at 170, Region 5)
Minot State (3 qualifiers)
Jazmin Gorder (4th at 123, Region 5)
Annika Gotlieb (4th at 130, Region 5)
Nina Sandoval (3rd at 155, Region 5)
Linfield (2 qualifiers)
Emily Sullenger (2nd at 123, Region 5)
Ayana Medina (True 4th at 136, Region 5)
University of the Ozarks (1 qualifier)
Rewa Chababo (2nd at 191, Region 5)