News
USA Wrestling
High School & Youth
Women
USAW
Ward and Perry win U17 silver medals at the Klippan Lady Open in Sweden
by Gary Abbott, USA Wrestling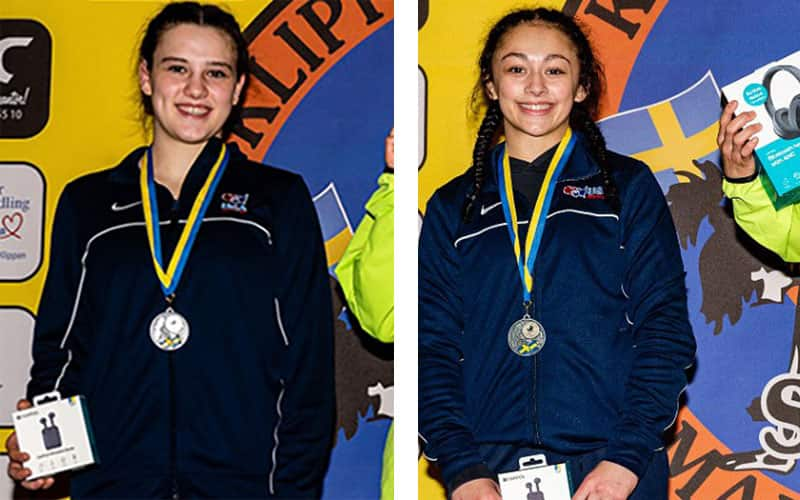 Sydney Perry of the USA (left) and Ava Ward (right) on the podium with silver medals at the U17 division at the Klippan Lady Open today. Photos courtesy of Klippan Lady Open Facebook page.
KLIPPAN, Sweden - Team USA secured a pair of silver medals from
Ava Ward
of Missouri at 49 kg and
Sydney Perry
of Illinois in the U17 division at the Klippan Lady Open on Saturday morning.
Ward was defeated in the finals by 2022 Asian U17 silver medalist Nana Kozuka of Japan, 8-2.
On Friday, Ward opened with a pair of 10-0 technical falls to capture Pool A at 49 kg, putting away Stella Orensztajn of Sweden and Tilla Vangstein of Norway.
Ward was a 2021 U17 World bronze medalist and a 2022 U17 Pan American champion.
Perry lost in her gold-medal match to 2022 Asian U17 silver medailst Yurina Honda of Japan, 7-0.
On Friday, Perry claimed first place in Pool A at 65 kg, beating Tilda Wanngard of Sweden, 9-4, then stopping Charlotte Biclot of France, 5-4.
Perry was a 2022 Pan American U17 silver medalist and was fifth in the 2022 U17 Worlds.
Skylar Little Soldier of Minnesota placed eight at 65 kg after losing two bouts on Friday. She opened with a 4-0 loss to Yurina Honda of Japan, then was pinned in 1:25 by Wilma Hoffman of Sweden.
Little Soldier was a 2022 Pan American U17 silver medalist.
All three are among the highest ranked high school wrestlers in the nation, with Perry (No. 2 at 144), Ward (No. 2 at 117) and Little Soldier (No. 3 at 144) based on the February National Girls High School Rankings which were released Friday.
With just three entries, the United States placed fifth in the U17 team standings, which featured 24 teams from 10 nations. Japan, which had seven of the nine champions, won the team title.
The Senior division, with 10 U.S. entries, started competition on Saturday afternoon. A separate article will be posted from day one of that event.
KLIPPAN LADY OPEN

At Klippan, Sweden, Feb. 17-18


U17 Individual champions
40 kg - Mona Ezaka (Japan)
43 kg - Yuu Katsume (Japan)
46 kg - Josefiina Tuominen (Finland)
49 kg - Nana Kozuka (Japan)
53 kg - Anja Epp (Switzerland)
57 kg - Sowaka Uchida (Japan)
61 kg - Yuri Koshiba (Japan)
65 kg - Yurina Honda (Japan)
69 kg - Chisato Yoshida (Japan)
U.S. U17 women's freestyle results
49 kg - Ava Ward, Centralia, Mo., SILVER MEDAL
WIN Stella Orensztajn (Sweden), tech. fall 10-0
WIN Tilla Vangstein (Norway), tech. fall 10-0
LOSS Nanza Kozuka (Japan), 8-2
65 kg - Sydney Perry, Batavia, Ill., SILVER MEDAL
WIN Tilda Wanngard (Sweden), 9-4
WIN Charlotte Biclot (France), 5-4
LOSS Yurina Honda (Japan), 7-0
65 kg - Skylar Little Soldier, Welch, Minn.,eliminated/8th place
LOSS Yurina Honda (Japan), 4-0
LOSS Wilma Hoffman (Sweden) pin 1:25
Team Standings
1. Japan, 33
2..Finland, 8
3. (tie) France and Sundsvalls AIK (Sweden), 8
5. United States, 6
(of 24 teams from 10 nations)