News
USA Wrestling
Women
College
USAW
NCWWC Region 3: UW-Stevens Point women take title with five champs, runner-up No. 12 Adrian has two champs
by Gary Abbott, USA Wrestling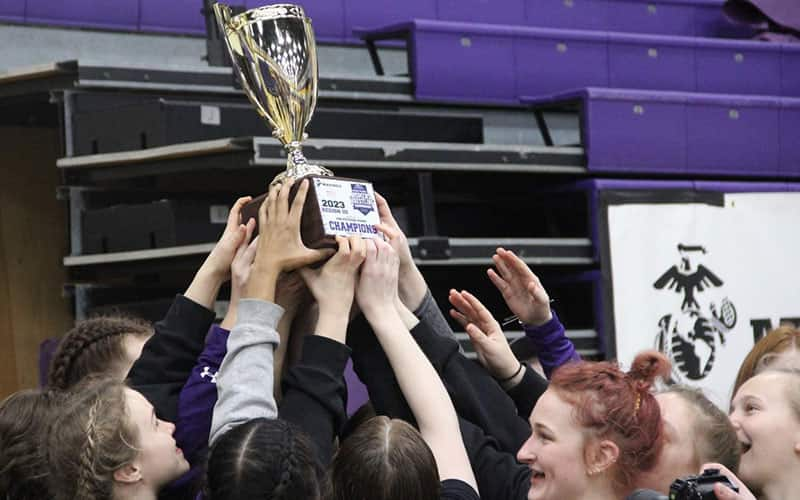 UW-Stevens Point women's wrestling team raises the NCWWC Region 3 team trophy. Photo courtesy of UW-Stevens Point Athletics

STEVENS POINT, Wis. – Coming into the NCWWC Region 3 Championships, host UW-Stevens Point was an unranked team. Expect that to change. When the regional was over, UW-Stevens Point was Region 3 champions with five champions and 11 national qualifiers.
Winning titles for UW-Stevens Point were
Alexis Winecke
(109),
Rose Ann Marshall
(116),
Abby Nelson
(123),
Amor Tuttle
(130) and
Tabitha Breitrick
(170).
UW-Stevens Point scored 180.5 points, followed by No. 12 Adrian with 153.5 points and third-place No. 17 Northern Michigan with 109.5 points.
Adrian and Northern Michigan each had a pair of champions. Adrian champions were
Clarissa Agostini
(143) and
Sienna Lejeune
(190). Northern Michigan champions were
Diana Dzasezeva
(136) and
Lydia Krauss
(155).
The other individual champion was
Jenavi Alejandro
of No. 18 Tiffin (101). Five teams earned national qualifiers
NCWWC REGION 3 CHAMPIONSHIPS
At Stevens Point, Wis., February 18
101
1st Place Match - Jenavi Alejandro (Tiffin University) won by fall over Kelly Enriquez (Wisconsin Stevens Point) (Fall 0:26)
3rd Place Match - Trinity Valentin (Northern Michigan University) won by tech fall over Bentley Hills (Carthage College) (TF 10-0)
5th Place - Kristy Travis (Tiffin University)
109
1st Place Match - Alexis Winecke (Wisconsin Stevens Point) won by tech fall over Shaina Hyre (Wisconsin Stevens Point) (TF 10-0)
3rd Place Match - Emily Mendez (Adrian College) won by tech fall over Gabby Motz (Albion) (TF 14-2)
5th Place Match - Riley Morrison (Trine) won by fall over Kylee Bentley (Hiram) (Fall 0:46)
7th Place Match - Lynsey Light (Albion) won by fall over Bryn Sandhu (Northern Michigan University) (Fall 2:48)
116
1st Place Match - Rose Ann Marshall (Wisconsin Stevens Point) won by decision over Angela LoRusso (Adrian College) (Dec 8-6)
3rd Place Match - Natalie Majer (Carthage College) won by tech fall over Jayla Oberst (Albion) (TF 10-0)
5th Place Match - Angelica Torres Lima (Wisconsin Stevens Point) won by decision over Michelle Sanchez (Trine) (Dec 5-0)
123
1st Place Match - Abby Nelson (Wisconsin Stevens Point) won by fall over Alejandra Perez (Northern Michigan University) (Fall 1:22)
3rd Place Match - Morgan Bethea (Wisconsin Stevens Point) won by tech fall over Laila Oribello (Adrian College) (TF 13-2)
5th Place Match - Jennifer Villagomez (Carthage College) won by fall over Isabella Richardson (Adrian College) (Fall 4:17)
True Fourth Place Match – Laila Oribello (Adrian College) won by fall over Jennifer Villagomez (Carthage College) Fall 0:54
130
1st Place Match - Amor Tuttle (Wisconsin Stevens Point) won by fall over Danielle Ruiz (Albion) (Fall 5:15)
3rd Place Match - Nadia Flores (Carthage College) won by fall over Hannah Arledge-Teran (Albion) (Fall 1:25)
5th Place Match - Abigail Geairn (Adrian College)
136
1st Place Match - Diana Dzasezeva (Northern Michigan University) won by decision over Hannah Palise (Albion) (Dec 6-1)
3rd Place Match - Shawna Oesterling (Adrian College) won by fall over Tatiana Bermudez (Tiffin University) (Fall 1:43)
5th Place Match - Michal Buska (Tiffin University) won by fall over Addison Young (Wisconsin Stevens Point) (Fall 1:12)
7th Place - Sharon Leon (Northern Michigan University)
143
1st Place Match - Clarissa Agostini (Adrian College) won by fall over Marisa Roth (Northern Michigan University) (Fall 1:38)
3rd Place Match - Taylor Cutler (Adrian College) won by decision over Anna Strand (Wisconsin Stevens Point) (Dec 8-2)
5th Place Match - Paige Lenhardt (Tiffin University) won by fall over Adele Senzig (Carthage College) (Fall 2:55)
7th Place Match - Clare Doering (Lakeland College) won by decision over Allydia Byard (Hiram) (Dec 12-5)
155
1st Place Match - Lydia Krauss (Northern Michigan University) won by fall over Nyla Burgess (Adrian College) (Fall 3:26)
3rd Place Match - Jade Herzer (Wisconsin Stevens Point) won by decision over Noelle Gaffney (Northern Michigan University) (Dec 5-3)
5th Place Match - Megan Vondrasek (Adrian College) won by fall over Niyasia McCampbell (Lakeland College) (Fall 2:00)
7th Place Match - Charissa Fauber (Trine)
170
1st Place Match - Tabitha Breitrick (Wisconsin Stevens Point) won by tech fall over Erin Martin (Tiffin University) (TF 11-0)
3rd Place Match - Aspen Dodge (Adrian College) won by tech fall over Teni Ajayi (Northern Michigan University) (TF 11-1)
5th Place Match - Sierra Pienkowski (Carthage College) won by fall over Elisa Cox (Adrian College) (Fall 3:37)
7th Place Match - Taylor Schulz (Wisconsin Stevens Point) won by fall over Ashton Francis (Trine) (Fall 3:57)
190
1st Place Match - Sienna Lejeune (Adrian College) won by fall over Yamilex Perez (Adrian College) (Fall 3:59)
3rd Place Match - Brindelyn Eternicka (Wisconsin Stevens Point) won by tech fall over Alexia Swisher (Tiffin University) (TF 10-0)
Team Standings
1 Wisconsin Stevens Point 180.5
2 Adrian College 153.5
3 Northern Michigan University 109.5
4 Tiffin University 73.0
5 Carthage College 71.0
6 Albion 55.0
7 Trine 27.0
8 Lakeland College 15.5
9 Hiram 15.0
NCWWC NATIONAL QUALIFIERS BY TEAM
Wisconsin Stevens-Point (11 qualifiers
)
Kelly Enriquez (2nd at 101, Region 3)
Alexis Winecke (1st at 109, Region 3)
Shaina Hyre (2nd at 109, Region 3)
Rose Ann Marshall (1st at 116, Region 3)
Abby Nelson (1st at 123, Region 3)
Morgan Bethea (3rd at 123, Region 3)
Amor Tuttle (1st at 130, Region 3)
Anna Strand (4th at 143, Region 3)
Jade Herzer (3rd at 155, Region 3)
Tabitha Breitrick (1st at 170, Region 3)
Brindelyn Eternicka (3rd at 191, Region 3)
Adrian College (10 qualifiers)
Emily Mendez (3rd at 109, Region 3)
Angela LoRusso (2nd at 116, Region 3)
Laila Oribello (True 4th at 123, Region 3)
Shawna Oesterling (3rd at 136, Region 3)
Clarissa Agostini (1st at 143, Region 3)
Taylor Cutler (3rd at 143, Region 3)
Nyla Burgess (2nd at 155, Region 3)
Aspen Dodge (3rd at 170, Region 3)
Sienna Lejeune (1st at 190, Region 3)
Yamilex Perez (2nd at 191, Region 3)
Northern Michigan (7 qualifiers)
Trinity Valentin (3rd at 101, Region 3)
Alejandra Perez (2nd at 123, Region 3)
Diana Dzasezeva (1st at 136, Region 3)
Marisa Roth (2nd at 143, Region 3)
Lydia Krauss (1st at 155, Region 3)
Noelle Gaffney (4th at 155, Region 3)
Teni Ajayi (4th at 170, Region 3)
Albion (5 qualifiers)
Gabby Motz (4th at 109, Region 3)
Jayla Oberst (4th at 116, Region 3)
Danielle Ruiz (2nd at 130, Region 2)
Hannah Arledge-Teran (4th at 130, Region 3)
Hannah Palise (2nd at 136, Region 3)
Tiffin (4 qualifiers)
Jenavi Alejandro (1st at 101, Region 3)
Tatiana Bermudez (4th at 136, Region 3)
Erin Martin (2nd at 170, Region 3)
Alexia Swisher (4th at 191, Region 3)
Carthage College (3 qualifiers)
Bentley Hills (4th at 101, Region 3)
Natalie Majer (3rd at 116, Region 3)
Nadia Flores (3rd at 130, Region 3)