News
USA Wrestling
College
USAW
No. 6 Oklahoma State hammers Oklahoma, 26-6 in Stillwater for 17th consecutive Bedlam victory over OU
by Oklahoma State athletics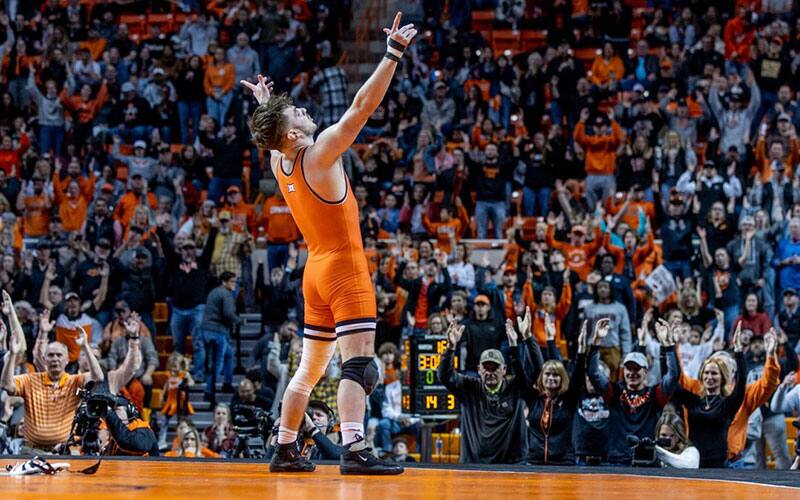 Photo courtesy of Oklahoma State Athletics
STILLWATER – The Oklahoma State wrestling team took down Oklahoma for the 17th consecutive time on senior night in Gallagher-Iba Arena, 26-6.
The win moved the all-time series record to 149-27-10 in favor of the Cowboys. Oklahoma State has defeated the Sooners in Gallagher-Iba Arena every season since 1999 and closed out the 2022-23 campaign with a 6-1 home record.
Four Cowboy seniors were honored before the match, including Kaden Gfeller, Wyatt Sheets, Jalin Harper and Gavin Stika. In addition, Ricky Stewart, a two-time national champion and four time All-American for OSU, was presented with the 2023 Gallagher Award.
"Kaden coming back, having a daughter and making a commitment to coming back was big for us and really he's having one of his better years, discipline-wise," head coach John Smith said. "Stika and Harper, you think of those guys and they didn't get to wrestle a lot , but they're seniors graduating. Stika in Ag and plans to get into the meat business, and Harper in business. They are both great guys. Some of my best alumni are guys that didn't get to wrestle a whole lot. That tells you a little bit about Oklahoma State wrestling and what a fortunate thing I've been blessed to be a part of for so long… And Wyatt, what a crazy career he's had. It looks like it appears to be one of his better years right now."
After the Sooners' claimed a decision at 125 pounds to open the dual, Daton Fix put the Cowboys on top with a 15-6 major decision over No. 28 Wyatt Henson and they never looked back. Carter Young and Victor Voinovich followed up with decisions of their own, avenging losses from the first Bedlam dual in Norman. Young's 5-3 decision over No. 7 Mosha Schwartz is his fourth win over a top-10 opponent this season.
Six months after returning to the program for his final season of eligibility, Gfeller went out on top in his final home match with a 14-3 major decision over Jacob Butler. After the first period ended at 3-3, the Cowboy senior outscored Butler 11-0 in the final two periods, including a late takedown and four-point near fall in the third period that clinched the major decision.
"I wish they would've called a pin," Gfeller said. "I would've got hyped up for that. I don't know what I would've done, but it would've been something crazy… It was awesome. It's a lot of fun to wrestle in Gallagher, especially earlier in the week when there's a lot of people. I felt like the crowd was pretty rowdy tonight, especially for it being a Thursday. It was really cool. Great experience."
Following Gfeller's major decision, Wyatt Sheets' late comeback attempt came up short against No. 22 Gerrit Nijenhuis. Dustin Plott put the Cowboys back on track with a 7-2 decision over No. 22 Tate Picklo as OSU would take the final four matches to seal the victory.
Travis Wittlake used a reversal and takedown en route to a 7-4 decision over former Cowboy Keegan Moore at 184 pounds, while Luke Surber defeated his former teammate at Tuttle High School, Carson Berryhill, 4-1. Konner Doucet closed out the dual and OSU's season in Gallagher-Iba Arena with a 2-1 win in overtime over No. 15 Josh Heindselman. After riding out Heindselman in the first 30-second period of the tiebreakers, Doucet selected a neutral start and avoided being taken down to win on riding time.
The Cowboys will close out the regular season on Sunday against No. 2 Iowa in Carver-Hawkeye Arena. The match will be televised on Big Ten Network beginning at 3:30 p.m. CT.
No. 6 Oklahoma State 26, Oklahoma 6

Feb. 16, 2023 I Gallagher-Iba Arena I Stillwater, Okla.

Attendance: 6,373
125: No. 30 Joey Prata (OU) dec. No. 28 Reece Witcraft (OSU), 7-2
133: No. 2 Daton Fix (OSU) MD No. 28 Wyatt Henson (OU), 15-6
141: No. 15 Carter Young (OSU) dec. No. 7 Mosha Schwartz (OU), 5-3
149: No. 20 Victor Voinovich (OSU) dec. No. 19 Mitch Moore (OU), 2-0
157: No. 9 Kaden Gfeller (OSU) MD Jacob Butler (OU), 14-3
165: No. 22 Gerrit Nijenhuis (OU) dec. No. 23 Wyatt Sheets (OSU), 10-6
174: No. 11 Dustin Plott (OSU) dec. No. 22 Tate Picklo (OU), 7-2
184: No. 10 Travis Wittlake (OSU) dec. Keegan Moore (OU), 7-4
197: No. 17 Luke Surber (OSU) dec. Carson Berryhill (OU), 4-1
HWT: No. 22 Konner Doucet (OSU) dec. No. 15 Josh Heindselman (OU), TB-1 2-1