News
USA Wrestling
College
USAW
No. 10 Missouri stuns No. 3 Iowa State, 23-12 in Columbia; Carr beats O'Toole in featured bout
by Missouri Athletics, and Andy Stubblefield, Iowa State Athletics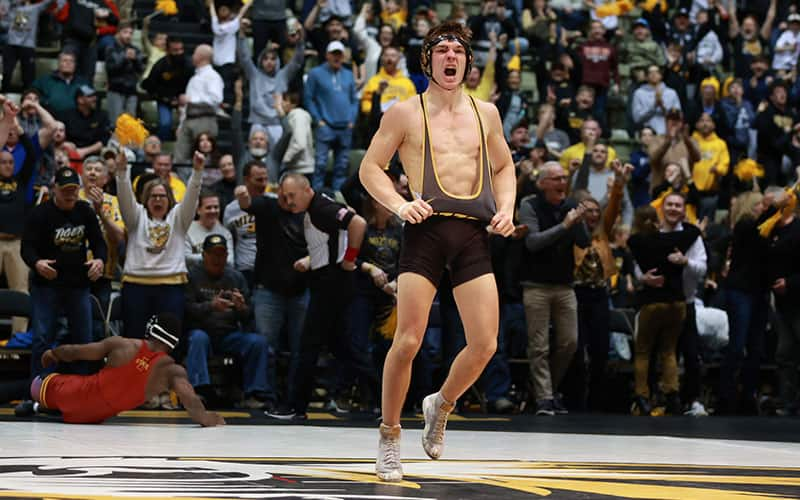 Brock Mauller (Missouri) celebrates after pinning Paniro Johnson (ISU) at 149. Photo courtesy of Missouri Athletics
Missouri press release
COLUMBIA, Mo. – The No. 10-ranked University of Missouri wrestling team picked up a Senior Night victory against No. 3 Iowa State, 23-12, Wednesday, Feb. 15. In front of a Hearnes Center wrestling record 4,819 fans, Mizzou built an insurmountable lead late in the dual to pick up its seventh victory in the last eight meetings against the Cyclones.
Redshirt junior Peyton Mocco (174) started things off for the Tigers with a 7-5 decision, followed by a hard fought bout at 184 that saw sophomore Colton Hawks fall just short against Marcus Coleman, the nation's No. 4 wrestler. At 197, sophomore Rocky Elam controlled the contest against No. 8 Yonger Bastida wire-to-wire, earning a 4-0 decision in a top-10 matchup. His older brother, redshirt junior Zach Elam (285) had another tightly contested top-10 bout, but ultimately fell in a 5-3 decision.
With things knotted up at six points apiece following four-straight decisions to start the dual, redshirt sophomore Noah Surtin (125) dominated his match and pinned his opponent in 2:54, creating a six-point cushion for Mizzou entering the halfway point.
Following the break, the two squads split a pair of decisions yet again, with redshirt senior Allan Hart (141) taking a 7-1 win in his final home clash to maintain a 15-9 lead with three matchups remaining. At 149, redshirt junior Brock Mauller toughed his way through the night's third top-10 clash against No. 9 Paniro Johnson, maintaining a 1-1 score heading into sudden victory. The Columbia native pinned his opponent after 8:45 of grappling, extending the Tiger lead to 11.
Senior Jarrett Jacques (157) parlayed the momentum into a 2-0 decision in his final match at the Hearnes Center, securing the Tiger victory on Senior Night. The final match of the night featured a top-two clash at 165. Mizzou's defending national champion, Keegan O'Toole, fell to the 2021 157-pound National Champion David Carr in a 7-2 decision.
Mizzou looks on to the postseason boasting a 8-3 dual record, 7-1 in conference, and a perfect 5-0 standing inside the Hearnes Center.
MATCH NOTES
* Missouri advances to 11-45 all-time against Iowa State, winning seven of the last eight in the series dating back to 2011.
* 4,819 fans packed the Hearnes Center Wednesday night, setting a new wrestling attendance record in the facility. The dual's attendance jumped the Feb. 16, 2019 matchup against Oklahoma State in which 4,721 Tiger fans were in attendance.
* Wednesday's dual was Mizzou's sixth-ranked matchup of the year, picking up wins against No. 3 Iowa State, No. 13 Northern Iowa, and No. 15 North Dakota State, while dropping road duals to No. 11 Oklahoma State, No. 9 Virginia Tech and No. 5 Arizona State.
* Mocco notched his team-leading 17th victory on the campaign, while improving his season win percentage to .850. The redshirt junior moved to 2-0 against Iowa State's Julien Broderson all-time.
* In their fifth-ever meeting, R. Elam handed Bastida his fourth loss in 18 matches on the season, and first time he's been held scoreless this year. Elam is now 3-2 against Bastida.
* Surtin claimed his 13th victory of the season, 11 of which have come via bonus point victories after pinning Iowa State's Ethan Perryman in 2:54.
* Mauller picked up his first pin of the year on his 13th win of the season.
* Jacques picked up a 2-0 dual-clinching decision in his final match inside the Hearnes Center. The senior has won 97 bouts during his illustrious career.
UP NEXT
Mizzou heads to the BOK Center in Tulsa, Okla. to compete in the Big 12 Championships. The Tigers look to earn their 12th consecutive conference championship in the two-day event on March 4-5.
No. 10 Missouri 23, No. 3 Iowa State 12
174: #7 Peyton Mocco (MIZ) dec. #27 Julien Broderson (ISU), 7-5
184: #4 Marcus Coleman (ISU) dec. #25 Colton Hawks (MIZ), 4-2
197: #4 Rocky Elam (MIZ) dec. #7 Yonger Bastida (ISU), 4-0
285: #9 Sam Schuyler (ISU) dec. #7 Zach Elam (MIZ), 5-3
125: #13 Noah Surtin (MIZ) WBF Ethan Perryman (ISU), 2:54
133: #19 Zach Redding (ISU) dec. #27 Connor Brown (MIZ), 9-7
141: #16 Allan Hart (MIZ) dec. #32 Casey Swiderski (ISU), 7-1
149: #7 Brock Mauller (MIZ) WBF #10 Paniro Johnson (ISU), 8:45
157: #10 Jarrett Jacques (MIZ) dec. #26 Jason Kraisser (ISU), 2-0
165: #2 David Carr (ISU) dec. #1 Keegan O'Toole (MIZ), 7-2
*Missouri was deducted a team point following the 149-pound match for unsportsmanlike conduct
Iowa State press release
COLUMBIA, Mo. – No. 3 Iowa State (16-3, 7-1 Big 12) dropped its first Big 12 dual in over two calendar years to No. 10 Missouri (8-3, 7-1 Big 12), 23-12, Wednesday evening inside the Hearns Center.
In what many dubbed the "Match of the Year" between No. 1 Keegan O'Toole and No. 2 David Carr, Carr emerged victorious, 7-2. Carr, known for his sharp technique, showed flashes of his scrambling ability as he got two takedowns in the win over the defending 165-pound national champion. Carr also showed his prowess on top, riding O'Toole for the entire third period to secure the riding time point.
The dual featured four top 10 matchups and Iowa State took four of 10 bouts, including two of the top 10 matchups. Missouri got pins at 125 and 149 pounds to separate themselves in with the later coming in sudden victory.
Marcus Coleman got Iowa State on the board at 184 pounds with a gritty 4-2 decision over Colton Hawks. The wrestlers traded escapes before Coleman secured the go-ahead takedown with less than a minute left and rode him out to secure the riding time point.
Sam Schuyler picked up another victory for the Cyclones at 285 pounds to tie the dual, 6-6, after four matches. The Cyclone senior used a pair of first-period takedowns to defeat No. 7 Zach Elam, 5-3. Schuyler was previously 0-3 in his career against Elam.
Missouri took control of the dual with a pin at 125 pounds, but Zach Redding got the Cyclones back into it with a 7-5 decision over Connor Brown at 133 pounds.
Paniro Johnson dropped a tight one to No. 7 Brock Mauller. Johnson was the aggressor in the overtime period and appeared to get the match-winning takedown in SV-1 but was not awarded the call after a lengthy review. Mauller eventually countered a Johnson shot and took the Cyclone to his back for the pin in 8:45.
Up Next
Iowa State will send a contingent of wrestlers to the Last Chance Open Sunday at the Lied Rec Center. Wrestling will begin at 10 a.m.