News
USA Wrestling
College
USAW
No. 3 Iowa State downs No. 14 Northern Iowa, 19-12, in Cedar Falls
by by Andy Stubblefield, Iowa State Athletics, and Joel Wauters, UNI Athletics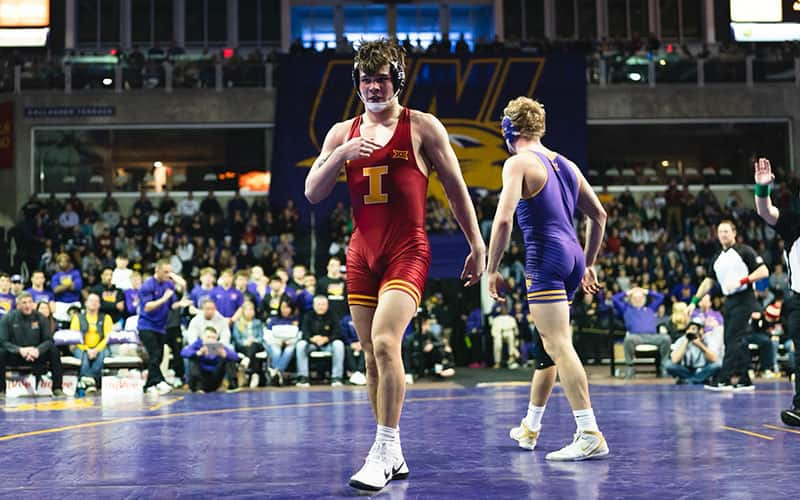 Image courtesy of Iowa State Athletics

CEDAR FALLS, Iowa – No. 3 Iowa State (15-2, 7-0 Big 12) won four of the final five bouts, as the Cyclones downed No. 14 Northern Iowa (7-4, 5-3 Big 12), 19-12. In front of a record-setting crowd at the McLeod Center, Iowa State downed the Panthers for the fourth-straight time.
Iowa State has now won 18 Big 12 duals in a row, its longest conference unbeaten streak in program history. It bests a streak of 17 duals (16-0-1) by the Cyclones from 1962-65.
After Ethan Perryman dropped a tough battle at 125 pounds, Zach Redding got ISU on the board with a win over No. 11 Kyle Biscoglia in sudden victory. Redding couldn't muster a takedown in regulation but used a reversal in the second period to counter a pair of Biscoglia escapes. The Cyclone managed a go-behind in the winner-take-all period to secure the upset, 4-2.
No. 8 Cael Happel used a takedown in the third period to defeat Casey Swiderski 4-3 at 141 pounds. Paniro Johnson notched a third-period takedown, as he beat Adam Allard 3-1. At 157 pounds, No. 20 Derek Holschlag defeated Jason Kraisser 4-1.
The run of Cyclone victories started with No. 2 David Carr at 165 pounds. Carr picked up the first bonus point victory of the match, as he beat No. 15 Austin Yant by 20-6 major decision. Carr recorded seven takedowns, including three in the third period, to seal the victory. The win was the 24th-straight victory for Carr, as he improved to 84-2 in his career. A big third period by MJ Gaitan led to a 9-5 victory over Lance Runyon at 174 pounds. Gaitan had a pair of takedowns, including one that turned into a four-point nearfall.
At 184 pounds, the rivalry between No. 2 Parker Keckeisen and No. 4 Marcus Coleman lived up to the hype. Coleman took an early lead on a first period takedown, but Keckeisen was able to even the match at 3-3 going to the second period. An escape and takedown in the second period for Keckeisen was enough for the 7-5 victory.
No. 4 Yonger Bastida earned a 12-6 decision at 197 pounds against Wyatt Voelker. Bastida had two takedowns in each of the first two periods and added a fifth takedown in the third period for good measure. At heavyweight, Sam Schuyler continued his winning ways to seal the Cyclone victory by beating No. 15 Tyrell Gordon 4-1. Schuyler had a first period takedown and an escape in the second before earning a point for riding time.
Up Next

Iowa State is back in action Sunday at noon against No. 20 Illinois as part of Beauty and the Beast.
No. 3 Iowa State 19, No. 14 Northern Iowa 12

125: Kyle Gollhofer (UNI) dec. Ethan Perryman (ISU), 8-6
133: Zach Redding (ISU) dec. Kyle Biscoglia (UNI), 4-2
141: Cael Happel (UNI) dec. Casey Swiderski (ISU), 4-3
149: Paniro Johnson (ISU) vs. Adam Allard (UNI) or Cael Rahnavardi (UNI)
157: Derek Holschlag (UNI) dec. Jason Kraisser (ISU), 4-1
165: David Carr (ISU) maj. dec. Austin Yant (UNI), 20-6
174: MJ Gaitan (ISU) dec. Lance Runyon (UNI), 9-5
184: Parker Keckeisen (UNI) dec. Marcus Coleman (ISU), 7-5
197: Yonger Bastida (ISU) vs. Kalob Runyon (UNI) or Wyatt Voelker (UNI)
285: Sam Schuyler (ISU) vs. Tyrell Gordon (UNI)
Attendance: 5,754
Officials: J.R. Blose, Jay Cox
UNI press release
CEDAR FALLS, Iowa --- Over 5,700 fans packed into the McLeod Center on Friday night as the UNI wrestling played host to the No. 3 Iowa State Cyclones in its final home dual of the season. Despite 4 impressive victories from the Panthers, UNI would fall short against its Big 12 rival by a final score of 19-12.
With 5,754 spectators in the stands, UNI set a new record for attendance in a wrestling event inside the McLeod Center. The program's all-time attendance record for wrestling was set back on Feb. 7, 1976 in a dual against Iowa in the first-ever event to be held inside the UNI-Dome.
After falling behind early from a quick takedown off the whistle, Kyle Gollhofer (125 pounds) rallied with a 3-point second period and 4-point third period for an 8-6 decision over Ethan Perryman to give the Panthers an early 3-0 lead. Kyle Biscoglia (133 pounds) would score a pair of escapes in the second and third periods against No. 24 Zach Redding to force extra time, but fell short after giving up a sudden victory takedown.
In an aggressive, fast paced bout, No. 8 Cael Happel (141 pounds) overcame a first period takedown against Casey Swiderski, picking up a third period takedown for a 4-3 decision win. Adam Allard meanwhile made his collegiate dual debut against No. 10 Paniro Johnson at 149 pounds. Despite a low-scoring, gritty bout from Allard, Johnson would pick up a takedown in the third period for the 3-1 decision to even the dual at 6-6.
Derek Holschlag took control of his 157 pound matchup with No. 28 Jason Kraisser with an early takedown and a pair of near fall points in the second period as part of a 4-1 decision. The victory marks Holschlag's fourth this season over a ranked opponent.
The Panthers would face a major hurdle at 165 pounds with No. 15 Austin Yant facing off against former national champion in No. 2 David Carr. Iowa State's three-time Big 12 champion would rack up 7 takedowns on Yant and 4 near falls points in a 20-6 major decision, giving the Cyclones their first lead of the night at 10-9.
Lance Runyon also dropped a hotly contested bout at 174 pounds in a 9-5 loss to MJ Gaitan. Runyon was able to pick up a takedown in the first period, but would be unable to catch up to Gaitan in the third as the Iowa State freshman scored a pair of takedowns, plus four near falls points and riding time.
In the match of the night at 184 pounds between two of the top four wrestlers in the nation, No. 2 Parker Keckeisen's ability to attack proved to be a key factor in a 7-5 decision over No. 4 Marcus Coleman. Keckeisen scored an escape and a takedown in each of the first two periods, and held off a reversal with another escape in the third period for the win. Keckeisen's victory is his third against a top-5 nationally ranked wrestler this season, and fourth of his career.
Freshman Wyatt Voelker got the start at 197 pounds for a second time in dual competition this season, putting up a fight against No. 4 Yonger Bastida. After giving up a pair of first period takedowns, Voelker was able to score 6 escapes in a 12-6 decision loss.
Tyrell Gordon would fall short in the final match of the night at 285 pounds to No. 8 Sam Schuyler in a 4-1 loss. Picking up a third period escape, Gordon was unable to counter Schulyer's defensive style and stops.