Iran wins Greco-Roman team title at U17 World Championships; USA places ninth, led by champion Jordyn Raney
by Gary Abbott, USA Wrestling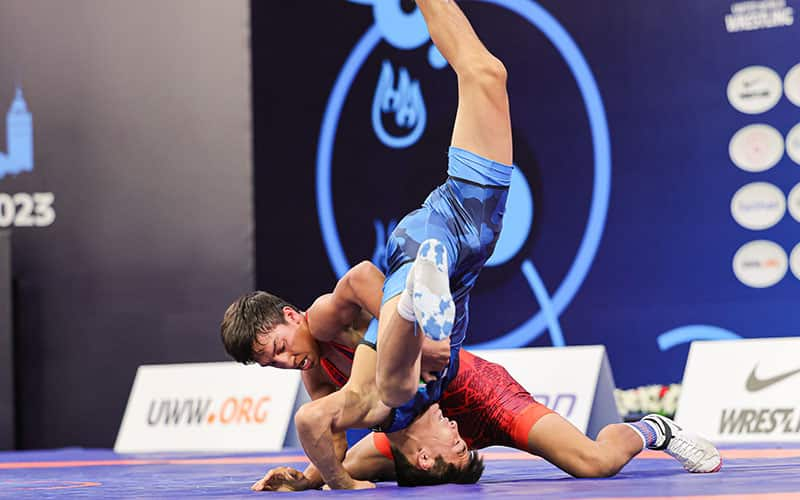 Jordyn Raney (USA) stacks up an opponent at the 2023 U17 Worlds in Greco-Roman. Photo by Kadir Caliskan, UWW.
ISTANBUL, Turkey – The first discipline of the
2023 U17 World Championships
to be completed was Greco-Roman, which had the championship finals in the last five weight classes (Group B) on Wednesday night.
Iran
won the team title with 113 points, with
Azerbaijan
in second with 108 points and
Georgia
third with 96 points. India, which led the team race after the first five weight classes were completed on Tuesday, finished up in fourth place.
The United States placed ninth in the team standings with 43 points, led by U17 World champion
Jordyn Raney
at 55 kg. Three other U.S. team members scored team points, led by fifth-place
Nicholas Sahakian
at 220 pound, Others who scored team points by placing in the top 10 were
Adam Waters
of Pennsylvnia, who was eighth at 80 kg, and
Aiden Cooley
of Texas, who was 10th at 92 kg (285).
None of the Group Two Greco-Roman wrestlers competed on Wednesday, all having been eliminated on Tuesday and not advancing to the repechage. Cooley was the only member of that group to score team points with his 10th place finish.
The USA had a great start with Group One, which was in fourth place after the first five weight classes were finished.
This is the second straight year that the USA finished in the top 10, after placing eighth in 2022.
The U.S. women's freestyle team continues competing through Friday, with the U.S. men's freestyle starting on Friday and completing on Sunday. All of the action is live on FloWrestling.
U17 WORLD CHAMPIONSHIPS
At Istanbul, Turkey

Greco-Roman Group Two final standings
45 kg
Gold - Turan Dashdamirov (Azerbaijan)
Silver - Rustem Abatsiev (Individual Neutral Athlete)
Bronze - Alireza Ahmad Amirighasroddashti (Iran)
Bronze - Yurik Mkhitaryan (Armenia)
5th - Kadyrbek Almanbetov (Kyrgyzstan)
5th - Nika Tsetskhladze (Georgia)
7th - Zharas Sovetov (Kazakhstan)
8th - Igor Cazac (Moldova)
9th - Khojiakbar Kuchkarov (Uzbekistan)
10th - Mehmet Hanifi Sarp (Turkey)
51 kg
1 AIN Ilia Kandalin (Individual Neutral Athlete)
2 ARM Artur Broyan (Armenia)
3 IND Manu Yadav (India)
3 GEO Koba Karumidze (Georgia)
5 TKM Husniddin Ulugbekov (Turkmenistan)
5 UZB Dostonbek Oripov (Uzbekistan)
7 KAZ Zhanbolat Saparbek (Kazakhstan)
8 AIN Rasim Ibtahimau (Individual Neutral Athlete) -
9 AZE Ali Seyidalili (Azerbaijan)
10 KGZ Cholponbek Torobekov (Kyrgyzstan)
60 kg
Gold - Roman Karimov (Azerbaijan)
Silver - Saba Surmanidze (Georgia)
Bronze - Mingiian Goriaev (Individual Neutral Athlete)
Bronze - Kiryl Valeuski (Individual Neutral Athlete) -
5th - Varun (India)
5th - Yerdaulet Lassim (Kazakhstan)
7th - Ali Amir Dezfoolinezhad (Iran)
8th - Clisman Adrian Carracedo Veliz (Ecuador)
9th - Bekzhan Esembek (Kyrgyzstan)
10th - Alin Bogdan Muraru (Moldova)
71 kg
Gold - Arionas Kolitsopoulos (Grecce)
Silver - Ahmadreza Nourmohamad Mohamadian (Iran)
Bronze - Abdurakhman Abdulkadyrov (Individual Neutral Athlete)
Bronze - Alkan Akar (Turkey)
5th - Dias Seitkaliyev (Kazakhstan)
5th - Luka Lomadze (Georgia)
7th - Seongmin Jang (Korea)
8th - Isodzhon Nurakhmadov (Tajikistan)
9th - Gor Khachatryan (Armenia)
10th - Lars Matt (Austria)
92 kg
Gold - Saba Purtseladze (Georgia)
Silver - Saipula Gadzhimagomedov (Individual Neutral Athlete)
Bronze - Gabriel Eduardo Stan (Romania)
Bronze - Mikayil Ismayilov (Azerbaijan)
5th - Maxim Ukraintsev (Kazakhstan)
5th - Aliakbar Rasoul Asgharivaladi (Iran)
7th - Nurbolot Syrgabai Uulu (Kyrgyzstan)
8th - Sardorbek Rustamov (Uzbekistan)
9th - Ole Ayke Sterning (Germany)
10th - Aiden Cooley (USA)
U.S. Group Two Greco-Roman performances
45 kg – Henry Aslikyan (Panorama City, California/Birmingham Community Charter School), dnp/16th
LOSS Alireza Ahmad Amirighasroddashti (Iran), tech fall, 11-0
51 kg – Hudson Loges (Blair, Nebraska/MWC Wrestling Academy), dnp/13th
LOSS Husniddin Ulugbekov (Turkmenistan), 4-1
60 kg – Sam Herring (Sidman, Pennsylvania/Bishop McCort High School), dnp/13th
LOSS Yerdaulet Lassim (Kazakhstan), 6-3
71 kg – Arvin Khosravy (Woodland Hills, Calif.), dnp/21st
LOSS Ivan Bialiayeu (Individual Neutral Athlete),4-1
92 kg – Aiden Cooley (Allen, Texas/Best Trained Wrestling), 10th place
WIN Stevan Kojic (Serbia), tech fall, 9-0
LOSS Gabriel Stan (Romania), tech fall, 9-0
Final Team Standings
1 Iran 113
2 Azerbaijan 108
3 Georgia 96
4 India 88
5 Armenia 77
6 Uzbekustan 72
7 Kazakhstan 64
8 Turkey 52
9 United States 43
10 Kyrgyzstan 39
11 Greece 35
12 Japan 31
13 Moldova 26
14 Romania, 23
15 Egypt 16