News
USA Wrestling
High School & Youth
USAW
Five win double titles after claiming Greco-Roman championships at UWW Futures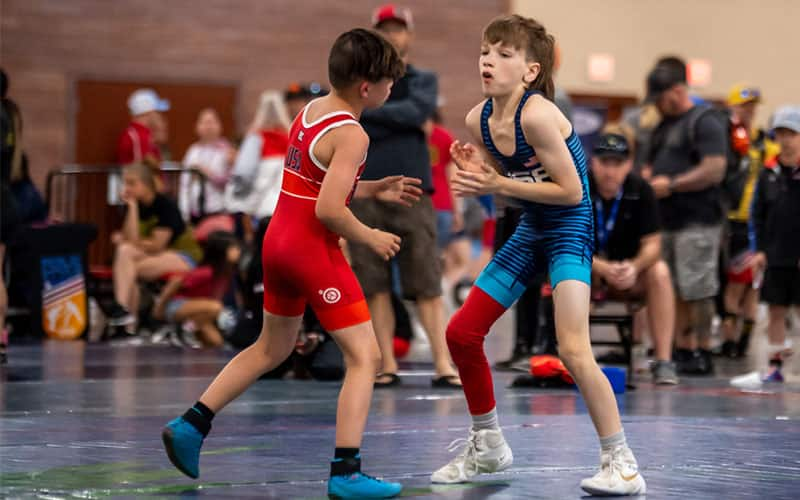 Carmine Crisman and Grayson Goodwin square off at 28 kg at the UWW Futures in Greco-Roman. Photo by Robbert Wijtman
.
LAS VEGAS, Nev. – The UWW Futures Championships concluded on Saturday, with the Greco-Roman division.
Double champions, winners in both freestyle and Greco-Roman in this division included
Matthew Campos
of Red Wave Wrestling – CA (28 kg),
Chase Smith
of Higher Calling WC – TN (31 kg),
Mick Dobbs
of Interior Grappling Academy – AK (38 kg),
Rocky Thompson
of Open Mats WC - MO (41 kg), and
Henry Scott McDoniel
of Threestyle Wrestling of Oklahoma – OK (51 kg).
Campos, Dobbs and Thompson scored technical fall victories in the finals, while Smith won a decision. McDoniel swept his best-of-three series in two straight, with a technical fall and a pin.
Other individual freestyle champions were
Eli Sandoval
of Nevada (33 kg),
Manny Novelli
of Alaska (35 kg) and
Jeremiah Hayes
of Illinois (45 kg).
UWW Futures Greco-Roman

Las Vegas, Nev. — April 29
28 kg
1st —Matthew Campos CA (Red Wave Wrestling) tech fall Carmine Crisman MT (North Montana Wrestling Club), 8-0 0:37
3rd — Gwen Briggs CA (California Grapplers) fall Mason Betterman CO (Betterman Elite Wrestling), 4-4 1:25
5th — Kyler Robinson UT (Shootbox Wrestling Club) tech fall Noah Arreola CA (Rough House Wrestling), 10-0 0:58
7th — Emmett Mccammon IN (Maurer Coughlin Wrestling Club) dec. Noah Lopez CO (Montrose Elite Wrestling), 6-5
31 KG
1st — Chase Smith TN (Higher Calling Wrestling Club) VCA Crew Musselman PA (Pennsylvania), 6-2
3rd — Colton Strange NE (Nebraska) tech fall Xander Edstrom ID (Upper Valley Aces Wresstling), 12-4 2:52
5th — Caleb Delfin CA (Lion of Judah Wrestling Academy) dec. Josh Schaub TX (Warhawk Wrestling Academy), 7-2
7th — Beaudin Murphy MT (Billings Wrestling Club) tech fall Ryker Rollans NV (Gold Rush Wrestling), 18-9 2:46
33 KG
1st — Eli Sandoval NV (Gold Rush Wrestling) fall Haedyn Cochran IN (Contenders Wrestling Academy), 0:59
3rd — Kanoa Saferite VA (NOVA Wrestling Club) tech fall Colter Campbell AK (Anchorage Youth Wrestling Academy), 10-2 1:14
5th — Braedyn Anderson CO (Western Colorado Wrestling Club) forfeit Colton Bryce VA (Legacy Wrestling), 0-0
35 KG
1st — Manny Novelli AK (Avalanche Wrestling Association) dec. David Lopez CO (Montrose Elite Wrestling), 9-7
3rd — Jacob Saunders MO (Xtreme Training) tech fall Elias Faith IN (Maurer Coughlin Wrestling Club), 9-0 0:18
5th — Antonio Aguilar CA (Red Wave Wrestling) fall Gatlan Talbot NV (Aniciete Training Club), 4-0 0:28
7th — Chazeron Kalamau HI (Hawaii) fall Christian Bushy OH (Ohio), 4-2 1:12
38 KG
1st — Mick Dobbs AK (Interior Grappling Academy) tech fall Ashur Whitmer IA (Big Game Wrestling Club), 8-0 1:37
3rd — Sam Dagel MN (Legends of Gold) tech fall Jarron Beltran jr AZ (Sunnyside Wrestling Club), 9-0 1:43
5th — Cody Sieminski OR (Sweet Home Mat Club) forfeit Sanchir Edington PA (Pennsylvania), 0-0
7th — Noah White OR (Team Bucs - North Bend Wrestling Club) forfeit Mason Gonzalez CA (California), 0-0
41 KG
1st — Rocky Thompson MO (Open Mats Wrestling Club) tech fall Sky Ramos CA (California), 10-1 3:06
3rd — Elijah Bushy OH (Ohio) dec. Apollo Cardenas NE (The Best Wrestler), 4-4
5th — Jessiah Briggs CA (California Grapplers) tech fall Abel Vasquez CA (Poway Wrestling), 20-9 3:22
7th — Chance Shirley WA (COBRA ALL-STARS / Cobra Wrestling Systems LLC) fall Nolan Carlson UT (Champions Wrestling Club), 5-4 1:57
45 KG
1st — Jeremiah Hayes IL (Warrior Wrestling) fall Xander Fronhofer CA (Beat The Streets - Los Angeles), 1:07
3rd — Maximus Pearch IL (nWo Wrestling Club) dec. Gabriel Beyer WI (Freedom Wrestling Club), 13-10
5th — William Theofanopoulos NV (Legends of Gold Las Vegas) fall Cruz Martin AK (Interior Grappling Academy), 13-5 3:07
51 KG
1st — Henry Scott McDoniel OK (Threestyle Wrestling of Oklahoma)
2nd — Easton Sorenson CA (Poway Wrestling)