News
USA Wrestling
High School & Youth
USAW
Castillo and Ryder repeat, Kenny named Outstanding Wrestler as U.S. team set at U17 Freestyle World Team Trials
by Gary Abbott, USA Wrestling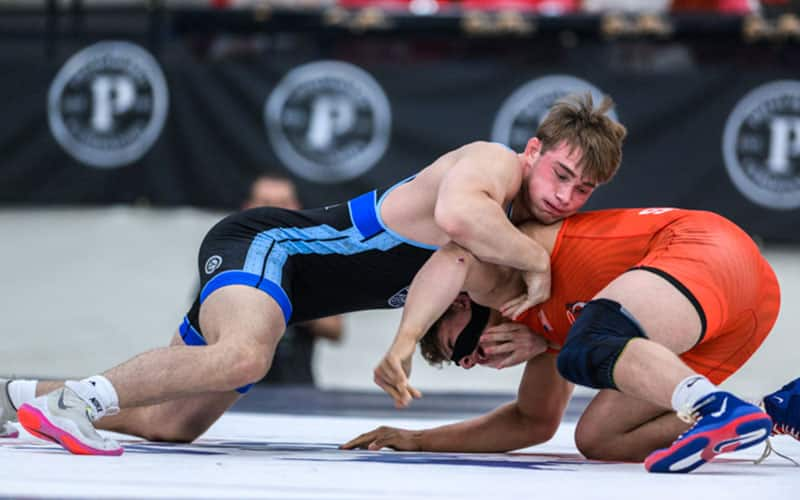 Sampson Stillwell battles Nicholas Sahakian of California in the 110-kg championship series. Photo by Tony Rotundo, Wrestlers Are Warriors
.
LAS VEGAS, Nev. – The U.S.
U17 World Freestyle Team
has been set after a high-level championship round at the U17 World Team Trials, featuring many of the greatest high school wrestlers in the nation.
The winners of the best-of-three championship finals series on Sunday night will represent the USA at the 2023 U17 World Championships in Istanbul, Turkey, July 31-August 6.
Two 2022 U17 World medalists have earned the right to return to the U17 Worlds, World silver medalist Christian Castillo of Arizona (51 kg) and World bronze medalist Zack Ryder of New York (80 kg).
Castillo swept his series in two very competitive matches against Seth Mendoza of Illinois. The first match was a tight 3-1 decision, and the second match was more wide open, with Castillo emerging with an 8-5 decision.
Ryder also swept his finals series, winning the first match against De'alcapon Veazy of Indiana, 4-1, then opened it up with a 10-0 technical fall to claim his second straight World Team berth.
One 2022 U20 World medals was unable to repeat. With an inspired performance at 60 kg, Benjamin Davino of Illinois defeated 2022 U20 World silver medalist Jax Forrest of Pennsylvania in two straight. Davino was stingy on defense while getting his attacks, winning the first match 5-1 and the second match 8-1.
Only one series went the full three matches. At 110 kg, Sampson Stillwell of Missouri won the first match over 2023 U20 Greco-Roman national champion Nicholas Sahakian of California in a 10-0 technical fall. In bout two, Sahakian rebounded with a solid 6-1 win. The third match was tight, but Stillwell pulled it out late by a 2-1 margin.
The Outstanding Wrestler was 48 kg champion Paul Kenny of New Jersey, who stopped Grey Burnett of Ohio in two straight matches, 5-3 in bout one and 7-2 in bout two. Kenny beat 2022 U17 World champion Domenic Munaretto of Illinois in the semifinals.
At 45 kg, Ignacio Villasenor of Colorado was explosive in his two match sweep over Kavin Muylert of Pennsylvania. Villasenor won bout one 6-2, then put it away with an 11-0 technical fall in bout two.
At 92 kg, two athletic and technically talented wrestlers battled, with Aeoden Sinclair of Wisconsin stopping Dreshaun Ross of Iowa in two straight. Sinclair won a 3-3 criteria decision in match one, then pinned Ross in the second match.
The other U17 World Team members will be Marcus Blaze of Ohio at 55 kg, Brock Mantanona of California at 65 kg and Ladarion Lockett of Oklahoma at
Blaze won a pair of close battles with Anthony Knox of New Jersey, taking 3-2 and 4-2 decisions.
Mantanona joined his brothers Anthony and Beau as a U.S. World Team member, stopping Kollin Rath of Pennsylvania in two straight, 12-4 and then a 10-0 technical fall.
Lockett defeated Vince Bouzakis in a pair of tough battles, winning a 3-3 criteria decision, then closing it out with a 7-2 victory.
U17 FREESTYLE WORLD TEAM TRIALS
At Las Vegas, Nev., April 29-30

U17 Men's Freestyle Results
45 kg
Best-of-three championship series
Ignacio Villasenor (Pomona Elite) defeats Kavin Muyleart (American Dream WC), two matches to none
Bout 1 – Villasenor dec. Muyleart, 6-2
Bout 2 – Villasenor tech. fall Muyleart, 11-0
3rd – Henry Aslikyan (Birmingham Community Charter High School Wrestling) dec. Haakon Peterson (Askren Wrestling Academy), 2-1
5th – Cameron Sontz (Edge Wrestling) tech. fall Caleb Noble (Toss Em Up Wrestling Academy), 10-0
7th – Mac Crosson (Sebolt Wrestling Academy) tech. fall Liam Collins MN (Pinnacle Wrestling Club), 13-2
48 kg
Best-of-three championship series
Paul Kenny (New Jersey) defeats Grey Burnett (Perrysburg WC), two matches to none
Bout 1 – Kenny dec. Burnett, 5-3
Bout 2 – Kenny dec. Burnett, 7-2
3rd – Domenic Munaretto (Illinois) dec. Lincoln Sledzianowski (Pennsylvania), 4-2
5th – Ezekiel Witt (Junction City High School Wrestling) tech. fall Dominic Deputy (Pennsylvania), 19-8
7th – Eric Casula (Oklahoma) dec. Saxton Scott (Bonneville High School Wrestling), 6-4
51 kg
Best-of-three championship series
Christian Castillo (Thorobred WC) defeats Seth Mendoza (Region Wrestling Academy), two matches to none
Bout 1 – Castillo dec. Mendoza, 3-1
Bout 2 – Castillo dec. Mendoza, 8-5
3rd – Landon Sidun (Knights WC) dec. Ayden Smith (Lost Boys WC), 6-5
5th – Keanu Dillard (Steller Trained Wrestling) dec. Aydan Thomas (Cowboy WC), 2-0
7th – Cadell Lee (Integrity Wrestling Club) tech. fall Czar Quintanilla (Inland Northwest Wrestling Training Center), 11-0
55 kg
Best-of-three championship series
Marcus Blaze (Perrysburg WC) defeats Anthony Knox (Rhino Wrestling LLC), two matches to none
Bout 1 – Blaze dec. Knox, 3-2
Bout 2 – Blaze dec. Knox, 4-2
3rd – Isaiah Cortez (Gilroy High School Wrestling) dec. Bo Bassett (Bishop McCort High School Wrestling), 4-1
5th – Elijah Cortez (Gilroy High School Wrestling) forfeit Jayden Raney (Union County High School Wrestling)
7th – Edwin Sierra (Poway Wrestling) dec. Jackson Blum (Michigan), 9-6
60 kg
Best-of-three championship series
Benjamin Davino (St. Charles WC) defeats Jax Forrest (Bishop McCort), two matches to none
Bout 1 – Davino dec. Forrest, 5-1
Bout 2 – Davino dec. Forrest, 8-1
3rd – Cooper Hilton (Boom Ranch WC) dec. Sam Herring (Bishop McCort High School Wrestling), 4-2
5th – Landon Robideau (MN Elite WC) dec. Matthew Botello (Massachusetts), 5-4
7th – Jesse Grajeda (Sunkist Kids/Monster Garage) tech. fall Joshua Requena (Beat The Streets - Los Angeles), 10-0
65 kg
Best-of-three championship series
Brock Mantanona (Coachella Valley WC) defeats Kollin Rath (Steller Trained Wrestling), two matches to none
Bout 1 – Mantanona dec. Rath, 12-4
Bout 2 – Mantanona tech. fall Rath, 10-0
3rd – Gabriel Bouyssou (Mayo Quanchi WC) tech. fall Logan Paradice (The Storm Wrestling Center), 10-0
5th – Kane Naaktgeboren (Big Game WC) dec. Tyson Charmoli (Pinnacle WC), 10-4
7th – Gavin Linsman (Missouri) tech. fall Brock Weiss (M2 Training Center), 13-2
71 kg
Best-of-three championship series
Ladarion Lockett (Cowboy WC) defeats Vince Bouzakis (Pennsylvania), two matches to none
Bout 1 – Lockett dec. Bouzakis, 3-3
Bout 2 – Lockett dec. Bouzakis, 7-2
3rd – Kody Routledge (Dark Horse WC) dec. Kyler Knaack (Immortal Athletics WC), 9-1
5th – Christopher Crawford (KD Training Center) dec. Jake Stoffel (Askren Wrestling Academy), 9-2
7th – Claudio Torres (Spartan RTC FL) dec. Bode Marlow (Knights WC), 8-0
80 kg
Best-of-three championship series
Zack Ryder (M2 Training Center) defeats De'alcapon Veazy (Legends of Gold Wrestling), two matches to none
Bout 1 – Ryder dec. Veazy, 4-1
Bout 2 – Ryder tech. fall Veazy, 10-0
3rd – Adam Waters (Steller Trained Wrestling) dec. Bryce Burkett (Pinnacle WC), 1-1
5th – Jordan Chapman (New Jersey) dec. Brent Slade (Moen Wrestling Academy), 12-4
7th – Peter Snyder (McDonald Wrestling Academy) inj. def. Jarrel Miller Jr (Eagle Club)
92 kg
Best-of-three championship series
Aeoden Sinclair (Askren Wrestling Academy) defeats Dreshaun Ross (Sebolt Wrestling Academy), two matches to none
Bout 1 – Sinclair dec. Ross, 3-3
Bout 2 – Sinclair fall Ross, 1:08
3rd – Karson Tompkins (Warrior Trained Wrestling) dec. Jay Henderson (Sanderson Wrestling Academy), 10-10
5th – Aiden Cooley (Allen High School Wrestling) dec. Melvin Whitehead (Gold Rush Wrestling), 6-2
7th – Vincenzo Lavalle (Edge Wrestling) dec. Carson Gooley (Team Idaho WC), 10-5
110 kg
Best-of-three championship series
Sampson Stillwell (Kobra Kai Training) defeats Nicholas Sahakian (Sunkist Kids/Monster Garage), two matches to one
Bout 1 – Stillwell tech. fall Sahakian, 10-0
Bout 2 – Sahakian dec. Stillwell, 6-1
Bout 3 – Stillwell dec. Sahakian, 2-1
3rd – Rocco Dellagatta (New York AC) tech. fall Jacob Levy (Georgia), 11-0
5th – Kai Calcutt (Toss Em Up Wrestling Academy) fall Adam Farha (Poway High School Wrestling), 2:46
7th – Marko Ivanisevic (Izzy Style Wrestling) inj. def. Chase Baker (Takedown Express WC)