News
USA Wrestling
International
High School & Youth
USAW
Boyden, Fernandez, Calkins, Kikinou among talented Greco-Roman champions at U15 Nationals
by Gary Abbott, USA Wrestling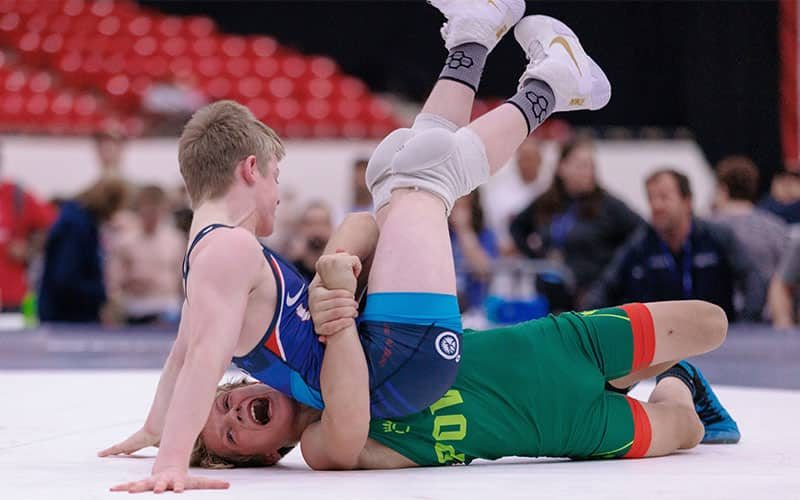 Arseni Kikinou of California turns his opponent in the U15 Greco-Roman 44 kg finals. Photo by Chris Mora.
Claiming the 57 kg title was Josiah Boyden of Georgia, who defeated Zayn Navarrete of Texas, 8-2 in the finals. Boyden won the 2022 U15 Pan American Team Trials in both Greco-Roman and freestyle.
Isai Fernandez of California defeated 2023 U15 Naitonals freestyle champion Broedy Collins Hendricks of California, 12-8 in the 75 kg finals.
David Calkins, a 2022 14U Nationals double champion, won the U15 Greco-Roman Nationals this year at 85 kg with a pin over Danny Zmorowski of Ohio in 51 seconds.
Arseni Kikinou of California scored a 12-2 technical fall in the 44 kg finals over 2022 U15 Nationals Greco-Roman champion Liam Collins of Minnesota. In his corner was his father Aliaksandr, who was second in the U.S. Senior Greco-Roman Nationals at 77 kg a few nights ago.
Other champions scoring technical falls in the championship finals were Chase Karenbauer of Pennsylvania (38 kg) and Keegan Bassett of Pennsylvania (41 kg),
Winning their finals match by decision were Dominic Way of West Virginia (48 kg), Jacob Morris of Alaska (52 kg), Anthony Delgado of Nevada (62 kg) and Gabriel Logan of New Jersey (68 kg).
Delgado defeated Ivan Ivanov of Idaho in his finals match, 7-1, and was named Outstanding Wrestler of the tournament.
The top eight placewinners from each weight class qualify for the 2023 U15 Pan American Team Trials set for Colorado Springs, Colo. in August.
U15 GRECO ROMAN NATIONALS

38 KG
1st Chase Karenbauer PA (Bad Karma Wrestling Club) tech fall Connor Maddox IN (Contenders Wrestling Academy), 8-0 0:41
3rd Wyatt Stauffer PA (Pennsylvania) tech fall Jaxsen Bailey CT (Team Tugman Wrestling Club), 8-0 1:25
5th Michael Rundell IL (Illinois) dec. Jeremy Carver IN (Contenders Wrestling Academy), 7-2
7th Traevon Ducking IN (Contenders Wrestling Academy) tech fall Brand'n Edstrom ID (Team Idaho Wrestling Club), 8-0 2:00
41 KG
1st Keegan Bassett PA (Young Guns Wrestling Club) tech fall Loc Webber OH (Beast Mode Wrestling), 10-1 3:01
3rd Kellen Downing MT (Flathead High School Wrestling) VFA Ethan Humphrey IA (Big Game Wrestling Club), 6-1 1:01
5th Tristan Pino CO (Betterman Elite Wrestling) VPO1 Jaxten Bowler UT (Champions Wrestling Club), 10-8
7th Ryder Owen WA (Inland Northwest Wrestling Training Center) VSU1 Evan Provost OR (Cowa), 10-2 3:05
44 KG
1st Arseni Kikiniou CA (Poway Wrestling) tech fall Liam Collins MN (Pinnacle Wrestling Club), 10-2 3:01
3rd Carter Shin VA (Integrity Wrestling Club) dec. William Buckley PA (Pennsylvania), 9-2
5th Jensen Boyd IN (CIA Wrestling) dec. Reece Movahead VA (American Dream Wrestling Club), 8-4
7th Greysen Packer ID (Team Idaho Wrestling Club) tech fall Chase Kastner CT (Team Tugman Wrestling Club), 10-2 2:23
48 KG
1st Dominic Way WV (Olympia Wrestling Club) dec. Alexander Pierce IA (Big Game Wrestling Club), 6-4
3rd Daniel Green MT (Billings Wrestling Club) tech fall Zaiyahn Ornelas NE (Team Zapas Wrestling Club), 10-1 1:45
5th Jovanni Tovar FL (Miami Wrestling Club) dec. Caleb Schaefer IN (Maurer Coughlin Wrestling Club), 8-7
7th Aiden Jalajel OK (Threestyle Wrestling Of Oklahoma) tech fall Drew Dawson OR (Roseburg Mat Club /Umpqua Valley Wrestling Associaction), 12-4 1:37
52 KG
1st Jacob Morris AK (Avalanche Wrestling Association) dec. Dawson Youngblut IA (Immortal Athletics WC), 4-4
3rd Will Detar PA (Lancaster Alliance Wrestling) VSU Jonas Desrochers WA (COBRA ALL-STARS / Cobra Wrestling Systems LLC), 8-0 1:36
5th Riker Ohearon UT (Champions Wrestling Club) VSU1 Christopher Grossman MT (Billings Wrestling Club), 10-1 2:38
7th Aaron Klein CA (Poway High School Wrestling) VPO1 Aiden Arnett IL (Illinois), 8-6
57 KG
1st Josiah Boyden GA (Backyard Bullies Wrestling Club) dec. Zayn Navarrete TX (NB Elite Wrestling Club), 8-2
3rd Austin Ellis UT (Sanderson Wrestling Academy) VSU Stephen Myers WV (West Virginia), 9-0 0:39
5th Gavin Rangel OR (Newberg High School Wrestling) VPO1 Mason Desrochers WA (COBRA ALL-STARS / Cobra Wrestling Systems LLC), 4-3
7th Legend Ellis OK (Threestyle Wrestling Of Oklahoma) VPO1 Gavin Lewis IN (Howe Wrestling School, LLC), 7-3
62 KG
1st Anthony Delgado NV (Gold Rush Wrestling) dec. Ivan Ivanov ID (Suples Wrestling Club), 7-1
3rd Gavin Wells WA (Mat Demon Wrestling Club) tech fall Maximus Fortier WV (Quest School Of Wrestling), 8-0 0:51
5th Asher Bacon PA (X-Calibur Athletics Wrestling Club) dec. Hunter Stevens WI (Sarbacker Wrestling Academy), 14-10
7th Maximus Dhabolt IA (Sebolt Wrestling Academy) dec. Ryker Cox NY (New York), 17-13
68 KG
1st Gabriel Logan NJ (Apex Wrestling Academy) dec. Victor Marksjenkins MD (Punisher Wrestling Club, Inc.), 9-2
3rd Zane Gerlach AK (Avalanche Wrestling Association) VPO1 Santiago Cabrera NV (Gold Rush Wrestling), 7-2
5th Parker Casey IA (Ubasa Wrestling Academy) VSU1 William Motley CT (South Side Wrestling Club), 13-4 2:38
7th Louis Poland AK (Interior Grappling Academy) VPO1 Jesus Guzman CA (Poway Wrestling), 11-4
75 KG
1st Isai Fernandez CA (Titan Mercury Wrestling Club (TMWC)) dec. Broedy Collins hendricks IA (Team Valley Wrestling Club), 12-8
3rd Carter Temple MO (Greater Heights Wrestling) dec. Tanner Hodgins NJ (New Jersey), 2-1
5th Byson Huber TX (Texas) inj. dft. Jake Rheaume GA (Level Up Wrestling Center)
7th Eli Esguerra OH (Ohio) tech fall Jesse Conley AK (Interior Grappling Academy), 15-5 3:10
85 KG
1st David Calkins CA (Delta Wrestling Club) pin Danny Zmorowski OH (Arsenal Wrestling Club), 0:51
3rd Brayden Koester IA (Big Game Wrestling Club) VPO1 Isaac Ward MO (MO West Championship Wrestling Club), 4-2
5th Gage Runnels AK (Interior Grappling Academy) VSU Blaise Turner ID (Team Idaho Wrestling Club), 9-0 1:51
7th Cohen Malasig WA (Askeo International Mat Club) VFA Carter Smith ID (Suples Wrestling Club), 4-0 0:58