News
USA Wrestling
High School & Youth
Women
USAW
Loaded semifinals set in Girls National Recruiting Showcase, as Brooks and Gomez seek to repeat as champions
by Gary Abbott, USA Wrestling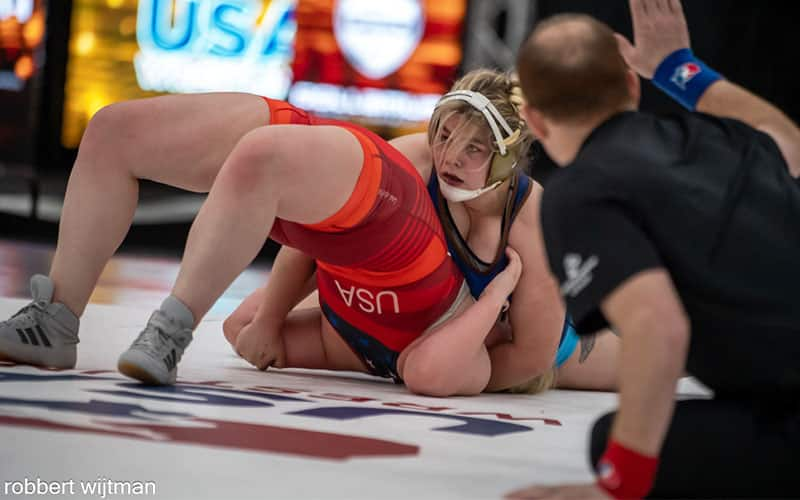 Maggie Smith of Wyoming secures a fall in the 220-pound quarterfinals at the National Girls High School Showcase. Photo by Robbert Wijtman.

LAS VEGAS, Nev. - The 2023
Girls National High School Recruiting Showcase
is loaded once again, with about 100 state champions and NHSCA All-Americans registered, as well as dozens of athletes who were ranked in the most recent National Girls High School Rankings.
Two returning National Recruiting Showcase champions have reached the semifinals,
Karlee Brooks
of Arizona at 117 pounds and
Persaeus Gomez
of Colorado at 122 pounds. Brooks is coming off a big win at the USMC Women's Nationals at the U17 level.
Also in the field is No. 1 ranked Morgan Turner of Illinois, who also won a berth on the U17 World Team and is in the semifinals at 100 pounds in Las Vegas.
While nine No. 1 seeds have advanced to the finals, there are an impressive seven unseeded wrestlers in the semifinals.
At 127 pounds, unseeded
Jamie Laswell
of Grindhouse WC of Arizona knocked off No. 1 seed Taylor Miess of Chatfield WC of Colorado, 7-4 in the quarterfinals, and will battle No. 5 seed Karianne Baldwin Ascend Wrestling Academy of Washington in the semifinals.
At 164 pounds, unseeded
Alyssa Favara
of Bishop McCort High School of Pennsylvania beat No. 1 seed Aurellia Ramos of Champions WC of Utah in the second round, and powered to the semifinals, where she draws No. 5 seed Abena Adu of California in the semifinals.
Another top seed was beaten in the 106 pound quarterfinals, as No. 8 seed
Ana Malovich
of Team Pennsylvania beat top seed Reanah Utterback of Sebolt Wrestling Academy of Iowa in a 10-0 technical fall. Malovich battles No. 5 seed Alexsys Jacquez of Betterman Elite of Colorado in the semifinals.
Unseeded
Maggie Smith
of Wyoming reached the 200-pound semifinals after pinning No. 3. Kennedy Norton of Georgia in the quarterfinals.
Enjoy the semifinals at 4:00 p.m. PT live on FloWrestling.
GIRLS NATIONAL HIGH SCHOOL RECRUITING SHOWCASE
At Las Vegas, Nev., April 29

Semifinals pairings, with seeds
100
No. 1 Caley Graber MN (Summit Wrestling Academy) vs. No. 5 Mia Zuniga WA (Ascend Wrestling Academy)
No. 3 Katey Valdez CO (Betterman Elite Wrestling) vs. No. 2 Morgan Turner IL (Sunkist Kids Wrestling Club)
106
No. 8 Ana Malovich PA (Team Pennsylvania) vs. No. 5 Alexsys Jacquez CO (Betterman Elite Wrestling)
No. 3 Kayla Batres CT (South Side Wrestling Club) vs. No. 2 Clare Booe FL (Wyoming Seminary Wrestling Club)
112
No. 1 Janessa George CO (Chatfield Wrestling Club) vs. unseeded Lorianna Piestewa NM (Stars and Stripes Wrestling Club)
No. 6 Emma Albanese NV (Legends of Gold Las Vegas) vs. No. 2 Zao Estrada SC (Daughters Of Zion Wrestling)
117
No. 1 Isabella Marie Gonzales CA (Wolf Den Wrestling Club) vs. No. 5 Mia Hargrove CO (Betterman Elite Wrestling)
No. 3 Angelina Vargas MO (Greater Heights Wrestling) vs. No. 5 Karlee Brooks AZ (Arizona Girls Wrestling)
122
No. 1 Carissa Qureshi CA (Orange County RTC) vs. No. 2 Alejandra Valdiviezo CA (Poway High School Wrestling)
No. 6 Olivia Moreno TX (3F Wrestling) vs. No. 2 Persaeus Gomez CO (Pomona Elite (PWCC))
127
Unseeded Jamie Laswell AZ (Grindhouse Wrestling Club) vs. No. 5 Karianne Baldwin WA (Ascend Wrestling Academy)
No. 3 Bailey Chafin OR (Sweet Home High School Wrestling) vs. No. 7 Aubrianna Smith OK (Oklahoma)
132
No. 8 Estella Gutches OR (Legacy Elite Wrestling Club) vs. No. 4 Ciara Riner WV (West Virginia)
Unseeded Morgan Edwards PA (Blairstown Wrestling Club) vs. No. 2 Isis France AZ (Arizona Girls Wrestling)
138
No. 8 Bridgette Sotomayor AZ (Arizona Girls Wrestling) vs. No. 5 Alondra Morales WA (Ascend Wrestling Academy)
Unseeded Gretchen Donally MT (Montana) vs. No. 2 Belicia Manuel MI (Michigan Revolution Wrestling Club)
144
No. 1 Ryen Hickey CO (Colorado) vs. No. 4 Elly Janovsky IN (Indiana Girls Wrestling IGNITES)
No. 3 Amelia Fawcett AK (Pioneer Grappling Academy) vs. unseeded Sandilynn Tuinei NV (Nevada)
152
No. 1 Skylar Slade IA (Moen Wrestling Academy) vs. No. 5 Trinity Bouchal AZ (Arizona Girls Wrestling)
No. 3 Sarah Henckel CT (Connecticut) vs. No. 2 Eduarda Rodrigues CA (Team Thunder Wrestling Club)
164
Unseeded Alyssa Favara PA (Bishop McCort High School Wrestling) vs. No. 5 Abena Adu CA (Quartz Hill High School Wrestling)
No. 6 Alexandria Alli OH (Wyoming Seminary Wrestling Club) vs. No. 2 Kylee Lindsley MT (Bozeman Wrestling Club)
180
No. 1 Kassidee Savaria MT (Montana) vs. No. 4 Katianna Martinez CA (Evergreen Valley Wrestling Club)
No. 3 Sophia Pollack NY (Rochester) vs. No. 2 Saiheron Preciado CA (Orange County RTC)
200
No. 1 Tilisa Matakaiongo UT (Utah) vs. No. 4 Destiny Marquez CA (Orange County RTC)
Unseeded Maggie Smith WY (Top Of The Rock Wrestling Club) vs. No. 2 Kiara Ganey IL (Illinois)
225
No. 1 Leilani Sanchez (Texas), vs. No. 4 Angie Aguilar UT (Stallions Wrestling Club)
No. 3 Gemma Templeman CA (Swamp Monsters Wrestling Club) vs. No. 2 Erica Cobos (Texas)
Quarterfinals results
100
Caley Graber MN (Summit Wrestling Academy) VSU Monee Cordero CA (California), 10-0 1:00
Mia Zuniga WA (Ascend Wrestling Academy) VFA Lilly Breeden MO (Victory Wrestling), 6-0 2:11
Katey Valdez CO (Betterman Elite Wrestling) VSU Zoey Haney MO (GTH Wrestling), 10-0 2:52
Morgan Turner IL (Sunkist Kids Wrestling Club) VSU Madison Heinzer CA (Royalty Wrestling Club), 10-0 2:46
106
Ana Malovich PA (Team Pennsylvania) VSU Reanah Utterback IA (Sebolt Wrestling Academy), 10-0 2:06
Alexsys Jacquez CO (Betterman Elite Wrestling) VSU1 Libby Roberts WA (Inland Northwest Wrestling Training Center), 14-4 4:07
Kayla Batres CT (South Side Wrestling Club) VPO1 Diana Gonzalez CA (Red Wave Wrestling), 6-5
Clare Booe FL (Wyoming Seminary Wrestling Club) VFA Jasmine Luedtke IA (Sebolt Wrestling Academy), 8-0 1:33
112
Janessa George CO (Chatfield Wrestling Club) VSU Birta Mccaskill CA (Mira Mesa High School Wrestling), 10-0 2:06
Lorianna Piestewa NM (Stars and Stripes Wrestling Club) VSU Fernanda Lopez TX (Lake Highlands Club Wrestling), 10-0 4:11
Emma Albanese NV (Legends of Gold Las Vegas) VFA Gigi Bragg MI (Michigan Revolution Wrestling Club), 6-2 4:32
Zao Estrada SC (Daughters Of Zion Wrestling) VSU Ashley Naranjo WA (Ascend Wrestling Academy), 10-0 0:48
117
Isabella marie Gonzales CA (Wolf Den Wrestling Club) VSU Aleena Navarrete UT (Utah), 10-0 0:45
Mia Hargrove CO (Betterman Elite Wrestling) VFA Nathalie Erazo CA (Orange County RTC), 8-0 0:45
Angelina Vargas MO (Greater Heights Wrestling) VFA Brooklyn Pace UT (Champions Wrestling Club), 6-0 1:31
Karlee Brooks AZ (Arizona Girls Wrestling) VSU Hiilani Malano-dando NV (Gold Rush Wrestling), 10-0 0:26
122
Carissa Qureshi CA (Orange County RTC) VPO1 Madilyn Peach WI (Wisconsin), 9-4
Alejandra Valdiviezo CA (Poway High School Wrestling) VSU1 Regina Stoeser SD (Berge Elite Wrestling Academy), 13-1 2:55
Olivia Moreno TX (3F Wrestling) VPO1 Alyssa Randles ID (Inland Northwest Wrestling Training Center), 8-4
Persaeus Gomez CO (Pomona Elite (PWCC)) VPO1 Evelyn Holmes-smith AL (Assassins Wrestling), 12-4
127
Jamie Laswell AZ (Grindhouse Wrestling Club) VPO1 Taylor Miess CO (Chatfield Wrestling Club), 7-4
Karianne Baldwin WA (Ascend Wrestling Academy) VPO1 Peyton Hellmann SD (Berge Elite Wrestling Academy), 9-8
Bailey Chafin OR (Sweet Home High School Wrestling) VFA Meredith Nash NV (Silver State Wrestling Academy), 8-4 2:11
Aubrianna Smith OK (Oklahoma) VSU Emily Pedro TX (Carrollton Thunder Wrestling), 10-0 1:41
132
Estella Gutches OR (Legacy Elite Wrestling Club) VPO1 Kryssceah Ravenelle RI (Wyoming Seminary Wrestling Club), 14-13
Ciara Riner WV (West Virginia) VSU Jania Dunigan TX (Arlington Martin High School Wrestling), 10-0 1:44
Morgan Edwards PA (Blairstown Wrestling Club) VFA Aileen Lester AK (Alaska), 6-0 1:29
Isis France AZ (Arizona Girls Wrestling) VSU Abigail Rael NM (St. Pius X High School Wrestling), 11-0 1:14
138
Bridgette Sotomayor AZ (Arizona Girls Wrestling) VPO1 Gianna Dibenedetto CA (Swamp Monsters Wrestling Club), 8-4
Alondra Morales WA (Ascend Wrestling Academy) VSU1 Chloe Larue WI (Team Nazar Training Center), 19-7 5:38
Gretchen Donally MT (Montana) VFA Sofia Delgado FL (Florida), 6-4 4:29
Belicia Manuel MI (Michigan Revolution Wrestling Club) VPO1 Delarie Juarez CA (Brawley Union High School Wrestling), 12-8
144
Ryen Hickey CO (Colorado) VSU Elibeth Cervantes WA (FordDynastyWrestlingClub), 10-0 2:18
Elly Janovsky IN (Indiana Girls Wrestling IGNITES) VFA Kaylie Petersen IN (Maurer Coughlin Wrestling Club), 12-7 2:58
Amelia Fawcett AK (Pioneer Grappling Academy) VFA Jahlia Miguel HI (4mgwrestling), 14-13 5:46
Sandilynn Tuinei NV (Nevada) VPO1 Morgan Lucio AZ (Arizona), 10-7
152
Skylar Slade IA (Moen Wrestling Academy) VFA Frances Porteous WA (Steelclaw Wrestling Club), 6-0 1:19
Trinity Bouchal AZ (Arizona Girls Wrestling) VFA Samira Kupa NJ (Cordobatrained), 6-0 1:33
Sarah Henckel CT (Connecticut) VPO Azana King TX (All American Wrestling Club), 8-0
Eduarda Rodrigues CA (Team Thunder Wrestling Club) VSU Lillian Gradillas-flores AZ (Arizona), 10-0 0:43
164
Alyssa Favara PA (Bishop McCort High School Wrestling) VFO Aurellia Ramos UT (Champions Wrestling Club), 12-2
Abena Adu CA (Quartz Hill High School Wrestling) VSU Sophia Bassino WI (Wisconsin), 10-0 0:49
Alexandria Alli OH (Wyoming Seminary Wrestling Club) VSU Grace Johns KS (Oz Wrestling Club), 10-0 0:49
Kylee Lindsley MT (Bozeman Wrestling Club) VFA Alize Acosta UT (Stallions Wrestling Club), 8-0 1:49
180
Kassidee Savaria MT (Montana) VFA Archer Jones AR (Springdale Youth Wrestling Club), 10-6 3:53
Katianna Martinez CA (Evergreen Valley Wrestling Club) VIN Emma Ford CA (Swamp Monsters Wrestling Club), 2-1 3:00
Sophia Pollack NY (Rochester), bye
Saiheron Preciado CA (Orange County RTC) VPO1 Maria Aiono NV (Reed High School Wrestling), 17-8
200
Tilisa Matakaiongo UT (Utah) VFA Kyrie Rubio CA (Canyon Springs High School Wrestling), 8-6 2:44
Destiny Marquez CA (Orange County RTC) VPO1 Anna Bozanic CA (Daniel Cormier Wrestling Club), 12-4
Maggie Smith WY (Top Of The Rock Wrestling Club) VFA Kennedy Norton GA (Morris Fitness Wrestling Club), 10-0 2:02
Kiara Ganey IL (Illinois) VSU1 Tirza Twoteeth MT (Kalispell Wrestling Club), 15-5 4:49
225
Leilani Sanchez (Texas), bye
Angie Aguilar UT (Stallions Wrestling Club) VFA Natasha Kuberski CO (Colorado), 8-0 1:31
Gemma Templeman CA (Swamp Monsters Wrestling Club) VFA Reese Baxter IA (Ubasa Wrestling Academy), 4-0 0:42
Erica Cobos (Texas), bye