News
USA Wrestling
International
College
USAW
Steveson returns with dominance, unseeded Jacques & Trumble reach U.S. Open Men's Freestyle semifinals
by Gary Abbott, USA Wrestling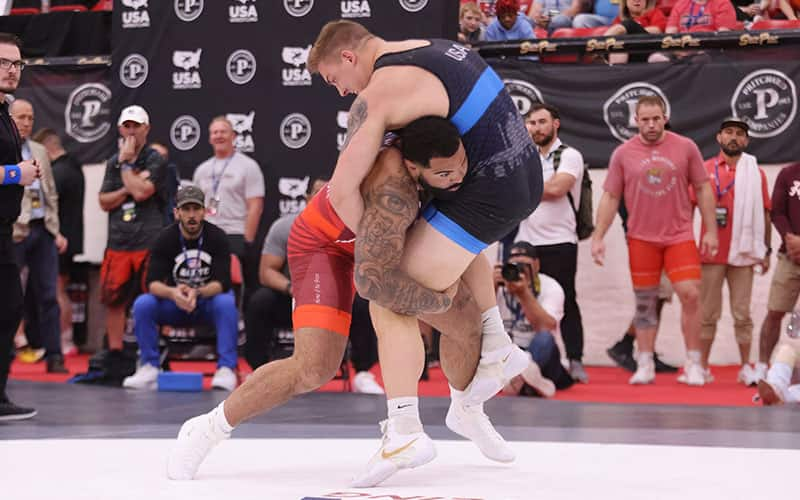 Gable Steveson scores a takedown in the U.S. Men's Freestyle Open on Thursday. Photo by John Sachs, Tech-Fall.com
LAS VEGAS, Nev. – 2000 Olympic champion
Gable Steveson
made a triumphant return to freestyle wrestling with a dominant run to the semifinals at the 2023 U.S. Men's Freestyle Open on Thursday morning at the South Point Arena.
In the quarterfinals, Steveson steam rolled Wyatt Hendrickson in a 12-0 technical fall. Hendrickson was third in the 2022 NCAA Championships and is a past U20 World Team member. Steveson had a technical fall in his quarterfinals match as well. Steveson will face No. 4 seed Mason Parris, who was the 2023 NCAA champion and is a past U20 World champion.
Many of the nation's best men's freestyle stars powered their way into the semifinals, but there were a few big surprises among the quarterfinals winners.
Two unseeded wrestlers reached the semifinal, Missouri wrestler
Jarrett Jacques
of Tiger Style WC at 70 kg and
Isaac Trumble
of Wolfpack WC/TMWC at 97 kg.
Top seed Alec Pantaleo of TMWC/Cliff Keen WC was upset in his first match at 70 kg, when he was pinned by Jacob Butler of the Oklahoma RTC in 1:37. Since this weight has a World medalist who is automatically in Final X, Pantaleo will not be able to compete in a spot on the World Team this year.
Jacques came through Pantaleo's quarterbracket, beating Deondre Wilson of Legends of Gold in a 10-0 technical fall in the quarterfinals. He will battle No. 4 seed Sam Sasso in the semifinals.
Trumble, a star at NC State, beat Nebraska All-American Silas Allred in the quarterfinals by technical fall. Trumble will face No. 2 seed Timothy Dudley in the semifinals. Allred beat No. 3 seed Morgan Smith in the round of 16.
All of the rest of the No. 1 seeds will advance to the semifinals, set for 6:00 p.m. PT, live on FloWrestling
U.S. SENIOR FREESTYLE OPEN
At Las Vegas, Nev., April 27

Semifinal pairings
57 kg
No. 1 Zane Richards (Illinois RTC / TMWC) vs. No. 5 Jakob Camacho NC (Wolfpack WC / TMWC)
No. 3 Nick Suriano (Sunkist Kids0 vs. No. 2 Spencer Lee (Hawkeye WC/ TMWC)
61 kg
No. 1 Seth Gross (Sunkist Kids) vs. No. 5 Austin Desanto PA (Hawkeye WC/ TMWC)
No. 3 Nathan Tomasello (Cliff Keen Wrestling Club / TMWC) vs. No. 2 Vitali Arujau (Spartan Combat RTC / TMWC)
65 kg
No. 1 Joseph McKenna (Pennsylvania RTC / TMWC) vs. No. 5 Ridge Lovett (Sunkist Kids)
No. 3 Nick Lee (Nittany Lion WC / TMWC) vs. No. 10 Beau Bartlett PA (Nittany Lion WC/ TMWC)
70 kg
Unseeded Jarrett Jacques (Tiger Style WC) vs. No. 4 Sam Sasso(Ohio RTC / TMWC)
No. 3 Hayden Hidlay(Wolfpack WC/ TMWC) vs. No. 2 Tyler Berger (Sunkist Kids/PRTC)
74 kg
No. 1 Jason Nolf (Nittany Lion Wrestling Club / TMWC) vs. No. 4 Keegan O'Toole (Tiger Style WC)
No. 3 Vincenzo Joseph (Sunkist Kids) vs. No. 7 Joshua Shields (Sunkist Kids Wrestling Club)
79 kg
No. 1 Chance Marsteller (New York City RTC / TMWC) vs. No. 5 David Mcfadden (Pennsylvania RTC / TMWC)
No. 3 Alex Dieringer (Cliff Keen WC / TMWC) vs. No. 2 Carter Starocci (Nittany Lion WC / TMWC)
86 kg
No. 1 Zahid Valencia (Sunkist Kids) vs. No. 4 Trent Hidlay NC (Wolfpack WC/ TMWC)
No. 3 Aaron Brooks (Nittany Lion WC / TMWC) vs. No. 2 Mark Hall (Pennsylvania RTC / TMWC)
92 kg
No. 1 Kollin Moore (Ohio RTC / TMWC) vs. No. 4 Eric Schultz IL (Nebraska WTC)
No. 3 Michael Macchiavello (Wolfpack WC / TMWC) vs. No. 2 Nathan Jackson (New York AC/NJRTC)
97 kg
No. 1 J'den Cox MI (Cliff Keen WC/ TMWC) vs. No. 4 Samuel Mitchell (Bulls Wrestling Club)
Unseeded Isaac Trumble (Wolfpack WC / TMWC) vs. No. 2 Timothy Dudley (Sunkist Kids)
125 kg
No. 1 Gable Steveson MN (Gopher WC- RTC) vs. No. 4 Mason Parris IN (Cliff Keen WC / TMWC)
No. 3 Dominique Bradley MO (Sunkist Kids) vs. No. 2 Nick Gwiazdowski (Wolfpack WC / TMWC)
Quarterfinal results
57 kg
Zane Richards IL (Illinois RTC / TMWC) tech. fall Michael Tortorice IL (Knights RTC), 10-0 2:20
Jakob Camacho NC (Wolfpack Wrestling Club / TMWC) tech. fall Patrick Glory NJ (New Jersey RTC / TMWC), 10-0 0:55
Nick Suriano NJ (Sunkist Kids Wrestling Club) dec. Cooper Flynn TN (Southeast RTC / TMWC), 7-1
Spencer Lee IA (Hawkeye Wrestling Club / TMWC) dec. Caleb Smith NC (North Carolina), 9-4
61 kg
Seth Gross MN (Sunkist Kids Wrestling Club) tech fall Joshua Rodriguez PA (Nittany Lion Wrestling Club / TMWC), 11-0 1:52
Austin Desanto PA (Hawkeye Wrestling Club / TMWC) tech. fall Joe Colon IL (Titan Mercury Wrestling Club), 12-0 1:58
Nathan Tomasello OH (Cliff Keen Wrestling Club / TMWC) dec. Daniel Deshazer KS (Gopher Wrestling Club - RTC), 4-0
Vitali Arujau NY (Spartan Combat RTC / TMWC) dec. Nahshon Garrett PA (Lehigh Valley Wrestling Club / TMWC), 9-2
65 kg
Joseph Mckenna NJ (Pennsylvania RTC / TMWC) tech fall Anthony Ashnault NJ (New York City RTC / TMWC), 10-0 4:01
Ridge Lovett ID (Sunkist Kids Wrestling Club) dec. Patricio Lugo FL (Hawkeye Wrestling Club / TMWC), 7-5
Nick Lee PA (Nittany Lion Wrestling Club / TMWC) tech. fall Matthew Kolodzik NJ (New York Athletic Club), 12-1 1:58
Beau Bartlett PA (Nittany Lion Wrestling Club / TMWC) VPO1 Evan Henderson PA (Lehigh Valley Wrestling Club / TMWC), 11-6
70 kg
Jarrett Jacques MO (Tiger Style Wrestling Club) tech fall Deondre Wilson IN (Legends of Gold Wrestling), 10-0 1:41
No. 4 Sam Sasso PA (Ohio RTC / TMWC) tech fall No. 5 Edward Scott NC (Wolfpack Wrestling Club / TMWC), 14-4 5:17
No. 3 Hayden Hidlay NC (Wolfpack Wrestling Club / TMWC) tech fall Jaydin Eierman MO (Hawkeye Wrestling Club / TMWC), 10-0 5:06
No. 2 Tyler Berger NE (Sunkist Kids/PRTC) tech fall Jarod Verkleeren VA (Cavalier Wrestling Club), 12-1 2:28
74 kg
No. 1 Jason Nolf PA (Nittany Lion Wrestling Club / TMWC) tech fall No. 8 Julian Ramirez NY (Spartan Combat RTC / TMWC), 10-0 4:48
No. 4 Keegan O'Toole MO (Tiger Style Wrestling Club) tech fall No. 5 Thomas Gantt NC (Wolfpack Wrestling Club / TMWC), 10-0 4:40
No. 3 Vincenzo Joseph AZ (Sunkist Kids Wrestling Club) tech fall No. 6 Collin Purinton NE (Sunkist Kids Wrestling Club), 11-0 3:46
No. 7 Joshua Shields AZ (Sunkist Kids Wrestling Club) dec. No. 2 Joey Lavallee PA (Lehigh Valley Wrestling Club / TMWC), 4-2
79 kg
No. 1 Chance Marsteller PA (New York City RTC / TMWC) tech fall No. 9 Devin Skatzka MI (Spartan Combat RTC / TMWC), 14-3 4:19
No. 5 David Mcfadden VA (Pennsylvania RTC / TMWC) dec. No. 4 Alex Marinelli IA (Hawkeye Wrestling Club / TMWC), 10-6
No. 3 Alex Dieringer OK (Cliff Keen Wrestling Club / TMWC) dec. No. 6 Taylor Lujan IA (Panther Wrestling Club RTC / TMWC), 7-0
No. 2 Carter Starocci PA (Nittany Lion Wrestling Club / TMWC) dec. No. 7 Michael Kemerer NY (Spartan Combat RTC / TMWC), 9-0
86 kg
No. 1 Zahid Valencia AZ (Sunkist Kids Wrestling Club) dec. Maximus Hale PA (Pennsylvania RTC), 7-2
No. 4 Trent Hidlay NC (Wolfpack Wrestling Club / TMWC) tech fall No. 5 Andrew Morgan NY (Spartan Combat RTC / TMWC), 11-0 4:38
No. 3 Aaron Brooks MD (Nittany Lion Wrestling Club / TMWC) tech fall No. 6 Owen Webster MN (Gopher Wrestling Club - RTC), 11-0 2:51
No. 2 Mark Hall PA (Pennsylvania RTC / TMWC) tech fall Victor Marcelli OH (Cavalier Wrestling Club), 10-0 1:04
92 kg
No. 1 Kollin Moore OH (Ohio RTC / TMWC) tech fall John Gunderson WI (Panther Wrestling Club RTC), 10-0 1:05
No. 4 Eric Schultz IL (Nebraska Wrestling Training Center) dec. No. 5 Morgan Mcintosh PA (Nittany Lion Wrestling Club), 4-1
No. 3 Michael Macchiavello NC (Wolfpack Wrestling Club / TMWC) dec. No. 6 Jonathan Aiello VA (Cavalier Wrestling Club / TMWC), 4-0
No. 2 Nathan Jackson NJ (New York Athletic Club) dec. No. 7 Jacob Cardenas NJ (Spartan Combat RTC / TMWC), 8-0
97 kg
No. 1 J'den Cox MI (Cliff Keen Wrestling Club / TMWC) VSU Duncan Lee IA (Cyclone Regional Training Center C-RTC), 10-0 2:01
No. 4 Samuel Mitchell WI (Bulls Wrestling Club) injury default No. 5 Ben Kueter IA (Titan Mercury Wrestling Club)
Isaac Trumble NC (Wolfpack Wrestling Club / TMWC) tech fall Silas Allred IN (Sunkist Kids Wrestling Club), 10-0 2:19
No. 2 Timothy Dudley SC (Sunkist Kids Wrestling Club) tech fall Anthony Mancini CA (San Francisco Wrestling Club), 10-0 2:23
125 kg
No. 1 Gable Steveson MN (Gopher Wrestling Club - RTC) tech fall No. 8 Wyatt Hendrickson CO (Colorado), 12-0 2:09
No. 4 Mason Parris IN (Cliff Keen Wrestling Club / TMWC) dec. No. 5 Ty Walz VA (Southeast RTC / TMWC), 4-0
No. 3 Dominique Bradley MO (Sunkist Kids Wrestling Club) dec. No. 11 Jordan Wood PA (Lehigh Valley Wrestling Club/NYAC), 2-1
No. 2 Nick Gwiazdowski NC (Wolfpack Wrestling Club / TMWC) dec. No. 7 Christian Lance MO (Sunkist Kids Wrestling Club), 8-0