Senior Greco-Roman seeds set for U.S. Open
by Richard Immel, USA Wrestling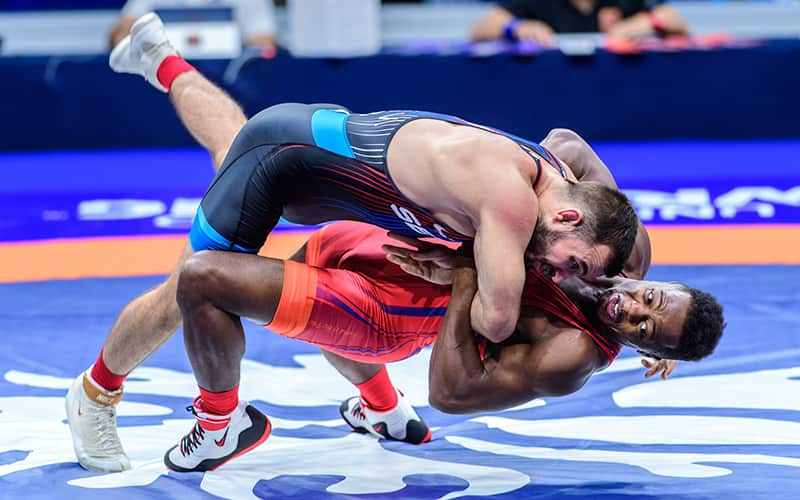 Photo: Army WCAP's Kamal Bey, the U.S. Open No. 1 seed in Greco-Roman at 77 kg, pictured at the 2022 Senior World Championships. (Tony Rotundo/WrestlersAreWarriors.com)

The Senior Greco-Roman tournament seeds for the 2023 Pritchard Companies U.S. Open Championships, presented by FloWrestling, have been finalized ahead of this week's competition in Las Vegas, Nev.
A panel of coaches representing the athletes determined the final seeding based on an agreed upon set of seeding criteria that included head-to-head results, tournament placements, and common opponents.
The only adjustments that will be made to the seeds will be if a wrestler drops out of the field. In that case, the wrestler in question will be removed from the list and every wrestler underneath him will bump up to the next seed.
Among those receiving at No. 1 seed include two-time Olympians
Ildar Hafizov
at 60 kg and
Ben Provisor
at 82 kg, 2020 Olympian
Alejandro Sancho
at 67 kg, and past U17 World champions
Kamal Bey
at 77 kg and
Cohlton Schultz
at 130 kg.
The Senior Greco-Roman tournament will take place April 26-27 at South Point Arena. Action will begin at 10 a.m. (PT) both days. Semifinals are scheduled for 4 p.m. (PT) on Wednesday, and finals are set for 4 p.m. on Thursday.
Single day and all session ticket options are available to purchase online through the
South Point Box Office
. Those unable to attend the event can stream every match from Las Vegas live on
FloWrestling.com
.
2023 Pritchard Companies U.S. Open Championships presented by FloWrestling
At South Point Arena, Las Vegas, Nev., April 26-30
Senior Greco-Roman Tournament Seeding

55 kg

1. Brady Koontz, Titan Mercury WC/Dubuque RTC
2. Dalton Duffield, Army WCAP
3. Drew West, Illinois
4. Camden Russell, MWC Wrestling Academy
5. Jacob Cochran, Army WCAP
6. Billy Sullivan, Army WCAP
60 kg

1. Ildar Hafizov, Army WCAP
2. Dalton Roberts, Army WCAP
3. Randon Miranda, California
4. Mason Carzino-Hartshorn, West Coast Greco RTC
5. Phillip Moomey, Spartan Combat RTC
6. Dylan Koontz, Titan Mercury WC/Dubuque RTC
7. Max Black, NMU
63 kg

1. Sammy Jones, Scolorado Top Team WC
2. Leslie Fuenffinger, Army WCAP
3. Hayden Tuma, Suples WC
4. Xavier Johnson, Army WCAP
5. Aidan Nutter, New York AC
6. Dylan Gregerson, Brunson UCRTC
7. Corbin Nirschl, MWC Wrestling Academy
8. Logan Savvy, New York AC
67 kg

1. Alejandro Sancho, Army WCAP
2. Alston Nutter, Sunkist Kids WC
3. Jesse Thielke, Army WCAP
4. Robert Perez III, Sunkist Kids WC
5. Lenny Merkin, New York AC
6. David Stepanian, New York AC
7. Hunter Lewis, North Carolina
8. Jessy Williams, Spartan Combat RTC
9. Chayse La Joie, Michigan
72 kg

1. Patrick Smith, Minnesota Storm
2. Britton Holmes, Army WCAP
3. Noah Wachsmuth, Colorado
4. Michael Hooker, Army WCAP
5. Jamel Johnson, Marines
6. Justus Scott, Army WCAP
7. Richard Fedalen, New York RTC
8. Dominic Damon, NMU
9. Bobby Yamashita, All Navy Wrestling
77 kg

1. Kamal Bey, Army WCAP
2. Payton Jacobson, Sunkist Kids WC
3. RaVaughn Perkins, New York AC
4. Jesse Porter, New York AC
5. Burke Paddock, New York AC
6. Aliaksandr Kikiniou, California
7. Danny Braunagel, Illinois RTC
82 kg

1. Ben Provisor, New York AC
2. Spencer Woods, Army WCAP
3. Tommy Brackett, Colorado
4. Tyler Cunningham, MWC Wrestling Academy
5. Andrew Berreyesa, New York AC
6. Kendrick Sanders, New York AC
7. Fritz Schierl, Titan Mercury WC
8. Michael Altomer, NMU
87 kg

1. Alan Vera, New York AC
2. Timothy Young, Army WCAP
3. John Stefanowicz, Navy WC
4. Richard Carlson, Minnesota Storm
5. Zachary Braunagel, Illinois RTC
6. Austin Craig, All Navy Wrestling
7. Barrett Stanghill, Minnesota Storm
97 kg

1. Josef Rau, Titan Mercury WC
2. Nicholas Boykin, Sunkist Kids WC
3. Christian DuLaney, Minnesota Storm
4. George Sikes, New York AC
5. Robert Barbour, Colorado
130 kg

1. Cohlton Schultz, Sunkist Kids WC
2. Tanner Farmer, Illinois RTC
3. Adam Coon, Cliff Keen WC
4. Courtney Freeman, Marines
5. Donny Longendyke, Minnesota Storm
6. Rulon Gardner, Rulon Gardner Gold Medal Gym/Dubuque RTC
7. Luke Luffman, Illinois RTC
8. Kaleb Reeves, Eastern Iowa WC
9. Tom Foote, New York AC