News
USA Wrestling
College
International
USAW
Spencer Lee, Jacob Warner to continue international career with Hawkeye Wrestling Club
by Hawkeye Wrestling Club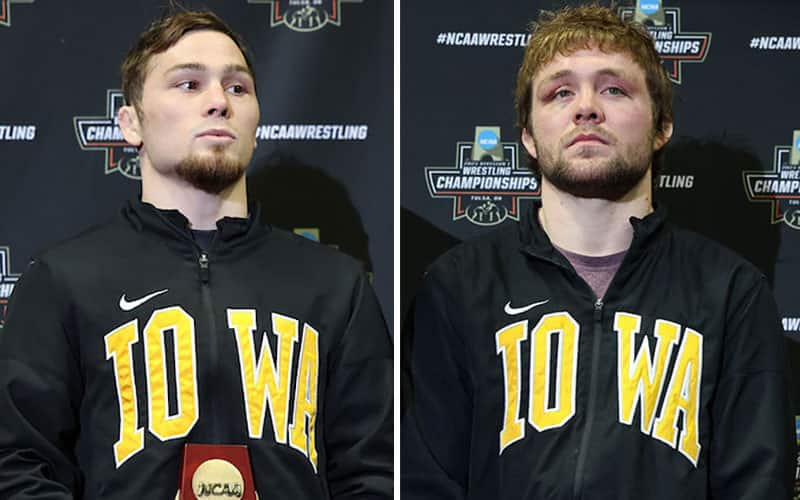 Photos of Spencer Lee and Jacob Warner courtesy of Iowa Athletics
.
IOWA CITY, Iowa – Former University of Iowa wrestlers
Spencer Lee
and
Jacob Warner
will continue their wrestling careers in Iowa City as members of the
Hawkeye Wrestling Club (HWC)
. The HWC made the announcement Friday.
Lee is a three-time NCAA champion and two-time Hodge Trophy winner. He earned five All-America honors, won three Big Ten championships, and was named Big Ten Wrestler of the Year in 2020, 2021, and 2023. During an undefeated run in 2020, Lee was named winner of the James E. Sullivan Award and was the NCAA's most dominant wrestler. He finished his college career with an overall record of 98-6. He won 40 of those matches in the first period, including 29 by fall.
Warner was a five-time All-American for the Hawkeyes from 2019-23. He was the NCAA runner-up in 2022 and finished his college career with 97 wins.
"We're excited to have two quality guys stay with the Hawkeyes,"
Tom Brands,
University of Iowa Head Wrestling Coach said. "We are looking forward to see what these guys can do at the senior level."
Lee and Warner were members of Iowa's 2017 recruiting class. Lee won his first NCAA title as a true freshman in 2018. Warner redshirted as a freshman and started his run of five straight All-America honors in 2019. During their six years in Iowa City, Lee and Warner led Iowa to the 2021 NCAA team title and helped the Hawkeyes win Big Ten Conference team championships in 2020 and 2021.
Both wrestlers have experience at the international level. Lee won three age-level world championships, including one cadet title and two junior world titles. He won the 2019 U.S. Open in men's senior freestyle and was on track to compete for a 2020 Olympic team berth before COVID-19 canceled the 2020 Olympic Games.
Warner was a 2016 Cadet Bronze Medalist, 2019 UWW Junior National Champion and a representative on the United States 2019 Junior World Team.
Lee has signed a 5 year contract with the HWC that will take him through the Los Angeles Olympics in 2028.
"The foundation of our club is built upon the unwavering belief in our program's philosophy and the financial support of our knowledgeable fanbase. Without those two things, our team wouldn't have won 24 national titles or had 5 Olympic champions."
Chad Beatty
, the Executive Director of the HWC said. "Our team has the uncommon ability to train full-time, year round, without the burden of making wrestling a part-time endeavor. Our guys, and this staff, pour 100% of themselves into being great, and I love it."
In 2017, the HWC board started encouraging our fans to make monthly contributions towards the club. They called it the INNER CIRCLE. This fundraising approach has been instrumental to the development of our organization and is helping us get closer to our goals. These monthly gifts of $25 or more help with our day-to-day expenses, offset our operations costs, and provide our athletes with a competitive living wage.
In 2022, the HWC established the Herb Tyler 50-year Fund, an endowment fund, with the intent of providing a lasting source of income to the club. This fund provides an avenue for significant donors to help ensure the viability and stability of the club's future.
Spencer Lee, Jacob Warner, Alex Marinelli, Austin DeSanto, Pat Lugo, Kaleb Young, Kyle Summers, Brandon Sorensen, Jeremiah Moody, Jaydin Eierman and Nathan Burak wouldn't be able to do what they love without the support from those incredible fans that give monthly to our INNER CIRCLE or to our endowment.
"We have the best fanbase in the world. They are committed to our team and this program. We had people that stepped up big for the facility, some stepped up by giving to our Inner Circle every month, and some stepped up by attending our events or building our endowment. It all matters and it all helps move us forward," Brands continued. "Spencer Lee and other HWC athletes can train full time because of their support. Without financial backers, we can't do what we do at the highest levels."
Lee plans to compete at the US Open next week in Las Vegas, NV along side his new HWC teammates, and a handful of Iowa undergraduates. Watch all the action on flowrestling.org
About the Hawkeye Wrestling Club
:
Since its inception in 1973, the focus of the Hawkeye Wrestling Club — a 501(c)(3) organization — has always been to provide the training, coaching, and resources necessary to help our athletes pursue their dreams of becoming World and Olympic Champions. The money raised through the HWC goes directly to benefit the athletes helping with living expenses, training, and traveling needs.