News
USA Wrestling
High School & Youth
Women
USAW
National Wrestling Hall of Fame announces state winners of Tricia Saunders High School Excellence Awards
by Jack Carnefix, National Wrestling Hall of Fame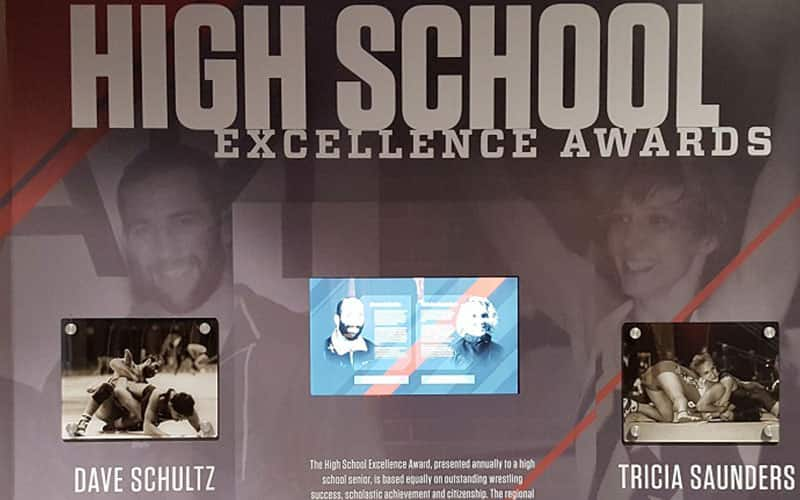 STILLWATER, Okla. - The National Wrestling Hall of Fame on Wednesday announced the state winners of the
Tricia Saunders High School Excellence Award
(TSHSEA).
First presented in 2014, the award is named for Tricia Saunders, a four-time World Champion and women's wrestling pioneer. Saunders was the first woman to be inducted as a Distinguished Member of the National Wrestling Hall of Fame in 2006 and was inducted into the United World Wrestling Hall of Fame in 2011.
The award recognizes and celebrates the nation's most outstanding high school senior female wrestlers for their excellence in wrestling, scholastic achievement, citizenship, and community service.
"This year's Tricia Saunders High School Excellence Award winners represent an exceptional group of student-athletes whose qualifications combine both academic and athletic accomplishments. They have also participated in a wide range of humanitarian and service-related activities for the benefit of others," said Executive Director
Lee Roy Smith
. "We look forward to following their future successes and wish them all the best in sports and life."
The state winners are evaluated and selected on the basis of three criteria: success and standout performances and sportsmanship in wrestling; review of GPA and class rank, academic honors and distinctions; and participation in activities that demonstrate commitment to character and community.
The Central Region, Midwest Region, Northeast Region, Southeast Region and West Region winners will be announced on April 25 and the national winner will be announced on May 2.
The state winners of the Dave Schultz High School Excellence Award will be announced on Thursday. The DSHSEA recognizes and celebrates the nation's most outstanding high school senior male wrestlers for their excellence in wrestling, scholastic achievement, citizenship, and community service. The regional DSHSEA winners will be announced on April 26 and the national winner will be announced on May 3.
The regional winners for the TSHSEA and the DSHSEA are selected from the state winners, and the national winner is chosen from the regional winners.
The regions and the states that they are comprised of are:
West (11) - Alaska, Arizona, California, Hawaii, Idaho, Montana, Nevada, Oregon, Utah, Washington and Wyoming
Midwest (10) - Illinois, Indiana, Iowa, Michigan, Minnesota, Nebraska, North Dakota, Ohio, South Dakota and Wisconsin
Central (7) - Arkansas, Colorado, Kansas, Missouri, New Mexico, Oklahoma and Texas
Southeast (11) - Alabama, Florida, Georgia, Kentucky, Louisiana, Mississippi, North Carolina, South Carolina, Tennessee, Virginia and West Virginia
Northeast (11) - Connecticut, Delaware, Maine, Maryland, Massachusetts, New Hampshire, New Jersey, New York, Pennsylvania, Rhode Island and Vermont
The TSHSEA and DSHSEA national winners will be honored during the 46th Honors Weekend at the National Wrestling Hall of Fame & Museum on June 2 and 3 in Stillwater, Oklahoma. To purchase tickets for Honors Weekend, visit https://bit.ly/3w2CQOM.
Thirty-eight state high school athletic associations have approved girls wrestling as an official sport and 38 held official girls high school state wrestling championships in 2022-23. Hawaii was the first state to host a girls state championship in 1998 while Texas began its girls tournament in 1999. The number grew to six states by 2015 and has exploded in recent years to 38 states.
States that hosted state-sanctioned girls wrestling championships in 2022-23 are Alaska, Arizona, Arkansas, California, Colorado, Connecticut, Florida, Georgia, Hawaii, Idaho, Illinois, Iowa, Kansas, Kentucky, Maine, Maryland, Massachusetts, Michigan, Minnesota, Missouri, Montana, Nebraska, Nevada, New Jersey, New Mexico, New York, North Carolina, North Dakota, Ohio, Oklahoma, Oregon, South Dakota, Tennessee, Texas, Utah, Washington, Wisconsin and Wyoming.
To date there are 153 intercollegiate women's wrestling teams. The NCAA has approved "Emerging Sport Status" for women's wrestling at the Division I, Division II and Division III levels while the NAIA recognizes women's wrestling as an official varsity sport and held their first official championship in 2023.
Women's wrestling is one of the fastest growing high school sports with participation growing by more than 71 percent from 16,562 in 2018 to 28,447 in 2020. Growth has continued through the pandemic and more than 52,400 female high school wrestlers competed in 2022-23.
The Hall of Fame accepts nominations for its high school excellence awards from state chapters and coaches. The nominations are reviewed by a committee, which selects state and regional winners. The committee then determines the national winners from the regional winners.
2023 Tricia Saunders High School Excellence Award State Winners
State - Name, High School, Hometown, College Attending
Alabama - Akerah Artis, Sparkman High School, Madison
Alaska - Trinity Donovan, Soldotna High School, Soldotna
Arizona - Trinity Bouchal, Basha High School, Queen Creek
Arkansas - Presley Givens, Bryant High School, Benton, Oklahoma City University
California - Kiely Tabaldo, Menlo-Atherton High School, Sunnyvale, Colorado Mesa University
Colorado - Taylor Knox, Calhan School, Peyton
Connecticut - Samantha Yap, Stamford High School, Stamford, Sacred Heart University
Delaware - Alyssa Mahan, Delaware Military Academy, Wilmington, Presbyterian College
Florida - Kealonie Vega, Osceola High School, Kissimmee, Gannon University
Georgia - Lilly Chavis, Jackson County High School, Jefferson
Hawaii - Isabelle Asuncion, Moanalua High School, Honolulu, University of Providence
Idaho - Alyssa Randles, Coeur d'Alene High School, Coeur d'Alene
Illinois - Attalia Watson-Castro, Homewood-Flossmoor High School, Homewood
Indiana - Mackenzie Konanz, Penn High School, Granger, Aurora University
Iowa - Lilly Luft, Charles City Community High School, Charles City, University of Iowa
Kansas - Makayla Rivera, Olathe West High School, Lenexa, Lindenwood University
Kentucky - Addison Messerly, Grant County High School, Crittenden
Louisiana - Gabriella Cook, Hahnville High School, Luling, Carl Albert State College
Maine - Mya Moran, Bucksport High School, Verona Island
Maryland - Alex Szkotnicki, South River High School, Riva, McKendree University
Massachusetts - Jacyln Dehney, Central Catholic High School, Pelham (New Hampshire)
Michigan - Emaline (Emme) Hicks, Saline High School, Ypsilanti
Minnesota - Joel Makem, Shakopee High School, Shakopee
Mississippi - Bel Manteith, Oxford High School, Oxford
Missouri - Maddie Kubicki, Park Hill South High School, Kansas City, Presbyterian College
Montana - Kassidee Savaria, Skyview High School, Billings
Nebraska - Reagan Galloway, Amherst High School, Kearney, Hastings College
Nevada - Katie Ward, Robert McQueen High School, Reno
New Jersey - Kira Pipkins, Bloomfield High School, Bloomfield, Columbia University
New Mexico - Makayla Munoz, Aztec High School, Farmington, Oklahoma City University
New York - Emily Sindoni, Tioga Central School, Nichols, Utica University
North Carolina - Jeulenea Khang, Freedom High School, Newton, University of Mount Olive
North Dakota - Allyssa Johnson, Grand Forks Central High School, Grand Forks, Chadron State College
Ohio - Josie, Davis Sidney High School, Sidney, Campbellsville University
Oklahoma - Peyton Hand, Choctaw High School, Choctaw, Ottawa University
Oregon - Destiny Rodriguez, West Linn High School, West Linn, McKendree University
Pennsylvania - Abbie Miles, Laurel High School, New Castle, Albion College
South Carolina - Caroline Gilstrap, Summerville High School, Summerville, McKendree University
South Dakota - Taylor Graveman, Spearfish High School, Spearfish, North Central College
Tennessee - Ella-Lina Gonzalez, Clarksville High School, Clarksville
Texas - Fernanda Lopez, Lake Highlands High School, Dallas, Southern Oregon University
Utah - Ashley Cannon, Westlake High School, Saratoga Springs
Vermont - Paityn Delong, Fair Haven Union High School, Fair Haven, East Stroudsburg University
Virginia - Charlize Olivia, Shuler, Grassfield High School, Chesapeake
Washington - Alivia White, Marysville Pilchuck High School, Lake Stevens, University of Iowa
West Virginia - Loralei Smith, Cabell Midland High School, Milton, Indiana Institute of Technology
Wisconsin - Kylie Rule, Mineral Point High School, Mineral Point, Wartburg College
Wyoming - Maggie Smith, Rock Springs High School, Rock Springs, Colorado Mesa University
All-Time National Winners of Tricia Saunders High School Excellence Award
2022 - Sofia Macaluso, Minisink High School, Otisville, New York (U20 World Silver Medalist)
2021 - Olivia Brown, Broken Arrow High School, Broken Arrow, Oklahoma
2020 - Nanea Estrella, Lahainaluna High School, Makawao, Hawaii
2019 - Emily Shilson, Mounds View High School, North Oaks, Minnesota (Five-Time College National Champion, Junior World Champion)
2018 - Alleida Martinez, Selma High School, Selma, California
2017 - Cierra Foster, Post Falls High School, Post Falls, Idaho
2016 - Katie Brock, Sequatchie County High School, Whitwell, Tennessee
2015 - Marizza Birrueta, Grandview High School, Grandview, Washington
2014 - Marina Doi, Kingsburg High School, Kingsburg, California
National Wrestling Hall of Fame & Museum
America's shrine to the sport of wrestling, the National Wrestling Hall of Fame & Museum was founded as a nonprofit organization in 1976 to honor the sport of wrestling, preserve its history, recognize extraordinary individual achievements, and inspire future generations. The National Wrestling Hall of Fame has museums in Stillwater, Oklahoma, and Waterloo, Iowa. The Stillwater, Oklahoma, location reopened in June 2016 following a $3.8 million renovation and now features interactive exhibits and electronic kiosks, as well as the opportunity to watch NCAA Championship matches from the 1930s to present day. It also has the John T. Vaughan Hall of Honors where the greatest names in wrestling are recognized, including iconic granite plaques presented to Distinguished Members since the Hall of Fame opened in 1976. The museum has the largest collection of wrestling artifacts and memorabilia in the world, including the most collegiate and Olympic wrestling uniforms. Wrestling truly is for everyone and the diversity and accessibility of the sport continues to be highlighted through exhibits featuring females, African-Americans, Asian Americans, Native Americans, and Latino Americans. There is also a library featuring historical documents, including NCAA guides and results, as well as books on the sport. For more information about the Hall of Fame, please visit www.NWHOF.org.