News
USA Wrestling
International
Women
USAW
Burroughs, Dake, Gilman, Taylor and Velte presented with Living the Dream Medal Fund bonus checks at Victory Tour event in Philadelphia
by Jack Clark, U.S. Wrestling Foundation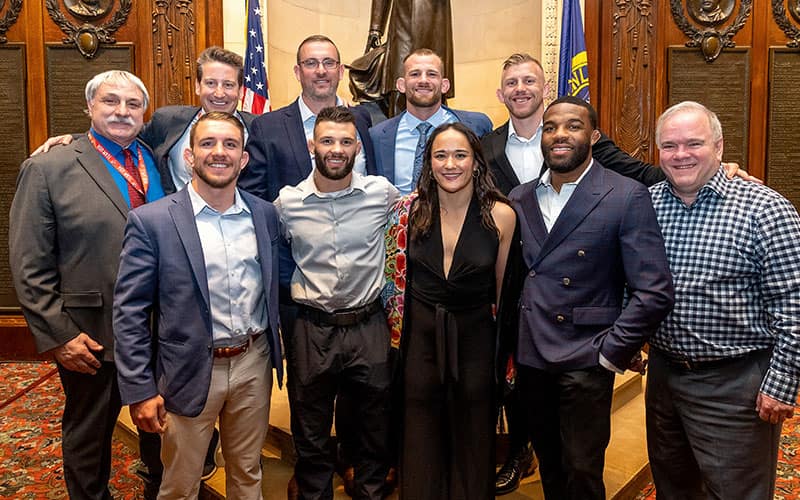 Back row L to R: USA Wrestling President Bruce Baumgartner, Ken Wellar, LDMF Steward Taylor Lukof, David Taylor, Kyle Dake. Front Row L to R: Zain Retherford, Thomas Gilman, Mallory Velte, Jordan Burroughs, LDMF Steward Jeff Waters.
In honor of USA Wrestling's success at the World Championships,
Taylor Lukof
and
Ken Wellar
of the U.S. Wrestling Foundation (USWF) hosted a
Victory Tour
event to present the "Big Checks" to five of America's medalists and promote the
Living the Dream Medal Fund
(LDMF).
In Philadelphia on April 13th,
Jordan Burroughs
,
Kyle Dake
,
Thomas Gilman
,
David Taylor
and
Mallory Velte
received their awards from the LDMF stewards for winning medals at the 2022 World Championships in Belgrade, Serbia.
The event had a remarkable presence of past and present wrestlers and guests, including Olympians
Bruce Baumgartner
,
Gene Mills
,
Brandon Slay,
and
Mark Schultz
. 2022 World silver medalist
Zain Retherford,
who received his Big Check in a Victory Tour function in New York City, was also there to support his teammates.
In all, the attendees accounted for six Olympic championships, 10 Olympic medals, 18 World championships, 33 World medals, 17 NCAA titles and 33 All-Americans.
The Victory Tour is an important outreach opportunity to promote American success on the world stage and give people a chance to meet the stars of the sport.
The Living the Dream Medal Fund is the premier financial award in the Olympic movement that enables America's top wrestlers to continue wrestling through multiple Olympic cycles.
USWF Chairman and LDMF steward,
Jeff Waters
commented that "The fund is delivering on its promise. Our best wrestlers are competing through multiple Olympic cycles and winning more medals. In the past, wrestlers often had to choose between starting a family, pursuing a career or representing USA at the highest level of world competition."
The program is producing dividends as USA had its most successful World Championships in history in Belgrade, winning a total of 15 medals. This followed USA Wrestling's impressive success at the Tokyo Olympic Games, where American wrestlers won an impressive nine medals.
Awards for winning a medal at the World Championships are $50,000 for a gold medal, $25,000 for a silver medal and $15,000 for a bronze medal. During the Olympic Games, the payout from the program is $250,000 for an Olympic gold medal, $50,000 for an Olympic silver medal and $25,000 for an Olympic bronze medal.
Funding for LDMF comes from supporters and stewards who want to see USA consistently at the top of the podium and create more opportunities and publicity for our athletes.
If you are interested in learning more about our Living the Dream Medal Fund, please contact Lorraine at 719-322-6586 or lrorabaugh@usawrestling.org
For more information, please visit:
https://donate.usawrestling.org/pages/living-the-dream-medal-fund