News
USA Wrestling
International
Women
USAW
Sarah Hildebrandt accepts Final X berth, will compete for U.S. World Team spot in Newark, June 10
by USA Wrestling and Beat The Streets New York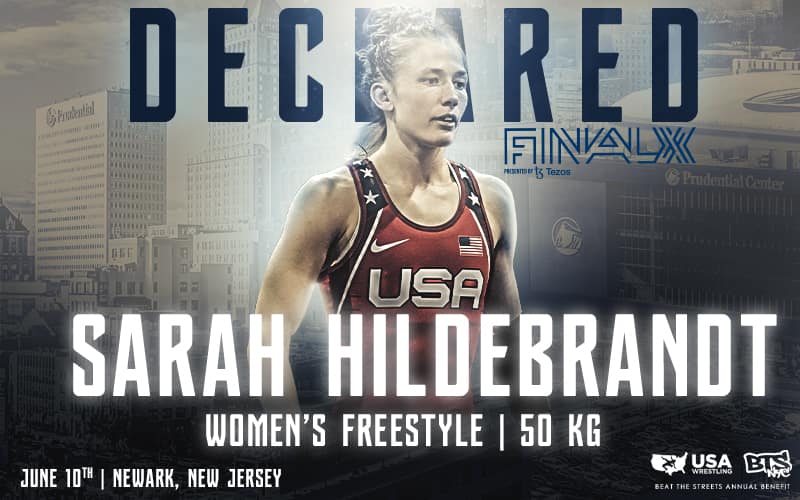 2020 Olympic bronze medalist and three-time World medalist Sarah Hildebrandt (Colorado Springs, Colo./New York AC/USOPTC) has officially accepted her berth in Final X. She will battle for the 50 kg spot on the 2023 U.S. World Team in women's freestyle wrestling in Final X, presented by Tezos, on Saturday, June 10 at Prudential Center in Newark, New Jersey.
Final X will determine the 2023 U.S. Senior World Teams in all three Olympic disciplines: men's and women's freestyle and Greco-Roman. There will be 30 weight classes contested, 10 in each Olympic discipline. The top two U.S. athletes in each weight class will compete in a best-of-three series in Final X to determine who will wrestle at the 2023 Senior World Championships in Belgrade, Serbia
Hildebrandt won a bronze medal at 50 kg at the 2020 Tokyo Olympic Games. She boasts a pair of Senior World silver medals, claimed in 2018 and 2021, plus a 2022 World bronze medal. Hildebrandt has dominated her continent, winning the 2019 Pan American Games gold and claiming six Pan American Championships titles. She won U.S. Open titles in 2018 and 2020. She was a two-time WCWA women's college national champion and four-time finalist for King University. A native of Granger, Ind., Hildebrandt competed for Penn High School.
It is the second straight year Final X will serve as the Beat The Streets New York Annual Benefit. This year's event will be the 13th BTSNY Annual Benefit. These unique and electrifying annual events help BTSNY raise more than $1 million each year to support local youth wrestling programs which empower young people in New York City. The BTSNY Annual Benefit after party will follow the conclusion of Final X.
This will be the second time Hildebrandt has competed in a BTSNY Annual Benefit event. Her most recent BTSNY appearance was in 2022 Final X New York where she won two straight matches over Alyssa Lampe at the Hulu Theater at Madison Square Garden in New York City.
There are a variety of options for Final X wrestling-only event tickets, with prices starting at $40 on
Ticketmaster
.
Benefit tickets and sponsorship packages (wrestling event plus exclusive after-party celebration access), that also provide the best wrestling-event seats, are available at
give.btsny.org/beatthestreetsbenefit2023
. For more information on ticket packages, email Katrin Pokalyukhin at katrin@btsny.org.
Proceeds from Benefit tickets and sponsorship packages will directly help BTSNY, which provides a safe, positive atmosphere for student-athletes to learn the essential life lessons of discipline, perseverance, self-reliance, humility and a strong work ethic through wrestling.
The team selection procedures for the U.S. World Teams in each style allows for 2022 Senior World medalists to advance directly to Final X at a specified weight class. Hildebrandt has met this requirement and accepted her qualification.
The Final X opponent for Hildebrandt will be determined at the U.S. Open in Las Vegas, Nev., April 26-30. The champion in women's freestyle at 50 kg at the U.S. Open will qualify to face Hildebrandt in Final X.
FloWrestling will serve as the host broadcasting partner for Final X, presented by Tezos.
*Please note if Prudential Center's tenant, New Jersey Devils, hosts a Stanley Cup Final game on June 10 the contingency date for Final X would be Friday, June 9.
Final X, presented by Tezos

At Prudential Center, Newark, N.J., Saturday, June 10
Declared qualifiers to date

Women's Freestyle 50 kg – Sarah Hildebrandt (Colorado Springs, Colo./New York AC/USOPTC)
Men's Freestyle 74 kg – Kyle Dake (State College, Pa./Titan Mercury WC/Nittany Lion WC)
Men's Freestyle 97 kg - Kyle Snyder (State College, Pa./Titan Mercury WC/Nittany Lion WC)
Women's Freestyle 57 kg – Helen Maroulis (Tempe, Ariz./Sunkist Kids)
Men's Freestyle 79 kg – Jordan Burroughs (Philadelphia, Pa./Sunkist Kids/Pennsylvania RTC)
SARAH HILDEBRANDT

Residence: Colorado Springs, Colo.
Club: New York AC
College: King Univ.
High School: Granger, Ind. (Penn)
Born: Sept. 23, 1993
• 2020 Olympic bronze medalist
• 2018 and 2021 World silver medalist
• 2022 World bronze medalist
• Five-time World Team member (2016, 2018, 2019, 2021, 2022)
• 2019 Pan American Games champion
• Six-time Pan American Championships champion (2013, 2015, 2018, 2019, 2021, 2022)
• Three-time Final X champion (2018, 2019, 2022)
• 2018 and 2020 U.S. Open champion
• Two-time WCWA national champion and four-time finalist
Sarah Hildebrandt BTSNY Annual Benefit History (2-0 record)

2022: Alyssa Lampe (USA), match one, WIN 10-0
2022: Alyssa Lampe (USA), match two, WIN 10-0