News
USA Wrestling
College
International
USAW
The late Greg Strobel, and NCAA champ Troy Letters, who Strobel coached, named to Lehigh Athletics Hall of Fame
by Steve Lomangino, Lehigh Athletics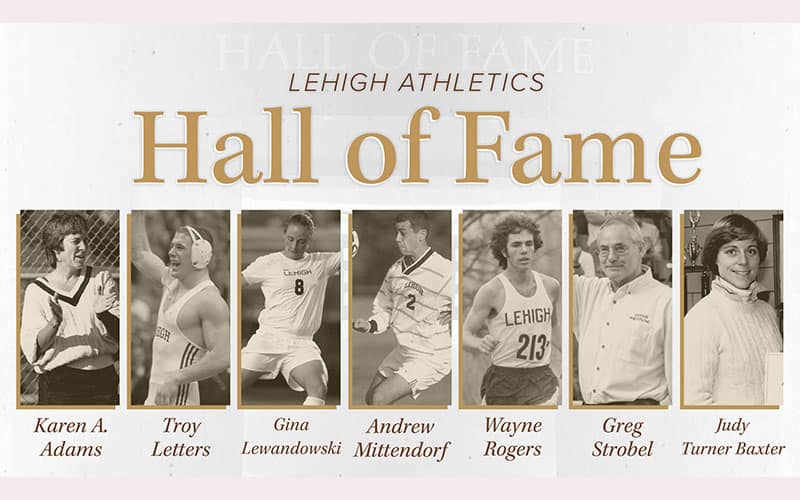 BETHLEHEM, Pa. – Six individuals have been elected to the
Lehigh Athletics Hall of Fame
in the most recent election process.
The newest group of electees includes athletics standouts Wayne Rogers '75 (Cross Country/Track and Field), Andrew Mittendorf '99 (Men's Soccer),
Troy Letters '06 (Wrestling)
and Gina Lewandowski '07 (Women's Soccer) plus former coaches and/or administrators Judy Turner Baxter and
Greg Strobel.
Letters, Lewandowski, Strobel and former coach and administrator Karen Adams, who was elected but not inducted in 2019, will be formally inducted at the Hall of Fame Induction Dinner Friday evening, May 12, while Mittendorf, Rogers and Baxter will have their formal induction ceremonies deferred to another induction date when they are able to attend.
Greg Strobel
Strobel will be inducted posthumously after passing away in October 2020 at the age of 68. He spent 13 seasons as Lehigh's head wrestling coach and oversaw the revival of the Mountain Hawks' program in the late 1990s and early 2000s. Strobel posted a 189-83-1 dual record as head coach, winning six total EIWA titles. Under his watch, Strobel's wrestlers captured 28 individual EIWA championships and 30 All-America honors. He coached two NCAA champions: Rob Rohn in 2002 and Troy Letters in 2004. After retiring from coaching in 2008, Strobel transitioned into an administrative leadership position as Assistant Athletic Director in which he served multiple roles. He led Lehigh Athletics' camps and clinics efforts until his retirement following the 2018-19 academic year.
Editor's Note:
Greg Strobel was a longtime leader for USA Wrestling, serving as an officer of the organization in a number of positions, also serving on the Board of Directors and on numerous standing and ad-hoc committees. He also served as a member of USA Wrestling's national staff as its National Team Director from 1983-1991 as well as two years as a National Freestyle Coach. As a volunteer coach, Strobel was also a coach for the 2000 U.S. Olympic men's freestyle team.
Troy Letters
Letters was a three-time All-American and EIWA Champion for the Mountain Hawks. In 2004, Letters won Lehigh's 26th individual national championship in wrestling at 165 pounds with a 5-2 decision over Oklahoma State's Tyrone Lewis. Letters won individual EIWA championships in 2003, 2004 and 2005. As a deferred first-year in 2003, Letters was the national runner-up at 165. He was recognized as the EIWA Freshman of the Year. Letters earned his third career All-America honor with a third place finish at 165 in 2005. He amassed a 115-9 career record with the 115 victories ranking fifth in program history. Letters was also 65-2 in dual meet competition with an incredible 48 bonus point victories in duals.
The Lehigh Athletics Department reviewed and revised its Hall of Fame process in 2019 and inducted a class in September of that year. This election marks the first of three classes that will be elected and inducted over the next 13 months as Lehigh returns to hosting Hall of Fame election and induction ceremonies which were paused during the COVID-19 pandemic.
The Roger S. Penske/Lehigh Athletics Hall of Fame currently includes 103 members across 25 sports and more than 140 years of intercollegiate athletics competition.
Other inductees:
Wayne Rogers
One of the best distance runners in the history of Lehigh cross country and track and field, Wayne Rogers was a seven-time East Coast Conference champion. Rogers won three ECC titles in both the 5,000 meters and the 3,000 meter steeplechase. He also won an ECC cross country title in 1974 as Lehigh won the East Coast Conference's team championship. Rogers won the 5,000 meter title at the prestigious Penn Relays and at the time of his graduation held school records in both the 5,000 meters and the 3,000 meter steeplechase.
Andrew Mittendorf
The most prolific scorer in Lehigh men's soccer history, Mittendorf owns Lehigh single season and career records for goals and points that have stood for nearly a quarter of a century. A two-time Patriot League Offensive Player of the Year, Mittendorf scored 24 goals and tallied 49 points as a senior in 1998. He finished his career with 43 goals and 106 points. Mittendorf was a two-time All-Region honoree and a three-time All-Patriot League selection. A member of the Patriot League All-Decade Team and the league's 25th Anniversary Team, Mittendorf was drafted by the Colorado Rapids in the first round of the 1999 Major League Soccer Draft and played professionally in Sweden and the United States.
Gina Lewandowski
Lewandowski was at the forefront of Lehigh women's soccer's emergence in the mid-2000s. A four-time first-team All-Patriot League honoree, Lewandowski was the Patriot League Rookie of the Year in 2003 and garnered back-to-back Offensive Player of the Year recognition in 2004 and 2005. Lewandowski tied a school record with 15 goals in 2004 as Lehigh reached the Patriot League championship game for the first time in program history. She netted six game-winning goals in Lehigh's 12-8 season. As a junior, Lewandowski earned NSCAA All-Region honors while leading the Mountain Hawks to a Patriot League regular season title. After graduation, Lewandowski embarked on a 15-year professional career, first in Germany for 1. FFC Frankfurt and then FC Bayern Munich before returning to the United States to conclude her career with Gotham FC of the NWSL.
Judy Turner Baxter
A leader in the emergence of women's athletics at Lehigh, Baxter spent eight seasons as head coach of both the field hockey and women's lacrosse programs. From 1980-85 she also served as an Assistant Athletic Director and head of Lehigh's women's intercollegiate athletic programs. In field hockey, Baxter amassed a 74-48-20 record and guided the brown and white to back-to-back ECC titles in 1983 and 1984, with Lehigh ranked in the top 15 nationally in both seasons. As Lehigh's women's lacrosse coach, Baxter went 75-35-2 from 1978-85, winning an ECC title in 1985. Lehigh ranked in the top 10 nationally in both 1984 and 1985 and reached the NCAA quarterfinals in 1984. Baxter returned to coach the women's lacrosse team to a 10-4 record in 2003.
Karen Adams
Adams spent 36 years as a coach and administrator at Lehigh. She served as Lehigh's women's tennis coach from 1980 through 1989, leading Lehigh to four straight ECC fall championships and also coached the volleyball team from 1980 through 1984 as well as the end of the 2006 season. In 1985 Adams, joined Lehigh's senior administration, serving as Senior Woman Administrator and a Senior Associate Director of Athletics. In her administrative role, Adams was responsible for the athletic department's financial operations and had staff and sport program oversight. Prior to her retirement at the end of the 2015-16 academic year, Lehigh's Graduating Female Athlete Award was renamed in her honor.