News
USA Wrestling
High School & Youth
USAW
World champs Lilledahl, Sealey lift Team USA to win at Journeymen World Duals
by Richard Immel, USA Wrestling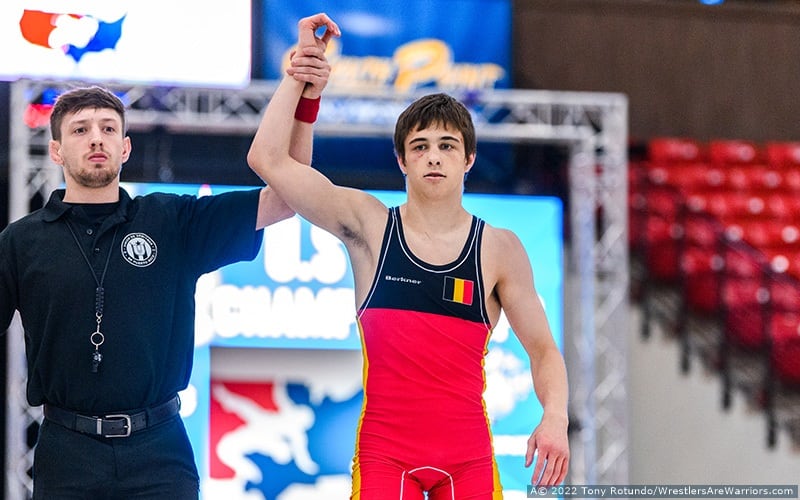 Photo: U17 World champion Luke Lilledahl was pivotal in Team USA (1)'s win at the Journeymen World Duals. Lilledahl pictured at the 2022 U.S. Open in Las Vegas. (Tony Rotundo/wrestlersarewarriors.com)
SCHENECTADY, N.Y. – The 2023 Journeymen World Classic and Duals kicked off on Friday evening at Union College Field House with a pair of United States versus world all-star dual meets featuring some serious Stars and Stripes fire power.
A pair of reigning U17 World champions from the U.S.,
Luke Lilledahl
and
Joe Sealey
, led the way for Team USA (1) as it defeated Team World (1), 33-24. Lilledahl won a gritty 2-1 contest at 126 pounds over reigning U17 Asian champion
Aitanov Nurdanat
of Kazakhstan. It was a more decisive approach by Sealey, who decked Armenia's U20 European champion
Hayk Papikyan
via 10-0 technical fall at 160 pounds.
Joining Sealey with impressive techs were two-time Pennsylvania state champion
Rocco Welsh
and two-time Wisconsin state champion
Aeoden Sinclair
. Welsh, a two-time Junior freestyle All-American and 2022 Junior Pan American Games champion, ousted U17 World bronze medalist
Razmik Yepremyan
of Armenia 11-0 at 170 pounds. Sinclair, a 16U freestyle national champion, took out U15 European champion
Dachi Papinishavili
of Georgia 10-0 at 195 pounds.
It wasn't easy sledding for the U.S. squad early in the dual meet. Team World (1) picked up victories in four of the first six matches and held the lead until
Grigor Cholakyan
sent the U.S. ahead with a fall at 152 pounds. The Americans would hold the lead from that point on.
Also notching victories for Team USA (1) were 2022 16U freestyle national champion
Michael Romero
, 2022 double Junior Nationals All-American
Pierson Manville
, and 2022 16U Greco-Roman national champion
Nicholas Sahakian
.
A slow start would not be a problem for Team USA (2) in its 36-25 win over Team World (2). The American bunch won its first five matches, including two pins and two technical falls, to jump out to an early 21-1 lead.
The first pin of the dual belonged to 113-pounder
Ezekiel Witt
, who triumphed over Avetik Tutkhalyan of Armenia in just under four minutes. Witt is less than a week removed from bagging a USA Wrestling Folkstyle Nationals crown in Cedar Falls, Iowa.
A one-two punch from Virginia boys
Tyler
and
Billy Dekraker
capped the fiery, six-win start from Team USA (2). Tyler was a double All-American in Fargo at the 16U level last summer.
Past Fargo All-Americans
August Hibler
,
Charlie Millard
and
Lorenzo Norman
, in addition to
Dominic Deputy
and
Ryan Ferrara
, were victorious for Team USA (2) on the evening.
The competition will resume at 9:30 a.m. (ET) on Saturday with the individual tournament. Over 20 nationally ranked high school wrestlers are slated to compete alongside a deep field of national and international athletes.
Watch the action from Schenectady live on
FloWrestling.com
. Brackets and updated results are available through
FloArena
.
2023 Journeymen World Classic and Duals

April 7-8, Union College Fieldhouse, Schenectady, N.Y.Team USA (1) defeats Team World (1), 33-24
106 lbs. - Khojikhon Karimov (World) tech. fall Liam Collins (USA), 14-4 | 4-1, World
113 lbs. - Maisuradze Giorgi (World) dec. Christian Castillo (USA), 10-8 | 7-2, World
120 lbs. - Michael Romero (USA) dec. Liuzzi Pasquale (World), 9-6 | 8-5, World
126 lbs. - Luke Lilledahl (USA) dec. Aitanov Nurdanat (World), 2-1 | 9-8, World
132 lbs. - Aren Hayrapetyan (World) dec. Kyler Larkin (USA), 12-10 | 12-9, World
138 lbs. - Abdoullah Nakaev (World) dec. Jayden James (USA), 8-4 | 15-10, World
145 lbs. - Pierson Manville (USA) dec. Khizir Dasiyev (World), 9-0 | 15-13, World
152 lbs. - Grigor Cholakyan (USA) fall Bilol Sharip Uulu (World), 3:00 | 18-15, USA
160 lbs. - Joe Sealey (USA) tech. fall Hayk Papikyan (World), 10-0 | 22-15, USA
170 lbs. - Rocco Welsh (USA) tech. fall Razmik Yepremyan (World), 11-0 | 26-15, USA
182 lbs. - Aren Israyelyan (World) tech. fall William Heneckel (USA), 12-0 | 26-19, USA
195 lbs. - Aeoden Sinclair (USA) tech. fall Dachi Papinishavili (World), 10-0 | 30-19, USA
220 lbs. - Nicholas Sahakian (USA) dec. Varuzhan Hovhannisyan (World), 9-5 | 33-20, USA
285 lbs. – Arysbek Akzhigit (World) tech. fall Milan Colvin (USA), 10-0 | 33-24, USA
Team USA (2) defeats Team World (2), 36-25

106 lbs. - Dominic Deputy (USA) tech. fall Huarcaya Yohao (World), 10-0 | 4-0, USA
113 lbs. - Ezekiel Witt (USA) fall Avetik Tutkhalyan (World), 3:59 | 9-0, USA
120 lbs. - Ryan Ferrara (USA) fall Sherbek Abdumalikov (World), 1:38 | 14-0, USA
126 lbs. - Tyler Dekraker (USA) tech. fall Iskender Tynystanov (World), 10-0 | 18-0, USA
132 lbs. - Billy Dekraker (USA) dec. Bakytbek Duishenbekov (World), 12-3 | 21-1, USA
138 lbs. - Militano Antonino (World) dec. Matty Lopes (USA), 8-8 | 22-4, USA
145 lbs. - August Hibler (USA) fall Nurgazy Yernur (World), 0:25 | 27-4, USA
152 lbs. – Abdoul Malek Nakaev (World) winner by forfeit | 27-9, USA
160 lbs. - Charlie Millard (USA) dec. Narek Nikoghosyan (World), 9-2 | 30-10, USA
170 lbs. - Hayk Papikyan (World) dec. Silas Dailey (USA), 4-1 | 31-13, USA
182 lbs. - Lorenzo Norman (USA) dec. Petriashvili Konstantine (World), 9-3 | 34-14, USA
195 lbs. - Gogiashvili Nikolozi (World) tech. fall Josh Cordio (USA), 14-4 | 35-18, USA
220 lbs. - Kurashvili Sandro (World) tech. fall Sean Carroll (USA), 10-0 | 35-22, USA
285 lbs. - Papinashvili Dachi (World) dec. Pierce Cunningham (USA), 8-4 | 36-25, USA