News
USA Wrestling
International
USAW
Dake wins fourth World title, Gilman and Cox get silver, U.S. clinches men's freestyle team title at World Championships
by Gary Abbott, USA Wrestling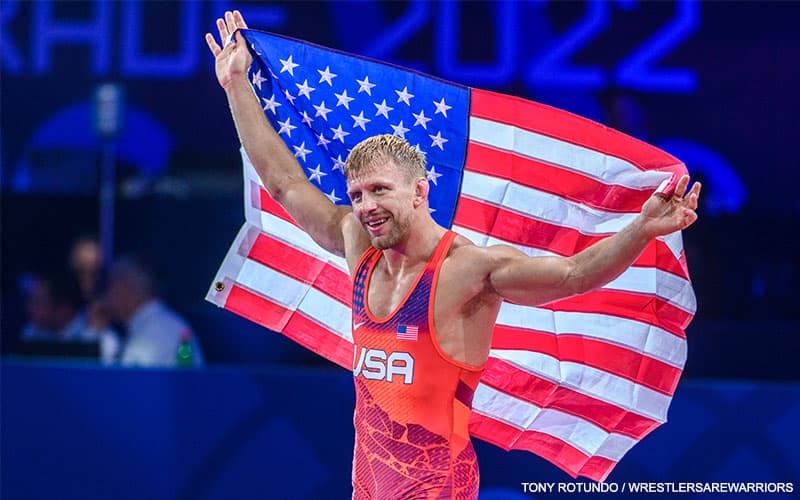 Kyle Dake photo by Tony Rotundo, Wrestlers Are Warriors
BELGRADE, Serbia –
Kyle Dake
became a four-time World champion with a gold-medal victory at 74 kg in men's freestyle at the World Wrestling Championships in Stark Arena on Saturday night.
Dake defeated 2021 World silver medalist Taimuraz Salkazanov of Slovakia, 3-1. It was a rematch of last year's World finals, won by Dake 7-3. This time, Dake scored all of his points in the first period, with a step out and a takedown. Salkazanov was not able to get his offense going, with his only point coming on a caution and one penalty against Dake in the second period.
Dake won a bronze medal at the 2020 Olympic Games. He won his World titles in 2018, 2019, 2021 and 2022. Originally from Lansing, N.Y., Dake was a four-time NCAA champion for Cornell.
Two U.S. wrestlers dropped finals bouts and claimed silver medals,
Thomas Gilman (
57 kg) and
J'den Cox
(92 kg).
2021 World champion Gilman claimed a silver medal at 57 kg, after dropping a 7-2 decision in the finals to 2022 Mediterranean Games champion Zelimkhan Abakarov of Albania. Abakarov scored the first two points on an arm throw, then added a takedown to make it 4-0. Gilman was hit with a penalty point for while in par terre to trail 5-0. A point to Gilman on a step out made it 5-1 at the break. Abakarov added a second-period takedown, and Gilman was only able to secure another step out.
Gilman won his fourth Senior-level medal, with a 2021 World title and 2017 World silver to go with a 2020 Olympic bronze medal. Orignally from Omaha, Neb., Gilman was an All-American for the University of Iowa.
Two-time World champion Cox was edged by 2021 World champion Kamran Ghasempour of Iran, 2-0. Ghasempour was put on the shot clock in the first period and responded by scoring a takedown, the only points of the match. There was no scoring in the second period.
Ghasempour beat Cox in a 3-3 criteria decision in the semifinals of the 2021 World Championships.
Cox won World titles in 2018 and 2019 and was an Olympic bronze medalist in 2016. He also won World bronze medals in 2017 and 2021. Originally from Columbia, Mo., he was a three-time NCAA champion for the University of Missouri.
During the evening session,
the United States clinched its fourth World Team title
in men's freestyle wrestling. After the first seven weight classes, the United States has scored 143 points, with Iran in second with 95 points. With two in the finals, and another athlete in a bronze medal match on Sunday, Team USA will add at least 55 more points on Sunday. Iran will not be able to make up the difference.
The U.S. previously won World Team titles in men's freestyle in 1993 in Toronto, Canada, 1995 in Atlanta, Ga. and 2017 in Paris, France.
The USA is now guaranteed to win eight medals in men's freestyle. On Friday,
Jordan Burroughs
(79 kg) and
David Taylor
(86 kg) won gold medals and
Zain Retherford
(70 kg) claimed a silver medal. Two U.S. wrestlers are in Saturday's finals, guaranteeing two more medals, giving the U.S. eight medals. This matches the record for men's freestyle medal won, matching the 1987 U.S. World Team in Clermont-Ferrand, France. The U.S. has a chance to break the record, if
Seth Gross
is able to win his 61 kg bronze-medal bout on Sunday.
The U.S. has now won three men's freestyle gold medals at the 2022 World Championships. The U.S. has two more finalists on Saturday night,
Yianni Diakomihalis
at 65 kg and
Kyle Snyder
at 97 kg.
The repechage in the final three weight classes begins at 4:30 p.m. local time, with the championship finals set for 6:00 p.m. Belgrade is six hours ahead of U.S. Eastern time zone. All of the action is
live on FloWrestling
. https://flosports.link/3HwrYxD
WORLD WRESTLING CHAMPIONSHIPS
At Belgrade, Serbia, September 16
Men's freestyle medals
57 kg
Gold - Zelimkhan Abakarov (Albania)
Silver - Thomas Gilman (USA)
Bronze - Zanabazar Zamdambud (Mongolia)
Bronze - Stevan Micic (Serbia)
5th - Wanghao Zou (China)
5th - Reineri Andreu Ortega (Cuba)
7th - Gulomjon Abdullaev (Uzbekistan)
8th - Toshihiro Hasegawa (Japan)
9th - Darian Toi Cruz (Puerto Rico)
10th - Georgii Okorokov (Australia)
Gold - Abakarov dec. Gilman, 7-2
Bronze – Zamdambud pin Zou, 1:27
Bronze - Micic dec. Andreu Ortega, 7-1
74 kg
Gold - Kyle Dake (USA)
Silver - Taimuraz Salkazanov (Slovakia)
Bronze - Yones Emamichoghaei (Iran)
Bronze - Frank Chamizo (Italy)
5th - Sagar Jaglan (India)
5th - Soner Demirtas (Turkey)
7th - Hetik Cabolov (Serbia)
8th - Suldkhuu Olonbayar (Mongolia)
9th - Vasile Diacon (Moldova)
10th - Daichi Takatani (Japan)
Gold - Dake dec. Salkazanov, 3-1
Bronze - Emamichoghaei dec. Jaglan, 6-0
Bronze - Frank Chamizo dec. Demirtas, 5-3
92 kg
Gold -. Kamran Ghasempour (Iran)
Silver - J'den Cox (USA)
Bronze - Miriani Maisuradze (Georgia)
Bronze - Osman Nurmagomedov (Azerbaijan)
5th - Ahmed Bataev (Bulgaria)
5th - Radoslaw Marcinkiewicz (Poland)
7th - Simone Iannattoni (Italy)
8th - Illia Archaia (Ukraine)
9th - Gankhuyag Ganbaatar (Mongolia)
10th - Sohsuke Takatani (Japan)
Gold -. Ghasempour dec. Cox, 2-0
Bronze -Maisuradze dec. Bataev, 12-10
Bronze - Nurmagomedov tech. fall Marcinkiewicz, 11-9
Men's freestyle performances
57 kg: Thomas Gilman (State College, Pa./Nittany Lion WC/Titan Mercury WC) – SILVER MEDAL
WIN Georgii Okorokov (Australia), 11-0
WIN Zanabazar Zandanbud (Mongolia), 5-1
WIN Wanhao Zhou (China), 8-2
LOSS Zelimkhan Abakarov (Albania), 7-2
74 kg: Kyle Dake (Ithaca, N.Y./Spartan Combat RTC/Titan Mercury WC) – GOLD MEDAL
WIN Islambek Orozbekov (Kyrgyzstan), 10-0
WIN Suldkhuu Olonbayar (Mongolia), 12-2
WIN Sagar Jaglan (India), fall 0:44
WIN Yones Emamichoghaei (Iran), 2-2
WIN Taimuraz Salkazanov (Slovakia), 3-1
92 kg: J'den Cox (Ann Arbor, Mich./Michigan RTC/Titan Mercury WC) – SILVER MEDAL
WIN Yuxiang Bi (China), 10-0`
WIN Radoslaw Marcinkiewicz (Poland), 11-0
WIN Osman Nurmagomedov (Azerbaijan), 7-0
LOSS Kamran Ghasempour (Iran), 2-0
Team Standings after seven weight classes
1 United States 143
2 Iran 95
3 Georgia 53
4 Mongolia 49
5 Japan 43
6 Turkey 41
7 Slovakia 35
8 Bulgaria 32
9 Kyrgyzstan 30
10 Italy 27