Elor, Maroulis and Mensah Stock unscored upon en route to World semifinals
by Taylor Gregorio, USA Wrestling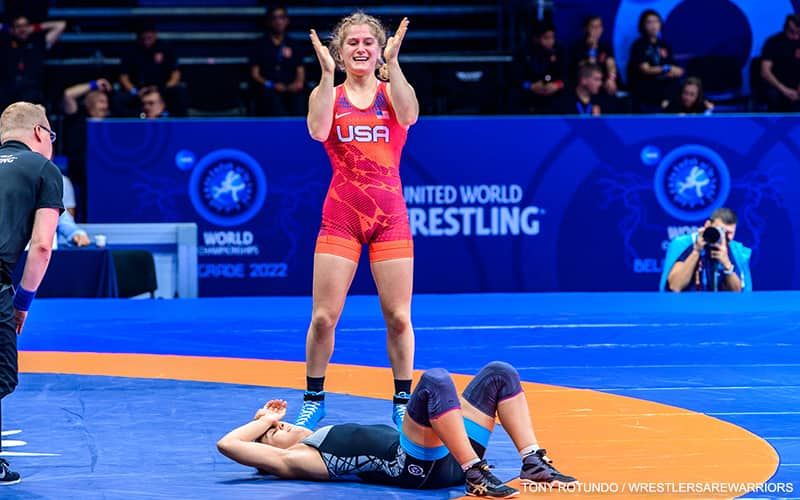 Photo of Amit Elor by Tony Rotundo, WrestlersAreWarriors.com.
BELGRADE, Serbia – Olympic champions Helen Maroulis and Tamyra Mensah Stock along with Senior World newcomer Amit Elor sailed through their brackets to land spots in the semifinals of the 2022 World Championships in Belgrade, Serbia, on Wednesday.
Each American collected a pin and technical fall in their first session of action.
In the hunt for her fourth World title, Helen Maroulis needed just 17 seconds to score her first win with a pin over Kazakhstan's Emma Tissina. To secure her spot in the semis, Maroulis turned her defense into offense for a 10-0 victory against 2021 U23 World champion Anhelina Lysak from Poland.
Tonight, Maroulis will take on Mongolia's 2021 World bronze medalist Davaachimeg Erkhembayar.
Tokyo Olympic champion and 2019 World gold medalist Tamyra Mensah Stock recorded an early second-period pin over Ukraine's Alla Belinska, a 2021 European champion, to open her tournament. The American avenged a 2020 Mateo Pellicone loss with a 10-0 tech fall over two-time Senior World medalist Feng Zhou of China in the quarterfinals.
For a chance at gold, Mensah Stock will face defending World champion Irina Ringaci of Moldova in the semifinals.
Fresh off winning her second U20 World title last month, 18-year-old Amit Elor made her Senior World debut in dominant fashion on Wednesday, defeating last year's U23 World champion Anastasiya Alpeyeva of Ukraine with a first-period 10-0 win. In the quarterfinals, Elor cruised past two-time Senior World bronze medalist and 2018 U23 World champ Buse Cavusoglu Tosun from Turkey with a 40-second fall.
In the semifinals, Elor will take on 2021 Senior World champion and seven-time age-group World champion Masako Furuichi of Japan.
At 59 kg, Abby Nette also made her Senior World debut. She fell in her first bout to U23 World champion Grace Bullen of Norway, who spent a year in the U.S., competing collegiately and won a WCWA title for Campbellsville. Bullen is in the semifinals and must advance to the finals to pull Nette into repechage.
USA has three wrestling for medals tonight with Dom Parrish in the 53 kg finals and Sarah Hildebrandt and Mallory Velte wrestling for bronze at 50 kg and 65 kg.
Semifinals begins at 4:45 p.m. local time (10:45 a.m. ET) followed by medal matches at 6 p.m. (noon ET) live on FloWrestling. Follow along for live updates on Twitter @USAWrestling.
For more information on the 2022 Senior World Championships, visit USA Wrestling's Special Section.
SENIOR WORLD CHAMPIONSHIPS
Sept. 10-18, 2022 | Belgrade, Serbia
Women's freestyle results (group 3)
57 kg: Helen Maroulis (Tempe, Ariz./Sunkist Kids) – semifinals
WIN Emma Tissina (Kazakhstan), fall 0:17
WIN Anhelina Lysak (Poland), 10-0
vs. Davaachimeg Erkhembayar (Mongolia)
59 kg: Abigail Nette (Colorado Springs, Colo./Army WCAP) – awaiting repechage
LOSS Grace Bullen (Norway), 14-4
68 kg: Tamyra Mensah Stock (Colorado Springs, Colo./USOPTC/Titan Mercury WC) – semifinals
WIN Alla Belinska (Ukraine), fall 3:41
WIN Feng Zhou (China), 10-0
vs. Irina Ringaci (Moldova)
72 kg: Amit Elor (New York, N.Y./NYC RTC/Titan Mercury WC) – semifinals
WIN Anastasiya Alpeyeva (Ukraine), 10-0
WIN Buse Cavusoglu Tosun (Turkey), fall 0:40
vs. Masako Furuichi (Japan)
Schedule (local time is 6 hours ahead of U.S. ET)
Wednesday, Sept. 14
10:30 a.m. – Qualification rounds (WFS 57, 59, 68, 72 kg)
10:30 a.m. – Repechage (WFS 50, 53, 65, 76 kg)
4:45 p.m. – Semifinals (WFS 57, 59, 68, 72 kg)
6 p.m. – Finals (WFS 50, 53, 65, 76 kg)

Thursday, Sept. 15
10:30 a.m. – Qualification rounds (MFS 70, 79, 86, 125 kg)
10:30 a.m. – Repechage (WFS 57, 59, 68, 72 kg)
4:45 p.m. – Semifinals (MFS 70, 79, 86, 125 kg)
6 p.m. – Finals (WFS 57, 59, 68, 72 kg)

Friday, Sept. 16
10:30 a.m. – Qualification rounds (MFS 57, 74, 92 kg)
10:30 a.m. – Repechage (MFS 70, 79, 86, 125 kg)
4:45 p.m. – Semifinals (MFS 57, 74, 92 kg)
6 p.m. – Finals (MFS 70, 79, 86, 125 kg)

Saturday, Sept. 17
10:30 a.m. – Qualification rounds (MFS 61, 65, 97 kg)
10:30 a.m. – Repechage (MFS 57, 74, 92 kg)
4:45 p.m. – Semifinals (MFS 61, 65, 97 kg)
6 p.m. – Finals (MFS 57, 74, 92 kg)