News
USA Wrestling
International
Women
College
USAW
U.S. women's freestyle receives draws for Senior World Championships, Sept. 12-15
by Gary Abbott and Taylor Gregorio, USA Wrestling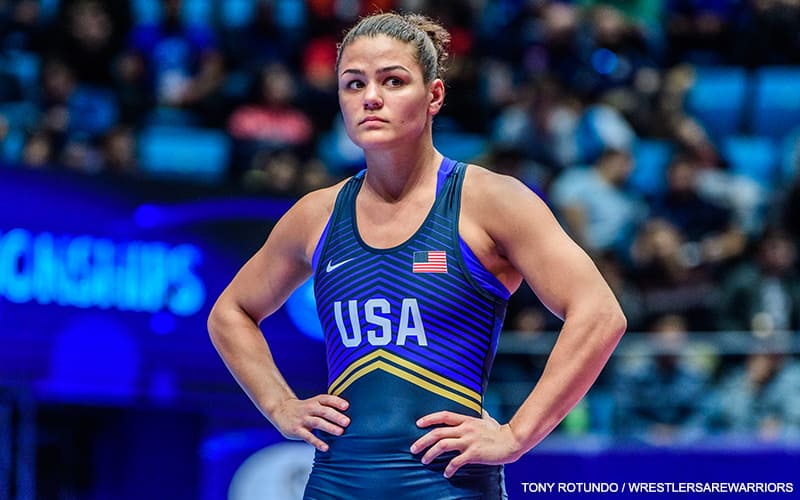 Photo of Kayla Miracle by Tony Rotundo, WrestlersAreWarriors.com.
BELGRADE, Serbia – The U.S. women's freestyle team received its draws for the Senior World Championships in Belgrade, Serbia.
Women's freestyle wrestling is set for Sept. 12-15. Representing the USA on Monday is
Jacarra Winchester
(55 kg) and
Kayla Miracle
(62 kg).
Beginning their tournaments on Tuesday are
Sarah Hildebrandt
(50 kg),
Dominique Parrish
(53 kg),
Mallory Velte
(65 kg) and
Dymond Guilford
(76 kg).
The final women's freestylers starting their tournaments on Wednesday are
Helen Maroulis
(57 kg),
Abby Nette
(59 kg),
Tamyra Mensah Stock
(68 kg) and
Amit Elor
(72 kg).
SENIOR WORLDS MEDIA GUIDE
SENIOR WORLDS SPECIAL SECTION
Wrestling begins at 10:30 a.m. local time (4:30 a.m. U.S. ET) each day. Fans can watch all the action live on
FloWrestling
and follow along on
Twitter @USAWrestling.
Below are the draws for each U.S. women's freestyle as well as a detailed schedule. Complete brackets can be found on
UWW's website
.
SENIOR WORLD CHAMPIONSHIPS
Sept. 10-18, 2022 | Belgrade, Serbia
Women's freestyle draws

50 kg: Sarah Hildebrandt (Colorado Springs, Colo./USOPTC/New York AC)
Vs. Kamila Barbosa Vito Da Silva (Brazil) – Third in 2020 and 2021 Pan American Championships, Fifth in 2019 Pan American Games
53 kg: Dominique Parrish (Tempe, Ariz./Sunkist Kids)
Vs. Winner of Nogona Bayayoko (Ivory Coast) and Mercedesz Denes (Hungary)
Bayayoko – Second in 2022 African Championships, Fifth in 2019 All Africa Games
Denes – Fifth in 2019 European Games, 2014 Junior World silver medalist
55 kg: Jacarra Winchester (Colorado Springs, Colo./USOPTC/Titan Mercury WC)
Vs. Otgonjargal Ganbaatar (Mongolia) – Second in 2022 Asian Championships, 2017 U23 World bronze medalist,
57 kg: Helen Maroulis (Tempe, Ariz./Sunkist Kids)
Vs. Emma Tissina (Kazakhstan) – 3rd in 2018 World Military Championships, 8th in 2018 Asian Games
59 kg: Abigail Nette (Colorado Springs, Colo./Army WCAP)
Vs. Grace Bullen (Norway) – 2018 U23 World champion, 2014 U17 World champion, 2017 European champion
62 kg: Kayla Miracle (Tempe, Ariz./Sunkist Kids)
Vs. winner of Tserenchimed Sukhee (Mongolia) and Xiaojuan Luo (China)
Sukhee – 2014 World champion, 2015 World silver medalist, 2018 U23 World bronze medalist, 2013 Junior World champion,
Luo – 2015 and 2019 Asian champion, Second in 2018 Asian Championships,
65 kg: Mallory Velte (Corvallis, Ore./Beaver Dam RTC/Titan Mercury WC)
Vs. Perevsuren Ulziisaikhan (Mongolia) – 3rd in 2022 Asian Championships, 2019 U23 World silver medalist,
68 kg: Tamyra Mensah Stock (Colorado Springs, Colo./USOPTC/Titan Mercury WC)
Vs. winner of Alla Belinska (Ukraine) and Madina Bakbergenova (Kazakhstan)
Belinska – 2021 European champion, 3rd in 2022 European Championships, 2013 Junior World bronze medalist
Bakbergenova – 2022 Asian champion, 2019 U23 World bronze medalist, 2013 U17 World bronze medalist
72 kg: Amit Elor (New York, N.Y./NYC RTC/Titan Mercury WC)
Vs. Anastasiya Alpeyeva (Ukraine) – Sixth in 2022 European Championships
76 kg: Dymond Guilford (Colorado Springs, Colo./USOPTC/Titan Mercury WC)
Vs. Yuka Kagami (Japan) – 2022 Asian silver medalist, 2019 U23 World silver medalist, 2019 U20 World champion, 2017 and 2018 U17 World champion
Schedule (local time is 6 hours ahead of U.S. ET)
Monday, Sept. 12
10:30 a.m. – Qualification rounds (GR 60, 130 kg; WFS 55, 62 kg)
10:30 a.m. – Repechage (GR 63, 67, 82, 97 kg)
4:45 p.m. – Semifinals (GR 60, 130 kg; WFS 55, 62 kg)
6 p.m. – Finals (GR 63, 67, 82, 97 kg)
Tuesday, Sept. 13
10:30 a.m. – Qualification rounds (WFS 50, 53, 65, 76 kg)
10:30 a.m. – Repechage (GR 60, 130 kg; WFS 55, 62 kg)
4:45 p.m. – Semifinals (WFS 50, 53, 65, 76 kg)
6 p.m. – Finals (GR 60, 130 kg; WFS 55, 62 kg)
Wednesday, Sept. 14
10:30 a.m. – Qualification rounds (WFS 57, 59, 68, 72 kg)
10:30 a.m. – Repechage (WFS 50, 53, 65, 76 kg)
4:45 p.m. – Semifinals (WFS 57, 59, 68, 72 kg)
6 p.m. – Finals (WFS 50, 53, 65, 76 kg)
Thursday, Sept. 15
10:30 a.m. – Qualification rounds (MFS 70, 79, 86, 125 kg)
10:30 a.m. – Repechage (WFS 57, 59, 68, 72 kg)
4:45 p.m. – Semifinals (MFS 70, 79, 86, 125 kg)
6 p.m. – Finals (WFS 57, 59, 68, 72 kg)
Friday, Sept. 16
10:30 a.m. – Qualification rounds (MFS 57, 74, 92 kg)
10:30 a.m. – Repechage (MFS 70, 79, 86, 125 kg)
4:45 p.m. – Semifinals (MFS 57, 74, 92 kg)
6 p.m. – Finals (MFS 70, 79, 86, 125 kg)
Saturday, Sept. 17
10:30 a.m. – Qualification rounds (MFS 61, 65, 97 kg)
10:30 a.m. – Repechage (MFS 57, 74, 92 kg)
4:45 p.m. – Semifinals (MFS 61, 65, 97 kg)
6 p.m. – Finals (MFS 57, 74, 92 kg)