News
USA Wrestling
College
Women
USAW
NWCA All-Star Classic returns after four-Year absence, November 22 in Austin, Texas, LIVE on FloWrestling
by Kyle Klingman, FloWrestling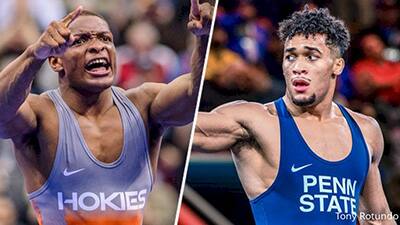 This year's NWCA All-Star Classic features 13 confirmed matches with eight returning national collegiate champions on the card.
The National Wrestling Coaches Association All-Star Classic presented by Cliff Keen will make a triumphant return this year — and the scheduled matchups will make for one of the best wrestling events this year.
This was a staple meet of the college season but it went on a four-year hiatus. Thanks to the efforts of the NWCA, the All-Star Classic presented by Cliff Keen will be held on November 22 in Austin, Texas, and will be streamed LIVE on FloWrestling.
Eleven men's and two women's matches have been confirmed, with more women's matches close to being confirmed.
"I know I speak on behalf of our Board of Directors when I extend heartfelt thanks to the participating wrestlers, their coaches, and our partners at FloSports for providing us with this opportunity to showcase our heroes and champions," NWCA executive director Mike Moyer said.
The feature bout is at 174 pounds, which is a rematch of the 2022 NCAA tournament finals between Penn State's Carter Starocci and Virginia Tech's Mekhi Lewis. Starocci — the two-time returning champion at the weight — outlasted Lewis, a 2019 NCAA champion at 165 pounds, 5-5 in the second tiebreaker. This will be the second meeting between the two.
The 165-pound match between Iowa State's David Carr and Princeton's Quincy Monday has been years in the making. Their fathers — Nate Carr of Iowa State and Kenny Monday of Oklahoma State — are two of the greatest wrestlers in American history, and their rivalry might be the fiercest in college history. This will be the first meeting between their sons.
Returning NCAA champions on the card include Carr, Lewis, Starocci, Keegan O'Toole, and Aaron Brooks.
One of the confirmed women's matches includes a returning NAIA champion versus a returning NCWWC (NCAA programs) champion. Adaugo Nwachukwu of Iowa Wesleyan was a 2022 NAIA champion at 136 pounds and is moving up to 143 to face 2021 NCWWC champion Alara Boyd of McKendree.
Every wrestler on the card is a returning All-American.
The All-Star Classic has provided some of the most memorable moments in college wrestling history. Cornell's Kyle Dake and Penn State's David Taylor met for the first of three times in college at the 2012 event. Iowa's Brent Metcalf earned a technical fall over North Carolina State's Darrion Caldwell in 2008 before Caldwell defeated Metcalf, 11-6, during the 2009 NCAA tournament finals.
Iowa State's Dan Gable won 181 consecutive matches over his high school and college career before losing to Washington sophomore Larry Owings, 13-11, during the 1970 NCAA Championship finals. Gable wrestled his final collegiate match several days later at the All-Star Classic, earning a fall over Old Dominion's Wayne Bright in front of a partisan crowd in Ames, Iowa.
In 2016, Helen Maroulis became the first American to win an Olympic gold medal in women's freestyle wrestling. Prior to that, she wrestled in the 2014 All-Star Classic and picked up a 15-0 technical fall over Jillian Gallays.
SCHEDULED MATCHES
Men's Matches

125: Pat McKee (Minnesota) vs Brandon Courtney (Arizona State)
133: Lucas Byrd (Illinois) vs Michael McGee (Arizona State)
141: Cole Matthews (Pittsburgh) vs Real Woods (Iowa)
149: Sammy Sasso (Ohio State) vs Austin Gomez (Wisconsin)
157 Jacori Teemer (Arizona State) vs Will Lewan (Michigan)
165: Dean Hamiti Jr. (Wisconsin) vs Keegan O'Toole (Missouri)
165: David Carr (Iowa State) vs Quincy Monday (Princeton)
174: Carter Starocci (Penn State) vs Mekhi Lewis (Virginia Tech)
184: Aaron Brooks (Penn State) vs Parker Keckeisen (Northern Iowa)
197: Jacob Warner (Iowa) vs Stephen Buchanan (Wyoming)
285: Anthony Cassioppi (Iowa) vs Greg Kerkvliet (Penn State)
Women's Matches

143: Adaugo Nwachukwu (Iowa Wesleyan) vs Alara Boyd (McKendree)
191: Gabrielle Hamilton (Life) vs Sydnee Kimber (McKendree)
More women's matches are close to being confirmed
Participants by college

Arizona State: Brandon Courtney (125), Michael McGee (133), Jacori Teemer (157)
Illinois: Lucas Byrd (133)
Iowa: Real Woods (141), Jacob Warner (197), Antony Cassioppi (285)
Iowa State: David Carr (165)
Iowa Wesleyan: Adaugo Nwachukwu (143)
Life: Gabrielle Hamilton (191)
McKendree: Alara Boyd (143), Sydnee Kimber (191)
Michigan: Will Lewan (157)
Minnesota: Patrick McKee (125)
Missouri: Keegan O'Toole (165)
Northern Iowa: Parker Keckeisen (184)
Ohio State: Sammy Sasso (149)
Penn State: Carter Starocci (174), Aaron Brooks (184), Greg Kerkvliet (Penn State)
Pittsburgh: Cole Matthews (141)
Princeton: Quincy Monday (165)
Virginia Tech: Mekhi Lewis (174)
Wisconsin: Austin Gomez (149), Dean Hamiti (165)
Wyoming: Stephen Buchanan (197)