News
USA Wrestling
International
USAW
Abbott Belgrade Blog: Saturday, September 17 – World Team titles are extremely rare and very special
by Gary Abbott, USA Wrestling
Saturday, September 17 -
The big news coming out of Stark Arena on Saturday, in addition to
Kyle Dake
's fourth World title, was that the United States had clinched the World Team title in men's freestyle.
By pushing an amazing eight athletes into the gold-medal finals, Team USA had built too large of a lead for the talented team from Iran to catch them on the final day.
This was the fourth U.S. Senior World Team title, with victories coming in Toronto in 1993, Atlanta in 1995, Paris in 2017 and Belgrade in 2022. I was blessed to have been there for all of these team victories.
How did the USA win this time? It was quite simple and very profound. Nine U.S. wrestlers reached the semifinals, and eight of them made the finals. If you win the quarterfinals, you are guaranteed a medal match. If you win the semifinals, you are guaranteed at least a silver medal. Team USA was dominant when it most matters.
There are a bunch of records that are up for grabs on Sunday. If
Seth Gross
wins his bronze-medal match, the USA will have won nine medals in men's freestyle (the previous record was eight, which we have now matched). If both
Yianni Diakomihalis
and
Kyle Snyder
win gold medals, the current U.S. team will have five champions (the previous record was four, set by the World champion teams in 1993 and 1995).
National Freestyle Coach
Bill Zadick
is truly appreciative of all of the people who have helped this team reach the top of the podium. It starts with our amazing athletes, but the roots of the tree spread far and wide. He knows it takes an army of supporters to build a program and to help it excel. Bill did a ton of research on what it takes to win a team title and says the statistics indicate that, in most cases, a nation must have at least a 70% medal percentage to win it. The 2022 U.S. men's freestyle team is at 80% right now (and could climb to 90%).
People love a great conversation, and after
Jordan Burroughs
won his record seventh gold on Friday, everybody wanted to discuss who was the American wrestling GOAT (Greatest of All Time, for the few folks who don't know this term). Is it Jordan Burroughs or
John Smith
? Does seven golds ace out six straight golds? It is a fun discussion, but in the big picture, does it really matter? John and Jordan have tremendous respect for each other, and both are legends who have inspired many generations.
In a short conversation last night, I spoke with
Kevin Jackson
about the first U.S. team to win a World title, that spunky 1993 team. Kevin was on both the 1993 and 1995 champion teams. We remembered the hockey rink in Toronto which hosted the event, which was not air conditioned. Of course, the temperature was in the 90's all week, and the heat was unbearable. We joked about how the heat may have been to our advantage, perhaps most for the Brands brothers.
This made me consider another question: which U.S. men's freestyle World Champion team was the best? At some point, people are going to have that conversation as well. Here is a quick perspective on this matter.
You can lump the 1993 and 1995 U.S. World Teams together, since they were the exact same athletes except for at 100 kg (
Mark Kerr
in 1993 and
Kurt Angle
in 1995).
The 2017 World champion team had five stars who are on the 2022 World champion team,
Thomas Gilman
,
Zain Retherford
, Jordan Burroughs,
J'den Cox
and Kyle Snyder. However, there were just eight weights in 2017 and we are up to 10 now. Two of the 2017 team members have retired, Logan Stieber and James Green. They are similar teams but are different enough to discuss separately.
Nine of the 10 members of the 1995 U.S. Senior World Team have been inducted into the National Wrestling Hall of Fame:
Zeke Jones, Terry and Tom Brands, Townsend Saunders, Dave Schultz,
Kevin Jackson,
Melvin Douglas,
Kurt Angle
and Bruce Baumgartner
.
However, if you look at the team on the mats in Belgrade, how many of these folks will be enshrined in Stillwater? Counting on my fingers, and looking back at their body of work, I believe at least eight of these wrestlers are future Hall of Famers, and you don't know what each of these athletes will achieve moving forward. This team truly stacks up with the previous teams, no doubt.
Rather than compare the teams, what do they have in common? I will give a few ideas that come to my head.
Leadership is key to a talented team, and both eras have great athlete leaders at the core. In the 1990's, those leaders were Dave Schultz and Bruce Baumgartner. They led in different ways, for sure, but nobody could question the importance of those two men to the championship teams. In our recent champion teams, we have Jordan Burroughs and Kyle Snyder as leaders among great athletes. Once again, each in their own way, Burroughs and Snyder have set a level of excellence that leads to group success.
Multiple champions are a key to success, and both eras had many of them. In the 1990's, Terry Brands, Tom Brands, Dave Schultz, Kevin Jackson, Kurt Angle and Bruce Baumgartner won more than one gold medal. On our current team, Kyle Dake, Jordan Burroughs, David Taylor, J'den Cox and Kyle Snyder have won more than once.
Then there is the coaching leadership from the National Coach. The 1990's team were led by Hall of Fame coach
Bruce Burnett,
and the current team is led by Hall of Famer Bill Zadick. You don't get any better than these two coaches. Both are successful for so many reasons, starting with their character and their commitment. They also work very well with others, helping foster an inclusive environment that encourages group success.
Ultimately, folks can dispute which team is better, but you can't really ever know. They were from different eras, competing under different situations. What we need to celebrate is that each of these teams had that something extra, something amazingly special and rare. Together, these teams have earned the World Team title. Congratulations to the newest member of the group, the 2022 U.S. men's freestyle World Champion team. Your achievement is forever, and your success will continue to inspire young wrestlers long into the future.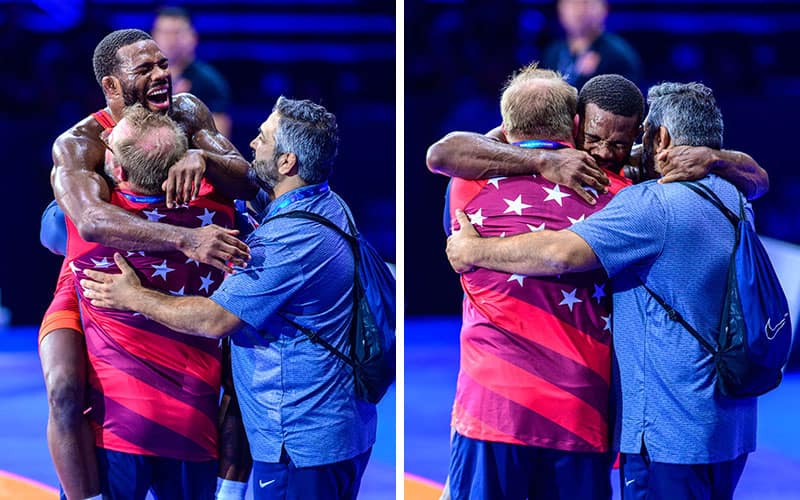 Jordan Burroughs celebrates his World title with coaches Brandon Slay and Bill Zadick. Photos by Tony Rotundo, Wrestlers Are Warriors.

Friday, September 16 – Witnessing Jordan Burroughs' amazing journey to wrestling history


Starting way back in 2011, a talented young wrestler from New Jersey came out of the University of Nebraska and set his sights on being the greatest wrestler in American history.
Many great athletes have set similar high goals and allowed themselves to dream about it. But
Jordan Burroughs
was different in so many ways. He actually went out and did it.
Eleven years later, in a stadium in Belgrade, Serbia, with the American flag wrapped around his shoulders, to the applause of thousands in attendance, Jordan Burroughs had a gold medal around his neck for the seventh time.
In the Crown Plaza hotel lobby, hours after Burroughs great achievement, I ran into Burroughs' longtime coach and mentor
Mark Manning
. We shared a few laughs, and I suddenly realized that, like Manning, I had been there for each of JB's gold medal nights. It is truly an honor and privilege to have been able to witness Jordan make history.
Istanbul in 2011. London in 2012. Budapest in 2013. Las Vegas in 2015. Paris in 2017. Oslo in 2021. Belgrade in 2022.
Some people might have considered Jordan Burroughs a bit brash when he suggested that he was planning to break the standard set by the great John Smith of six World and Olympic titles. He gave himself the Twitter handle @AllISeeIsGold, and went on an extended unbeaten streak for a number of years.
Greatness does not just happen. Obstacles get in the way. Life has different plans. There are so many ups and downs, even for those who ultimately reach the highest achievements.
His amazing journey included the years when Jordan did not win. There was Tashkent in 2014, when Jordan got his first bronze medal. There were the Rio Olympic Games in 2016, when JB did not get a medal at all, and gave an amazing interview in the mixed zone after his second loss. Then there was 2021, the loss in the Olympic Trials to Kyle Dake. There were injuries, tremendously talented opponents, bad luck and bad timing.
Jordan Burroughs not only has an unbelievable work ethic, but he also has tremendous persistence and a laser focus. When things got difficult, Jordan Burroughs raised himself up, time and time again.
His wrestling has also had to evolve over the years. The speed and power of the young Jordan Burroughs, who could blast double anybody on earth, has been adjusted due to changes in the sport and changes in his body. Burroughs is still strong and fast, but he has finetuned his game and continued to move forward.
All along, Jordan Burroughs has been the ultimate professional. As great an athlete as Jordan Burroughs is, he is an even better person. Nobody gives more impressive interviews or represents the sport of wrestling better than Jordan Burroughs. He says the right things and does the right things. He is a man of faith and a true family man. Jordan Burroughs is a hero.
For somebody who writes for a living, it is truly hard to put into words what Jordan Burroughs has done, or what Jordan Burroughs means to American wrestling. The magnitude of his achievement is so much larger than my ability to express it.
Luckily, you can go back and watch Jordan Burroughs' great matches, or find his interviews on You Tube. His career is well documented and easily accessible for those willing to take the time.
But there is nothing better than having been there in person to witness his greatness and share in a small way all of the moments that makes up a legendary career. Thank you Jordan for who you are. I am looking forward to what comes next. This story still has many more chapters waiting to be written.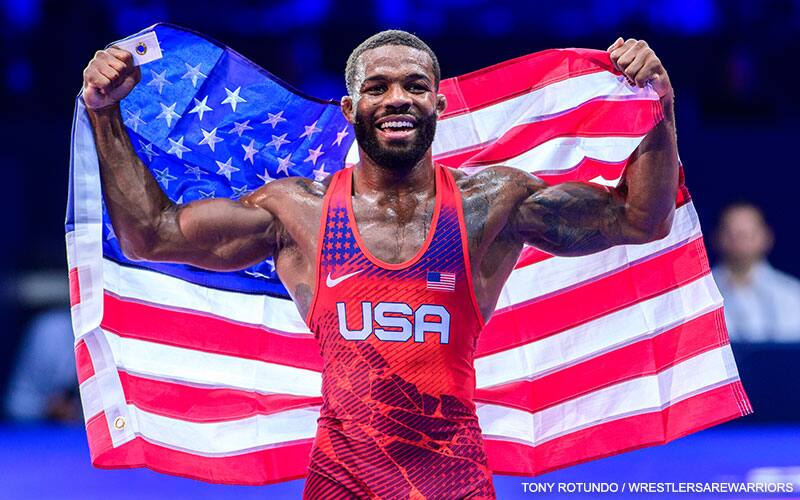 Jordan Burroughs flexes with the American flag after winning gold number seven. Photo by Tony Rotundo, Wrestlers Are Warriors.

Thursday, September 15 – Amazing Amit Elor, the youngest U.S. Senior World champion


The women's freestyle tournament came to a close on Thursday, and Team USA had a whole lot to feel great about. The seven medals tied a record with the 2003 and 2021 World Teams. The three individual champions tied the record with the 2019 World Team. Although Japan was able to win the team title again, the USA gave them a true run for their money.
The true breakthrough star from the tournament was clearly 18-year old
Amit Elor
, who became the youngest Senior World champion in American wrestling history.
Her 72 kg gold medal match was the last bout of the entire 2022 World Championships in women's freestyle. When Amit locked up an ankle lace in the gold-medal finals on 2021 World silver medalist Zhamila Bakbergenova of Kazakhstan, it was all over very quickly. Four turns later, Elor had a first-period technical fall and America had a new wrestling hero.
Those of us on media row quickly double checked her birthday, as well as Kyle Snyder's, who became our youngest World champion back in 2015 when he won his 97 kg gold medal at the age of 19.
Although many in the wrestling community did not see this one coming, those around the U.S. women's program already knew that Amit Elor has a very special talent. Her victory was clearly an achievement to celebrate, but it was not something coming out of left field. Many already knew that Amit was capable of this kind of performance.
The world will soon learn more about Amit, because she is really just getting started at the Senior level. However, her record of success on the age-group level is already well documented. I like to remind people that her first age-group World title came at the Beach World Championships, where she claimed the U17 title back in 2019, before the pandemic. In 2021, she swept two World titles, the U17 gold medal and the U20 gold medal.
This year, Amit has made three World Teams and has won gold medals at two levels already, the U20 World title in Sofia, Bulgaria and the Senior World title in Belgrade, Serbia. And she still has one more World tournament to go, the U23 World Championships in Spain in October, an event she apparently still plans to attend even after claiming the Senior title on Thursday.
I first heard the name Amit Elor a number of years ago, when she was in her early teens and had come to work out at the U.S. Olympic & Paralympic Training Center. From what I remember, she impressed the Senior athletes and coaches with her abilities back then, as well as with her composure. I was told that she was somebody with a bright future. Well, the future is now, and there are few things brighter than winning a Senior World title.
When she was a freshman in high school, Amit won the California girls state title for College Park High School at 150 pounds, and quickly became No. 1 ranked in the nation at her weight class. Amit and her family made a decision the next year not to continue competing in folkstyle at the high school level, but to concentrate on the Olympic freestyle wrestling. There is no doubt that she could have been a rare four-time California state champion had she chosen that route, but her goals were at a different level. She is currently coached by
Valentin Kalika
, who has mentored a number of other great U.S. women wrestlers in the past, and is supported by the
Titan Mercury WC
and by the
NYC RTC
.
My dealings with Amit have been very positive. She is a hard worker who seems to be very humble and willing to do what it takes to get better. She also has a quiet confidence and a maturity which allows her to chase big dreams at a young age. She is apparently doing the right things in the right ways, and that was shown to the world here with her success in Belgrade.
What is exciting to see is that of the three World champions for the USA this week, two of the champions won on their very first trip to the Senior Worlds, Elor and
Dom Parrish
. What that really shows is that there is a depth of talent in the U.S. women's pipeline, and that there are high expectations for the athletes who make a U.S. Senior Women's World Team. You don't get 18-year-old Senior World champions without having something right going in the women's program. The goal of beating Japan and becoming the best women's wrestling nation on earth is very much possible for our women's program. It is very exciting to think about what the next generation of U.S. women wrestlers can achieve.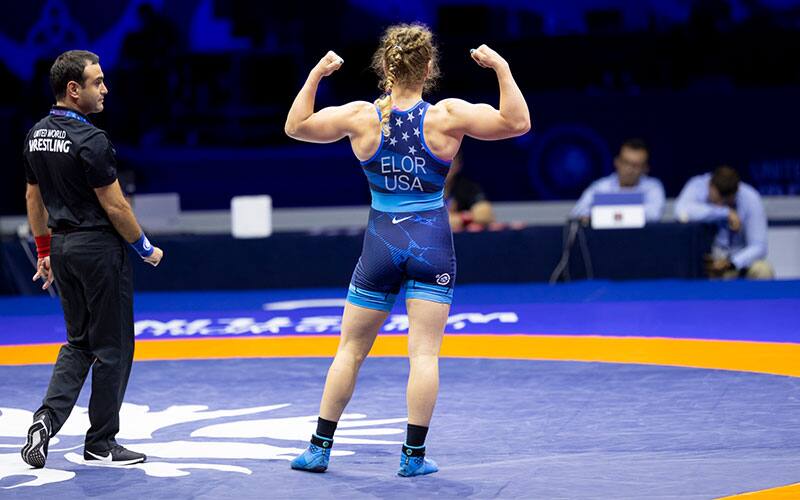 Amit Elor of the USA flexed her muscles in her very first Senior World Championships. Photo by Larry Slater.

Wednesday, September 14 – U.S. women have inspirational six-for-six session on Wednesday night


There is nothing quite as much fun as when Team USA gets on a roll at the World Championships.
On Wednesday night, the United States women went a perfect six-for-six in the evening session in Stark Arena. It ranks right up there in terms of great performances for our women's team, which already has a rich history of success at the Senior level.
It started with the Group 3 semifinals round, in which the U.S. team had wrestlers in three of the four weight classes. This group included a pair of past Olympic champions,
Helen Maroulis
and
Tamyra Mensah Stock
, as well as teenage star
Amit Elor
competing in her first Senior Worlds.
This round goes very quickly, with semifinals on two mats. One of the jobs during this event is to provide a play-by-play description of the American performances for Twitter. You have to be prepared because it goes very quickly.
Helen Maroulis came out first with her 57 kg semifinal. She quickly dispatched her two opponents in the morning session. Her opponent in the semis was Davaachimeg Erkhembayar of Mongolia, who kept the match close early on. Maroulis scored a takedown and got a shot-clock point in the first period to lead 3-0. In the second period, Maroulis was put on the shot clock and gave up a point, making it 3-1. Then Helen struck quickly, getting a four-point takedown to the back and putting away Erkenbayar for the pin. Nobody is more explosive than Helen Maroulis when she is wrestling well.
Tamyra Mensah Stock has also been very sharp and effective this tournament, seemingly getting in on her leg shots whenever she wants to. Her semifinal opponent was a fellow World champion, Irina Ringaci of Moldova, who won the 65 kg gold medal last summer in Oslo. She was no match for Mensah Stock, who scored three takedowns and two turns in the first period for a 10-0 technical fall. It was Mensah Stock at her best.
Amit Elor was considered the underdog in her semifinal match against 2021 World champion Masako Fumichi of Japan. Those who have been around Elor know that although this is her first Senior Worlds, she wrestles with a confident calm of a veteran. She frustrated Furuichi early, and when the Japanese star tried a headlock, Elor countered the throw and got the takedown for a 2-0 lead. Elor added a shot clock point in the second period to make it 3-0. When Furuichi took Elor down in the final 10 seconds, she had to chance on top, but Elor was too strong and solid to be turned. It is on to the finals for Elor, who is no longer a secret on the international scene.
With about a 15-minute break, we roll right into the finals for Group 2, where Team USA had another three athletes, with
Dom Parrish
going for the gold, and
Sarah Hildebrandt
and
Mallory Velte
in bronze-medal bouts,
Sarah Hildebrandt came up first, fresh off Tuesday's difficult semifinal loss and ready to turn things around. Her opponent was tough Emilia Vuc of Romania, also a World finalist in the past. Hildebrandt quickly sets the pace with a pair of takedowns and a 4-0 lead. Then comes the scary part, where Vuc gets a head pinch and chokes out Hildebrandt, who is totally out. The medical staff ran to her aid and Sarah was able to get to her feet and walk it off a bit. Later, she tells the media that she doesn't remember it at all. Officials correctly call it an illegal move and wipe Vuc's takedown off the scoreclock. How did Sarah respond? She tacks on three more takedowns and gets a technical fall to earn her spot on the podium again.
Dom Parrish has been inspiring all week and in her first Senior World appearance, she has been relaxed and well prepared. Her match was very close against a past World medalist in Khulan Batkhuyag of Mongolia. Parrish scored the only takedown of the first period to lead 2-0. However, in the second period, Batkhuyag scored a takedown in the second period to tie it at 2-2 and take over on criteria. How does Parrish respond, now that she is trailing? She quickly answers with another takedown and finished off with a 4-2 win. Team USA has a new Senior World Champion!!! Parrish also has shown off her personality this week, having fun along the way to the gold.
Mallory Velte came immediately after Parrish. Velte has looked impressive this year since moving up to 65 kg. She lost a close battle to Japan's Miwa Morikawa on Tuesday, which put her in the bronze-medal bout. Velte was all business against Bulgaria's Mimi Hristova and was not going to be denied. In the first period, she scored the only takedown, forced a step out and a fleeing call and led 4-0. In the second period, Hristova closed the gap to 4-2, then Velte took the match over, getting three more takedowns and a step out point to win 11-2. With her victory, Velte closed out the perfect night for Team USA and claimed her second career World medal.
With four medals in the books (adding in
Kayla Miracle
's Tuesday night silver medal), and three more in the finals on Thursday, the U.S. women have now clinched seven medals for the tournament. We quickly checked the record books, and seven medals ties the record set by the 2003 World Team at Madison Square Garden in New York, as well as last year's World Team in Oslo, Norway. There is a possibility of an eighth medal, as
Abby Nette
was pulled back into repechage at 59 kg for Thursday morning.
What a night!! I have to admit that the entire U.S. delegation, including our friends in the media, walked out of the arena with a smile on our face and in a great mood. Even better, our powerful men's freestyle team takes to the mats with four weight classes on Thursday, and there are high hopes for much more success over the next few days. There is nothing like a great U.S. victory run to get your spirit lifted.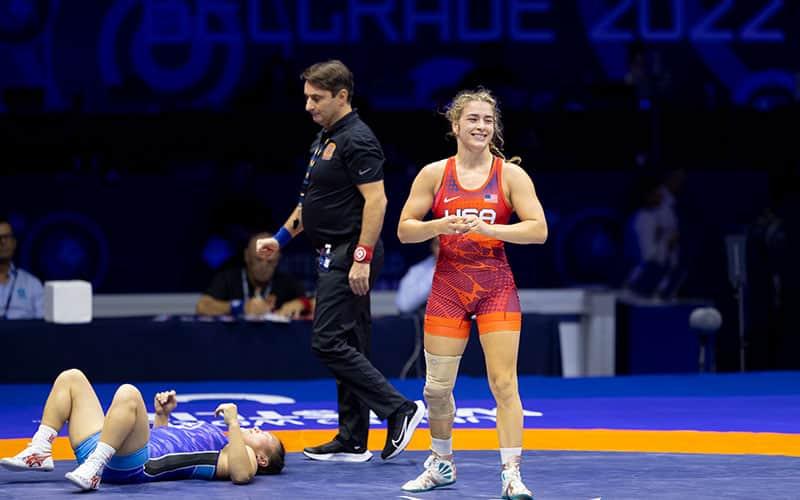 Like Helen Maroulis, the U.S. delegation was all smiles after Wednesday night's six-for-six run. Photo by Larry Slater.

Tuesday, September 13 – Parrish comes out of the chaos at 53 kg to earn her spot in the finals

I
f there is one thing you can count on at a major sports event such as the World Wrestling Championships is that things never quite go the way you think that they will. It doesn't matter how much time you spend doing the research and getting prepared, when they roll out the mats and blow the opening whistle, anything can happen.
Tuesday was one of those kind of days in Stark Arena.
Take
Dom Parrish,
who made a nice run at 53 kg in her first Senior World Championships and will battle for a gold medal on Wednesday night. Parrish came into the event as the No. 7 seed, and was entered in her first Senior World Championships. But in this case, you can toss the seeds out the window.
First, a few days prior to the event, it was announced that No. 1 seed Akari Fujinami of Japan was injured and would not compete. Even more bizarre was the fact that World power Japan was not going to enter somebody else in the tournament. That slid No. 2 seed Iulia Leorda of Moldova into the top seed and reshuffled all the spots in the bracket.
No. 1 seed Leorda gets beaten in the first round by Leyla Gurbanova of Azerbaijan. No. 2 seed Samantha Stewart of Canada gets knocked off in her first match by Laura Herin Avila of Cuba. No. 3 seed Katarzyna Krawczyk of Poland is taken out in her first match by Lucia Yepez Guzman of Ecuador. And No. 4 seed Emma Malmgren of Sweden makes her way to the semifinals and is well ahead on the scoreboard when she is suddenly pinned by Khulan Batkuyag of Mongolia.
Parrish is one of those hard-working, consistent wrestlers who has been paying her dues on a deep U.S. team and was ready for anything here. She opened with a pair of 10-0 technical fall victories, stopping Mercedesz Denes of Hungary and Lucia Yepez Guzman of Ecuador.
That put her into the semifinals against two-time World bronze medalist Maria Prevolaraki of Greece. When Prevolaraki was put on the shot clock, not only did Parrish score the only takedown of the match, but she also added a point when her opponent did not score in the required 30 seconds, giving her three points. That was all that she needed. Prevolaraki received a point when Parrish was put on the shot clock in the second period and did not score, but that was it, as Parrish prevailed, 3-1. In her three matches on Tuesday, Parrish outscored her opponents 23-1, and did not allow a technical point the whole day.
Parrish seemed relaxed throughout the day, taking care of business against whoever stepped out on the mat against her. If there were any "first-Worlds" nervousness going on, you could never tell it. Parrish is really not a rookie, considering she had competed in three U23 World Championships in the past, and had been on many international tours. When it was her turn to wrestle at the Senior Worlds, she was ready to go and comfortable in her own wrestling shoes.
California native and Arizona resident Parrish is just one match away from winning a World title in her first try.
As far as the rest of the day, things were equally tospy turvy for Team USA. In her first match at the Senior Worlds,
Dymond Guilford
was put on the shot clock two times in a row against Japan's Yuka Kagami at 76 kg, even though Kagami did not seem to take much risk in her wrestling at all. Usually, when nobody is scoring, both athletes are put on the shot clock once. Guilford lost 3-0, and Kagami did not pull her back into repechage.
Sarah Hildebrandt
, an Olympic medalist and two-time World finalist, reached the semifinals at 50 kg and took a 2-0 lead over Asian silver medalist Otgonjargal Dolgorjav of Mongolia. Dolgorjav was able to get a takedown and exposure in the first period to lead 4-2 at the break. Hildebrandt, who was considerably taller than the compact Dolgorjav, just could not get under or around Dolgorjav in the second period. Sarah ended up giving up a late takedown to fall 6-2 and will be going for bronze instead of gold this year.
Mallory Velte
lost a very competitive 2-0 decision at 65 kg to 2021 World silver medalist Miwa Morikawa of Japan, but was pulled back into a bronze-medal match when Morikawa powered into the finals.
Then in the final session, 2019 World champion
Jacarra Winchester
came out on fire against Mengyu Xie of China in their 55 kg bronze-medal match. Jacarra scored a takedown and what seemed to be two four-point lifts for a quick 10-0 technical fall. The Chinese corner challenged the action, and officials adjusted the scoring, giving Xie four points on one of the throws. Still ahead 8-4, Winchester kept to her offense, scoring two more takedowns for a 12-4 lead. However, Xie was able to get a reversal on Winchester and get her on her back to stun everyone with a pin to end the bout.
Team USA did come home with its first medal, when
Kayla Miracle
earned the silver medal at 62 kg in her second straight World finals appearance. Although sad and disappointed with her finals loss to Nonoka Ozaki of Japan, Miracle proved again that she is one of the best in the world and handled the defeat with dignity and class.
The USA will have four new women wrestlers hitting the mat on Wednesday, led by Olympic and World champions
Helen Maroulis
at 57 kg and
Tamyra Mensah Stock
at 68 kg. Add in four-time age-group World champion and teenage star
Amit Elor
at 72 kg and first-time World Team member
Abigail Nette
at 59 kg, and it should be another interesting day for Team USA's strong women's program.
Just don't think you will be able to predict how things will go on Wednesday or any day for that matter. At the Senior World Championships, anything is possible.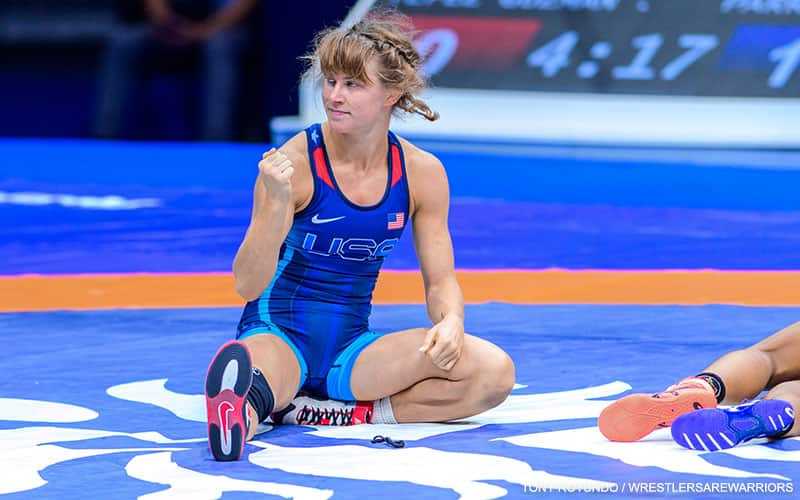 Dom Parrish of the USA taking care of business at the 2022 World Championships in Belgrade, Serbia. Photo by Tony Rotundo, Wrestlers Are Warriors.

Monday, September 12: Miracle's fireman's carry sets up another chance to win a World title


Sometimes, all it takes is one great move to change everything.
Day three of the World Championships in Belgrade was the start of the women's freestyle competition, and the USA had two of its best out on the mat, 2019 World champion
Jacarra Winchester
at 55 kg and 2021 World silver medalist
Kayla Miracle
at 62 kg. Both pounded through their preliminary matches to reach the evening semifinals round, giving Team USA a strong start.
In her semifinal match, Miracle was pitted against a familiar foe, Canada's U23 World champion Ana Godinez. In a recent match, Miracle defeated Godinez in the Bout at the Ballpark in Arlington, Texas, but Godinez wrestled tough and made it a close 6-5 decision.
This time with a spot in the World finals at stake, the young Canadian got the early lead. Godinez took a leg shot in which Miracle countered, holding on to her leg, but officials gave the two to Godinez. The USA challenged and lost, giving Godinez a three-point lead. Unfazed, Miracle got back on her feet and went right back to work.
The next thing you know, Miracle shoots in on Godinez with her patented fireman's carry, dumps her onto her back and secures a first-period fall. Just like that, Kayla Miracle is a World finalist for the second straight year, and has another shot at winning a gold medal.
All I could do was smile watching this from our media seating in Stark Arena. I have seen that Kayla Miracle fireman's carry for over a decade.
For many years, in my Special Projects role with the development of women's wrestling, I ran many of the USA Wrestling girls national tournaments for our Events Department. It was a good arrangement, allowing me to both help out in building the sport at that level, and also to cover the event for our website and magazine in my Communications role. I had a chance to see many of the current National Team athletes as youth, working their way up the ladder of success.
Kayla Miracle was a young star, daughter of a wrestling coach, and somebody who was winning many of the tournaments. There were many times in her age-group matches that Miracle would go for the fireman's carry, and in most cases, she would get the move. Sometimes it seemed a little bit forced, but it would be fair to say that it was a go-to takedown that she could get, even when the opponent knew it was coming. Back in my mind, I often wondered if she would be able to get that move later in her career, when she advanced to the highest levels and the opponents had better defense.
Guess what? Kayla Miracle can hit the fireman's at the highest levels, when she most needs it.
Back in those days, I would do video interviews with many of the young athletes, just like we did with the older athletes. It was good practice for them, and also showed that we were committed to promoting their successes. You can probably dig up some of those interviews on You Tube if you had the time. I got to know Kayla as a Cadet and Junior athlete and found out that she was a really neat person with a good sense of humor and a maturity beyond her years. Over the last decade, Kayla has continued to work hard, get better and develop into one of the world's best wrestlers. On Tuesday night, she will face 2021 World bronze medalist
Nonoka Ozaki
of Japan for a World title.
In her post-victory interview, Miracle talked about a new approach to her wrestling, where she does not make a big deal about what tournament she is competing in and who her opponents are. She is taking things low-key, enjoying her family and friends when she can, and just allowing herself to find joy in her wrestling. You can check out a neat video that
Taylor Gregorio
shot of Kayla doing her UWW photo shoot after winning the semifinals on USA Wrestling's Instagram.
The USA will be going for two women's medals on Tuesday, as Winchester will compete in a bronze-medal match. The U.S. women's team is strong this year, and has high expectations. It will be fun over the next few days to see how well our women's team does. This is an important World Championships with the Paris Olympics really just a few months away (really, the Olympic Trials at Penn State is only 19 months from now).
The entire U.S. delegation is now in Belgrade, as the U.S. men's freestyle contingent showed up after what many have told me was a successful acclimation camp in Germany. It is already fun going down to the dining hall, or being in the hotel lobby, and seeing so many familiar U.S. wrestling athletes and coaches.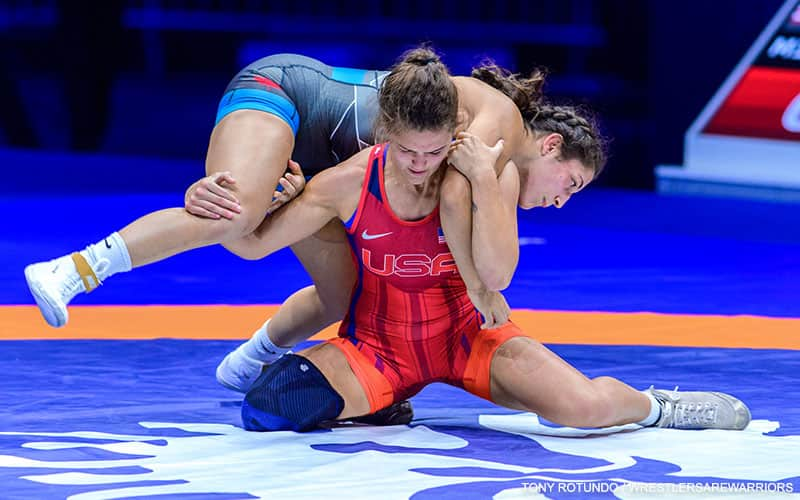 Kayla Miracle (USA) hits a fireman's carry to win her World Championships semifinals match. Photo by Tony Rotundo.

Sunday, September 11: Home field advantage gives host Serbian Greco-Roman team a huge boost


While I am far away from home at the World Wrestling Championships in Belgrade, Serbia, it is appropriate to recognize that 21 years ago on this date, the United States was attacked by terrorists, a day which changed the world in so many ways. My thoughts and prayers go out to all of the families that were affected on that fateful day. As a native New Yorker, 9-11 hit very close to home and is something that will never be forgotten, no matter how many years pass.
That said, here in the wrestling world, it was a difficult day for the USA in Greco-Roman on Sunday.
Max Nowry
, who made a great run on Saturday to qualify for a bronze-medal match tonight at 55 kg, was beaten by 20-year-old Japanese star Yu Shiotani of Japan, 7-0, giving Nowry his second career fifth-place finish at the Worlds. Shiotani scored all of his points in the first period, and although Nowry pushed the action in the second period, he couldn't get his offense going. Group 2 included four more U.S. wrestlers, all who were defeated and were not eligible for repechage. The last hope for Greco-Roman is Olympian
Ildar Hafizov
at 60 kg and NCAA runner-up
Cohlton Schultz
at 130 kg, who start on Monday. We will see the start of the women's freestyle tournament on Monday as well, with World champion
Jacarra Winchester
at 55 kg and World silver medalist
Kayla Miracle
at 62 kg stepping up for Team USA.
Over the first two days of wrestling, a theme that is apparent is that home field advantage is real in our sport. For sure, Serbia has a good Greco-Roman wrestling program. However, based upon the team's excellent showing in the first two groups of Greco athletes, the home team is for sure rising to the occasion in front of their fans.
In Group 1, which included four weight classes, Serbia won a pair of gold medals with
Ali Arsalan
at 72 kg and flashy
Zurabi Datunashvili
at 87 kg and a bronze medal from past World champion
Viktor Nemes
at 77 kg. Serbia led the team standings after four weights with 60 points, with Turkey (47), Azerbaijan (45) and Hungary (41) still within striking distance.
Arsalan wrestled powerfully both days, including a 7-4 win over Ule Ganizade of Azerbaijan in the finals. The former Iranian wrestler, competing for Serbia for the first year, rallied with the support of a loud and enthusiastic crowd behind him. Stark Arena was rocking when Arsalan celebrated his gold-medal victory. Datunashvili, who originally hailed from Georgia, is the team's top star, winning his second straight World title to go along with a Tokyo Olympic bronze medal. Known for his floppy long hair, it was neatly braided for this tournament. When Datunashivili was on the mat, all eyes were on him.
Adding to the strong Serbian run was the effort in the Group 2 semifinals, where two more Serbian wrestlers powered into Monday's finals.
Sebastian Nad
(63 kg) and
Mate Nemes
(67 kg) beat Azerbaijan opponents in the semifinals, which is huge in the team race. Nad, who does not have a world-class resume, is wrestling the best he has ever done. Nemes is a past World medalist with a chance to win his first title. With only two more weight classes left, it looks likely that Serbia could emerge as the World champ team.
We have seen how home cooking has helped the USA over the years when we hosted the World Championships. In 1995, the USA won the men's freestyle World Team title when we hosted the event in the Omni in Atlanta,
with World champions Terry Brands, Kevin Jackson, Kurt Angle and Bruce Baumgartner
. In 2003, in Madison Square Garden in New York City, our women's team won seven medals in seven weight classes, and both the men and women freestylers placed second in the standings. Native New Yorker
Kristie Davis
won the gold in her home state. When we hosted the Worlds in Las Vegas in 2015, we saw powerful individual performances from World champions
Jordan Burroughs
,
Kyle Snyder
,
Helen Maroulis
and
Adeline Gray
.
Certainly, we all know that Russia is not here at the World Championships, and they are a traditional Greco-Roman power which wins the team title often. Should Serbia close out the tournament and claim the top team trophy, there really should be no asterisk attached to this victory. In wrestling, the job is to defeat the athlete in front of you, and that is exactly what Serbia is doing this week. The Serbian wrestlers are well prepared and stepping up under pressure. The Serbian wrestling fans are coming out and supporting them. The Serbian PA announcer is pumping up the crowd for every Serbian athlete. United World Wrestling president
Nenad Lalovic
, who is a Serbian, has been a humble host in his home town, but must be truly enjoying the success of the Serbian wrestlers this week.
Why is home field so important? Certainly, the officiating calls sometimes seem to go the way of the home team at times. But it is much bigger than that. Why is it so hard to beat the Iowa Hawkeyes in a dual meet in front of their sellout crowds in Carver Hawkeye Arena? When you compete in a familiar and supportive environment, with thousands of people cheering you on, wrestlers often raise the level of their game. Wrestling is truly an emotional sport, something which gets into the heart and soul of its competitors, and competing at home really does make a big difference.
Here's hoping the USA will get to host another Senior World Championships in the near future.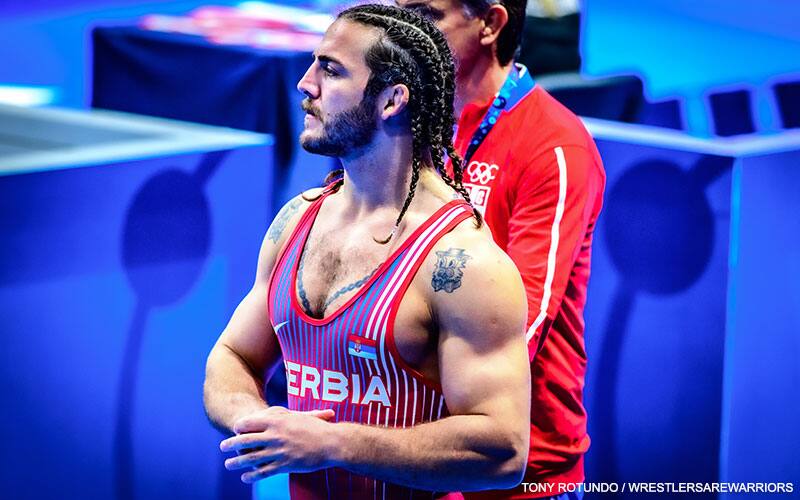 Zurabi Datunashvili of Serbia is a fan favorite in Belgrade. Photo by Tony Rotundo, Wrestlers Are Warriors

Saturday, September 10: Finding our way, and pulling for Max Nowry's podium quest


I've been going to wrestling events in large and small arenas all around the globe for more than three decades, and no matter where you go, the first day of competition is when you have to figure out where to go and how to do your job. Day one is always a little bit rough sorting things out.
Every arena is different, and every host organizer is unique, so there really isn't a standard set up for these competitions. Even when you scout out an arena on the day before competition, you never really know where things are and how they work until the tournament gets going on the first day.
Although we were at the arena on Friday, nothing was really set up yet. There had been an MMA fight, and the full wrestling setup was not completed.
When
Taylor Gregorio
and I got to Stark Arena on Saturday morning, we couldn't find the press tribune, which is a fancy name for tabled seating area for press. We went up and down steps, and used elevators, and asked a lot of folks. Nobody could tell us where it was. What we discovered was there was no tribune. We did find a nice media work room with tabled seating, electricity, internet cables and video feeds, but no specific work area inside the arena at all.
Working with the UWW Communications Team and our fellow journalists, we figured it out. Our solution for the first day may not be the final solution for the week, but we worked it out. Everything we planned to do, including live tweeting, athlete interviews and wrap stories got done. With the basic knowledge of where things are, we will hopefully be able to get even more efficient as the week goes on. But you never really know..
Wrestling events take a lot of time each day and often we don't have a chance to get any exercise. However, walking around a huge sports arena like this one often is a good replacement for a workout. The distance from the interview mixed zone to the workout location in the building next door is perhaps the longest walk that I remember. It also includes going up and down some steep stairs. There is no doubt that we will get our steps in this week just going back and forth between the two buildings.
Lunch is always a question mark at these events. Since we have to write and file stories, post videos and photos after the first session, there is rarely time to get back to the hotel for lunch. Sometimes there is good food nearby the arena. Other times, we get concession stand food. Everybody shares what they find out. Today, people brought me stuff.
Larry Slater
had a ham sub he made with meat and bread that he bought at the store. Taylor Gregorio brought me back something labelled pizza, which had ketchup on it. Larry also had some pastries he found nearby. It is always a good idea to bring some granola or energy bars each day, in case that becomes lunch.
We come to this event to cover it for the USA Wrestling family, and there is no doubt we are rooting hard for the young men and women competing for Team USA. On day one, I find myself really pulling for
Max Nowry
in his quest for a World medal.
Nowry, the spunky U.S. Greco-Roman wrestler at 55 kg, gave us some great highlights on day one, winning both of his morning bouts by pin. He got behind early in both matches but powered back both times. Against Halukurki of India, he blew the match open with an arm spin that saw his opponent fly through the air and onto his back for the fall. Against Schmitt of Germany, when he got his chance on top after a passivity call, Nowry was able to turn Schmitt and adjust into a pinning combination. When talking to the U.S. coaches, they felt like Nowry used some of his old folkstyle scrambling skills to end up in a great position for the fall.
After the first session, Nowry reminded me that he had said that his goal was to put it all on the line every match at the Worlds this year. He didn't want to leave anything on the mat at all.
"I told you when we spoke in Colorado Springs that I was going to keep active and keep on coming. Someone would have to kill me," he said.
In the second session, Nowry competed in the first match of the semifinal round against 2018 World champion Eldaniz Azizli of Azerbaijan. This was the guy who beat Nowry in his bronze-medal match at the 2019 Worlds. Azizli came out strong, and when he got on top, was able to turn Nowry multiple times to end the match. Max now finds himself in a bronze medal match again, with another shot at winning a medal.
His opponent on Sunday night will be either Giovanni Freni of Italy and Yu Shiotani of Japan. It doesn't really matter who it is. Max has paid his dues for a long time and has the chance to come home with some hardware. Over the years, UWW changed the weight classes in Greco-Roman. For a few years, they made the lightest Greco-Roman weight class 59 kg. Max was smaller than that. He fought hard at that weight but he was too small. When they expanded back to 10 weights for the World Championships, they lowered the first Greco-Roman weight to 55 kg. This gave Max new life, and he has made the most of the opportunity. Here's hoping Max has a great bronze-medal match and is able to bring home the first medal for the USA at the 2022 World Championships on Sunday night.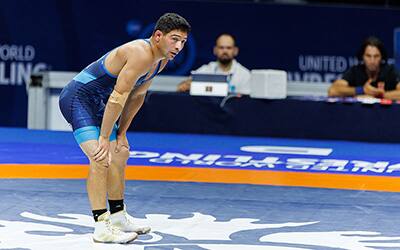 Max Nowry at the 2022 World Championships in Belgrade, Serbia. Justin Hoch photo

Friday, September 9: Hitting the ground running, with Mensah Stock as a headliner at press conference


I have done blogs from past World Championships and have had some nice feedback, but it is a lot of work to do them during a busy time. I decided this morning to give this format one more effort and see how it goes. It is a refreshing way to report about all the little things that happen at a World Championships and hopefully will entertain and enlighten others about the experience here.
Travel day is always interesting. If you do it right, you stay awake for two days, just to get back onto the right time zone as soon as you can. When my wife Pat dropped me off at the Colorado Springs airport, I ran into a bunch of staff heading out. My flights went from the Springs to Chicago to Munich to Belgrade.
Laura Peeters
, our General Counsel, had the same itinerary and we had a chance to visit some. In the Chicago airport, we ran into
Caroline Williams
, one of Laura's friends and a longtime Communications colleague of mine. Caroline had worked over 25 years at USA Basketball, including a number of Olympic Games alongside me, but decided to leave that position recently. She shared her adventures since, as she took time to do some bucket list things before getting back into the job market.
I don't sleep on flights any more, so most of my travel was spent either working or listening to music. When we reached Munich, we ended up travelling with
Jaimie McNab
from our National Teams Department, and super photographer
Tony Rotundo
for the last leg of the trip to Serbia. I slept the whole way. When we got to baggage claim, the U.S. Women's team had also just arrived from its acclimation camp in France on a different flight. Local hosts got us outside the airport to a bus stop location, and we all piled into a bus to take us to Stark Arena. Since our delegation already had its credentials, we transferred to a different bus that took us to the Crown Plaza Hotel, a huge property not far from the arena.
At the hotel, National Team High Performance Director
Cody Bickley
met us there, and assisted with getting the team and staff checked into the hotel. Cody has gotten this down to a science, and everything went as well as it could go. Being prepared is a big part of supporting our teams, and Cody and our National Teams staff are the best at it.
The idea is to stay up as late as possible on your arrival day, so I jumped into the van with Cody to go to the Technical Meeting and Greco-Roman draw.
Taylor Gregorio
, our Manager of Communications and Social Media came out a few days ahead, in order to attend a UWW Media Commission meeting. She was there to report from the draw. I sat with new Greco-Roman General Manager
Ivan Ivanov
during the draw, and gave him some insight on some things. United World Wrestling has invested in technology heavily, and the draw is a done through an online system which is quite sophisticated. Taylor quickly reported the draw to the nation on our website. This is when you first see some of our U.S. media colleagues, such as photographer
Justin Hoch
and reporters
Willie Saylor
.
The UWW press conference, moderated by UWW Communications chief
Eric Olanowski,
featured UWW president
Nenad Lalovic,
the president of the Serbian Wrestling Federation, plus three athletes: Olympic champion
Tamyra Mensah Stock
of the USA, plus World champion
Rafig Huseynov
of Azerbaijan and Serbian star
Mate Nemes
.
Most of the questions went to either Lalovic or the Serbian Wrestling chief. Lalovic answered a few questions about the IOC decisions on Russia and Belarus, and some others about hosting the Worlds coming to his home town. The media did ask questions of the athletes, which is enlightening. As always, Mensah Stock was a rock star.
"I took eight months off and it was fantastic. And I actually wasn't ready to come back. But now that I am back, I remembered how much I loved wrestling, which makes me that much more excited to come back here to World Championships, to a country I have never been to before to wrestle, so I am pretty excited," she said when asked about her last year.
President Lalovic asked her a question, about how she got a Serbian first name. Mensah handled that well also, with a laugh and smile.
"It is really? I am honored. I just know my mom and father named me as Tamyra, the bible name. They did that," she said.
After the presser, Mensah Stock visited with Nemes, did an interview with a journalist, and posed for some photos with wrestling folks. UWW had transport set up to take Tamyra back to the hotel, so Taylor and I went with her. My day was nowhere near over, however.
When I got to my hotel room, I posted a story with journalist predictions for the World Championships, something we do every year. There was also a UWW Hall of Fame induction on Friday night, which two U.S. Olympic champions, brothers
John and Ben Peterson
, were being inducted. We got some nice photos from
Michelle Bender
to go with a story that UWW released about the ceremony.
I was able to get to dinner at the hotel. This is when you have the best chance to spend some time with others on the U.S. delegation, and I sat with some of the staff members over a chicken dinner. The women's team was also eating at the time, and I chatted with many of them, with an extensive visit with World silver medalist
Kayla Miracle
.
I couldn't just go to sleep normally, because there was the FloWrestling Who's Number One event going on back in Michigan. We enlisted
Adam Engel
, who served as our intern this summer, to cover that event for us, with a story on both the girls and boys cards. I had to get up at some weird hours to edit and post his reports, so the first night was a bit choppy with sleep and periods on the computer.
The first day of wrestling awaits. So far, Belgrade has been great, and we are excited to see how our first four Greco-Roman wrestlers do on day one, which is Saturday here in Serbia.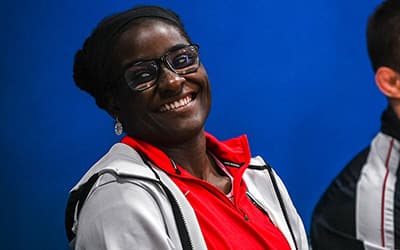 Tamyra Mensah Stock at the UWW Press Conference in Belgrade. Photo by Tony Rotundo