News
USA Wrestling
International
College
USAW
Nagao and Cassioppi qualify for bronze-medal bouts at U23 World Championships in Spain
by Gary Abbott, USA Wrestling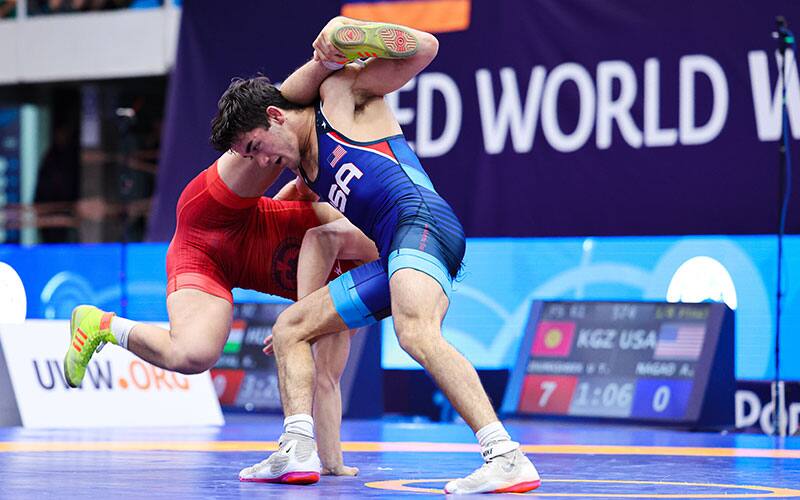 Aaron Nagao (USA) competing at the 2022 U23 World Championships. Photo by Kostadin Andonov, United World Wrestling
PONTEVEDRA, Spain – U.S. men's freestyle wrestlers
Aaron Nagao
(57 kg) and
Tony Cassioppi
(125 kg) won their Sunday afternoon repechage bouts and have qualified for a bronze-medal match at the U23 World Championships.
Nagao, who wrestles for Minnesota, defeated 2019 Pan American U20 silver medalist Elkin Espana Santa of Colombia, in a wide-open 14-4 technical fall. Nagao opened the match with a takedown. He added another takedown and was reversed with exposure, making the score 5-2. He opened the second period with a counter takedown and a tilt to make it 7-2. There was a 2-and-2 exchange in which the Columbia corner challenged and was denied making the score 12-4. A Nagao counter tilt as time was running out finished off the technical fall.
Nagao will face 2022 European U23 champion Emrah Ormanoglu of Turkey in a bronze-medal bout on Sunday night.
Cassioppi, a 2021 U23 World champion and two-time NCAA All-American for Iowa, scored a 33-second pin over Kai Shutto of Japan. Cassioppi got in on a leg shot, powered Shutto right to his back near the edge, and adjusted for the fast fall.
Cassioppi will battle 2019 European U23 silver medalist and two-time European U20 silver medalist Yurii Idzinskyi of Ukraine in a bronze-medal bout on Sunday night.
The USA will have four athletes going for medals on Sunday night at 6:00 p.m. local time (six hours ahead of U.S. Eastern time).
Trent Hidlay
(86 kg) and
Jacob Cardenas
(92 kg) are in the gold-medal finals along with the two going for bronze medals.
U23 WORLD CHAMPIONSHIPS

At Pontevedra, Spain, October 23


U.S. Group Two U23 Men's Freestyle results
61 kg: Aaron Nagao, La Habra, Calif. (Gopher WC RTC), in bronze-medal bout
LOSS Taiyrbek Zhumashbek (Kyrgyzstan), 9-0
Repechage – Elkin Espana Santa (Colombia), tech. fall 14-4
Bronze medal bout - Vs. Emrah Ormanoglu (Turkey)
74 kg: David Carr, Canton, Ohio (Cyclone RTC/TMWC), eliminated
WIN Sonny James Santiago (Puerto Rico), tech fall 12-2
LOSS Temuri Beruashvili (Georgia), 4-3
86 kg: Trent Hidlay, Lewiston, Pa. (Wolfpack WC/TMWC), in gold-medal bout
WIN Sajjad Gholami (Iran), 15-6
WIN Nurtilek Karypbaev (Kyrgyzstan), 6-0
WIN Maksat Satbaldy (Kazakhstan), 6-0
WIN Ivan Ichizli (Moldova), tech fall 11-0
Gold-Medal finals - Vs. Amirhossein Firouzpourbandpei (Iran)
92 kg: Jacob Cardenas, Kearny, N.J. (Spartan Combat RTC/TMWC) in gold-medal bout
WIN Denys Sahaliuk (Ukraine), 4-0
WIN Baisal Kubatov (Kyrgyzstan), 7-2
WIN Miriani Maisuradze (Georgia), 8-0
Gold Medal finals – Vs. Tasuya Shirai (Japan)
125 kg: Anthony Cassioppi, Roscoe, Ill. (Hawkeye WC/TMWC), in bronze-medal bout
WIN Lior Altshuler (Israel), tech fall 10-0
LOSS Solomon Manashvili (Georgia), tech fall, 16-4
WIN Kai Shutto (Japan), pin 0:33
Bronze medal match – Vs. Yurii Idzinskyi (Ukraine)