News
USA Wrestling
International
College
USAW
Sloan wins men's freestyle silver medal at U23 World Championships, Starocci gets bronze, Thomas places fifth
by Gary Abbott, USA Wrestling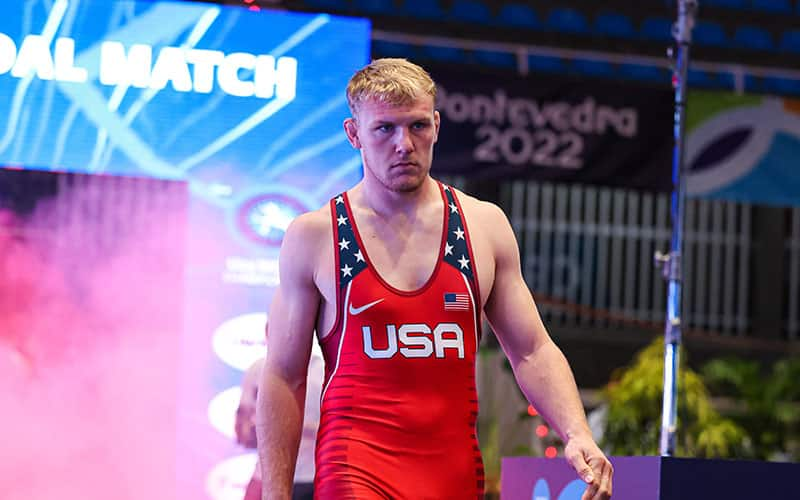 Tanner Sloan (USA) walks out for his gold-medal bout at the 2022 U23 World Championships. Photo by Kadir Caliskan, United World Wrestling
.
PONTEVEDRA, Spain –
Tanner Sloan
won a silver medal at 97 kg and
Carter Starocci
won a bronze medal at 79 kg in men's freestyle at the 2022 U23 World Championships on Saturday night.
Sloan was defeated by 2022 U20 World bronze medalist Amirali Azarpira of Iran in the gold-medal finals, 5-3. Sloan scored the only takedown in the first period, on a counter attack after an Azarpira shot, and led 2-0. Azarpira tied it at 2-2, when he forced a step out while Sloan was on the shot clock, and got the second point when Sloan did not score in 30 seconds. Azarpira scored two more step outs to lead 4-2, but Sloan made it 4-3 with a step out of his own. Sloan got in on Azarpira leg as time ran out but did not score. The USA challenged and was denied, making the final score 5-3.
On Friday, he opened with a powerful 10-2 victory over 2022 U20 European champion Mucahit Celik of Turkey. In his quarterfinals bout, Sloan scored a clutch 6-3 win over 2022 U20 World silver medalist Andro Margishvili of Georgia. In the semifinals, Sloan dominated 2022 U23 European champion Islam Ilyasov of Azerbaijan, 10-2.
Sloan's previous World-level appearance was at the 2019 U20 Worlds. A native of Iowa, he is a three-time NCAA qualifier for South Dakota State.
Starocci dominated 2021 European U23 bronze medalist Valentyn Babii of Ukraine in an 11-1 technical fall in the bronze-medal bout. Starocci led 6-0 at the break, with two step outs, a takedown on a cradle and a turn. He received a point when Babii couldn't score on the shot clock and added two more takedowns to close out the win.
Starocci won four matches by technical fall, three on Friday and in the bronze-medal bout today. His only loss came to Daulet Yergesh of Kazakhstan, 8-7 in the semifinals.
Starocci is a two-time NCAA champion for Penn State and is currently a member of the U.S. Senior National Team. This was his first international competition.
Placing fifth was Y
ahya Thomas
at 70 kg, who was defeated in his bronze-medal bout by 2019 Asian U17 champion Kota Takahashi of Japan, 4-0. The only point in the first period went to Takahashi, when Thomas could not score on the shot clock. In the second period, with Takahashi on the shot clock, Takahashi forced a step out and extended the lead to 2-0. Takahashi scored a double leg takedown for the final two points of the match.
Collegiately, Thomas was third in the 2021 NCAA Championships for Northwestern. He was a member of the 2019 U20 World Team.
Two U.S. wrestlers in Group One were eliminated on Friday, 2019 U20 World silver medalist
Vitali Arujau
(57 kg) and
Cole Matthews
(65 kg). Arujau placed 10th in his weight, which scored two team points. Matthews finished 12th.
In the team standings after the first five weight classes, the United States was fifth with 47 points. Georgia was in first with 76 points, Ukraine in second with 63 points and Iran in third with 59 points.
The tournament concludes on Sunday with Group Two men's freestyle repechage and finals bouts. The USA has two athletes in the finals, Trent Hidlay (86 kg) and Jacob Cardenas (92 kg), and two others in the repechage rounds.
The repechage round will be held on Sunday afternoon at 4:00 p.m., followed by the gold-medal finals at 6:00 p.m. Follow the action at
FloWrestling
.
U23 WORLD CHAMPIONSHIPS
At Pontevedra, Spain, October 21

Group One men's freestyle results

57 kg
Gold - Aman (India)
Silver - Ahmet Dumas (Turkey)
Bronze - Bekzat Almaz Uulu (Kyrgyzstan)
Bronze – Kamil Kerkymov (Ukraine)
5th - Giorgi Gegalashvili (Georgia)
6th – Toshiya Abe (Japan)
65 kg
Gold - Vazgen Tevanyan (Armenia)
Silver - Hamza Alaca (Turkey)
Bronze - Ryoma Anraku (Japan)
Bronze - Erik Arushanian (Ukraine)
5th - Adlan Askarov (Kazakhstan)
5th - Kian Mahmoudjanloo (Iran)
70 kg
Gold - Giorgi Elbakidze (Georgia)
Silver - Amirmohammed Yazdani Charati (Iran)
Bronze - Kanan Heybatov (Azerbaijan)
Bronze - Kota Takahashi (Japan)
5th - Orozobek Toktomanbetov (Kyrgyzstan)
5th - Yahya Thomas (USA)
79 kg
Gold - Vladimeri Gnmkrelidze (Georgia)
Silver - Daulet Yergesh (Kazakhstan)
Bronze – Armen Avagyan (Armenia)
Bronze - Carter Starocci (USA)
5th - Georgios Kougioumtsidis (Greece)
5th - Valentyn Babii (Ukraine)
97 kg
Amarali Azarpira (Iran)
Tanner Sloan (USA)
Bronze - Islan Ilyasov (Azerbaijan)
Bronze - Vasyl Sova (Ukraine)
5th - Andro Margishvili (Georgia)
5th - Ertugrul Agca (Germany)
U.S. Men's Freestyle Group One results
57 kg: Vitali Arujau, Syosset, N.Y. (Spartan Combat RTC/TMWC), 10th place
LOSS Bekzat Almaz Uulu (Kyrgyzstan), 11-6
65 kg: Cole Matthews, Greenville, Pa. (Pittsburgh WC), dnp/12th
WIN Gia Ugrelidze (Georgia), 6-2
LOSS Adlan Askarov (Kazakhstan), 6-4
70 kg: Yahya Thomas, Chicago, Ill. (Wildcat WC/TMWC), Fifth place
WIN Emmanuel Olapade (Canada), 2-0
WIN Tobias Portmann (Switzerland), 4-1
LOSS Amirmohammad Yazdani Charati (Iran), 4-2
LOSS Kota Takahashi (Japan), 4-0
79 kg: Carter Starocci, Erie, Pa. (Nittany Lion WC/TMWC), Bronze Medal
WIN Oktay Hasan (Bulgaria), tech fall, 11-0
WIN Erik Reinbok (Estonia), tech. fall, 10-0
WIN Abdubasi Balta (Turkey), tech fall 11-1
LOSS Daulet Yergesh (Kazakhstan), 8-7
WIN Valentyn Babii (Ukraine), tech. fall, 11-0
97 kg: Tanner Sloan, Alburnett, Iowa (Jackrabbit WC), Silver Medal
WIN Mucahit Celik (Turkey), 10-2
WIN Andro Margishvili (Georgia), 6-3
WIN Islam Ilyasov (Azerbaijan), 10-2
LOSS Amirali Azarpira (Iran), 5-3
Top five teams after first five weight classes
1. Georgia, 76
2. Ukraine, 63
3. Iran, 59
4. Turkey, 48
5. United States, 47