Sloan powers into U23 World Championship men's freestyle finals, Thomas and Starocci to go for bronze
by Gary Abbott, USA Wrestling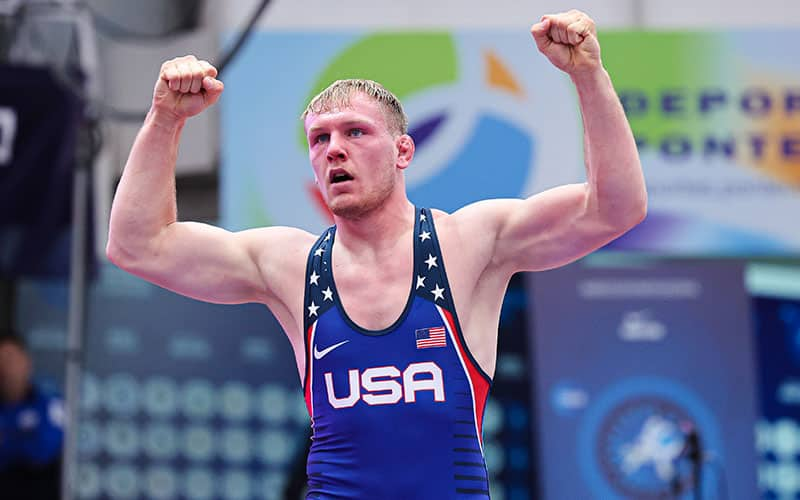 Tanner Sloan (USA) celebrates a win at the U23 World Championships. Photo by Kostadin Andonov, United World Wrestling
PONTEVEDRA, Spain –
Tanner Sloan
came to Pontevedra, Spain on mission. After the first day of men's freestyle competition, he has set himself up to reach one of his goals. Sloan powered his way into the gold medal finals at 97 kg at the 2022 U23 World Championships on Friday afternoon.
In the semifinals, Sloan dominated 2022 U23 European champion Islam Ilyasov of Azerbaijan, 10-2. The score was tied 2-2 at the break, but the second period belonged entirely to Sloan. Keeping on the pressure, Sloan added four takedowns in the second period and left the mat as a World finalist.
Sloan will battle Iran's Amirali Azarpira, who was a 2022 U20 World bronze medalist.
His semifinal effort was consistent with his entire day. On Friday morning, he opened with a powerful 10-2 victory over 2022 U20 European champion Mucahit Celik of Turkey. In his quarterfinals bout, Sloan scored a clutch 6-3 win over 2022 U20 World silver medalist Andro Margishvili of Georgia
Sloan's previous World-level appearance was at the 2019 U20 Worlds. A native of Iowa, he is a three-time NCAA qualifier for South Dakota State,
Dropping semifinal matches and going into bronze medal bouts on Saturday were
Yahya Thomas
at 70 kg and
Carter Starocci
at 79 kg.
Thomas was defeated by 2021 Senior World silver medalist Amirmohammad Yazdani Charati of Iran, 4-2. Thomas led 2-0 at the break, with a point from the shot clock and a step out. In the second period, Thomas was put on the shot clock. Yazdani scored a takedown, and also got the shot clock point to lead 3-2. A U.S. challenge on another move was declined, giving Yazdani his final point.
In his bronze medal match, Thomas will face the repechage match winner between Syrbaz Talgat of Kazakhstan and Kota Takahashi of Japan.
Collegiately, Thomas was third in the 2021 NCAA Championships for Northwestern and
Starocci was edged by 2022 U23 Asian silver medalist Daulet Yergesh of Kazakhstan in the semifinals, 8-7. Starocci led 1-0 at the break, after Yergesh was put on the shot clock and didn't score. Yergesh had a big exchange, with a takedown and three ankle laces to lead 8-1. Starocci responded with a takedown and ankle lace to make it 8-5. One late takedown for Starocci made it 8-7, but time ran out on the comeback.
Starocci won all three of his Friday morning bouts by technical fall, outscoring his opponents 32-1 during the session.
Starocci, a two-time NCAA champion for Penn State, will face the repechage match winner between Tony Negron of Puerto Rico and Valentyn Babii of Ukraine,
Two U.S. athletes from Group One were eliminated when the wrestler who beat them was defeated in the semifinals: 2019 U20 World silver medalist
Vitali Arujau
at 57 kg and
Cole Matthews
at 65 kg.
Arujau, a member of the last two Senior National Teams, was beaten by 2022 Asian U23 silver medalist Bekzat Almaz Uulu of Kyrgyzstan, 11-6. When Almaz Uulu was beaten in the semifinals by Aman of India, 10-4, Arujau was eliminated from the tournament.
In the quarterfinals, Matthews was defeated by Adlan Askarov of Kazakhstan, 6-4. Askarov was stopped in the semifinals by Vazgen Tevanyan of Armenia, 7-6
Arujau is a two-time All-American for Cornell, and Matthews was a 2021 All-American for Pitt.
The repechage round for Group One is set for 10:30 a.m. local time on Saturday morning. In addition, Group Two begins its competition at that time, with five more U.S. athletes hitting the mats. The Group Two semifinals are set for 4:45 p.m. local time on Saturday, followed by the Group One finals at 6:00 p.m. Pontevedra is six hours ahead of U.S. Eastern time zone.
The draw for the Group Two U.S. men's freestyle wrestlers are below.
U23 WORLD CHAMPIONSHIPS
At Pontevedra, Spain, October 21

Group One men's freestyle finals pairings
57 kg - Aman (India) vs Ahmet Dumas (Turkey)
65 kg - Vazgen Tevanyan (Armenia) vs. Hamza Alaca (Turkey)
70 kg - Giorgi Elbakidze (Georgia) vs. Amirmohammed Yazdani Charati (Iran)
79 kg - Vladimeri Gnmkrelidze (Georgia) vs. Daulet Yergesh (Kazakhstan)
97 kg - Amarali Azarpira (Iran) vs. Tanner Sloan (USA)
Group One men's freestyle semifinal results
57 kg
Aman (India) dec. Bekzat Almaz Uulu (Kyrgyzstan), 10-4
Ahmet Dumas (Turkey) tech. fall Giorgi Gegalashvili (Georgia), 10-0
65 kg
Vazgen Tevanyan (Armenia) dec. Adlan Askarov (Kazakhstan), 7-6
Hamza Alaca (Turkey) dec. Erik Arushanian (Ukraine), 14-8
70 kg
Giorgi Elbakidze (Georgia) dec. Orozobek Toktomanbetov (Kyrgyzstan), 10-0
Amirmohammed Yazdani Charati (Iran) dec. Yahya Thomas (USA), 4-2
79 kg
Vladimeri Gnmkrelidze (Georgia) dec. Georgios Kougioumtsidis (Greece), 9-6
Daulet Yergesh (Kazakhstan) dec. Carter Starocci (USA), 8-7
97 kg
Amarali Azarpira (Iran) dec Ertugrul Agca (Germany), 8-0
Tanner Sloan (USA) dec. Islan Ilyasov (Azerbaijan), 10-2
U.S. U23 Men's Freestyle Group One results
57 kg: Vitali Arujau, Syosset, N.Y. (Spartan Combat RTC/TMWC), eliminated
LOSS Bekzat Almaz Uulu (Kyrgyzstan), 11-6
65 kg: Cole Matthews, Greenville, Pa. (Pittsburgh WC), eliminated
WIN Gia Ugrelidze (Georgia), 6-2
LOSS Adlan Askarov (Kazakhstan), 6-4
70 kg: Yahya Thomas, Chicago, Ill. (Wildcat WC/TMWC), in bronze-medal match
WIN Emmanuel Olapade (Canada), 2-0
WIN Tobias Portmann (Switzerland), 4-1
LOSS Amirmohammad Yazdani Charati (Iran), 4-2
Bronze match – winner of Syrbaz Talgat (Kazakhstan) vs. Kota Takahashi (Japan)
79 kg: Carter Starocci, Erie, Pa. (Nittany Lion WC/TMWC), in bronze-medal match
WIN Oktay Hasan (Bulgaria), tech fall, 11-0
WIN Erik Reinbok (Estonia), tech. fall, 10-0
WIN Abdubasi Balta (Turkey), tech fall 11-1
LOSS Daulet Yergesh (Kazakhstan), 8-7
Bronze medal match – winner of Tony Negron (Puerto Rico) and Valentyn Babii (Ukraine)
97 kg: Tanner Sloan, Alburnett, Iowa (Jackrabbit WC), in finals
WIN Mucahit Celik (Turkey), 10-2
WIN Andro Margishvili (Georgia), 6-3
WIN Islam Ilyasov (Azerbaijan), 10-2
Gold medal match - Amirali Azarpira (Iran)
U.S. Group Two U23 Men's Freestyle draws for Saturday morning
61 kg: Aaron Nagao, La Habra, Calif. (Gopher WC RTC)
Vs. Taiyrbek Zhumashbek (Kyrgyzstan), 2022 U23 Asian champion, 3rd 2019 U20 Asians
74 kg: David Carr, Canton, Ohio (Cyclone RTC/TMWC)
Vs. winner of Diego Sandoval Zarco (Mexico) and Sonny James Santiago (Puerto Rico)
Sandoval –5th 2022 Pan American Championships, 2nd 2021 Junior Pan American Games
Santiago – No international achievements
86 kg: Trent Hidlay, Lewiston, Pa. (Wolfpack WC/TMWC)
Vs. Sajjad Gholami (Iran), 2nd 2021 U23 World Championships, 2018 20U Asian champion, 2nd 2016 U17 World Championships
92 kg: Jacob Cardenas, Kearny, N.J. (Spartan Combat RTC/TMWC)
Vs. Denys Sahaliuk (Ukraine), 3rd 2022 U20 Europeans, 9th 2021 U23 Worlds, 9th 2019 Senior Worlds
125 kg: Anthony Cassioppi, Roscoe, Ill. (Hawkeye WC/TMWC)
Vs. Lior Altshuler (Israel), 5th 2022 U23 Europeans
REMAINING U23 WORLD CHAMPIONSHIPS SCHEDULE
Men's Freestyle Competition
Saturday, October 22
10:30 a.m. – Qualification rounds (MFS 61, 74, 86, 92, 125 kg)
10:30 a.m. – Repechage (MFS 57, 65, 70, 79, 97 kg)
4:45 p.m. – Semifinals (MFS 61, 74, 86, 92, 125 kg)
6 p.m. – Finals (MFS 57, 65, 70, 79, 97 kg)
Sunday, October 23
4:00 p.m. – Repechage (MFS 61, 74, 86, 92, 125 kg)
6 p.m. – Finals (MFS 61, 74, 86, 92, 125 kg)
*All times listed reference Pontevedra local time, six hours ahead of U.S. Eastern Time