News
USA Wrestling
International
College
Women
USAW
Guilford reaches finals at U23 World Championships; Howk, Basham, Ramirez to compete in bronze bouts in women's freestyle
by Gary Abbott, USA Wrestling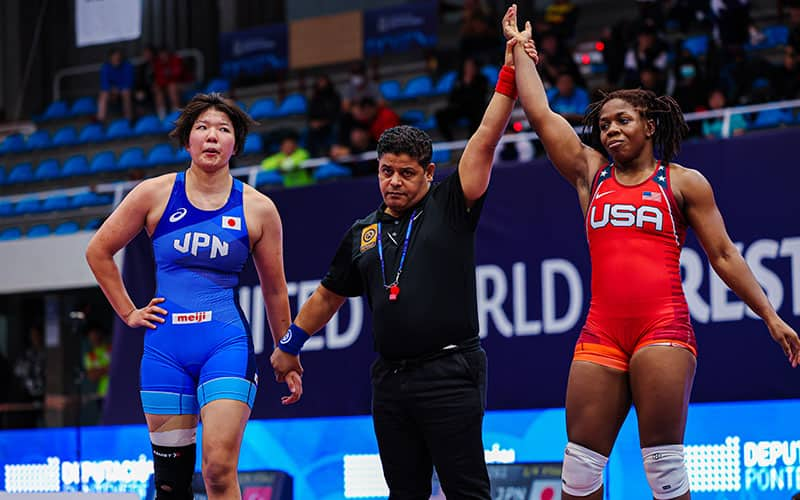 Dymond Guilford (USA) has armed raised after win over Yasuha Matsuyuki (Japan) in U23 World semifinals. Photo by Kadir Caliskan, United World Wrestling

Dymond Guilford interview after semifinals
PONTEVEDRA, Spain – 2022 Senior World Team member
Dymond Guilford
came back from Belgrade without the medal she wanted. She has come to the U23 World Championships on a mission, and has powered into the gold-medal finals after a big semifinal victory on Wednesday night.
In the semifinals, Guilford took down Inkara Zhanatayeva of Kazakhstan and turned her on four ankle laces for a technical fall in just 54 seconds. The Kazakhstan corner challenged, which was denied, so Guilford has moved into Thursday's gold-medal finals, where she faces 2021 U23 World silver medalist Tatiana Renteria of Colombia.
Guilford opened up with a dominant 10-0 first-period technical fall over Daniela Tkachuk of Poland. In the quarterfinals, Guilford knocked off 2017 U23 World champion Yasuha Matsuyuki of Japan, 6-1.
Three other U.S. wrestlers competed in the semifinal round, and lost some tough bouts, moving on to bronze-medal bouts on Thursday:
Alisha Howk
(55 kg),
Lexi Basham
(59 kg) and
Sienna Ramirez
(68 kg). Basham and Ramirez are currently No. 2 in their weight classes on the Senior National Team.
Howk was edged in the final seconds by 2021 U20 World silver medalist Mihaela Samoil of Moldova, 9-8. Samoil led 4-0 at the break after hitting a four-point hip toss. Howk battled back in the second period to tie the match at 6-6, but still trailing on criteria. Howk scored a takedown to take a 6-4 lead with just 10 seconds left. Samoil scored a takedown on the buzzer to tie it at 8-8, with criteria. The USA challenged but lost, making it 9-8.
Ramirez dropped a back-and-forth match with two-time U20 World bronze medalist Nesrin Bas of Turkey, 9-4. Bas led 3-2 at the break. In the second period, Ramirez scored a takedown to lead 4-3. Bas took a 5-4 lead on a takedown, and sealed the win with two takedowns in the final 23 seconds.
Ramirez will wrestle in a bronze-medal match between the winner 2021 World champion Irina Ringaci of Moldova and Marta Ojeda Navarro of Spain.
Basham was stopped in the semifinals by 2018 U17 Asian silver medalist Himeka Tokuhara of Japan in the semifinals, 9-0; Tokuhara scored on two exposures in the first period, then added two takedowns and a step out point in the second period.
Basham's bronze-medal opponent has been determined, 2022 Commonwealth Games bronze medalist Nethmi Poruthotage of Sri Lanka.
The other athlete in Group One,
Nyla Valencia.
was eliminated at 55 kg after losing her first bout and not qualifying for repechage.
The Group One women's freestyle finals are set for 6:00 p.m. local time in Pontevedra, which is six hours ahead of U.S. Eastern time zone.
The five women in Group Two begin their competition on Thursday morning at 10:30 a.m., with their semifinals set for 4:45 p.m. The draws for Team USA are listed below.
Follow it live on FloWrestling. https://flosports.link/3SsnjBV
U23 WORLD CHAMPIONSHIPS
At Pontevedra, Spain, October 19

Women's Group One finals pairings
50 kg - Yui Susaki (Japan) vs. Ankush (India)
55 kg - Moe Kiyooka (Japan) vs. Mihaela Samoil (Moldova)
59 kg - Magdalena Glodek (Poland) vs. Himeka Tokuhara (Japan)
68 kg - Naruha Matsuyuki (Japan) vs. Nesrin Bas (Turkey)
76 kg - Dymond Guilford (USA) vs. Tatiana Renteria (Colombia)
Women's Freestyle Group One semifinals results
50 kg
Yui Susaki (Japan) tech. fall Emanuela Liuzzi (Italy), 10-0
Ankush (India) pin Nada Medani Mohamed (Egypt), 3:23
55 kg
Moe Kiyooka (Japan) tech. fall Virginie Gascon (Canada). 10-0
Mihaela Samoil (Moldova) dec. Alisha Howk (USA), 9-8
59 kg
Magdalena Glodek (Poland) dec. Ramina Mamedova (Latvia), 8-2
Himeka Tokuhara (Japan) dec. Lexie Basham (USA), 9-0
68 kg
Naruha Matsuyuki (Japan) dec. Noemi Szabados (Hungary), 6-5
Nesrin Bas (Turkey) dec. Sienna Ramirez (USA), 9-4
76 kg
Tatiana Renteria (Colombia) dec. Anastasiya Alpyeyeva (Ukraine), 4-1
Dymond Guilford (USA) tech fall Inkara Zhanatayeva (Kazakhstan), 11-0
U.S. women's freestyle Group One results
50 kg: Nyla Valencia, Morgan Hill, Calif. (Hawkeye WC/TMWC), eliminated
LOSS Sarra Hamdi (Tunisia), 3-0
55 kg: Alisha Howk, River Falls, Wis. (Victory School of Wrestling/Sunkist Kids), in bronze-medal bout
WIN Erika Bognar (Hungary), 2-1
WIN Elnura Mammadova (Azerbaijan), injury default, 3:20
LOSS Mihaela Samoil (Moldova), 9-8
Bronze Bout – Vs. Nethmi Poruthotage (Sri Lanka)
59 kg: Lexie Basham, Roanoke, Texas (Spartan Mat Club), in bronze-medal bout
WIN Karoline Ortiz Rosado (Puerto Rico), 8-4
WIN Anne Nuernberger (Germany), pin 5:44
LOSS Himeka Tokuhara (Japan), 9-0
Bronze Bout – Opponent to be determined in repechage
68 kg: Sienna Ramirez, Ashland, Ore. (Southern Oregon RTC), in bronze-medal bout
WIN Albina Kairgeldinov (Kazakhstan), 9-3
WIN Zsuzsanna Molnar (Slovakia), pin, 0:53
LOSS Nesrin Bas (Turkey), 9-4
Bronze Bout – Vs winner of Irina Ringaci (Moldova) vs. Marta Ojeda Navarro (Spain)
76 kg: Dymond Guilford, Colorado Springs, Colo. (Titan Mercury WC), in gold-medal finals
WIN Daniela Tkachuk (Poland), tech. fall 10-0
WIN Yasuha Matsuyuki (Japan), 6-1
WIN Inkara Zhanatayeva (Kazakhstan), tech fall 11-0
Gold Medal Finals – Vs. Tatiana Renteria (Colombia)
U.S. Group Two Women's Freestyle draws
53 kg: Felicity Taylor, Spillville, Iowa (Hawkeye WC/TMWC)
Vs. Aikaterini Vekri (Greece), Second in 2021 Mediterranean Championships, 5th in U20 Beach Worlds
57 kg: Alexandra Hedrick, Colorado Springs, Colo. (Titan Mercury WC)
Vs. Melda Dernekci (Turkey), 5th in 2022 U20 Worlds, 3rd in 2022 U23 Europeans, 5th in 2021 U20 Worlds
62 kg: Alexandria Liles, Pueblo, Colo. (U.S. Army WCAP)
Vs. winner of Astrid Montero Chirinos (Venezuela) and Birgul Soltanova (Azerbaijan)
Montero – 2021 Junior Pan American Games champion, 2nd in 2021 Pan American U20 Championships
Soltanova – 5th in 2022 U20 Worlds, 2022 U20 European champion, 3rd in 2021 U20 Worlds,
65 kg: Emma Bruntil, Colorado Springs, Colo. (Titan Mercury WC)
Vs. Katerina Zelenykh (Ukraine), 2nd in 2021 U23 Worlds, 2nd in 2021 U20 Europeans, 2nd in 2021 U23 Europeans
72 kg: Amit Elor, New York, N.Y. (NYC RTC/TMWC)
Vs. Kendra Dacher (France), 7th in 2022 Senior Worlds, Third in 2022 Senior Europeans
U23 WORLD CHAMPIONSHIPS SCHEDULE
Remaining Women's freestyle competition
Thursday, October 20
10:30 a.m. – Qualification rounds (WFS 53, 57, 62, 65, 72 kg)
10:30 a.m. – Repechage (WFS 50, 55, 59, 68, 76 kg)
4:45 p.m. – Semifinals (WFS 53, 57, 62, 65, 72 kg)
6 p.m. – Finals (WFS 50, 55, 59, 68, 76 kg)
Friday, October 21
10:30 a.m. – Repechage (WFS 53, 57, 62, 65, 72 kg)
6 p.m. – Finals (WFS 53, 57, 62, 65, 72 kg)
*All times listed reference Pontevedra local time, six hours ahead of U.S. Eastern Time