News
USA Wrestling
International
USAW
U23 Greco-Roman Worlds conclude with Group Two finals, Iran wins team title, USA is 14th
by Gary Abbott, USA Wrestling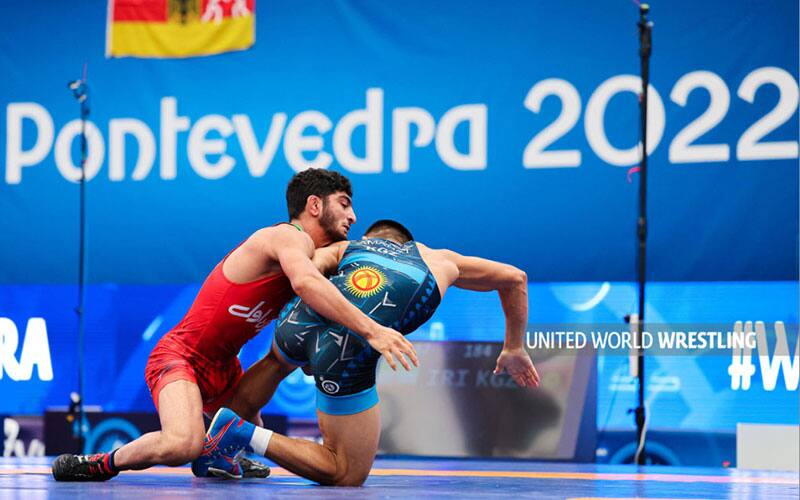 U23 World champion Sayed Sohrabi of Iran. United World Wrestling photo
.
PONTEVEDRA, Spain – The Greco-Roman competition at the 2022 U23 World Championships wrapped up on Wednesday night, with the Group Two finals, featuring the final five weight classes.
The team competition was determined, with
Iran
in first with 138 points,
Georgia
in second with 101 points and
Turkey
in third with 93 points. Iran had three champions and three bronze medalists.
The
United States
placed 14th with 26 points. Four U.S. wrestlers placed in the top 10 of their weights and scored points for Team USA:
Peyton Omania
(7th at 67 kg),
Cohlton Schultz
(7th at 130 kg),
Camden Russell
(8th at 55 kg) and
Phillip Moomey
(9th at 60 kg).
U23 WORLD CHAMPIONSHIPS

At Pontevedra, Spain, October 19, 2022


Group Two Greco-Roman results.
60 kg
Gold - Kerem Kamal (Turkey)
Silver - Nihat Mammadli (Azerbaijan)
Bronze - Olzhas Sultan (Kazakhstan)
Bronze - Melkamu Fetene (Israel)
5th - Irakli Dzimistarishvili (Georgia)
5th - Nurmukhammet Abdullaev (Kyrgyzstan)
67 kg
Gold - Sayed Sohrabi (Iran)
Silver - Gagik Mishai Snjoyan (France)
Bronze - Kyotaro Sogabe (Japan)
Bronze - Diego Chkhikvadze (Georgia)
5th - Sahak Hovhannisyan (Armenia)
5th - Julian Horta Acevedo (Colombia)
72 kg
Gold - Gruban Gurbanov (Azerbaijan)
Silver - Pavel Puklavec (Croatia)
Bronze - Amir Ali Abdi (Iran)
Bronze - Vikas (India)
5th - Irfan Mirzoiev (Ukraine)
5th - Daigo Kobayashi (Japan)
82 kg
Gold - Exause Mukubu (Norway)
Silver - Karlo Kodric (Croatia)
Beka Guruli (Georgia)
Bronze - Mats Ahlgren (Sweden)
5th - Ali Halil Hunc (Turkey)
5th - Ranet Kaljola (Estonia)
97 kg
Gold - Alex Szoke (Hungary)
Silver - Markus Ragginger (Austria)
Bronze - Nitesh (India)
Bronze - Ali Ramezanalii Abedidarzi (Iran)
5th - Igor Alves de Queuroz (Brazil)
5th - Giorgi Katsanashvili (Georgia)
U.S. Greco-Roman Group Two results
60 kg: Phillip Moomey, Kearney, Neb. (Spartan Combat RTC/TMWC), 9th place
WIN Georgios Scarpello (Germany), 7-5
LOSS Nurmukhammet Abdullaev (Kyrgyzstan), tech. fall 10-0
67 kg: Peyton Omania, Concord, Calif. (New York AC), 7th place
WIN Aleksander Mielewczyk (Poland), pin 0:34
WIN Abdelrahman Omar (Egypt), 7-0
LOSS Kyotaro Sogabe (Japan), tech fall 13-4
72 kg: Benjamin Peak, Marquette, Mich. (NMU-OTS/Sunkist Kids), dnp/23rd
LOSS Irfan Mirzoiev (Ukraine), tech. fall 9-0
82 kg: Tyler Cunningham, Gretna, Neb. (MWC Wrestling Academy), dnp/18th
LOSS Semion Brekkeli (Moldova), tech fall 9-1
97 kg: Nicholas Boykin, Murfreesboro, Tenn. (Ohio RTC/Sunkist Kids), dnp/12th
LOSS Alex Szoke (Hungary), tech fall 9-0
LOSS Luca Katic (Serbia), 7-4
Team Standings
1 Iran 138
2 Georgia 101
3 Turkey 93
4 Azerbaijan 89
5 Japan 89
6 Armenia 70
7 Hungary 67
8 Ukraine 58
9 Croatia
10 India 45
11 Kazakhstan 35
12 Moldova 34
13 Kyrgyzstan 30
14 United States 26
15 Norway 25