News
USA Wrestling
International
USAW
Savvy places fourth, six U.S. Greco-Roman wrestlers compete at Thor Masters in Denmark
by Gary Abbott, USA Wrestling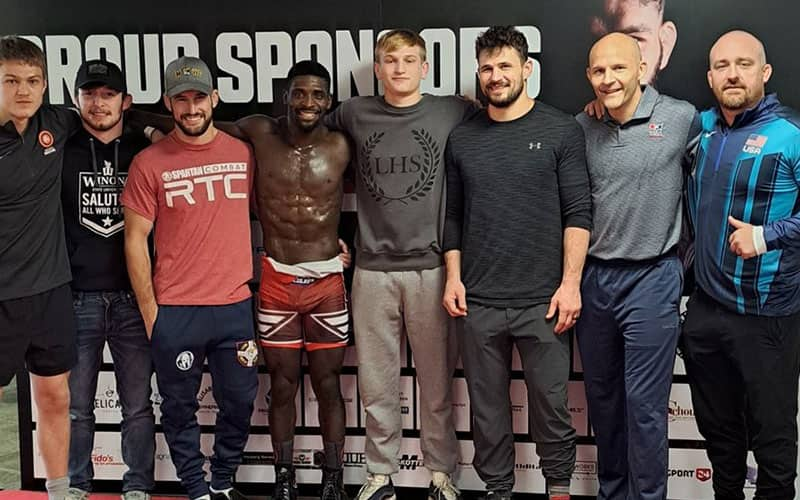 U.S. athletes at 2022 Thor Masters. Photo courtesy of Logan Savvy twitter.
NYKOBING FALSTER, Denmark –
Logan Savvy
of the New York AC placed fourth at 63 kg, the top finish among six U.S. Greco-Roman athletes competing at the Thor Masters this weekend.
Savvy opened the tournament with a 4-4 criteria decision over Brian Santiago of Denmark. After losing his second bout, Savvy placed second in his pool. He was edged in his bronze-medal bout by Tim Bergfalk of Sweden, 2-1.
The other U.S. wrestler with a victory during the event was 2010 World Team member
Jacob Fisher
of the Curby 3-Style WC, who finished eighth at 82 kg. Fisher opened with an impressive 11-1 technical fall over Arsenas Stnkevicius of Lithuania. He dropped his next two bout to opponents from Denmark and Sweden and did not advance to a medal match.
All six U.S. entries placed in the top 10 of their weight classes.
THOR MASTERS

At Nykobing Falster, Denmark, September 30-October 1


Greco-Roman Medalists

60 kg
Gold - Nikolai Mohammadi (Denmark)
Silver - Alexander Norström (Sweden)
Bronze - Algot Gamelius (Sweden)
63 kg
Gold - Tino Ojala (Finland)
Silver - William Reenberg (Denmark)
Bronze - Tim Bergfalk (Sweden)
67 kg
Gold - Håvard Jørgensen (Norway)
Silver - Niklas Öhlen (Sweden)
Bronze - Vilius Savickas (Lithuania)
72 kg -
Gold - Samuel Ballscheidt (Germany)
Silver - Georgios Barbados (Sweden)
Bronze - Miru Olsson (Sweden)
77 kg
Gold - Patryk Bednarz (Poland)
Silver - Oliver Krüger (Denmark)
Bronze - Avtandil Giogolasvili (Sweden)
82 kg
Gold - Lukas Ahlgren (Sweden)
Silver - Jonni Sarkkinen (Finland)
Bronze - Exauce Mukubu (Norway)
87 kg
Gold - Turpal Bisultanov (Denmark)
Silver - Christian Zemp (Switzerland)
Bronze - Andreas Välis (Estonia)
97 kg
Gold - Tyrone Sterkenburg (Netherlands)
Silver - Oscar Johansson (Sweden)
Bronze - Gerard Kurniczak (Poland)
130 kg
Gold - Franz Richter (Germany)
Silver - Tomasz Wawrzyezyk (Poland)
U.S. Greco-Roman performances
63 kg - Logan Savvy, Leesburg, Va. (New York AC), 4th place
WIN Brian Kurt Santiago (Denmark), 4-4
LOSS Tino Ojala (Finland), tech. fall 9-0
LOSS Tim Bergfalk (Sweden), 2-1
63 kg - Mason Carzino-Hartshorn, Antioch, Calif. (West Coast Greco RTC), 6th place
LOSS Tim Bergfalk (Sweden), 4-1
LOSS William Reenberg (Denmark), tech. fall 9-0
67 kg - Colton Parduhn, Fairbanks, Alaska (Interior Grappling Academy), 8th place
LOSS Andre Jonsson (Sweden), 7-3
LOSS Niklas Ohlen (Sweden), 9-0
67 kg - Jessy Williams, Windsor, N.Y. (Spartan Combat RTC/TMWC), 9th place
LOSS Frederik Mathiesen (Denmark), 7-3
LOSS Havard Jorgensen (Norway) tech. fall 9-1
67 kg - Jeremy Bockert, Fairbanks, Alaska (Interior Grappling Academy), 10th place
LOSS Piotr Stolarczyk (Poland), tech. fall 9-0
LOSS Niklas Ohlen (Sweden), tech. fall 9-0
82 kg - Jacob Fisher, Scarsdale, N.Y. (Curby 3 Style WC), 8th place
WIN Arsenas Stankevicius (Lithuania) tech. fall 11-1
LOSS Marcel Hein (Denmark), 2-0
LOSS Lukas Ahlgren (Sweden), tech. fall 9-0