Greco-Roman finalists set for Bill Farrell Memorial International in New York
by Gary Abbott, USA Wrestling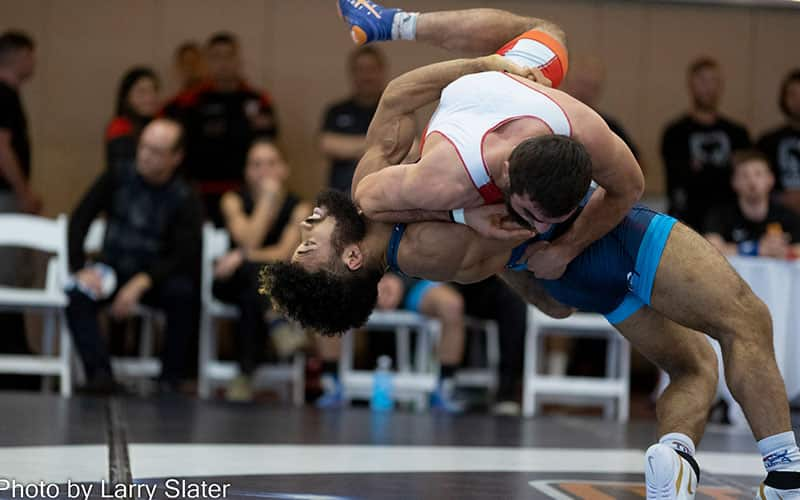 Jesse Porter (USA) tosses an opponent at 77 kg at the Bill Farrell Memorial International. Photo by Larry Slater.
The
Bill Farrell Memorial International
has returned to the New York Athletic Club in New York City. Finals have been set in Greco-Roman, which will be held during the second session which begins at 4:00 p.m. Eastern Time.
A total of 10 U.S. wrestlers won their semifinals in the eight weight classes which are in brackets.
Among the U.S. athletes in the finals are past Senior World Team members
Sammy Jones
(63 kg) and
Jesse Porter
(77 kg).
Of the eight finals from brackets, there are four all-USA finals, meaning at least four U.S. athletes will come home with a gold.
Among the finalists are athletes from Kyrgyzstan, Uzbekistan, Egypt and Uzbekistan.
At 60 kg, there is a round robin which includes past Senior World Team member
Dalton Roberts
, who is undefeated so far in his weight class.
The women's tournament is ongoing and will be completed in the first session. The final results will be posted in a separate article.


BILL FARRELL MEMORIAL INTERNATIONAL

At New York, N.Y.


Greco-Roman finalist pairings
63 kg - Sammy Jones (Michigan) vs. Dylan Gregerson (Brunson UVRTC)
67 kg - Hayden Tuma (Suples WC) vs. Lenny Merkin (NYAC)
72 kg - Tynar Sharshenbekov (Kyrgyzstan) vs. Mirzobek Rakhmatov (Uzbekistan)
77 kg - Britton Holmes (Army) vs. Jesse Porter (NYAC)
82 kg - Ryan Epps (Minnesota Storm) vs. Tyler Cunningham (Nebraska)
87 kg - Ahmed Ahmed (Egypt) vs. Richard Carlson (Minnesota Storm)
97 kg - Atabek Azisbekov (Kyrgyzstan) vs. Melis Aitbekov (Kyrgyzstan)
130 kg - Donny Longendyke (Minnesota Storm) vs. Muminjon Abdullaev (Uzbekistan)
Greco-Roman semifinal results
63 kg
Sammy Jones (Michigan) tech fall Logan Saavy (NYAC),10-0, 3:33
Dylan Gregerson (Brunson UVRTC) tech fall Jeremy Bockert (Interior Grappling Academy), 12-4, 2:34
67 kg
Hayden Tuma (Suples WC) tech. fall Colton Parduhn (Interior Grappling Academy), 9-0, 1:01
Lenny Merkin (NYAC) tech. fall David Stepanian (NYAC), 10-1, 3:00
72 kg
Tynar Sharshenbekov (Kyrgyzstan) tech. fall Robert Perez III (Sunkist Kids), 9-1, 5:30
Mirzobek Rakhmatov (Uzbekistan) tech. fall Corey Shie (West Point WC), 8-0, 1:07
77 kg
Britton Holmes (Army) dec. Alec Ortiz (Minnesota Storm), 5-1
Jesse Porter (NYAC) dec. Adrian Arsisheuskiy (New York), 5-0
82 kg
Ryan Epps (Minnesota Storm) dec. Quentin Perez (California RTC), 8-3
Tyler Cunningham (Nebraska) pin John Yeats (Canada), 2:45
87 kg
Ahmed Ahmed (Egypt) dec. Michael Altomer (New York), 9-0, 1:57
Richard Carlson (Minnesota Storm) dec. Bakhtovar Khasanov (Tajikistan), 8-0, 1:32
97 kg
Atabek Azisbekov (Kyrgyzstan) dec. Lesyan Cousin (Jamaica), 12-7
Melis Aitbekov (Kyrgzstan) pin Sean Michel (Interior Grappling Academy), 0:46
130 kg
Donny Longendyke (Minnesota Storm) tech. fall Tom Foote (NYAC), 9-0 1:36
Muminjon Abdullaev (Uzbekistan) tech. fall Sammy Deseriere (Western Colorado WC), 9-0, 1:14
Note:
55 kg had one participant. 60 kg is a round robin and will be reported in the finals wrap story