News
USA Wrestling
College
USAW
Three freshmen among 14 newcomers to WIN's first weekly rankings; Penn State No. 1 in TPI
by Mike Finn, WIN Magazine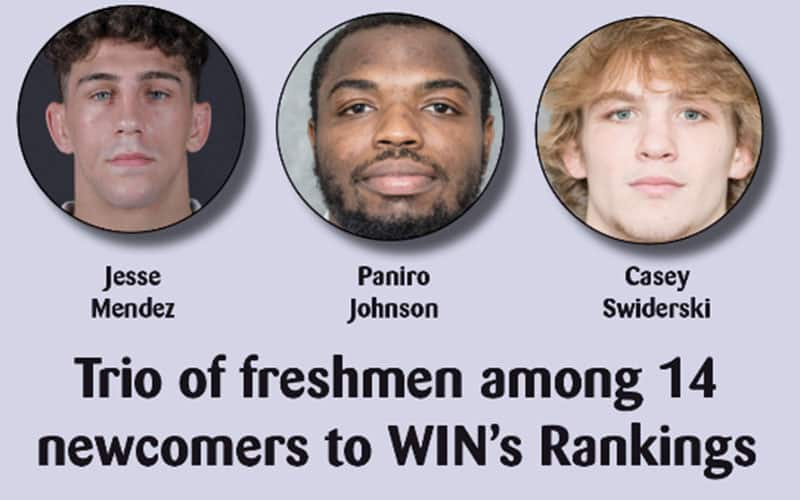 Graphic courtesy of WIN Magazine
NEWTON, Iowa — Three freshmen — Ohio State's
Jesse Mendez
and a pair of Iowa State wrestlers,
Casey Swiderski
and
Paniro Johnson
— are among 14 newcomers to WIN Magazine's first weekly rankings and Tournament Power Index of 2022-23, presented by Cliff Keen Athletic.
Mendez, the 2021 Junior Hodge Trophy winner from Crown Point, Ind., won the Michigan State Open last weekend at 133 pounds to earn the No. 11 individual ranking at that weight for the Buckeyes. Swiderski, a native of Dundee, Mich., and Johnson from Erie, Pa., each captured big wins last weekend when the Cyclones defeated Wisconsin in the Battle of the River City event in Jacksonville, Fla. Swiderski is ranked 11th at 141 and Johnson is ranked 14th at 149.
Penn State
, with four wrestlers ranked No. 1 at their weight classes —
Roman Bravo-Young
(133),
Carter Starocci
(174),
Aaron Brooks
(184) and Max Dean (197) — remains No. 1 in WIN's Tournament Power Index and will open its season this Friday in a home dual against Lock Haven.
Iowa
and
Cornell
, each led by a three-time NCAA champ in
Spencer Lee
(125) and
Yianni Diakomihalis
(149), respectively, are ranked No. 2 (73.5) and 3 (57) in WIN's TPI. Both the Hawkeyes and Big Red, which have eight ranked wrestlers and five rated in the Top 8 of their weight class, will also open their regular season this weekend.
WIN's TPI is a total of NCAA points associated with a wrestler's individual rank.
The following is a point breakdown of the TPI, based on a wrestler's ranking: 20 for 1st, 16 for 2nd, 13.5 for 3rd, 12.5 for 4th, 10 for 5th, 9 for 6th, 6.5 for 7th and 5.5 for 8th. Wrestlers ranked 9-12 earn two points each, followed by 1.5 points for wrestlers ranked 13-16 and 1 point for those ranked 17-20.
The other top-ranked wrestlers in WIN rankings include Pitt's
Cole Matthews (
141), Princeton's
Quincy Monday
(157), Missouri's
Keegan O'Toole
(165) and Arizona State's
Cohlton Schultz
(Hwt).
WIN will announce its first dual-team rankings on Nov. 21.
WIN's Nov. 7 Tournament Power Index (TPI)
| | | | | |
| --- | --- | --- | --- | --- |
| Rank | School | Total Rank | Top 8 | TPI Pts |
| 1. | Penn State | 6 | 5 | 97.5 |
| 2. | Iowa | 8 | 5 | 73.5 |
| 3. | Cornell | 8 | 5 | 57 |
| 4t. | Arizona State | 7 | 4 | 56.5 |
| 4t. | Missouri | 9 | 5 | 56.5 |
| 6t. | Michigan | 7 | 4 | 47 |
| 6t. | Minnesota | 7 | 3 | 47 |
| 8t. | Nebraska | 5 | 3 | 44.5 |
| 8t. | Ohio State | 8 | 3 | 44.5 |
| 10. | Iowa State | 8 | 3 | 41 |
| 11. | Oklahoma State | 7 | 2 | 39 |
| 12. | Princeton | 3 | 2 | 37.5 |
| 13. | Northwestern | 5 | 3 | 37 |
| 14. | Virginia Tech | 5 | 3 | 33.5 |
| 15. | Pitt | 4 | 3 | 32.5 |
| 16. | Wisconsin | 7 | 3 | 32 |
| 17. | NC State | 6 | 3 | 29.5 |
| 18. | North Carolina | 5 | 2 | 25.5 |
| 19. | Northern Iowa | 6 | 1 | 23.5 |
| 20. | Penn | 8 | 1 | 23 |
| 21. | Stanford | 3 | 1 | 19 |
| 22t. | Oregon State | 3 | 2 | 17 |
| 22t. | Wyoming | 3 | 1 | 17 |
| 24. | Lehigh | 4 | 2 | 16 |
| 25. | Cal Poly | 3 | 1 | 15.5 |
| 26t. | Appalachian State | 2 | 1 | 13.5 |
| 26t. | South Dakota State | 4 | 1 | 13.5 |
| 28. | West Virginia | 2 | 2 | 13 |
| 29. | Rutgers | 4 | 1 | 11 |
| 30t. | Illinois | 4 | 1 | 10.5 |
| 30t. | Utah Valley | 2 | 1 | 10.5 |
| 32. | Northern Colorado | 1 | 1 | 10 |
| 33. | Air Force | 1 | 1 | 9 |
| 34. | Purdue | 4 | 0 | 7.5 |
| 35t. | Drexel | 1 | 1 | 5.5 |
| 35t. | Michigan State | 4 | 0 | 5.5 |
| 37t. | North Dakota State | 3 | 0 | 5 |
| 37t. | Oklahoma | 3 | 0 | 5 |
| 37t. | Virginia | 3 | 0 | 5 |
| 40. | Campbell | 3 | 0 | 3.5 |
| 41. | Rider | 2 | 0 | 3 |
| 42. | Columbia | 2 | 0 | 2.5 |
| 43t. | Binghamton | 1 | 0 | 2 |
| 43t. | Harvard | 1 | 0 | 2 |
| 43t. | Lock Haven | 2 | 0 | 2 |
| 43t. | Northern Illinois | 1 | 0 | 2 |
| 47t. | Army | 1 | 0 | 1.5 |
| 47t. | CSU-Bakersfield | 1 | 0 | 1.5 |
| 49t. | Central Michigan | 1 | 0 | 1 |
| 49t. | Cleveland State | 1 | 0 | 1 |
| 49t. | Navy | 1 | 0 | 1 |
WIN's Nov. 7, 2022 Individual Rankings
125 pounds
| | | | | |
| --- | --- | --- | --- | --- |
| Wt | Name | School | Year | Previous |
| 125-1 | Spencer Lee | Iowa | Sr | 1st |
| 125-2 | Pat Glory | Princeton | Sr. | 2nd |
| 125-3 | Michael DeAugustino | Northwestern | Sr. | 3rd |
| 125-4 | Pat McKee | Minnesota | Sr. | 4th |
| 125-5 | Brandon Courtney | Arizona State | Gr. | 5th |
| 125-6 | Brandon Kaylor | Oregon State | Jr. | 7th |
| 125-7 | Killian Cardinale | West Virginia | Sr. | 8th |
| 125-8 | Eric Barnett | Wisconsin | Sr. | 6th |
| 125-9 | Noah Surtin | Missouri | So. | 9th |
| 125-10 | Trevor Mastrogiovanni | Oklahoma State | Jr. | 10th |
| 125-11 | Matt Ramos | Purdue | So. | 11th |
| 125-12 | Malik Heinselman | Ohio State | Sr. | 13th |
| 125-13 | Joey Prata | Oklahoma | Gr. | 12th |
| 125-14 | Kysen Terukina | Iowa State | Jr. | 19th |
| 125-15 | Dylan Shawver | Rutgers | So. | 14th |
| 125-16 | Jakob Camacho | NC State | Jr. | 15th |
| 125-17 | Jaret Lane | Lehigh | Sr. | 16th |
| 125-18 | Anthony Noto | Lock Haven | So. | 17th |
| 125-19 | Ryan Miller | Penn | So. | NR |
| 125-20 | Jack Medley | Michigan | Gr. | 18th |
133 pounds
| | | | | |
| --- | --- | --- | --- | --- |
| Wt | Name | School | Year | Previous |
| 133-1 | Roman Bravo-Young | Penn State | Gr. | 1st |
| 133-2 | Daton Fix | Oklahoma State | Sr. | 2nd |
| 133-3 | Vito Arujau | Cornell | Jr. | 3rd |
| 133-4 | Michael McGee | Arizona State | Sr. | 4th |
| 133-5 | Chris Cannon | Northwestern | Jr. | 6th |
| 133-6 | Dylan Ragusin | Michigan | So. | 7th |
| 133-7 | Lucas Byrd | Illinois | So. | 5th |
| 133-8 | Micky Phillippi | Pitt | Sr. | 8th |
| 133-9 | RayVon Foley | Michigan State | Gr. | 9th |
| 133-10 | Michael Colaiocco | Penn | Jr. | 10th |
| 133-11 | Jesse Mendez | Ohio State | Fr. | NR |
| 133-12 | Kyle Biscoglia | Northern Iowa | Jr. | 11th |
| 133-12 | Kai Orine | NC State | So. | 12th |
| 133-13 | Chance Rich | CS-Bakersfield | Jr. | 13th |
| 133-14 | Haiden Drury | Utah Valley | So. | 14th |
| 133-15 | Zach Redding | Iowa State | Jr. | NR |
| 133-16 | Richie Koehler | Rider | Sr. | 15th |
| 133-17 | Sam Latona | Virginia Tech | So. | NR |
| 133-18 | Jamie Hernandez | North Carolina | Gr. | 17th |
| 133-19 | Cullan Schriever | Iowa | So. | 18th |
| 133-20 | Sammy Alvarez | Rutgers | Jr. | 20th |
141 pounds
| | | | | |
| --- | --- | --- | --- | --- |
| Wt | Name | School | Year | Previous |
| 141-1 | Cole Matthews | Pitt | Sr. | 1st |
| 141-2 | Real Woods | Iowa | Sr. | 2nd |
| 141-3 | Jakob Bergeland | Minnesota | Gr. | 3rd |
| 141-4 | CJ Composto | Penn | Jr. | 4th |
| 141-5 | Andrew Alirez | Northern Colorado | Jr. | 5th |
| 141-6 | Clay Carlson | South Dakota State | Sr. | 6th |
| 141-7 | Allan Hart | Missouri | Sr. | 7th |
| 141-8 | Ryan Jack | NC State | So. | 8th |
| 141-9 | Carter Young | Oklahoma State | So. | 9th |
| 141-10 | Dylan Droegemueller | North Dakota State | Sr. | 10th |
| 141-11 | Casey Swiderski | Iowa State | Fr. | NR |
| 141-12 | Joseph Zargo | Wisconsin | So. | 12th |
| 141-13 | Frankie Tal Shahar | Northwestern | Jr. | 13th |
| 141-14 | Quinn Kinner | Rider | Jr. | 15th |
| 141-15 | Parker Filius | Purdue | Gr. | 16th |
| 141-16 | Beau Bartlett | Penn State | Jr. | 17th |
| 141-17 | Cole Mattin | Michigan | Jr. | 18th |
| 141-18 | Matt Kazmir | Columbia | Sr. | 11th |
| 141-19 | Shannon Hanna | Campbell | Sr. | 19th |
| 141-20 | Jesse Vasquez | Arizona State | So. | 20th |
149 pounds
Wt
Name
School
Year
Previous
149-1
Yianni Diakomihalis
Cornell
Sr.
1st
149-2
Ridge Lovett
Nebraska
Jr.
2nd
149-3
Sammy Sasso
Ohio State
Sr.
4th
149-4
Jon Millner
Appalachian State
Sr.
5th
149-5
Austin Gomez
Wisconsin
Sr.
3rd
149-6
Kyle Parco
Arizona State
So.
6th
149-7
Brock Mauler
Missouri
Jr.
7th
149-8
Max Murin
Iowa
Sr.
8th
149-9
Anthony Artalona
Penn
Sr.
9th
149-10
Yahya Thomas
Northwestern
Gr.
10th
149-11
Mitch Moore
Oklahoma
Gr.
NR
149-12
Jaden Abas
Stanford
Jr.
12th
149-13
Michael Blockhus
Minnesota
Sr.
13th
149-14
Paniro Johnson
Iowa State
Fr.
NR
149-15
Dom Demas
Cal Poly
Sr.
15th
149-16
Jarod Verkleeren
Virginia
Gr.
16th
149-17
Colin Realbuto
Northern Iowa
Jr.
17th
149-18
Johnny Lovett
Central Michigan
Jr.
18

th

/157
149-19
Zach Sherman
North Carolina
Gr.
14th
149-20
Marcus Robinson
Cleveland State
So.
19th
157 pounds
| | | | | |
| --- | --- | --- | --- | --- |
| Wt | Name | School | Year | Previous |
| 157-1 | Quincy Monday | Princeton | Sr. | 1st |
| 157-2 | Brayton Lee | Minnesota | Sr. | 2nd |
| 157-3 | Peyton Robb | Nebraska | Jr. | 4th |
| 157-4 | Austin O'Connor | North Carolina | Gr. | 5th |
| 157-5 | Bryan Andonian | Virginia Tech | Sr. | 6th |
| 157-6 | Will Lewan | Michigan | Sr. | 7th |
| 157-7 | Josh Humphreys | Lehigh | Sr. | 8th |
| 157-8 | Ed Scott | NC State | So. | 9th |
| 157-9 | Jared Franek | North Dakota State | Sr. | 10th |
| 157-10 | Kendell Coleman | Purdue | Sr. | 11th |
| 157-11 | Jarrett Jacques | Missouri | Sr. | 12th |
| 157-12 | Wyatt Sheets | Oklahoma State | Gr. | 13th |
| 157-13 | Jake Keating | Virginia | Sr. | 14th |
| 157-14 | Jacob Wright | Wyoming | Gr. | 15th |
| 157-15 | Dazjon Casto | Pitt | Sr. | 16th |
| 157-17 | Doug Zapf | Penn | Sr. | 17th |
| 157-16 | Andrew Cerniglia | Navy | Jr. | 19th |
| 157-18 | Chase Saldate | Michigan State | Jr. | 20th |
| 157-19 | Garrett Model | Wisconsin | Gr. | NR |
| 157-20 | Derek Holschlag | Northern Iowa | Sr. | NR |
165 pounds
Wt
Name
School
Year
Previous
165-1
Keegan O'Toole
Missouri
So.
1st
165-2
Shane Griffith
Stanford
Sr.
2nd
165-3
David Carr
Iowa State
Sr.
3rd
165-4
Cameron Amine
Michigan
Jr.
4th
165-5
Dean Hamiti
Wisconsin
So.
5th
165-6
Carson Kharchla
Ohio State
Jr.
6th
165-7
Peyton Hall
West Virginia
Jr.
7th
165-8
Julian Ramirez
Cornell
So.
8th
165-9
Justin McCoy
Virginia
Sr.
9th
165-10
Izzak Olenjnik
Northern Illinois
Sr.
10th
165-11
Austin Yant
Northern Iowa
Sr.
11th
165-12
Brevin Cassella
Binghamton
Jr.
12th
165-13
Josh Ogunsanya
Columbia
Jr.
13th
165-14
Bubba Wilson
Nebraska
So.
14th
165-15
Matt Olguin
Oregon State
So.
15th
165-15
Lucas Revano
Penn
Jr.
16th
165-16
William Formato
Appalachian State
Jr.
17th
165-17
Patrick Kennedy
Iowa
So.
18th
165-19
Cael Carlson
Minnesota
Jr.
19

th

165-20
Dan Braunagel
Illinois
Jr.
NR
174 pounds
| | | | | |
| --- | --- | --- | --- | --- |
| Wt | Name | School | Year | Previous |
| 174-1 | Carter Starocci | Penn State | Jr. | 1st |
| 174-2 | Mekhi Lewis | Virginia Tech | Sr. | 2nd |
| 174-3 | Dustin Plott | Oklahoma State | Jr. | 3rd |
| 174-4 | Mickey Labriola | Nebraska | Sr. | 4th |
| 174-5 | Clay Lautt | North Carolina | Gr. | 5th |
| 174-6 | Demetrius Romero | Utah Valley | Sr. | 6th |
| 174-7 | Jackson Turley | Rutgers | Jr. | 7th |
| 174-8 | Michael O'Malley | Drexel | Sr. | 8th |
| 174-9 | Ethan Smith | Ohio State | Sr. | 10th |
| 174-10 | Peyton Mocco | Missouri | Jr. | 9th |
| 174-11 | Hayden Hastings | Wyoming | Gr. | 11th |
| 174-12 | Philip Conigliaro | Harvard | Jr. | 12th |
| 174-13 | Lance Runyon | Northern Iowa | So. | 13th |
| 174-14 | Ben Pasiuk | Army | Jr. | 14th |
| 174-15 | Adam Kemp | Cal Poly | Jr. | 15th |
| 174-16 | Chris Foca | Cornell | Jr. | 16th |
| 174-17 | Nick Incontrera | Penn | So. | 17th |
| 174-18 | Cade DeVos | South Dakota State | Jr. | 18th |
| 174-19 | Tyler Eischens | Stanford | Sr. | 19th |
| 174-20 | Chris Foca | Cornell | Jr. | NR |
184 pounds
| | | | | |
| --- | --- | --- | --- | --- |
| Wt | Name | School | Year | Previous |
| 184-1 | Aaron Brooks | Penn State | Sr. | 1st |
| 184-2 | Parker Keckeisen | Northern Iowa | So. | 2nd |
| 184-3 | Trent Hidlay | NC State | Jr. | 3rd |
| 184-4 | Kaleb Romero | Ohio State | Sr. | 4th |
| 184-5 | Marcus Coleman | Iowa State | Sr. | 5th |
| 184-6 | Jonathan Loew | Cornell | Sr. | 6th |
| 184-7 | Trey Munoz | Oregon State | So. | 7th |
| 184-8 | Hunter Bolen | Virginia Tech | Sr. | 8th |
| 184-9 | Travis Wittlake | Oklahoma State | Sr. | 9th |
| 184-10 | Tate Samuelson | Lehigh | Sr. | 10th |
| 184-11 | John Poznanski | Rutgers | So. | 12th |
| 184-12 | Anthony Montalvo | Arizona State | Jr. | 13th |
| 184-13 | Abe Assad | Iowa | Jr. | 14th |
| 184-14 | Isaiah Salazar | Minnesota | Jr. | 15th |
| 184-15 | Travis Stefanik | Princeton | Sr. | 16th |
| 184-16 | Caleb Hopkins | Campbell | Sr. | 17th |
| 184-17 | Matt Finesilver | Michigan | Gr. | 18th |
| 184-18 | Layne Malczewski | Michigan State | Sr. | 19th |
| 184-19 | Sean Harmon | Missouri | So. | NR |
| 184-20 | Gavin Kane | North Carolina | So. | 20th |
197 pounds
Wt
Name
School
Year
Previous
197-1
Max Dean
Penn State
Sr.
1st
197-2
Jacob Warner
Iowa
Sr.
2nd
197-3
Stephen Buchanan
Wyoming
Sr.
3rd
197-4
Bernie Truax
Cal Poly
Jr.
4th
197-5
Rocky Elam
Missouri
So.
5th
197-6
Yonger Bastida
Iowa State
Jr.
6th
197-7
Michael Beard
Lehigh
So.
7th
197-8
Nino Bonaccorsi
Pitt
Sr.
8th
197-9
Kordell Norfleet
Arizona State
Sr.
10th
197-10
Thomas Penola
Purdue
Sr.
11th
197-11
Isaac Trumble
NC State
Jr.
12th
197-12
Tanner Sloan
South Dakota State
Sr.
13th
197-13
Gavin Hoffman
Ohio State
Sr.
9th
197-14
Braxton Amos
Wisconsin
So.
14th
197-15
Luke Surber
Oklahoma State
Jr.
15th
197-16
Cameron Caffey
Michigan State
Gr.
16th
197-17
Zac Braunagel
Illinois
Jr.
18th
197-18
Jacob Cardenas
Cornell
Jr.
17th
197-19
Michael Foy
Minnesota
Gr.
20

th

197-20
Silas Allred
Nebraska
So.
NR
Heavyweight
| | | | | |
| --- | --- | --- | --- | --- |
| Wt | Name | School | Year | Previous |
| Hwt-1 | Cohlton Schultz | Arizona State | So. | 1st |
| Hwt-2 | Greg Kerkvliet | Penn State | Jr. | 2nd |
| Hwt-3 | Mason Parris | Michigan | Sr. | 3rd |
| Hwt-4 | Tony Cassioppi | Iowa | Sr. | 4th |
| Hwt-5 | Lucas Davison | Northwestern | Sr. | 5th |
| Hwt-6 | Wyatt Hendrickson | Air Force | Jr. | 6th |
| Hwt-7 | Zach Elam | Missouri | Jr. | 7th |
| Hwt-8 | Lewis Fernandes | Cornell | Jr. | 8th |
| Hwt-9 | Tate Orndorff | Ohio State | Sr. | 9th |
| Hwt-10 | Sam Schuyler | Iowa State | Sr. | 11th |
| Hwt-11 | Trent Hillger | Wisconsin | Gr. | 10th |
| Hwt-12 | Luke Luffman | Illinois | Jr. | 12th |
| Hwt-13 | Tyrie Houghton | NC State | Sr. | 13th |
| Hwt-14 | AJ Nevills | South Dakota State | Gr. | 14th |
| Hwt-15 | Josh Heindselman | Oklahoma | Jr. | 15th |
| Hwt-16 | Ben Goldin | Penn | Sr. | 16th |
| Hwt-17 | Isaac Reid | Lock Haven | Jr. | 17th |
| Hwt-18 | Taye Ghadali | Campbell | Jr. | 18th |
| Hwt-19 | Brandon Metz | North Dakota State | Sr. | 19th |
| Hwt-20 | Hunter Catka | Virginia Tech | So. | NR |