McKenna claims silver at Kunaev D.A. International in Kazakhstan, giving PRTC two silvers in tough tournament
by Gary Abbott, USA Wrestling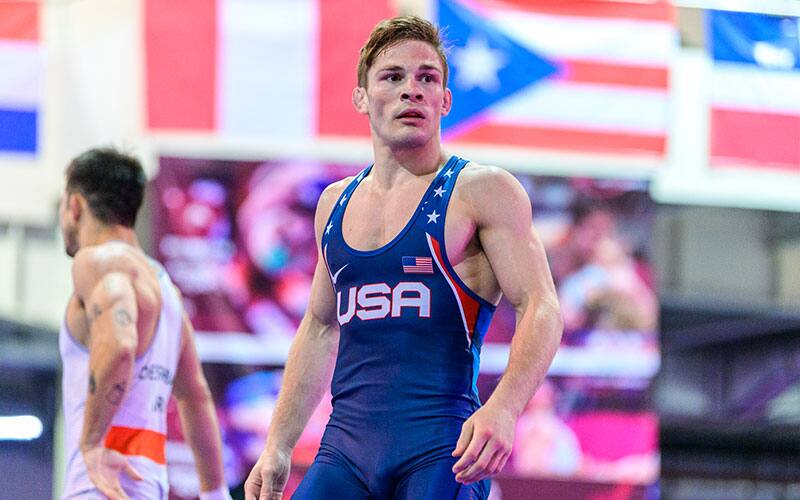 Joey McKenna (USA) competition portrait by Tony Rotundo, Wrestlers Are Warriors
TARAZ, Kazakhstan –
Joey McKenna
(Philadelphia, Pa./Pennsylvania RTC/Titan Mercury WC) became the second Pennsylvania Regional Training Center to claim a silver medal at the respected Kunaev D.A. International this weekend.
McKenna, a National Team member for the last three years, was defeated in the 65 kg gold-medal finals by 2021 World bronze medalist and 2020 Olympian Tulga Tumur-Ochir of Mongolia, 8-2
McKenna dominated his four matches to reach the gold-medal finals on Friday. McKenna won all four of his matches by technical fall, outscoring his opponents 41-0. He shut out Kdirnuyazov of Uzbekistan, Timur Shanabayev of Kazakhstan, Nursultan Sadyk of Kazakhstan and Azamat Shagapuly of Kazakhstan in order.
McKenna, who starred at Stanford and Ohio State, is a two-time age-group World medalist and was second at the 2020 U.S. Olympic Team Trials and the 2021 World Team Trials.
His teammate
Tyler Berger
(Philadelphia, Pa./Pennsylvania RTC/Titan Mercury WC) completed his competition on Friday, winning a silver medal at 70 kg. He was defeated in the finals by talented Ernazar Akhmataliev of Kyrgysztan, 12-6. Akhmataliev is a 2021 World silver medalist, 2022 World bronze medalist and 2021 U23 World champion.
Berger opened up with a pair of technical falls, defeating Zhassulan Bexultanov of Kazakhstan, 13-3 and Sanzhar Doszhanov of Kazakhstan, 12-1. In the quarterfinals, he stopped 2022 Asian U23 champion Orozbek Toktomambetov of Kyrgyzstan, 7-3. In the semifinals, he edged 2021 Asian silver medalist Talgat Syrbaz of Kazakhstan, 5-4
Berger, who was a college star at Nebraska, was a 2022 Bill Farrell Memorial International champion, and is a member of the U.S. Senior National Team this year.
The tournament featured eight strong nations: Kazakhstan, Kyrgyzstan, Bahrain, Uzbekistan, Mongolia, Hungary, Tajikistan and the United States
Special thanks to Coach
Brandon Slay
and
Kevin McGuigan
of the PRTC for their help on this story. The story may be updated with additional information,
Follow the PRTC on Twitter at
https://twitter.com/pennsylvaniartc
KUNAEV D.A. INTERNATIONAL

At Taraz, Kazakhstan, November 3-5


U.S. men's freestyle results
65 kg – Joey McKenna, Philadelphia, Pa. (Pennsylvania RTC/Titan Mercury WC), Silver Medal
WIN Kdirnuyazov (Uzbekistan), tech. fall 11-0
WIN Timur Shanabayev (Kazakhstan), tech. fall 10-0
WIN Nursultan Sadyk (Kazakhstan), tech. fall 10-0
WIN Azamat Shagapuly (Kazakhstan), tech. fall 10-0
LOSS Tulga Tumur-Ochir (Mongolia), 8-2
70 kg – Tyler Berger, Philadelphia, Pa. (Pennsylvania RTC/Titan Mercury WC), Silver Medal
WIN Zhhassulan Bexultanov (Kazakhstan), tech fall, 13-3
WIN Sanzhar Doszhanov (Kazakhstan), tech. fall 12-1
WIN Orozbek Toktomambetov (Kyrgyzstan), 7-3
WIN Talgat Syrbaz (Kazakhstan), 5-4
LOSS Ernazar Akhmataliev (Kyrgyzstan), 12-6