News
USA Wrestling
High School & Youth
Women
College
International
USAW
Hall of Fame biography: Sofia Macaluso, Tricia Saunders HS Excellence Award
by National Wrestling Hall of Fame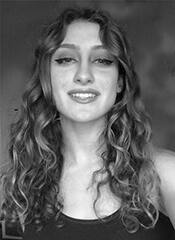 Sofia Macaluso – Tricia Saunders High School Excellence Award
The 2022 national winner of the Tricia Saunders High School Excellence Award, Sofia Macaluso.
Sofia Macaluso of Otisville, New York is the daughter of Heath and Nikki Macaluso.
She wrestled on the boys varsity team for Minisink Valley High School in 2019 and 2022 while not competing in 2020 and 2021 because of COVID-19.
In 2019, she became the first female to place at the DI Section IX tournament, finishing third, while also capturing the PSAL New York girls high school state title.
In 2022, she had a 60-9 record and became the first female to reach the finals at the DI Section IX tournament while also helping Minisink capture the state dual team title, winning three matches by fall.
Sofia was also the Kittatiny and Journeyman champion and will represent the United States at the 2022 U20 Championships in Sofia, Bulgaria.
In 2021, she finished fifth at the Junior World Team Trials and sixth at the U23 World Team Trials while reaching the finals at Junior Nationals.
In 2019, Sofia was Junior Nationals Cadet champion, Folkstyle Nationals Cadet and Junior champion.
Sofia interned with New York State Senator Jen Metzger, using her passion for the environment to take on a project to research municipal recycling programs across the 42nd District with the goal of developing a model program that communities could adopt or use to improve existing programs.
Sofia was chosen as a member of the 2018 American Kintero World Team, representing the United States in Japan and participating in their wrestling diversion program. She and her teammates competed in the Japan Open, lived with host families, visited schools and learned about Japanese culture.
She received a New York State Senate resolution for Student Athletic Achievement in Women's Wrestling. Sofia has worked as a counselor at Ninja Camp USA since the eighth grade and also works as a lifeguard during the summer.
Minisink Valley High School's Varsity Scholar Athlete in 2022, Sofia has signed a letter of intent to wrestle at East Stroudsburg University.