News
USA Wrestling
High School & Youth
USAW
Mauger, Attao win Junior Triple Crowns, Illinois captures Junior Nationals Greco-Roman team title with four champions
by Gary Abbott, USA Wrestling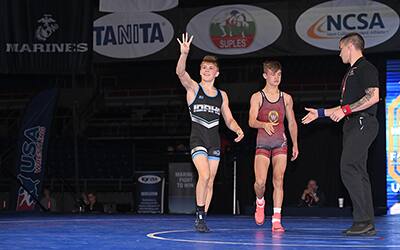 Mack Mauger of Idaho celebrates after winning the Junior Triple Crown. Photo by Austin Bernard.
FARGO, N.D. – The last session of the record-setting 2022 USMC Junior and 16U Nationals at the FargoDome completed with an exciting championship round for the Junior Greco-Roman Nationals on Friday afternoon,
The week concluded with the crowning of two new Junior Triple Crown winners, Mack Mauger of Idaho at 106 pounds and Aden Attao of Idaho at 285 pounds.
To complete a Triple Crown, a wrestler must win a folkstyle, freestyle and Greco-Roman national championship in the same calendar year.
Mauger made quick work of his finals, defeating Brayten Casey of Wisconsin in a first period 8-0 technical fall. Mauger opened with a four-point throw, then scored on a go behind takedown, and closed it out with a head pinch roll for exposure.
After his win, Mauger raised four fingers on the mat, to signify the four titles he has won in Fargo so far in his career.
Attao was spectacular in his finals match, scoring an 8-0 technical fall over Sebastian Lopez of Kansas in the finals. Attao scored a four-point throw, then scored a pair of front headlock turns from par terre to end the match in the first period.
Now only nine athletes have won 11 Junior Triple Crowns since the award was launched in 2007. The only other year with more than one Triple Crown winner was in 2014, when Randon Miranda of California and Danny Vega of Arizona won the Triple Crown.
Avenging his loss in the finals of the Junior freestyle tournament, Kannon Webster of Illinois defeated Cory Land of Alabama, 8-1 at 132 pounds. It ended Land's attempt to win the Triple Crown.
Land led 1-0 at the break, with a point for Webster's passivity. In the second period, Webster forced a step out to tie the score. After Land was hit for passivity, giving Webster a 2-1 lead, Webster responded with three gut wrench turns to secure the margin of victory. Land beat Webster by technical fall in the freestyle finals.
For Webster, it was a second Junior Nationals title, after winning a freestyle stop sign last summer. Webster was named Outstanding Wrestler of the 2022 Junior National Greco-Roman tournament.
There was no returning champion this year. Jack Darrah of Missouri defeated 2021 Junior Nationals Greco-Roman champion Wyatt Voelker of Iowa, 5-1 at 195. Darrah led 3-0 at the break after getting a point on Voelker's passivity, then scoring on a gut wrench. In the second period, Voelker got a point on Darrah's passivity, but Darrah closed it out with an exposure for the final margin of victory. Both wrestlers move on to NCAA Div. I careers, Darrah to Stanford and Voelker to Northern Iowa.
It was a great year for Illinois, which handily won the team title with 164 points, a full 60 points ahead of runner-up Wisconsin. Illinois had nine All-Americans this year.
Illinois dominance was cemented with four individual champions, Webster plus Anthony Ruzic (113), Braden Stauffenberg (152) and Bradley Gillum (170).
Ruzic won Illinois's first title of the night with a 5-5 criteria decision. Nogle emerged from an active first period with a 5-3 lead. Ruzic scored the only takedown in the second period, with a counter takedown after a Nogle attack to tie up the score and take over the criteria. Nogle could not score in the final minute of the bout.
Stauffenberg was in control from the start of the match, going on to defeat Dylan Evans of Pennsylvania, 7-5. Stauffenberg scored four points on a hip toss to jump out fast, then led 7-0 at the break. Evans scored the only points in the second period, but could not close the first-period gap. Stauffenberg heads off to Michigan State this fall.
Gillum fell behind in his finals match against Omaury Alvarez of Georgia, but powered back late for a 7-5 win. Alavarez hit a four-point first-period throw and led 5-0 at the break. In the second period, Gillum scored on a takedown and a passivity call to close it to 5-3. In the final seconds, Gillum scored a takedown and a gut wrench turn for an exciting victory.
Javaan Yarbrough of Ohio had a strong second period and secured a 9-1 technical fall over Isaac Stewart of Montana at 100 pounds. The match was tied in the first period, on a passivity point to Stewart and a forced stepout point to Yarbrough. In the second period, Yarbrough scored three takedowns with a variety of attacks, on a body lock, a go-behind and a duck under. He also turned Stewart with a high gut wrench. As a 16U wrestler, Yarbrough made the Fargo finals four times, winning two titles, a Greco-Roman gold this year and a freestyle gold last year.
Kael Lauridsen of Nebraska fell behind early to Massey Odiotti of Illinois at 120 pounds, giving up a pair of takedowns to trail 4-0. Lauridsen blocked a throw attempt and stepped over, putting Odiotti to his back, where he finished off the first period pin.
Otto Black of Colorado made fast work of his finals at 126 pounds, scoring a 9-0 first-period technical fall over Derek Guanajuato of Arizona . Black leading 3-0, Black finished it off with a takedown and two gut wrenches.
Keith Smith of Nebraska kept up the pressure and defeated Colton Parduhn of Alaska in the 138-pound finals, 11-6. Smith had a four-point throw in the first period, but Parduhn battled back in the second period to trail only 7-6. Smith closed out the win with a four-point bodylock late in the match. Smith will attend Northern State this fall.
The 145-pound title went to Florida's Brennan Van Hoeke, who blitzed Jayden Collins of Illinois in a 10-2 technical fall. Van Hoeke jumped to an 8-2 lead with both takedowns and a turn, then completed the win with a powerful four-point takedown.
In the fastest pin of the finals, Brendon Abdon of Florida nailed a headlock on Jaden Skellenger of Idaho, and finished it off with the fall in just 46 seconds. It marked the end of Abdon's high school career, as he will attend Little Rock in the fall.
Putting on a big-time show with high amplitude throws, Michael Altomer of New York claimed the 182-pound title with a 12-3 technical fall over Ryder Rogotzke of Minnesota. Altomer hit a five-point throw in the first period, and a high-flying four-point throw to close it out in the second period.
The 220-pound champion was Max Ramberg of Wisconsin, who secured a 9-0 technical fall over Ryan Stein of New York. Ramberg got on top in par terre after a passivity, then turned Stein with four consecutive gut wrenches for the win.
USMC JUNIOR GRECO-ROMAN NATIONALS
At Fargo, N.D., July 22, 2020
100 LBS
1st Javaan Yarbrough (Ohio) tech fall Isaac Stewart (Montana), 9-1 5:32
3rd Cadyn Coyle (Nebraska) pin Tyler Garvin (Maryland), 1:55
5th Caden Smith (Virginia) dec. Nathaniel Granados (California), 5-2
7th Jayden Rinken (Iowa) tech fall Tanner Crosby (Washington), 13-4 1:42
106 LBS
1st Mack Mauger (Idaho) tech fall Brayten Casey (Wisconsin), 8-0 2:39
3rd Gage Singleton (Oregon) tech fall Charles Meudt (Wisconsin), 8-0 2:08
5th Jeremy Oani (California) dec. Tyson Roach (Louisiana), 7-3
7th Jason Goodin (Oklahoma) pin Dorian Hoffman (Pennsylvania), 0:11
113 LBS
1st Anthony Ruzic (Illinois) dec. Carter Nogle (Maryland), 5-5
3rd Layne Kleimann (Utah) dec. Blade Walden (Oklahoma), 4-1
5th Kolter Burton (Idaho) inj Michael Longo (Connecticut)
7th Logan Bickel (Indiana) tech fall Adrian Samano (Virginia), 12-2 1:52
120 LBS
1st Kael Lauridsen (Nebraska) pin Massey Odiotti (Illinois), 1:25
3rd Alan Koehler (Minnesota) tech fall Marcello Milani (Michigan), 11-2 4:33
5th Kenneth Hendriksen (Tennessee) dec. Patrick Jones (Florida), 7-1
7th Garret Rinken (Iowa) tech fall Weston Pisarchick (Pennsylvania), 9-1 5:52
126 LBS
1st Otto Black (Colorado) tech fall Derek Guanajuato (Arizona), 9-0 0:40
3rd Brandon Cannon (Colorado) tech fall Gable Porter (Iowa), 8-0 0:47
5th Anthony Aniciete (Nevada) dec. Bobby Cuevas jr. (California), 3-1
7th Teegan Vasquez (Montana) dec. Coleman Nogle (Maryland), 4-0
132 LBS
1st Kannon Webster (Illinois) dec. Cory Land (Alabama), 8-1
3rd William Baysingar (Illinois) dec. Matthew Beem (Iowa), 3-3
5th Rhett Koenig (Wisconsin) dec. Nash Singleton (Oregon), 8-4
7th Kyle Rice (Idaho) pin Daniel Zepeda (California), 0:31
138 LBS
1st Keith Smith (Nebraska) dec. Colton Parduhn (Alaska), 11-6
3rd Pierson Manville (Pennsylvania) dec. Gunnar Hamre (Wisconsin), 3-1
5th Christopher Martino (Idaho) tech fall Elijah Paulson (Minnesota), 9-0 1:38
7th Trason Oehme (South Dakota) tech fall Smokey Mcclure (Washington), 8-0 1:04
145 LBS
1st Brennan Van hoecke (Florida) tech fall Jayden Colon (Illinois), 10-2 2:20
3rd Q'veli Quintanilla (Washington) tech fall Jaden New (Alabama), 9-0 1:08
5th Corbin Ramos (Wisconsin) dec. Leandro (LJ) Araujo (North Dakota), 8-6
7th Zach Hanson (Minnesota) tech fall Owen Hicks (New York), 15-7 5:36
152 LBS
1st Braden Stauffenberg (Illinois) dec. Dylan Evans (Pennsylvania), 7-5
3rd Tyler Sagi (New Jersey) pin Patrick Brackett (Colorado), 0:25
5th Javani Majoor (Colorado) no contest Hunter May (Indiana)
7th Noah Rice (Pennsylvania) pin Ian Mcgehee (Tennessee), 1:52
160 LBS
1st Brendon Abdon (Florida) pin Jadon Skellenger (Idaho), 0:46
3rd Cody Chittum (Tennessee) tech fall Jeremy Paradice (Georgia), 9-0 3:23
5th Thor Michaelson (Washington) tech fall Tyler Martinez (Illinois), 8-0 1:51
7th Dylan d. Elmore (Kansas) tech fall Timothy Bova (New York), 8-0 1:21
170 LBS
1st Bradley Gillum (Illinois) dec. Omaury Alvarez (Georgia), 7-5
3rd Codei Khawaja (Indiana) tech fall Christian Moder (Florida), 4-0 1:59
5th Brayden Gautreau (Michigan) tech fall Nicholas Fox (Iowa), 8-0 1:26
7th Lucas Condon (California) tech fall Tyler Haydon (Wisconsin), 13-4 6:00
182 LBS
1st Michael Altomer (New York) tech fall Ryder Rogotzke (Minnesota), 12-3 3:35
3rd Matthew Waddell (Georgia) tech fall Noah Poe-hatten (Montana), 9-1 1:57
5th Tate Naaktgeboren (Iowa) tech fall Garrett Wells (Oklahoma), 12-4 4:31
7th Raymond Weed (New Jersey) pin Cayaen Smith (Utah), 0:25
195 LBS
1st Jack Darrah (Missouri) dec. Wyatt Voelker (Iowa), 5-1
3rd Ian Smith (Wisconsin) tech fall Robert Plympton (Oregon), 10-1 3:00
5th Antony Tuttle (Minnesota) dec. Tanner Meyers (South Dakota), 6-2
7th Stephen Little (Kentucky) dec. Nick Nosler (Illinois), 12-5
220 LBS
1st Max Ramberg (Wisconsin) dec. Ryan Stein (New York), 9-0 2:00
3rd Caden Ferris (Michigan) tech fall Samuel Sorenson (New York), 10-1 4:08
5th Sawyer Bartelt (Florida) pin Bronx Wood (Kansas), 1:10
7th Jared Thiry (Iowa) inj Ryan Arrington (California)
285 LBS
1st Aden Attao (Idaho) tech fall Sebastian Lopez (Kansas), 8-0 0:58
3rd Ethan Vergara (Florida) tech fall Stephan Mono contesthery (New York), 9-0 2:02
5th Hayden Simpson (Oklahoma) pin Shilo Jones (Idaho), 4-2 0:56
7th Aidan Fockler (Ohio) tech fall Bruce Wagers (Ohio), 10-2 4:30
Outstanding Wrestler
132 - Kannon Webster of Illinois
Most Pins in the Least Amount of Time
285 - Stephen Monchery of New York with 6 pins in 4:18
Team Standings
1 Illinois, 164
2 Wisconsin, 104
3 Idaho, 100
4 Florida, 93
5 Iowa, 75
6 New York, 73
7 Nebraska, 65
8 Colorado, 61
9 Minnesota, 56
10 Georgia, 47
11 Pennsylvania, 44
12 Montana, 37
13 Michigan, 36
14 (tie) Maryland and Oregon, 34
16 Oklahoma 33
17 (tie) Alabama, California, Kansas, and Ohio, 32
21 Washington, 28
22 Indiana, 27
23 Tennessee, 26
24 Missouri, 25
25 (tie) Alaska, Arizona, New Jersey 20
28 Utah, 17
29 South Dakota, 12
30 Virginia, 11
31 Nevada, 9
32 (tie) Connecticut, Louisiana, North Dakota, 7
35 Kentucky, 5