News
USA Wrestling
High School & Youth
USAW
Taylor and Barr repeat at USMC Junior Freestyle Nationals; Mauger, Land and Attao still eligible for Triple Crown
by Gary Abbott, USA Wrestling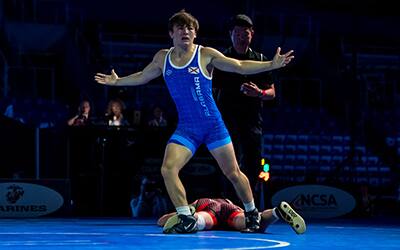 Cory Land of Alabama celebrates his Junior Nationals title at 132 pounds. Photo by Robbert Wijtman.
FARGO, N.D. – It was a star-studded finals for the Junior Nationals on Tuesday, as the nation's best men's freestylers went after it with national titles up for grabs.
There were a pair of returning champions who won their second straight Junior National freestyle title, Hunter Taylor of Missouri (113) and Joshua Barr of Michigan (170).
Taylor repeated as champion with a 9-2 win over Deion Johnson of Illinois. Taylor jumped to a 6-0 lead at the break, with two takedowns and a turn. He added a step out point and a takedown for a nine point lead, with Johnson scoring his only takedown late in the match. Taylor is ranked No. 14 in the nation by FloWrestling.
Barr needed an inspiring comeback to defeat Rocco Welsh of Pennyslvania, 8-5. All of the scoring, except for a first-period shot clock penalty against Welsh, came in the second period. Welsh scored five straight points on two takedowns and a step out. Barr responded with two takedowns, then scored a clutch turn for a 7-5 lead. One more point on a step out secured Barr's comeback win. Barr is ranked No. 6, while Welsh had a No. 3 ranking.
Three wrestlers remain alive in the hunt for the Junior Triple Crown, Mack Mauger of Idaho (106), Cory Land of Alabama (132) and Aden Attao of Idaho (285). A person wins the Triple Crown when they capture USA Wrestling national titles in folkstyle, freestyle and Greco-Roman the same year.
In an all-Idaho finals, Mauger had an explosive series of moves early on, and went on to beat Kolter Burton by technical fall, 11-1. With Burton on the shot clock in the first period, Mauger nailed a four-point takedown and a quick turn for six points, and added a point for the shot clock, to lead 7-0. In the second period, he added two more takedowns to close out the win. Mauger, ranked No. 6 by FloWrestling, was a 16U Nationals freestyle champion one year ago.
Land finished off returning Junior Nationals champion Kannon Webster of Illinois quickly in the finals with an 11-1 technical fall. Land scored a first-period takedown right into a trapped arm gut wrench and turned Webster five times to end the match. Both came in with No. 3 rankings from FloWrestling, Land at 126 pounds and Webster at 132 pounds.
Attao fell behind in his finals match before blitzing Dillan Johnson of Illinois late for a 9-6 win. Johnson led 6-2 at the break, scoring three takedowns with Attao getting a pair of stepouts. In the second period, after a point to Attao on a step out made it 6-3, Attao scored a four-point double leg takedown for a 7-6 lead. A spin behind for Attao closed out the win.
Mauger, Land and Attao must win the Junior Greco-Roman title on Friday to close out the Triple Crown.
It has been a great year for Iowa, which won the Junior National Duals in both styles earlier this year. Iowa has been dominant in the Junior Nationals in freestyle this week, claiming the team title with 214 points, a full 98 points ahead of runner-up Pennsylvania with 116 points and third-place California with 115 points.
Iowa won four individual titles today, only the third time in their Junior Nationals history that they had four champions.
In one of the most anticipated finals, No. 1 Nathan Jesuroga of Iowa stopped No. 5 Caden Horwatch of Michigan in a 12-2 technical fall at 120 pounds. Jesuroga scored first on a step out then Horwath scored a takedown for a 2-1 lead. From then, it was all Jesuroga with 11 straight points, which included multiple takedowns, two ankle lace turns and a step out to finish it off. Jesuroga was U17 World bronze medalist
At 138 pounds, No. 10 Ryder Block of Iowa was dominant in a 12-2 technical fall over Ismael Ayoub of Ohio. The match was tied 2-2 at the break, but Block scored a second-period takedown with four straight turns to secure the technical fall.
In the most wide-open final of the session, No. 5 ranked Aiden Riggins of Iowa secured a 15-8 decision over Nicco Ruiz of California at 160 pounds. The bout was tied at 4-4 at the break, and then the action picked up in the second period. The key to Riggins' win came late in the match, when a four-point takedown by Riggins was challenged by the California corner. After an extended review, the jury did not award Ruiz any points in the exchange and Riggins had his margin of victory.
It was an all-Iowa finals at 220 pounds, as Bradley Hill upset No. 8 Kolby Franklin, 10-5. Hill established himself in the first period, leading 6-2 at the break. He blasted open the match in the second period with a four-point counter throw, from which Franklin could not recover.
The Outstanding Wrestler went to Kyle Dutton of Missouri, who blitzed No. 11 Beau Mantanona of California in a 10-0 technical fall at 145 pounds. Dutton, who is heading to Little Rock for college, scored two takedowns and three turns to stop the match in 1:28.
Winning a Fargo national title for the second straight year was No. 11 Mason Gibson of Pennsylvania, who needed last-second heroics to edge Luke Stanich of New Jersey, 7-6 at 126 poinds. Gibson trailed 4-2 at the break, and tied the bout at 4-4 early in the second period. After Stanich took a 6-4 lead on a takedown, Gibson scored a takedown in the closing seconds to tie it at 6-6. A challenge by the New Jersey corner was denied, giving Gibson the win. Gibson was a 16U Greco-Roman Nationals champion last year.
No. 2 ranked Cody Chittum of Tennessee opened up his par terre offense on the way to a 13-3 technical fall in the first period over No. 7 Ty Whalen of New Jersey at 152 pounds. Whalen scored the first takedown, but a four-point Chittum counter throw put him ahead 4-3. From there, Chittum scored a step out, a takedown and multiple gut wrenches to close out the win.
At 182 pounds, in a battle of highly-ranked athletes, No. 4 Connor Mirasola of Wisconsin shut out No. 7 AJ Heeg of Oklahoma, 3-0. Mirasola scored a first-period takedown and added a second-period step out, while stopping Heeg from completing his offense.
With a strong second period on his feet, Cody Merrill of California won the 195-pound title, defeating No. 3 ranked Rylan Rogers of Idaho, 7-1. Rogers led 1-0 at the break after getting a point from the shot clock, but Merrill took over from there. Merrill scored three second period takedowns for the win. Merrill was a 16U Nationals Greco-Roman champion last year and added a U17 Greco-Roman National title earlier this season.
Winning the opening match of the finals at 100 pounds was Tyler Garvin of Maryland, who had a strong second period to defeat 2021 16U Greco-Roman champion Javaan Yarbrough of Ohio, 9-4. Garvin led 3-2 at the break, but Yarbrough opened the second period with a takedown for a 4-3 lead. Garvin scored two straight takedowns, then countered a Yarbrough head pinch attempt to take command of the event.
The freestyle competition in Fargo concludes tomorrow with the completion of the Junior Women's Freestyle finals.
USMC JUNIOR MEN'S FREESTYLE NATIONALS
At Fargo, N.D., July 19, 2022
100 LBS
1st Tyler Garvin (Maryland) dec. Javaan Yarbrough (Ohio), 9-6
3rd Jayden Rinken (Iowa) tech-fall Tyler Harper (Iowa), 14-4
5th Caden Smith (Virginia) tech-fall Isaac Stewart (Montana), 10-0
7th Reid Foster (Iowa) dec. Che Jenkins (Arizona), 14-12
106 LBS
1st Mack Mauger (Idaho) tech-fall Kolter Burton (Idaho), 11-1
3rd Dru Ayala (Iowa) dec. Damian Moreno (Arizona), 11-8
5th Dedrick Navarro (Idaho) tech-fall Gage Singleton (Oregon), 12-2
7th Abram Cline (California) tech-fall Ethan Ward (California), 11-0
113 LBS
1st Hunter Taylor (Missouri) dec. Deion Johnson (Illinois), 9-2
3rd Nathan Desmond (Pennsylvania) pin Michael Olson (Minnesota), 1:43
5th Daniel Guanajuato (Arizona) inj. Brandon Morvari (Minnesota)
7th Layne Kleimann (Utah) pin Anthony Ruzic (Illinois), 5:54
120 LBS
1st Nathanael Jesuroga (Iowa) tech-fall Caden Horwath (Michigan), 12-2
3rd Alan Koehler (Minnesota) tech-fall Braeden Davis (Michigan), 12-2
5th Kael Lauridsen (Nebraska) tech-fall Kenneth Hendriksen (Tennessee), 10-0
7th Vincent Kilkeary (Pennsylvania) dec. Gylon Sims (Illinois), 13-6
126 LBS
1st Mason Gibson (Pennsylvania) dec. Luke Stanich (New Jersey), 7-6
3rd Drew Gorman (Georgia) pin Coleman Nogle (Maryland), 0:37
5th Max Gallagher (New York) forfeit Aden Valencia (California), 0-0
7th Shane Corrigan (Wisconsin) dec. Dillon Campbell (Ohio), 13-11
132 LBS
1st Cory Land (Alabama) tech-fall Kannon Webster (Illinois), 11-0
3rd Grigor Cholakyan (California) tech-fall Nash Singleton (Oregon), 18-7
5th Luke Simcox (Pennsylvania) dec. Omar Ayoub (Ohio), 8-6
7th Jaxon Joy (Ohio) tech-fall Cael Keck (Missouri), 10-0
138 LBS
1st Ryder Block (Iowa) tech-fall Ismael Ayoub (Ohio), 5:04
3rd Pierson Manville (Pennsylvania) tech-fall Easton Taylor (Kansas), 3:44
5th Tucker Cell (Kansas) pin Layton Schneider (Oklahoma), 4-2 0:35
7th Kole Brower (Illinois) pin Casper Stewart (New York), 12-4 3:27
145 LBS
1st Kyle Dutton (Missouri) tech-fall Beau Mantanona (California), 10-0
3rd Zach Hanson (Minnesota) dec. Joel Jesuroga (Iowa), 3-2
5th Caleb Meunier (Wisconsin) dec. Dylan Gilcher (Michigan), 15-8
7th Gavin Drexler (Wisconsin) tech-fall Q'veli Quintanilla (Washington), 10-0
152 LBS
1st Cody Chittum (Tennessee) tech-fall Ty Whalen (New Jersey), 13-3
3rd Jude Swisher (Pennsylvania) dec. William Henckel (New Jersey), 9-5
5th Ethan Stiles (Illinois) tech-fall Boeden Greenley (North Dakota), 12-0 0:53
7th Charlie Millard (Wisconsin) tech-fall Jeremiah Price (North Carolina), 12-0
160 LBS
1st Aiden Riggins (Iowa) dec. Nicco Ruiz (California), 15-8
3rd Braeden Scoles (Wisconsin) dec. Rafael Hipolito (Virginia), 9-7
5th Jed Wester (Minnesota) forfeit J Conway (Indiana), 0-0
7th Brendon Abdon (Florida) tech-fall Jasiah Queen (New Jersey), 10-0
170 LBS
1st Joshua Barr (Michigan) dec. Rocco Welsh (Pennsylvania), 8-5
3rd Lorenzo Norman (New Jersey) dec. Lucas Condon (California), 9-5
5th Noah Mulvaney (Wisconsin) tech-fall Tyler Lillard (Ohio), 15-5
7th Simon Ruiz (New Jersey) dec. Omaury Alvarez (Georgia), 18-13
182 LBS
1st Connor Mirasola (Wisconsin) dec. Aj Heeg (Oklahoma), 3-0
3rd Tate Naaktgeboren (Iowa) dec. Ryder Rogotzke (Minnesota), 8-8
5th Timothy Mcdonnell (California) dec. Garrett Wells (Oklahoma), 16-8
7th Justin Rademacher (Oregon) tech-fall Blake Jouret (Kansas), 12-1
195 LBS
1st Cody Merrill (California) dec. Rylan Rogers (Idaho), 7-1
3rd Wyatt Voelker (Iowa) dec. Hayden Walters (Oregon), 2-1
5th Cole Mirasola (Wisconsin) dec. Camden Mcdanel (Ohio), 16-14
7th Jack Darrah (Missouri) tech-fall Remy Cotton (Michigan), 10-0
220 LBS
1st Bradley Hill (Iowa) dec. Kolby Franklin (Iowa), 10-7
3rd Sawyer Bartelt (Florida) tech-fall Max Agresti (Delaware), 11-0
5th Dylan Russo (Ohio) forfeit Kail Wynia (Minnesota), 0-0
7th Caden Ferris (Michigan) tech-fall Max Ramberg (Wisconsin), 11-1
285 LBS
1st Aden Attao (Idaho) dec. Dillan Johnson (Illinois), 9-6
3rd Ethan Vergara (Florida) dec. Emmanuel Ulrich (Pennsylvania), 6-0
5th Parker Ferrell (Virginia) tech-fall Max Acciardi (New Jersey), 10-0 1:07
7th Jacob Walker (Iowa) dec. Elijah Novak (Minnesota), 7-5
Outstanding Wrestling
145 lbs - Kyle Dutton of Missouri
Most Pins in the Least Amount of Time
Domini Frontino , 4 pins in 7:04
Junior Men's Freestyle Team Standings
1. Iowa 214
2. Pennsylvania 116
3. California 115
4. Idaho 99
5. Wisconsin 84
6. New Jersey 81
7. Minnesota 79
8. Illinois 78
9. Ohio 77
10. Michigan 71
11. Missouri 57
12. Maryland 37
13. Oregon - 36
14. Florida - 35
15. Oklahoma 34
16. Tennessee 32
17. Virginia 30
18. Alabama 25
19. (tie) Arizona and Kansas 23
21. Georgia 17
22. Delaware 12
23. New York 11
24. Nebraska 9
25. (tie) Indiana, Montana, and North Dakota, 7
28. Utah 5
29. (tie) North Carolina and Washington 2