News
USA Wrestling
International
College
Women
High School & Youth
USAW
In the House (Tuesday): A big day for women's coaches, as the Junior Women's division gets underway
by Gary Abbott and Adam Engel, USA Wrestling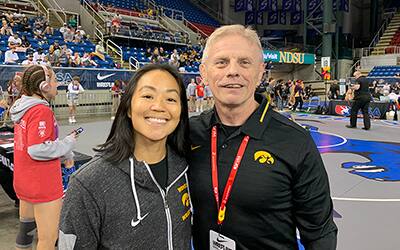 Iowa head women's coach Clarissa Chun and assistant women's coach Gary Mayabb. Photo by Adam Engel.
It's a big day for Junior wrestling, with the start of the Junior Women's Nationals (the largest girls wrestling event ever held), as well as the finals for the Junior Men's Freestyle Nationals.
We forgot to mention another World medalist who was in the house yesterday, two-time freestyle World medalist James Green, USA Wrestling's National Freestyle Development Coach, who is already doing a great job in his new gig. James is getting our age-group World Teams ready to roll, starting with the U17 team next week.
This morning, we also ran into Alyssa Lampe, a two-time World bronze medalist who had not been added to the lists yet. Lampe is helping coach the women's Fargo team from Oregon. She also helps coach the men and women at Linfield University.
The morning session was just for Junior girls, almost 1,000 female athletes and their coaches filling the entire FargoDome. We will spend some extra time on the women's side of things today.
World champion and Olympic bronze medalist Clarissa Chun, the new head coach for the Div. I Power Five program at Iowa was here today. Although the Iowa team does not compete until the 2023-24 season, Chun and her staff is already stockpiling great wrestlers.
As expected, we started seeing women's college wrestling coaches all over the Dome. We saw Alexio Garcia, the new head women's coach of NCWWC champion McKendree. (We also saw the previous McKendre women's coach Sam Schmitz, who is now the head men's coach at Central Methodist. He has been added to the men's coaching list).
In our travels around the dome, we also visited with Lee Miracle of Campbellsville, head coach of the NAIA women's national championship team. Add in these head women's college coaches: Brandy Green of Limestone, Paulina Biega of Sacred Heart, Dana Vote of Doane, Brady Kyner of Wartburg, Jake Kadel of Iowa Wesleyan, Alijah Jeffery of Chadron State and Devane Dodgens of Brewton-Parker.
As it was the final day of Junior men's freestyle, we saw some more men's college head coaches, including Div. I coaches Chris Pendleton of Oregon State and Mike Poeta of Illinois. Add in Dana Vote of Doane, Jake Kadel of Iowa Wesleyan, Jake Lords of Carl Albert State and Chandler Minnard of Defiance.
There were also many women's assistant college coaches, including Sarah Allen of the Cumberlands, Jay Perez of the Cumberlands, Darren Wynn of Indian Hills CC, Landon Williams of Wartburg, Tsogtbayar Tserndagva of Doane, Cash Wilcke of Iowa Western, Kasey Kruszek of Campbellsville, Zachary Revier of Avila and Alyssa Lampe of Linfield.
Current National Team member Ronna Gross was there helping with the Wisconsin girls team. Other past National Team members in the Dome included Na'Tasha Umemoto, Ku'u Robinson, Koral Sugiyama and Deron Winn. We also saw one USA Wrestling state association coach working with athletes, Geneva Gray of Utah USA Wrestling.
We saw another NCAA champion in Cory Clark (Iowa), along with Chris Pendleton (Oklahoma State).
IN THE HOUSE – So far this week in Fargo… (as of July 19)
Olympic champions -
Bruce Baumgartner, Kevin Jackson, Jordan Burroughs,
World champions –
Clarissa Chun, Bruce Baumgartner, Kevin Jackson, Zeke Jones, Les Gutches, Jordan Burroughs
Olympic medalists
– Clarissa Chun, Bruce Baumgartner, Kevin Jackson, Zeke Jones, Brandon Paulson, Jordan Burroughs, Tervel Dlagnev
World medalists:
Alyssa Lampe, James Green, Clarissa Chun, Bruce Baumgartner, Kevin Jackson, Zeke Jones, Brandon Eggum, Shawn Sheldon, Daniel Cormier, Brandon Paulson, Les Gutches, Ali Bernard, Andre Metzger, Becka Leathers, Tervel Dlagnev, Jordan Burroughs,
Olympians:
Clarissa Chun, Bruce Baumgartner, Kevin Jackson, Shawn Sheldon, Eric Guerrero, Zeke Jones, Daniel Cormier, Les Gutches, Ali Bernard, Ike Anderson, Brandon Paulson, Jordan Burroughs, Robby Smith, Steve Mocco, Ben Askren, Tervel Dlagnev, Haley Augello, Georgi Ivanov
World Team members:
Clarissa Chun, James Green,
Bruce Baumgartner, Kevin Jackson, Zeke Jones, Shawn Sheldon, Eric Guerrero, Brandon Eggum, Chris Bono, Daniel Cormier, Brandon Paulson, Les Gutches, John Oostendorp, Ali Bernard, Veronica Carlson, Ike Anderson, Doug Schwab, Keith Gavin, Andre Metzger, Zach Rey, Joe Betterman, Deanna Betterman, Danny Felix, Robby Smith, Obe Blanc
NCAA Div. I champions:
Cory Clark (Iowa), Chris Pendleton (Oklahoma State), Bruce Baumgartner (Indiana State), Eric Guerrero (Oklahoma State), Mike Sheets (Oklahoma State), Chris Bono (Iowa State), Jon Reader (Iowa State), Derek St. John (Iowa), Alan Fried (Oklahoma State), Andre Metzger (Oklahoma), Joe Dubuque (Indiana), Doug Schwab (Iowa), Les Gutches (Oregon State), Jayson Ness (Minnesota), Zach Rey (Lehigh), Jared Lawrence (Minnesota), Ben Askren (Missouri, Max Askren (Missouri), Steve Mocco (Iowa/Oklahoma State), Jordan Burroughs (Nebraska)
NCAA Div. II champions:
Tervel Dlagnev (UN-Kearney), Georgi Ivanov (UN-Omaha)
WCWA women's champions:
Emily Webster Dew (Oklahoma City), Julia Salata (King), Cody Pfau (Oklahoma City), Jessica Rottier (Cumberlands), Becka Leathers (Oklahoma City),
NAIA women's champion:
McKayla Campbell (Campbellsville)
NCWWC champions (NCAA):
Alara Boyd (McKendree), Jessika Rottier (UW-Stevens Point)
Head Men's College Coaches –
Chris Pendleton of Oregon State, Mike Poeta of Illinois, Dana Vote of Doane, Jake Kadel of Iowa Wesleyan, Jake Lords of Carl Albert State, Chandler Minnard of Defiance. Brandon Eggum of Minnesota, Zeke Jones of Arizona State, Neil Erisman of Little Rock, Chris Bono of Wisconsin, Sam Barber of Air Force, Dan Wirnsberger of Bucknell, Mike Grey of Cornell, Jordan Leen of Brown, Ned Shuck of Bellarmine, Troy Nickerson of Northern Colorado, Jason Borrelli of American, Aaron Scott of William Penn, Keith Gavin of Pitt, Damian Hahn of South Dakota State, Chris Ayres of Princeton, Roger Reina of Penn, Frank Beasley of George Mason, Doug Schwab of Northern Iowa, Leo Kocher of Chicago, Trevor Kittleson of UW-Platteville, Chayse Jackson of Southwest Minnesota State, John Oostendorp of Coe, Peter Hanson of Emory and Henry, Bruce Haberli of NYU, Roger Kish of North Dakota State, Luke Smith of Cal-State Bakersfield, Jason Reitmeier of Augustana, Blake Roulo of Averett, Brandon Bradley of Nebraska Wesleyan, Ryan Riggs of Mount Union
Head Women's College Coaches
- Clarissa Chun of Iowa, Alexio Garcia of McKendree, Brandy Green of Limestone, Lee Miracle of Campbellsville, Paulina Biega of Sacred Heart, Dana Vote of Doane, Brady Kyner of Wartburg, Jake Kadel of Iowa Wesleyan, Alijah Jeffery of Chadron State, Devane Dodgens of Brewton-Parker, Paul Rademacher of Indiana Tech, Shannyn Gillespie of Lakeland, Connor Lapresi of Ferrum
Assistant College Men's Coaches:
Nate Engel of Oregon State, Chris Perry of Oklahoma State, Tsogtbayar Tserndagva of Doane, Zack Wilcox of Doane, Cash Wilcke of Iowa Western, Zachary Revier of Avila, Blake Andrews of Carl Albert State, Alyssa Lampe of Linfield, Earl Walker of Northern Colorado, Kevin LeValley of Bucknell, Lee Pritts of Arizona State, Jon Reader of Wisconsin, Derek St. John of Iowa State, Joey Dance of American, Jason Chamberlain of Utah Valley, McCade Ford of Wyoming, Lee Roper of UNI, Kevin Jackson of Michigan, Josh Churella of Michigan, Jake Sueflohn of Purdue, Brendan Murphy of Bellarmine, Zeke Andrade of Northern State, Zach Esposito of Oklahoma State, Ryan Morningstar of Iowa, Brad Dillon of Lehigh, Wynn Michalak of Campbell, B.J. Futrell of Penn, Muzafar Abdurachmanov of Harvard, Joe Dubuque of Indiana, Elroy Perkin of Cal Baptist, Grant Zamin of North Central, Austin Marsden of North Dakota State, Adam Hall of NC State, Zach Rey of Lehigh, Drew Headlee of Pitt, Joe Nord of Columbia, Eric Morrill of Bucknell, Colin Heffernan of Central Michigan, Matt Stencel of Central Michigan, Chad Walsh of Davidson
Assistant College Women's Coaches:
Sarah Allen of the Cumberlands, Jay Perez of the Cumberlands, Darren Wynn of Indian Hills CC, Landon Williams of Wartburg, Tsogtbayar Tserndagva of Doane, Cash Wilcke of Iowa Western, Kasey Kruszek of Campbellsville, Zachary Revier of Avila, Alyssa Lampe of Linfield, Gary Mayabb of Iowa, Jessika Rottier of Gannon, McKayla Campbell of Campbellsville
RTC Coaches:
Jeff Buxton of Scarlet Knight WC
Legends:
Ron Mirikitani, Rick Tucci
State Association Coaches –
Geneva Gray of Utah,
Current National Team members
- Tanner Farmer, Jordan Burroughs, Ronna Gross,
Past National Team members:
Na'Tasha Umemoto, Ku'u Robinson, Koral Sugiyama, Deron Winn,