News
USA Wrestling
High School & Youth
USAW
Four returning champs, 40 returning All-Americans alive after USMC Junior Nationals men's freestyle session one
by Adam Engel, USA Wrestling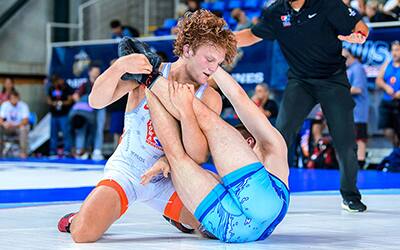 Tate Naaktgeboren of Iowa competing in the 2022 Junior Freestyle Nationals. Photo by Tony Rotundo, Wrestlers Are Warriors.
FARGO, N.D. — Not even 10 minutes elapsed before All-Americans trickled into the consolation bracket.
One returning All-American was eliminated after session one of the USMC Junior Nationals Men's freestyle tournament in Fargo, North Dakota.
Tucker Bowen of Iowa, who placed seventh at 100 in 2021, dropped to the consolation bracket after a loss in the round of 128 at 113. Three other returning All-Americans, all at 113, were also bounced to the consolation bracket.
Oklahoma's Aden Sanders defeated Tucker Bowen of Idaho, 8-1, in the round of 128. In the round of 16, New Jersey's Max Elton used a late pushout to beat Daniel Guanajuato of Arizona, 7-6. Last year, Bowen placed seventh at 100 and Guanajuato finished third at 113.
California's Hayden Tyler Ancheta outlasted Wisconsin's Wyatt Skebba in an 14-11 round of 64 shootout. Colorado's Dempsey Gibbs pinned Isiac Paulino of Massachusets in the round of 64. In last year's tournament, Skebba finished sixth at 106 while Paulino grabbed seventh at 106.
In a battle of All-Americans, Paulino teched Bowen, 10-0, in nearly two minutes to eliminate Bowen with his second loss.
There were 13 16U men who entered Fargo as Triple Crown eligible. To win a Triple Crown, a wrestler must win a folkstyle, freestyle and Greco-Roman national championship. After the first session, eight remain in the Triple Crown hunt. No one lost but six folkstyle champions did not register for Fargo.
Nasir Bailey of Illinois, last year's champion at 132, and Richard Fedalen, who placed sixth at 145 in 2021, did not compete in this tournament, even though they had been in preliminary registration lists.
The tournament resumes at 4:30 p.m. Central with the continuation of preliminaries and consolations.
Here is a look at how all 40 returning All-Americans performed:
100:
Hank Kriegler of Nebraska (100 in 2021): Bye (0-0)
Isaac Stewart of Montana (100 in 2021): (0-0, will wrestle in second session)
106:
Kolter Burton of Idaho (100 in 2021): Bye (0-0)
113:
Hunter Taylor of Missouri (Champion at 106 in 2021): 1-0
Brandon Morvari of Minnesota (106 in 2021): 2-0
Wyatt Skebba of Wisconsin (106 in 2021): 1-1 (Lost in round of 64)
Tucker Bowen of Idaho (100 in 2021): 0-1 (Lost in round of 128)
Isiac Paulino of Massachusetts (106 in 2021): 1-1 (Lost in round of 64)
Tyson Roach of Louisiana (100 in 2021): 2-0
Daniel Guanajuato of Arizona (106 in 2021): 1-1 (Lost in round of 64)
120:
Braeden Davis of Michigan (Champion at 113 in 2021): 2-0
Alan Koehler of Minnesota (113 in 2021): 2-0
Caden Horwath of Michigan (113 in 2021): 2-0
126:
Dillon Campbell of Ohio (120 in 2021): 2-0
Drew Heethuis of Michigan (113 in 2021): 1-0
132:
Kannon Webster of Illinois (Champion at 120 in 2021): 2-0
Vincent Robinson of Illinois (126 in 2021): 2-0
Grigor Cholakyan of California (120 in 2021): 2-0
Greyson Clark of Wisconsin (132 in 2021): 2-0
138:
Emilio Ysaguirre Jr. of Arizona (132 in 2021): 2-0
Zeke Seltzer of Indiana (132 in 2021): 2-0
Jude Swisher of Pennsylvania (138 in 2021): 2-0
Kole Brower of Illinois (138 in 2021): 2-0
145:
Kimo Leia of California (138 in 2021): 2-0
152:
Ty Whalen of New Jersey (138 in 2021): 2-0
160:
Aiden Riggins of Iowa (160 in 2021): 3-0
Braeden Scoles of Wisconsin (160 in 2021): 2-0
Nicco Ruiz of California (160 in 2021): 2-0
Dylan D. Elmore of Kansas (152 in 2021): 2-0
170:
Joshua Barr of Michigan (Champion at 160 in 2021): 2-0
Rocco Welsh of Pennsylvania (160 in 2021): 2-0
Brody Baumann of Pennsylvania (170 in 2021): 3-0
Sabino Portella of New Jersey (170 in 2021): 2-0
Holden Garcia of Pennsylvania (160 in 2021): 2-0
195:
Rylan Rogers of Idaho (195 in 2021): 2-0
Hayden Walters of Oregon (182 in 2021): 1-0
Wyatt Voelker of Iowa (195 in 2021): 2-0
220:
Kolby Franklin of Iowa (195 in 2021): 1-0
285:
Jamikael Lytle of California (285 in 2021): 1-0
Ethan Vergara (285 in 2021): 2-0
Junior Boys eligible for Triple Crown (High School Recruiting Showcase champions)
106 — Mack Mauger of Idaho
126 — Cory Land of Alabama
138 — Emilio Ysaguirre Jr. of Arizona
182 — Tate Naaktgeboren of Iowa
195 — Wyatt Voelker of Iowa
220 — Jared Thiry of Iowa
285 — Aden Attao of Idaho