News
USA Wrestling
International
College
High School & Youth
Women
USAW
In the House (Sunday): A DC sighting, plus other Olympians Gutches, Paulson, Bernard, Anderson and Schwab
by Gary Abbott and Adam Engel, USA Wrestling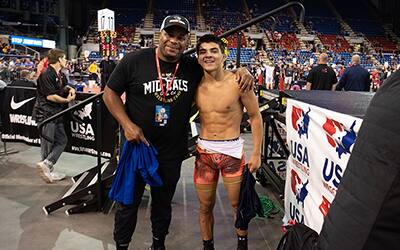 Olympian and UFC champ Daniel Cormier poses with a wrestler. Robbert Wijtman photo

We start with our first DC sighting of the weekend, as two-time Olympian and World medalist Daniel Cormier, who is coaching with California again, was in the house. It is neat to have a UFC legend and television personality like Daniel so active with the sport as a coach and mentor.
Although I see this person every day at the office, World champion, World medalist and NCAA champion Les Gutches is here in his role as Chief Operating Officer for USA Wrestling.
2016 Olympic silver medalist and World silver medalist Brandon Paulson is once again coaching with Team Minnesota and is one of the top club coaches with Pinnacle.
Two-time Olympian and World medalist Ali Bernard is also with us. Bernard is helping coach the girls for Team Minnesota, something she has not done for a few years but is back involved again. Bernard also won two Junior World titles during her career.
Olympians spotted today included Cormier, Gutches, Paulson, Bernard, plus Ike Anderson, who competed in Greco-Roman and is now one of the coaches for Team Colorado and Doug Schwab, a freestyle Olympian, World Team member and current head coach at Northern Iowa.
Senior World medalists we saw today Gutches, Cormier, Paulson, Bernard and Andre Metzger, who won multiple World medals in freestyle and was an NCAA champion for Oklahoma. Ironically, when Metzger made a comeback in his 40's a few years ago, he was wrestling in Greco-Roman.
The list of World Team members including all the World medalists listed about, plus Veronica Carlson, who is coaching Team Illinois and is a USA Wrestling Executive Committee member and chair of the Athletes Advisory Committee. We also saw Keith Gavin, who was a World Team member in freestyle, and now head coach at Pitt. Add in John Oostendorp, who made a Senior Greco-Roman World Team and coaches at Coe.
NCAA Div. I champions in the house today included Gutches, Metzger, Schwab, plus Alan Fried of Oklahoma State, Jayson Ness of Minnesota and Joe Dubuque of Indiana. Dubuque makes the college assistant coach list as an assistant at Princeton.
On the women's side, we saw a pair of WCWA champions talking together, four-time champion Emily Webster Dew of Oklahoma City and two-time champion Julia Salata of King. Dew is coaching for Team Missouri, while Salata is coaching with Team New York. Salata is also an employee for Wrestle Like A Girl, focused on the college level development.
The NCAA-only tournament is called the NCWWC, and two champions from that women's college national event are with us, Alara Boyd of McKendree and Jessika Rottier of UW-Stevens Point. (We listed Rottier for her NAIA title yesterday, but not her NCAA title. Oops).
As expected, there are college coaches all over the place, and this list will get huge before we are done.
The Div. I head coaches we saw in the Dome including Damian Hahn of South Dakota State, Roger Reina of Penn, Frank Beasley of George Mason, Keith Gavin of Pitt, Chris Ayres of Princeton and Doug Schwab of Northern Iowa.
Head coaches from other college divisions include Leo Kocher of Chicago, Trevor Kittleson of UW-Platteville, Chayse Jackson of Southwest Minnesota State, John Oostendorp of Coe, Peter Hanson of Emory and Henry and Bruce Haberli of NYU.
We also saw another Women's head coach in Paul Rademacher of Indiana Tech.
The longest list most years is college assistant coaches, and we have a healthy group so far today: Ryan Morningstar of Iowa, Brad Dillon of Lehigh, Wynn Michalak of Campbell, B.J. Futrell of Penn, Muzafar Abdurachmanov of Harvard, Joe Dubuque of Indiana, Zach Esposito of Oklahoma State, Elroy Perkin of Cal Baptist and Grant Zamin of North Central.
Add an Assistant women's coach in McKayla Campbell of Campbellsville.
We also want to recognize a current National Team member in Greco-Roman Final X finalist Tanner Farmer.
PS – Adam Engel found so many of these people, that he gets in the byline.
More to come in days ahead.
IN THE HOUSE – So far this week in Fargo… (as of July 17)Olympic champions
- Jordan Burroughs,
World champions
– Les Gutches, Jordan Burroughs
Olympic medalists
– Brandon Paulson, Jordan Burroughs, Tervel Dlagnev
World medalists:
Daniel Cormier, Brandon Paulson, Les Gutches, Ali Bernard, Andre Metzger, Becka Leathers, Tervel Dlagnev, Jordan Burroughs,
Olympians:
Daniel Cormier, Les Gutches, Ali Bernard, Ike Anderson, Brandon Paulson, Jordan Burroughs, Robby Smith, Steve Mocco, Ben Askren, Tervel Dlagnev, Haley Augello, Georgi Ivanov
World Team members:
Daniel Cormier, Brandon Paulson, Les Gutches, John Oostendorp, Ali Bernard, Veronica Carlson, Ike Anderson, Doug Schwab, Keith Gavin, Andre Metzger, Zach Rey, Joe Betterman, Deanna Betterman, Danny Felix, Robby Smith, Obe Blanc
NCAA Div. I champions:
Alan Fried (Oklahoma State), Andre Metzger (Oklahoma), Joe Dubuque (Indiana), Doug Schwab (Iowa), Les Gutches (Oregon State), Jayson Ness (Minnesota), Zach Rey (Lehigh), Jared Lawrence (Minnesota), Ben Askren (Missouri, Max Askren (Missouri), Steve Mocco (Iowa/Oklahoma State), Jordan Burroughs (Nebraska)
NCAA Div. II champions:
Tervel Dlagnev (UN-Kearney), Georgi Ivanov (UN-Omaha)
WCWA women's champions:
Emily Webster Dew (Oklahoma City), Julia Salata (King), Cody Pfau (Oklahoma City), Jessica Rottier (Cumberlands), Becka Leathers (Oklahoma City),
NAIA women's champion:
McKayla Campbell (Campbellsville)
NCWWC champions (NCAA):
Alara Boyd (McKendree), Jessika Rottier (UW-Stevens Point)


Head Men's College Coaches
– Keith Gavin of Pitt, Damian Hahn of South Dakota State, Chris Ayres of Princeton, Roger Reina of Penn, Frank Beasley of George Mason, Doug Schwab of Northern Iowa, Leo Kocher of Chicago, Trevor Kittleson of UW-Platteville, Chayse Jackson of Southwest Minnesota State, John Oostendorp of Coe, Peter Hanson of Emory and Henry, Bruce Haberli of NYU, Roger Kish of North Dakota State, Luke Smith of Cal-State Bakersfield, Jason Reitmeier of Augustana, Blake Roulo of Averett, Brandon Bradley of Nebraska Wesleyan, Ryan Riggs of Mount Union
Head Women's College Coaches
- Paul Rademacher of Indiana Tech, Shannyn Gillespie of Lakeland, Connor Lapresi of Ferrum
Assistant College Men's Coaches:
Zach Esposito of Oklahoma State, Ryan Morningstar of Iowa, Brad Dillon of Lehigh, Wynn Michalak of Campbell, B.J. Futrell of Penn, Muzafar Abdurachmanov of Harvard, Joe Dubuque of Indiana, Elroy Perkin of Cal Baptist, Grant Zamin of North Central, Austin Marsden of North Dakota State, Adam Hall of NC State, Zach Rey of Lehigh, Drew Headlee of Pitt, Joe Nord of Columbia, Eric Morrill of Bucknell, Colin Heffernan of Central Michigan, Matt Stencel of Central Michigan, Chad Walsh of Davidson
Assistant College Women's Coaches:
Gary Mayabb of Iowa, Jessika Rottier of Gannon, McKayla Campbell of Campbellsville
RTC Coaches:
Jeff Buxton of Scarlet Knight WC
Legends:
Ron Mirikitani, Rick Tucci
Current National Team members-
Tanner Farmer, Jordan Burroughs