News
USA Wrestling
High School & Youth
Women
USAW
Five returning champs head to the U16 Women's finals, Williams upset by Allen in semifinals
by Koral Sugiyama, Special to TheMat.com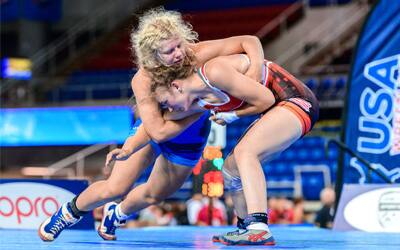 Photo of Ella Pagel of Minnesota reaches around her opponent during session two of the 16U Women's Freestyle Nationals. Photo by Tony Rotundo/WrestlersAreWarriors
FARGODOME, ND – The first finals have been set in Fargo as the 16U women's freestyle semifinals concluded Saturday evening. Five champions return under the big spotlight including Ella Pagel of Minnesota, Skylar Little Soldier of Minnesota, Cadence Diduch of Illinois, Nebi Tsarni of Maryland and Sabrina Nauss of Michigan.
No. 10 at 164 Ella Pagel made big noise last year as the young face dominating the mats for her first Fargo stop sign. The Super 32 champion and Junior folkstyle National champion will face the No. 3 at 152, Piper Fowler of Tennessee for the 164-pound bout. Fowler was runner-up at both this year's U17 Women's Nationals and the Girls High School Showcase and a double All-American Folkstyle Nationals.
The 127-pound finals features two returning champions. No. 4 Skylar Little Soldier of Minnesota will face No. 6 Cadence Diduch of Illinois at 127 lbs. Little Soldier took fourth in the Junior division last year along with her 16U championship at 127, she won a state title last season at Minnesota's first women's sanctioned state tournament. She is fresh off of earning a U17 Pan-Am Championships silver medal. Diduch won her 16U title at 117 pounds last year. She also took third at the U17 Women's Nationals.
Other returning champions include No. 17 at 144 pounds, Nebi Tsurni of Maryland, who will wrestle U15 third place winner Skylar Slade of Iowa for the 144-pound bout and No. 15 P4P wrestler Sabrina Nauss of Michigan who will wrestle No. 27 at 180 Kali Hayden of Oklahoma for the 180-pound bout.
U17 Pan-Am Champion Ava Ward of Missouri came into the tournament ranked No. 2 at 106 lbs and No. 19 P-4-P. Ward missed her first year of Fargo, however in its place she brought home a bronze medal from the Cadet World Championships. Her opponent for the 106-pound final bout will be Heather Crull of Indiana who is currently ranked No. 14 and the Folkstyle National 16U runner-up and Junior third-place winner.
At 112 pounds, No. 12 Molly Allen of Iowa will face No. 2 and No. 20 P-4-P wrestler, Karlee Brooks of Arizona after upsetting returning 16U champion and No. 4 ranked Cecilia Williams of Illinois. Brooks, who took seventh at this event last year, won the Girls High School Showcase in April and placed third at U17 Women's Nationals in May.
The 132 final bout is making history. Both athletes will not only be competing for their first national title, but for their state's first 16U women's national title. Kentucky's No. 9 Lauren Walton will face off against New Jersey's No. 14 Carina Giangeruso.
20 states will be represented in tomorrow's finals, making it the most to date in the 16U women's tournament. Eight of the states have two athletes in the finals while the remaining 12 only have one. Missouri is currently leading the team race with 25 points and nine wrestlers still alive. Following them is Iowa with 24 points and eight athletes, California holds third place with nine athletes, and Arizona and Colorado are currently tied in fourth place with 20 points and four athletes each.
The women return to the mat tomorrow morning at 8 a.m. for 16U consolations, and the finals begin at 1:30 p.m. All of it can be followed along at FloWrestling.
USMC 16U WOMEN'S FREESTYLE NATIONALS
At Fargo, N.D., July 16
Final Pairings
94 - Katey Valdez (Colorado) vs Joely Slyter (Idaho)
100 - Rianne Murphy (Indiana) vs Mary Manis (Florida)
106 - Ava Ward (Missouri) vs Heather Crull (Indiana)
112 - Molly Allen (Iowa) vs Karlee Brooks (Arizona)
117 - Persaeus Gomez (Colorado) vs Isabella marie Gonzales (California)
122 - Everest Leydecker (Arizona) vs Carley Ceshker (Wisconsin)
127 - Skylar Little Soldier (Minnesota) vs Cadence Diduch (Illinois)
132 - Lauren Walton (Kentucky) vs Carina Giangeruso (New Jersey)

138 - Sarah Henckel (Connecticut) vs Faith Bartoszek (Wisconsin)
144 - Skylar Slade (Iowa) vs Nebi Tsarni (Maryland)
152 - Mishell Rebisch (Michigan) vs Genevieve An (Georgia)
164 - Piper Fowler (Tennessee) vs Ella Pagel (Minnesota)
180 - Sabrina Nauss (Michigan) vs Kali Hayden (Oklahoma)
200 - Mariyah Brumley (Missouri) vs Savannah Isaac (Ohio)
Semi-final Results
94
Katey Valdez (Colorado) fall Zoey Jewett (New York), 3:10
Joely Slyter (Idaho) tech-fall Annalise Maralit (South Carolina), 11-0
100
Rianne Murphy (Indiana) fall Madison Heinzer (California), 0:37
Mary Manis (Florida) dec Lauren Nguyen (California), 8-4
106
Ava Ward (Missouri) tech-fall Angelina Cassioppi (Illinois), 11-0
Heather Crull (Indiana) tech-fall Aspen Blasko (Minnesota), 12-2
112
Molly Allen (Iowa) dec Cecilia Williams (Michigan), 7-1
Karlee Brooks (Arizona) tech-fall Reanah Utterback (Iowa), 10-0
117
Persaeus Gomez (Colorado) fall Ashley Naranjo (Washington), 3:49
Isabella marie Gonzales (California) dec Bella Williams (Oklahoma), 2-1
122
Everest Leydecker (Arizona) dec Haylie Jaffe (Pennsylvania), 2-1
Carley Ceshker (Wisconsin) dec Alejandra Valdiviezo (California), 7-4
127
Skylar Little soldier (Minnesota) dec Dealya Collins (Wisconsin), 8-2
Cadence Diduch (Illinois) dec Jordyn Fouse (Pennsylvania), 8-2
132
Lauren Walton (Kentucky) dec Isis France (Arizona), 7-4
Carina Giangeruso (New Jersey) fall Morgan Lucio (Arizona), 3:19
138
Sarah Henckel (Connecticut) dec Sofia Delgado (Florida), 8-1
Faith Bartoszek (Wisconsin) dec Gianna Dibenedetto (California), 6-1
144
Skylar Slade (Iowa) dec Sydney Perry (Illinois), 6-0
Nebi Tsarni (Maryland) tech-fall Emma Peach (Iowa), 10-0
152
Mishell Rebisch (Michigan) fall Cali Dupree (Missouri), 2:28
Genevieve An (Georgia) fall Alison Evans (Colorado), 2:12
164
Piper Fowler (Tennessee) fall Olivia Stean (Kansas), 1:50
Ella Pagel (Minnesota) tech-fall Jael Miller (Pennsylvania), 10-0
180
Sabrina Nauss (Michigan) fall Symphony Veloz (Oklahoma), 2:47
Kali Hayden (Oklahoma) fall Isabella Renfro (Missouri), 1:15
200
Mariyah Brumley (Missouri) fall Blythe Cayko (Colorado), 1:41
Savannah Isaac (Ohio) tech-fall Kiona Michel (Washington), 10-0