News
USA Wrestling
College
Women
USAW
Host Northwestern wins Midlands men's title, North Central wins inaugural Midlands women's title
by Adam Engel, Special to TheMat.com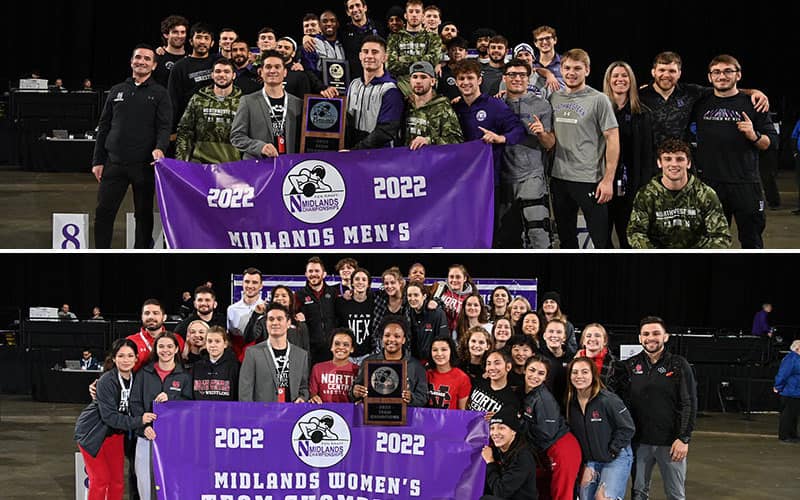 Northwestern men and North Central women, the 2022 Midlands team champions. Photos by Sam Janicki

Men's Midlands wrap
A close title for the hometown squad.
Northwestern
used three champions to win its first Midlands title on Saturday night in Hoffman Estates, Illinois.
The Wildcats entered the day in second but used its finals run to pull through.
Penn
jumped to runner-up while
Pittsburgh,
Wisconsin
and
Illinois
finished the rest of the top five. Parity showed as Northwestern's total — 122 points was only 15.5 ahead of fifth-place Illinois.
Yahya Thomas (149), Trevor Chumbley (157) and Lucas Davison (285) emerged as champions.
Speed showed at 149. Thomas edged Arizona State's Kyle Parco, 4-3, in a battle of All-Americans. This clash showed high-level skills from guys that could be NCAA title contenders. Parco flexed his defense as he avoided several takedowns with some roll throughs. Tied 3-3 halfway in the third, Thomas escaped to score the final point.
In a match crucial to the team race, Chumbley stopped Wisconsin's Drew Scharenbrock, 8-0, at 157. Chumbley dominated with 2:15 in riding time.
In the tournament's final bout, Davison concluded his incredible shutout run with a 3-0 win over Pittsburgh's Dayton Pitzer in the heavyweight final.
Back at 125, Wisconsin earned its first champion with Eric Barnett. He beat Arizona State's Brandon Courtney, 6-2.
Though both are multi-time All-Americans, Barnett showed his skill on top with 2:42 of riding time.
Barnett set the pace with the first takedown and established a hard ride. Courtney grabbed a takedown in the second, but Barnett took over in the third.
Former Blair Academy teammates battled for a title at 133. Penn's Michael Colaiocco clipped Northwestern's Chris Cannon, 3-2, at 133. Cannon escaped from bottom with a few seconds left to tie it at 2 but riding time became the difference.
Colaiocco, who snagged 2:30 in riding time, concluded an epic run that featured wins over three All-Americans — Cannon, Taylor Lamont (Wisconsin) and Lucas Byrd (Illinois).
At 141, another All-American claimed a title. In a defensive battle, Pittsburgh's Cole Matthews defeated Missouri's Josh Edmond, 3-1. Matthews took a 3-0 lead with a slick takedown in the second. Edmond grabbed a point with a late escape.
In a highly anticipated final at 165, Princeton's Quincy Monday fended off Wisconsin's Dean Hamiti, 4-3.
At 174, Illinois scored a champion when Edmond Ruth beat Penn's Nick Incontrera, 4-1.
The final at 184 featured plenty of scrambles and exciting action. Pittsburgh's Reece Heller stopped Wisconsin Whitewater's Jarritt Shinhoster, 7-5. Shinhoster, a national champion, attempted to become the Midland's first Division III opponent.
Illinois grabbed another title in a four-overtime war at 197. Zac Braunagel outlasted Wisconsin's Braxton Amos, 2-1, with a decisive escape.
Northwestern's Lucas Davison concluded his incredible shutout run with a 3-0 win over Pittsburgh's Dayton Pitzer in the heavyweight final.
Women's Midlands wrap
NCAA No. 2 ranked
North Central
blasted its competition with four champions and the team title in women's freestyle.
Augsburg
, the runner-up, finished 53.5 points behind North Central.
Presbyterian
,
McKendree
and
Lock Haven
finished No. 3-No. 5.
Sydney Petzinger (109), Jaslynn Gallegos (116), Sara Sterner (130) and Tiera Jimerson (155) won titles for the Cardinals.
Petzinger teched Lock Haven's Kaelani Shufeldt, 11-0, at 109. Petzinger carried a 4-0 lead into break before breaking through with several more takedowns.
The Cardinals party continued a match later. Jaslynn Gallegos quickly proved why she's a star. She ended Princeton's Chloe Ayres via pin halfway through the second period. Gallegos scored her first points a few seconds in and displayed her speed with the final sequence.
At 130, an early score differential didn't matter. Down 7-1, North Central's Sara Sterner flattened Aurora's Alexis Janiak with a left-handed headlock throw.
At 155, Jimerson beat Augsburg's Marlynee Deede, 4-4, on criteria. Jimerson scored a takedown at the buzzer to tie.
Down at 109, Indiana high school phenom Rianne Murphy won the first women's final. Murphy defeated North Central's Madison Avila, 8-4.
Wisconsin high schooler Carly Ceshker grabbed the day's quickest win with a 31 second pin over Augsburg's Gabby Skidmore at 123.
Ceshker performed a knee pick and rolled through for the fall after the two hit the mat.
At 136, Augsburg secured its first champion when Nina Makem pinned North Central's Yele Aycock via cradle in the first.
Grand View's Alexis Gomez didn't give up at 143. She defeated McKendree's national champion Alara Boyd, 9-7. Gomez, down 7-5 with 15 seconds left, blasted toward Boyd to score a takedown and back exposure combination.
In the two-person 170 bracket, Wyoming Seminary wrestlers clashed. Stella Stiegler stuck Alex Alli at 2:22.
At 191, McKendree's Sydnee Kimber, another national champion, pinned North Central's Traeh Haynes.
MIDLANDS CHAMPIONSHIPS
At Hoffman Estates, Ill.

Men's results
125 pounds
1st — No. 1 Eric Barnett (Wisconsin) dec. No. 2 Brandon Courtney (Arizona State), 6-2
3rd — Diego Sotelo (Harvard) medical forfeit No. 4 Dean Peterson (Rutgers)
5th — No. 9 Jack Medley (Michigan) medical forfeit No. 3 Killian Cardinale (West Virginia)
7th — No. 8 Sheldon Seymour (Lehigh) maj. dec. Jacob Moran (Indiana), 15-5
133 pounds
1st — No. 4 Michael Colaiocco (Penn) dec. No. 4 Chris Cannon (Northwestern), 3-2
3rd — No. 1 Lucas Byrd (Illinois) dec. No. 9 Julian Chlebove (Arizona State), 3-0
5th — No. 2 Joe Heilman (Rutgers) medical forfeit No. 7 Ryan Crookham (Lehigh)
7th — Hunter Adrian (Brown) dec. No 5 Taylor Lamont (Wisconsin), 3-2
141 pounds
1st — No. 1 Cole Matthews (Pittsburgh) dec. Josh Edmond (Missouri), 3-1
3rd — No. 2 Sammy Alvarez (Rutgers) dec. No. 6 Brian Courtney (Unattached), 10-5
5th — Saul Ervin (SIU Edwardsville) dec. Ryan Michaels (Pittsburgh), 9-4
7th — No. 10 Danny Pucino (Illinois) maj. dec. Josh Mason (Bloomsburg), 14-4
149 pounds
1st — No. 2 Yahya Thomas (Northwestern) dec. No. 1 Kyle Parco (Arizona State), 4-3
3rd — No. 3 Doug Zapf (Penn) dec. Caleb Tyus (SIU Edwardsville), 6-2
5th — Tyler Badgett (Pittsburgh) dec. No. 9 Max Brignola (Lehigh), 3-2
7th — Cade Balestrini (Bloomsburg) dec. Nate Higley (George Mason), 9-6
157 pounds
1st — No. 3 Trevor Chumbley (Northwestern) maj. dec. Drew Scharenbrock (Wisconsin), 8-0
3rd — No. 7 Derek Gilcher (Indiana) dec. No. 1 Anthony Artalona (Penn), 7-4
5th — No. 2 Garrett Model (Wisconsin) dec. No. 8 Andrew Clark (Rutgers), 3-0
7th — Aiden Vandenbush (Northwestern) medical forfeit Alejandro Herrera-Rondon (Oklahoma)
165 pounds
1st — No. 2 Quincy Monday (Princeton) dec. No. 1 Dean Hamiti (Wisconsin), 4-3
3rd — No. 6 Dan Braunagel (Illinois) medical forfeit No. 5 Izzak Olejnik (Northern Illinois)
5th — No. 4 Justin McCoy (Virginia) dec. No. 10 Nathan Lackman (Rhode Island College), 4-2
7th — No. 14 Lucas Revano (Penn) inj. def. over No. 9 Cardi Wilson (SIU Edwardsville), 2:15
174 pounds
1st — No. 1 Edmond Ruth (Illinois) dec. No. 3 Nick Incontrera (Penn), 4-1
3rd — Brody Conley (West Virginia) dec. Daniel Wask (Navy Prep), 3-1
5th — No. 5 Alex Cramer (Central Michigan) fall Luca Augustine (Pittsburgh), 4:30
7th — Kole Mulhauser (Princeton) won by major decision over Trey Sizemore (Illinois, 12-2)
184 pounds
1st — No. 2 Reece Heller (Pittsburgh) dec. No. 5 Jaritt Shinhoster (UW-Whitewater), 7-5
3rd — No. 4 Neil Antrassian (Virginia) dec. No. 1 Brian Soldano (Rutgers), 12-6
5th — No. 10 Dylan Connell (Illinois) fall No. 3 Anthony Carman (West Virginia), 0:30
7th — Dylan Fishback (NC State) dec. Evan Bates (Northwestern), 8-2
197 pounds
1st — No. 2 Zac Braunagel (Illinois) tie breaker No. 1 Braxton Amos (Wisconsin), 2-1
3rd — No. 11 Andrew Davison (Northwestern) dec. No. 4 Mac Stout (Pittsburgh), 4-1
5th — No. 3 Luke Stout (Princeton) maj. dec. over No. 10 Michael Battista (Virginia), 12-3
7th — No. 6 Cole Urbas (Penn) fall Ryan Yarnell (SIU Edwardsville), 1:00
285 pounds
1st — No. 2 Lucas Davison (Northwestern) dec. Dayton Pitzer (Pittsburgh) (Dec 4-0)
3rd — No. 1 Colton Schultz (Arizona State) fall No. 3 Yaraslau Slavikouski (Harvard) (Fall 3:13)
5th — No. 6 Colton McKiernan (SIU Edwardsville) medical forfeit No. 4 Trent Hillger (Wisconsin)
7th — No. 7 Ben Goldin (Penn) medical forfeit No. 5 Boone Mcdermott (Rutgers)
Top 10 men's teams
1 Northwestern 122.0
2 Penn 115.0
3 Pittsburgh 115.0
4 Wisconsin 114.5
5 Illinois 104.5
6 Arizona State 86.0
7 Rutgers 85.0
8 Princeton 65.0
9 SIU Edwardsville 64.5
10 Harvard 55.5
Women's results
101 pounds
1st — Rianne Murphy (Unattached) dec. Madison Avila (North Central), 8-4
3rd — Samantha Miller (Presbyterian College) fall Amber Turner (North Central), 0:46
109 pounds
1st — Sydney Petzinger (North Central) tech fall Kaelani Shufeldt (Lock Haven), 11-0
3rd — Kendra Ryan (North Central) tech fall Cassy Lopez (Presbyterian College), 10-0
116 pounds
1st — Jaslynn Gallegos (North Central) fall Chloe Ayres (Unattached), 4:01
3rd — Ainslie Lane (Presbyterian College) fall Amaya Yoshizumi (North Central), 3:21
123 pounds
1st — Carly Ceshker (Unattached) fall No. 2 Gabby Skidmore (Augsburg University), 0:31
3rd — Amani Jones (North Central) tech fall Catherine Bertrand (Presbyterian College), 10-0
130 pounds
1st — No. 3 Sara Sterner (North Central) fall No. 1 Alexis Janiak (Aurora), 2:36
3rd – Autumn Flanigan (Augsburg University) dec. No. 2 Sierra Marie Miller (Presbyterian College), 11-2
136 pounds
1st — Blanche `Nina` Kemu Makem (Augsburg University) fall Yele Aycock (North Central), 2:49
3rd — Paige Wehrmeister (Presbyterian College) dec. JoLynn Harris (McKendree University), 5-3
143 pounds
1st — Alexis Gomez (Grand View) dec. Alara Boyd (McKendree University), 9-7
3rd — Grace Stem (Lock Haven) tech fall Riley Aamold (North Central), 10-0
155 pounds
1st — No. 3 Tiera Jimerson (North Central) dec. No. 1 Marlynne Deede (Augsburg University), 4-4
3rd — No. 4 Malea Palahniuk (North Central) fall London Houston (North Central), 1:44
170 pounds
1st — Stella Steigler (Wyoming Seminary) fall Alex Alli (Wyoming Seminary), 2:22
191 pounds
1st — Sydnee Kimber (McKendree University) fall Traeh Haynes (North Central), 3:22
3rd — Melissa Jacobs (Augsburg University) dec. Maia Foster (Augsburg University), 6-2
Top eight women's teams
1 North Central 107.5
2 Augsburg University 54.0
3 Presbyterian College 45.0
4 McKendree University 31.5
5 Lock Haven 15.5
6 Grand View 15.0
7 Aurora 14.5
8 Wyoming Seminary 6.0