News
USA Wrestling
College
USAW
Southern Scuffle preview: Stars are in every weight class in this traditional launch of the new year
by Adam Engel, Special to TheMat.com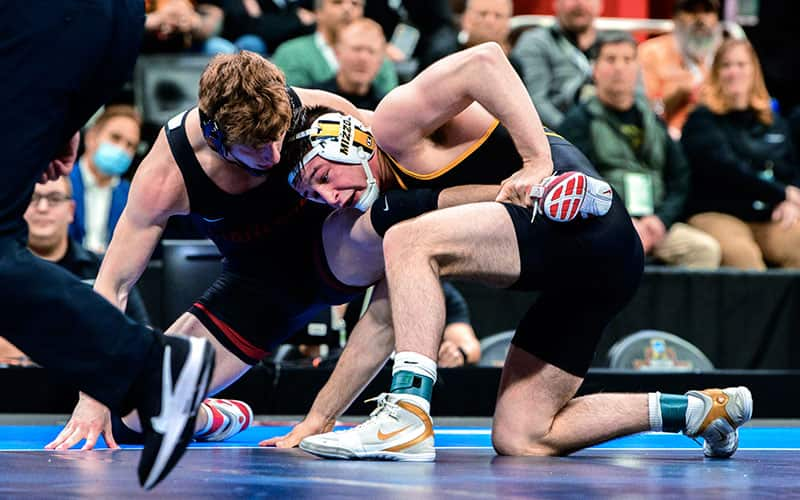 Keegan O'Toole (Missouri) battles Shane Griffith (Stanford) in 2022 NCAA finals. Photo by Tony Rotundo, Wrestlers Are Warriors.
Welcome to the
Southern Scuffle
. Every wrestling fan's favorite New Year's tradition.
This year's edition features starters from six ranked teams and a weight class with a pair national champions. It's an action-packed holiday tradition that will be live streamed on FloWrestling from Chattanooga, Tenn., January 1-2, 2023.
You can watch here
.
Here's a weight-by-weight preview of the tournament.
125 pounds
On paper, Minnesota's Pat McKee stands above the group.
Ranked No. 3, McKee will be the only top 10 ranked guy in the Scuffle. That's what happens when the others are in the Soldier Salute or Midlands. McKee, a two-time All-American, enters as the favorite. Oklahoma State's Trevor Mastrogiovanni could be a challenger. There's history with McKee, too. Mastrogiovanni beat McKee early last year but lost the next two. McKee eliminated No. 10 Mastrogiovanni from the NCAA Championships and won 4-1 in early December. Purdue's Matt Ramos could also challenge for a title.
133 pounds
Daton Fix vs the field.
That's the story here. Fix, OSU's star, owns four college losses since his redshirt freshman year. Three of them were in the NCAA finals to Big Ten opponents. Those teams won't be at the Scuffle. Fix will be the only guy in the weight's top 15 in Chattanooga. Iowa State's Ramazan Attasauov could be in the mix for a finals appearance but is 0-2 against Fix. Could he breakthrough in a third bout? U23 World Team member Aaron Nagao could make a run at this weight.
141 pounds
Things get interesting here. Top-ranked Andrew Alirez looks to win his first Scuffle title and an All-American honor in March. He'll certainly be tested with a group of Midwestern stars. Don't count out Missouri's Allan Hart, Minnesota's Jakob Bergeland or North Dakota State's Dylan Droegemueller. Those guys are ranked No. 9-No. 11.
Bergeland pinned Alirez in the 2022 NCAA Championships blood round. Simply put, this will be a wide-open class. Chaos is inevitable.
149 pounds
Look to Appalachian State's Jonathan Millner at this weight. He's a two-time All-American with unique length that can cause matchup nightmares. Missouri's Brock Mauller, also an All-American, could be in the title mix, too.
157 pounds
Plenty of ranked guys in this weight could manufacture some fun. On rankings, Purdue's Kendall Coleman will be the top guy at No. 3. His 16-1 mark includes a win over Michigan's Will Lewan. The North Dakota State Bison boast another contender in Jared Franek. Don't forget about these other Big 12 stars — Oklahoma State's Kaden Gfeller and Missouri's Jarret Jacques.
Gfeller, a super senior, could be the first three-time Scuffle champion at three different weights since Kyle Dake in 2012. He beat Minnesota's Brayton Lee, a contender in his own right to win this weight class, in early December.
165 pounds
This is it. If you're going to watch one weight at the Scuffle, this is the one.
National champion vs national champion? That's the storyline with a 2022 NCAA finals rematch possible. Missouri's Keegan O'Toole won this weight at NCAAs against Stanford's Shane Griffith, who was NCAA champion in 2021. Griffith is in the Scuffle, too. In the NCAA finals in Detroit, O'Toole won 6-5. Of the non-NCAA champions in this draw, Wyatt Sheets of Oklahoma State is highest ranked at this time.
174 pounds
Oklahoma State brings another favorite to the Southern Scuffle.
Look out for No. 4 Dustin Plott, a 2022 All-American. His biggest challenger could be Missouri's Peyton Mocco, which would a 2022 Big 12 finals rematch. Plott won, 4-3. Some lower ranked guys such as Minnesota's Bailee O'Reilly and Stanford's Tyler Eischens could make big runs.
184 pounds
Oklahoma State's Travis Wittlake could find himself in the finals in his first year at 184. He dropped a 4-0 clunker to Minnesota's Isaiah Salazar, also a contender, in November. Sean Harman of Missouri would like to crash the party and earn a spot in the finals.
197 pounds
Missouri's Rocky Elam will lead the field as a two-time All-American. He owns dual wins over NDSU's Owen Pentz and Arizona State's Kordell Norfleet. Elam also beat Iowa's Jacob Warner in overtime in the NWCA All-Star classic.
How about some MAC love? Rider's Ethan Laird rolls into the Scuffle ranked No. 2. Wins over Penn State's Max Dean and Norfleet will do that in the rankings. Others seeking a run to the finals are Jaxon Smith of Maryland and Lou Deprez of Binghamton
285 pounds
Elam sweep?
It's possible as Missouri's Zach Elam will be the top ranked guy here at No. 3. Most of the ranked guys are elsewhere so it's another wide-open class. Maryland's Jaron Smith and Duke's Jonah Niesenbaum will be formidable contenders.
Smith is one of the tournament's oldest competitors, too. He's an eighth year. (Yeah, you read that right. EIGHT years of college). He finished seventh in Chattanooga last year. Could he find the top spot this weekend?