News
USA Wrestling
College
USAW
Iowa hammers 14 wrestlers into men's semifinals at Soldier Salute in Coralville
by Gary Abbott, USA Wrestling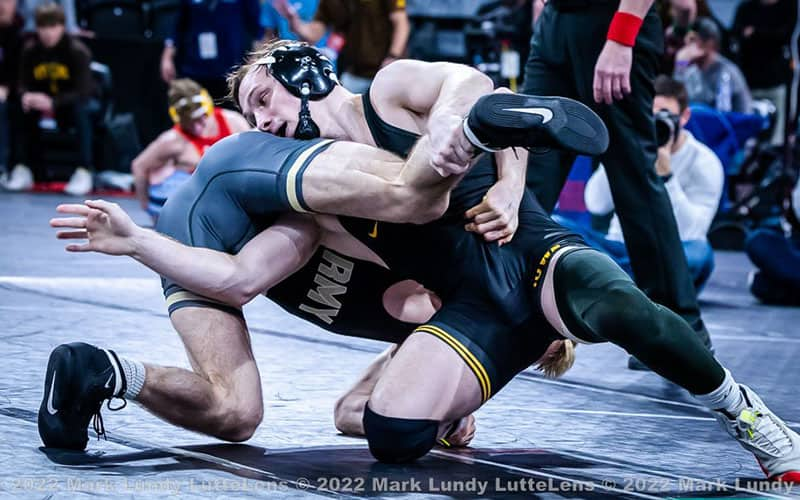 Spencer Lee (Iowa) secures a takedown on day one of Soldier Salute at 125 pounds. Photo by Mark Lundy, LutteLens.
CORALVILLE, Iowa – The University of Iowa men's team, competing in their back yard at the Xtream Arena, powered 14 wrestlers into the semifinal round of the inaugural
Soldier Salute
on Thursday. Three of the Hawkeye semifinalist are competing unattached.
There are two weight classes where three of the four semifinalists are from Iowa, 149 pounds and 197 pounds.
At 149, Max Murin of Iowa will wrestle Joel Jesuroga of Iowa in one semifinal, while Caleb Rathjen of Iowa faces unattached Anthony Echmendia in the other final.
At 197, Kolby Franklin of Iowa faces Zach Glazier of Iowa in the bottom semifinal, while top seed and 2021 NCAA runner-up Jacob Warner of Iowa draws Wyatt Voelker of Northern Iowa in the top semifinal.
Three-time NCAA champion Spencer Lee of Iowa had little trouble at 125 pounds, winning by pin and technical fall. His semifinal will feature a pair of age-group World champions. Lee won two U20 World titles and a U17 World title in freestyle. His opponent, Jore Volk of Wyoming, was a U20 World champion in 2022 in freestyle.
The 157-pound weight class is the only weight class where the No. 2 Hawkeyes did not earn a semifinalist, but they did not enter anybody in that weight class.
You could tell it would be a good day for the Hawkeye men, when Iowa put 19 wrestlers into the quarterfinals during session one (11 representing Iowa and eight competing unattached).
On Friday, session three, which includes the semifinals, are set for 12:00 noon CT, while the finals will be held at 6:00 p.m. CT.
Soldier Salute is being streamed live on BTN+ which is a paid subscription service. Live results will be available via TrackWrestling
There is also a women's freestyle division of Soldier Salute, which will be covered in a different article.
SOLDIER SALUTE
At Coralville, Iowa,

Men's folkstyle

Semifinal pairings
125
Spencer Lee (Iowa) vs. Jore Volk (Wyoming)
Ethan Berginc (Army West Point) vs. Drake Ayala (Iowa-unattached)
133
Cullan Schriever (Iowa) vs. Ryan Franco (Army West Point)
Angelo Rini (Columbia) vs. Brendan Ferretti (Navy)
141
Real Woods (Iowa) vs. Caleb Gross (South Dakota State)
Julian Sanchez (Army West Point) vs. Matt Kazimir (Columbia)
149
Max Murin (Iowa) vs. Joel Jesuroga (Iowa-unattached)
Caleb Rathjen (Iowa) vs. Anthony Echmendia (Unattached)
157
Jacob Wright (Wyoming) vs. Nathan Lukez (Army West Point)
Cael Swensen (South Dakota State) vs. RJ Weston (Northern Iowa)
165
Patrick Kennedy (Iowa) vs. Cole Moody (Wyoming)
Jack Thomsen (South Dakota State) vs. Dalton Harkins (Army West Point)
174
Hayden Hastings (Wyoming) vs. Lennox Wolak (Columbia)
Brennan Swafford (Iowa-unattached) vs. Benjamin Pasiuk (Army West Point)
184
Abe Assad (Iowa) vs. Roman Rogotzke (South Dakota State)
Bennett Berge (South Dakota State) vs. Quayin Short (Wyoming)
197
Jacob Warner (Iowa) vs. Wyatt Voelker (Northern Iowa)
Kolby Franklin (Iowa-unattached) vs. Zach Glazier (Iowa)
285
Tony Cassioppi (Iowa) vs. Luke Rasmussen (South Dakota State)
Gannon Rosenfeld (Wisconsin) vs. Ryan Catka (Navy)
Quarterfinal results

125
Spencer Lee (Iowa) won by tech fall over Charlie Farmer (Army West Point) (TF-1.5 4:28 (19-1))
Jore Volk (Wyoming) won by decision over Nick Babin (Columbia) (Dec 6-1)
Ethan Berginc (Army West Point) won by decision over Blair Orr (The Citadel) (Dec 2-0)
Drake Ayala (Iowa) won by tech fall over Jack Parker (Bellarmine) (TF-1.5 6:06 (23-8))
133
Cullan Schriever (Iowa) won by decision over Rich Treanor (Army West Point) (Dec 8-4)
Ryan Franco (Army West Point) won by decision over George Rosas (The Citadel) (Dec 6-2)
Angelo Rini (Columbia) won by fall over Brayton Killiri (The Citadel) (Fall 3:53)
Brendan Ferretti (Navy) won by decision over Jace Rhodes (Iowa) (Dec 9-6)
141
Real Woods (Iowa) won by tech fall over Connor Thorpe (Northern Iowa) (TF-1.5 3:25 (17-1))
Caleb Gross (South Dakota State) won by decision over Tyler Morris (Army West Point) (Dec 4-0)
Julian Sanchez (Army West Point) won by decision over Drew Bennett (Iowa) (Dec 3-2)
Matt Kazimir (Columbia) won by decision over Darren Green (Wyoming) (Dec 4-0)
149
Max Murin (Iowa) won by tech fall over Alek Martin (South Dakota State) (TF-1.5 5:19 (20-4))
Joel Jesuroga (Iowa) won by decision over Danny Fongaro (Columbia) (Dec 3-1)
Caleb Rathjen (Iowa) won by decision over Chase Zollmann (Wyoming) (Dec 4-0)
Anthony Echmendia (Unattached) won by decision over Wil Guida (North Carolina) (Dec 11-10)
157
Jacob Wright (Wyoming) won by decision over Andrew Garr (Columbia) (Dec 3-0)
Nathan Lukez (Army West Point) won by decision over Evan Yant (Northern Iowa) (Dec 9-5)
Cael Swensen (South Dakota State) won by major decision over Cooper Voorhees (Wyoming) (MD 11-2)
RJ Weston (Northern Iowa) won by decision over Tanner Craig (Army West Point) (Dec 3-2)
165
Patrick Kennedy (Iowa) won by fall over Cole Nance (Bellarmine) (Fall 0:30)
Cole Moody (Wyoming) won by decision over Christian Minto (Northern Iowa) (Dec 6-5)
Jack Thomsen (South Dakota State) won by decision over Drake Rhodes (Iowa)(Dec 12-9)
Dalton Harkins (Army West Point) won by major decision over Carson Martinson (Iowa) (MD 10-1)
174
Hayden Hastings (Wyoming) won by decision over Jon Hoover (VMI) (Dec 4-0)
Lennox Wolak (Columbia) won by major decision over Cade Tenold (North Carolina) (MD 15-7)
Brennan Swafford (Iowa) won by decision over Nick Fine (Columbia) (Dec 9-6)
Benjamin Pasiuk (Army West Point) won by major decision over Benjy Haubert (The Citadel) (MD 12-4)
184
Abe Assad (Iowa) 2-0 won by fall over Micah Dicarlo (The Citadel) 4-8 (Fall 1:29)
Roman Rogotzke (South Dakota State) won in sudden victory - 1 over Sahm Addulrazzaq (Army West Point) (SV-1 9-7)
Bennett Berge (South Dakota State) won by major decision over Isaac Dolph (VMI) (MD 21-8)
Quayin Short (Wyoming) won by decision over Mickey Griffith (Iowa) (Dec 4-3)
197
Jacob Warner (Iowa) won by tech fall over Adam Ahrendsen (Northern Iowa) (TF-1.5 5:07 (17-2))
Wyatt Voelker (Northern Iowa) won by decision over Tyler Mousaw (VMI) (Dec 13-8)
Kolby Franklin (Iowa) won in sudden victory - 1 over Nick Casperson (South Dakota State) (SV-1 6-4)
Zach Glazier (Iowa) won by decision over Jake Lucas (Navy) (Dec 6-3)
285
Tony Cassioppi (Iowa) won by fall over Brooks Empey (Wisconsin) (Fall 1:12)
Luke Rasmussen (South Dakota State) won by decision over Kade Carlson (Army West Point) (Dec 4-2)
Gannon Rosenfeld (Wisconsin) won in sudden victory - 1 over Austin Kohlhofer (Army West Point) (SV-1 3-1)
Ryan Catka (Navy) won in sudden victory - 1 over Jonathan Chesser (The Citadel) (SV-1 6-4)
Top 10 team standings after day one
1 Iowa 114.5
2 Wyoming 68.5
3 Army West Point 67.5
4 Columbia 52.5
5 South Dakota State 51.0
6 Northern Iowa 41.0
7 Navy 36.5
8 The Citadel 29.5
9 Wisconsin 28.0
10 VMI 23.5