News
USA Wrestling
College
USAW
UNI shocks No. 3 Ohio State, dominates Lock Haven, on opening day of Collegiate Duals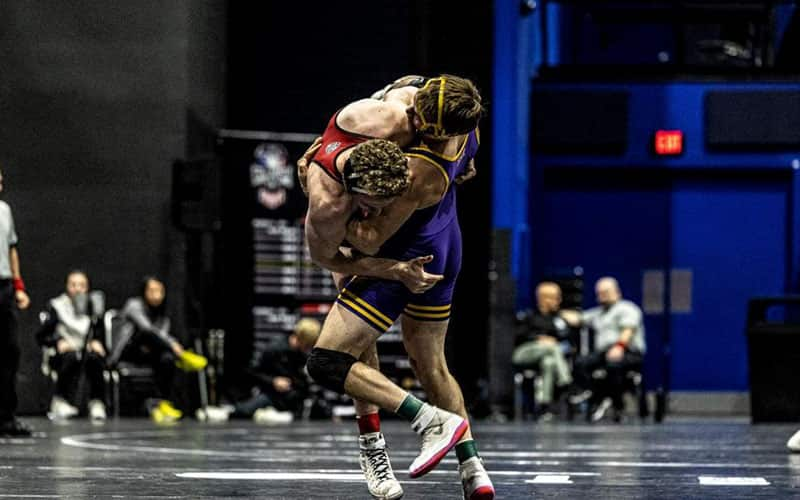 Action image courtesy of UNI Athletics
NEW ORLEANS --- UNI opened the 2022-23 dual schedule with a bang on Monday as the Panthers scored a pair of victories at the Collegiate Duals in Louisiana, including a thrilling 19-13 upset of the No. 3 Ohio State Buckeyes.
The Panthers won 9 of 10 bouts against the Lock Haven Bald Eagles, which included 3 victories by technical fall and a pin by Lance Runyon at 174 pounds. After dropping its first two matches to the Buckeyes, UNI won four straight bouts, headlined by Colin Realbuto's 9-7 decision over No. 3 Sammy Sasso at 149 pounds. Tyrell Gordon's narrow 3-2 win over OSU's Tate Orndorff sealed the Panthers' victory, marking the second consecutive season UNI has knocked off the third-ranked team in the nation in dual competition after beating Oklahoma State on the road last season.
LOCK HAVEN
After Kyle Gollhofer dropped his opening match at 125 pounds to No. 20 Anthony Noto, 11-4, the Panthers never looked back as Kyle Biscoglia claimed a 12-6 decision over Gable Strickland thanks to an early takedown and near fall in the second period. Cael Happel rolled to a commanding 24-9 technical fall win over Tyler Dilley at 141 pounds, before Realbuto scored a 14-6 major decision over Nick Stonecheck.
Able to avoid a sudden victory in the final seconds, Derek Holschlag snagged a narrow 6-4 decision win at 157 pounds against Ashton Eyler with a pair of late takedowns in the opening two periods. Austin Yant pulled off a late reversal in the final period for a 6-2 win at 165 pounds against Avery Basset, as Lance Runyon jumped on Tyler Stotzfus in just 47 seconds for the pin at 174 pounds.
Third-ranked Parker Keckeisen rolled past Colin Fegley at 184 pounds for a 16-4 technical fall, while Noah Glaser shut out Brad Morrison at 197 pounds in a 5-0 decision. Gordon closed out the first dual of the afternoon with a commanding 18-3 technical fall over Ethan Miller at 285 pounds.
UNI improves to 4-0 all-time against Lock Haven in the first dual between the programs since New Year's Day in 1986 when Don Briggs' Panthers defeated the Bald Eagles 27-8.
NO. 3 OHIO STATE
Meeting for the first time in over a decade, UNI dropped its first two matches against Ohio State with Gohlhoffer falling to No. 11 Malik Heinselman, and Biscoglia being upset by Nic Bouzakis, 9-6. The Panthers rattled off four consecutive wins after the tough start, beginning with Happel coming from behind to defeat No. 18 Dylan D'Emilio with a sudden victory takedown after trailing 4-3. Realbuto provided the upset of the dual thanks to four back points in the second period and control of riding time for a 9-7 win over third-ranked Sammy Sasso.
Holschlag sealed a late third period victory thanks to a takedown against Isaac Wilcox for a 6-2 decision at 157 pounds, as Yant notched 4 takedowns in the first two periods in an 11-1 major decision over Gavin Brown at 165. No. 12 Ethan Smith snapped UNI's win streak with an early third period takedown on Runyon, before Keckeisen held off Kaleb Romero in a battle of top-5 ranked opponents. Keckeisen scored a takedown with 30 seconds remaining in the second period and tacked on an extra escape point late for the 3-1 win to extend the Panther team lead.
After Glaser dropped an 18-7 major decision to No. 22 Gavin Hoffman, the Panthers held a narrow three-point lead heading into the final bout. Gordon scored a late first period takedown of ninth-ranked Orndorff and added an additional escape point in the second period before riding out the final period for a 3-2 decision win to give UNI the 19-13 victory.
UNI improves to 8-7 all-time against the Buckeyes, with each of the last two dual wins coming under head coach Doug Schwab.
UP NEXT
UNI returns to action tomorrow afternoon at 5 p.m. CT as the Panthers take on either No. 7 North Carolina State, No. 19 Lehigh or No. 25 Cal Poly in the championship dual of the red pool. Fans can watch all the action live on Rokfin with a paid subscription.
#22 UNI def. LOCK HAVEN, 36-3
125 | #20 Anthony Noto (LHU) dec. Kyle Gollhofer (UNI), 11-4
133 | #6 Kyle Biscoglia (UNI) dec. Gable Strickland (LHU), 12-6
141 | #10 Cael Happel (UNI) tech fall Tyler Dilley (LHU), 24-9
149 | #25 Colin Realbuto (UNI) maj. dec. Nick Stonecheck (LHU), 14-6
157 | #27 Derek Holschlag (UNI) dec. Ashton Eyler (LHU), 6-4
165 | #11 Austin Yant (UNI) dec. Avery Basset (LHU), 6-2
174 | #13 Lance Runyon (UNI) pinned Tyler Stotzfus (LHU), 0:47
184 | #3 Parker Keckeisen (UNI) tech fall Colin Fegley (LHU), 16-4
197 | Noah Glaser (UNI) dec. Brad Morrison (LHU), 5-0
285 | #19 Tyrell Gordon (UNI) tech fall Ethan Miller (LHU), 18-3
#22 UNI def. #3 OHIO STATE, 19-13
125 | #11 Malik Heinselman (OSU) def. Kyle Gollhofer (UNI), 12-5
133 | Nic Bouzakis (OSU) dec. #6 Kyle Biscoglia (UNI), 9-6
141 | #10 Cael Happel (UNI) dec. #18 Dylan D'Emilio, 7-5 SV1
149 | #25 Colin Realbuto (UNI) dec. #3 Sammy Sasso (OSU), 9-7
157 | #27 Derek Holschlag (UNI) dec. Isaac Wilcox (OSU), 6-2
165 | #11 Austin Yant (UNI) maj. dec. Gavin Brown (OSU), 11-1
174 | #12 Ethan Smith (OSU) dec. #13 Lance Runyon (UNI), 6-4
184 | #3 Parker Keckeisen (UNI) dec. #5 Kaleb Romero (OSU), 3-1
197 | #22 Gavin Hoffman (OSU) maj. dec. Noah Glaser (UNI), 18-7
285 | #19 Tyrell Gordon (UNI) dec. #9 Tate Orndorff (OSU), 3-2
Extra Bouts
133 | Ethan Fernandez (Cornell) dec. Julian Farber (UNI), 3-1
157 | Gage McClenahan (Cornell) dec. RJ Weston (UNI), 6-3
174 | Christian Hansen (Cornell) ded.Carson Babcock (UNI), 5-3
197 | Ethan Hatcher (Cornell) dec. Kalob Runyon (UNI), 7-5